More ways to connect with Toyota without leaving your home.
Car dealerships in the country have come up with different efforts in order to continuously connect with their valued customers amid quarantine protocols. With this, Toyota Motor Philippines (TMP) launched two new chat channels – one on Viber and one on Facebook Messenger chat.
Toyota PH, the official Viber community for all Toyota owners, can be accessed by visiting https://bit.ly/toyotaviber. Here, members will be receiving the latest news, updates, care tips, special deals, exclusive contents, and more from TMP itself.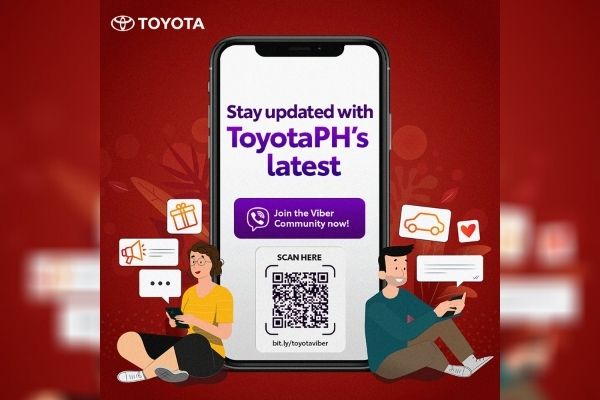 Check out the Toyota PH Viber community to stay updated
>>> Related: Add to Cart: Buy a Toyota online and have it delivered to your home
Moreover, members of the Toyota PH Viber community will also get to use the 2020 edition of the official Toyota PH Viber sticker set for free.
On the other hand, TMP's enhanced Facebook Messenger chat allows users to select their preferred vehicles and dealers with just a few taps. Dealer representatives will then contact the Facebook user in order to provide a more seamless car purchase process.
To get started, Facebook users must visit TMP's official Facebook website. Users have to make sure that the TMP Facebook page is a verified account to avoid fraud. Verified accounts on Facebook have blue check marks with them.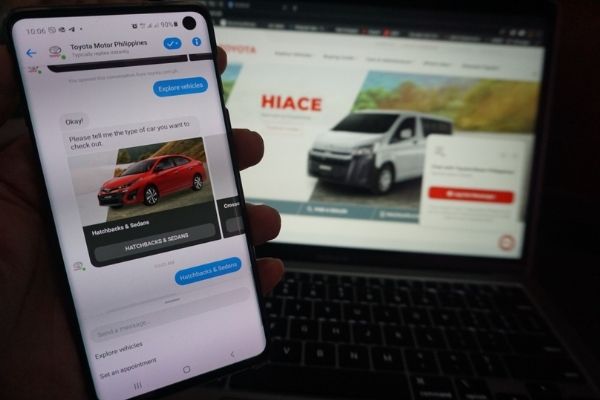 Toyota aims to provide a more convenient car purchasing experience for its customers
TMP has also launched its virtual showroom that can be found on its official website. The virtual showroom mainly provides customers with a 360-degree exterior and interior view of Toyota vehicles. The showroom can also calculate payments and book after-sales services like periodic maintenance.
In addition, a Messenger chat bubble is also available while browsing TMP's official website so that users can directly chat with a Toyota representative.
Needless to say, TMP is one of the most innovative car brands in the country when dealing with the new normal. TMP said that it will soon launch more digital solutions to continuously help its customers enjoy its best possible car purchase and ownership experience.
Here at Philkotse.com, we value your interest in the automotive industry. Visit our website to find out more.
Know more about Toyota Innova 2021

<p>The Toyota Innova is one of the best-sellers of Toyota Motor Philippines. It is a compact MPV that can accommodate seven occupants while other variants have a seating capacity of eight. The Toyota Innova became a logical choice in the MPV segment because of its seating capacity, diesel mill, and raised ride height. It is the main reason why the Toyota Innova is one of the annual top-sellers in the country. This is a testament to how appealing this compact MPV is to Filipino car buyers. The current generation Toyota Innova has a larger dimension than its predecessor. The overall exterior of the Toyota Innova is obviously an MPV, but the styling is inspired by the SUV and crossover models of the Japanese brand. Dominating the front end of the Innova is a large angular grille and large swept-back headlights. It gives the Toyota Innova a more aggressive appearance that reminds us of the U.S &ndash; market Highlander SUV. On the side, it features clean and notable shoulder lines. It has features similar to the RAV4, particularly the near-triangular D-pillars, angular horizontal taillights, and upswept rearmost side windows. The facelifted 2nd-gen Toyota Innova is offered with the 2.8L 1GD-FTV engine that produces 167 hp and 343 Nm of torque on manual transmission variants and an impressive 171 horsepower and 360 Newton-meter of torque on an automatic transmission. The Toyota Innova shares the same platform with the Fortuner and Hilux.</p>

Rex Sanchez
Author