Owning and maintaining a Toyota just got easier.
Toyota Motor Philippines (TMP) launched a new digital tool called MyToyota PH. This online tool will make owning and maintaining a Toyota easier and more convenient for all customers especially now with the current global health crisis. 
"As the world is on a standstill due to the COVID-19 virus outbreak, TMP is quick to recognize the changing needs of its customers for after-sales service. Toyota owners can now book their service appointments safely anytime, anywhere," said TMP in the tool's official press release.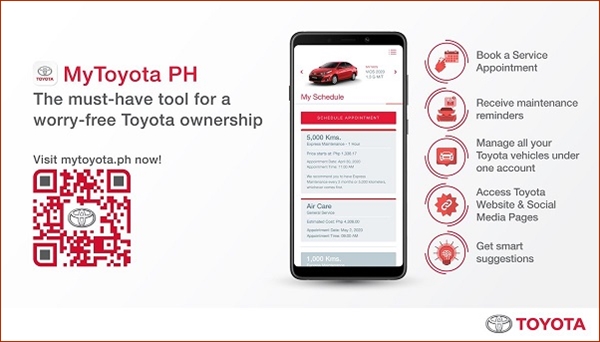 Overview of the MyToyota PH tool
>>> Related: Toyota Pasong Tamo celebrates 25 years of excellent customer service
Toyota owners will also have access to the tool's key features straight from their mobile phones. Inquiries are made easier as customers can directly send messages to their dealers about their booked appointment.
With the MyToyota PH, Toyota customers are now more unlikely to miss their booked appointment as the tool has reminders that are sent 24 hours and an hour prior to their appointment. In addition, job items and service cost estimates are also easily available in the tool.

Easy booking with MyToyota PH
The MyToyota PH is surely a tool that will advance Toyota's customer service in the country – during and after the health crisis. It will provide its customers with Toyota's latest updates and also provide handy recommendations. So to get started:
Toyota owners should go and visit http://mytoyota.ph/ and create a MyToyota PH account
Register their Toyota vehicles
After completing the registration process, Toyota customers can immediately set up an appointment by selecting their preferred dealers. For easier access, the tool can also be added to their mobile device's home screen through the browser's settings.
The online tool is now available to dealers that will be open according to each area's respective quarantine periods. All Toyota dealers nationwide will be available for service booking after the quarantine period.
Furthermore, Toyota dealerships will now be accommodating confirmed service appointments only to ensure everyone's safety by effectively promoting social distancing.
Here at Philkotse.com, we value your interest in the automotive industry. You can visit our website to find out more.
Know more about Toyota

<p>Toyota leads the local automobile industry, distributed by Toyota Motor Philippines. It has a staggering total of 73 dealerships all over the country. It has 27 dealerships in Luzon, 15 in the Visayas, 11 in Mindanao, and 20 in Metro Manila, including Lexus Manila, Inc. for its service centers and sales distribution. TMP has the most extensive car lineup in the country, with its current range consisting of 20 vehicles in total. See the latest price list of Toyota vehicles in the Philippines here.</p>

Rex Sanchez
Author