Buying a new or pre-owned car isn't about specs and performance only! There's after sales service that will make anyone a loyal customer or not.
When purchasing a new car, most buyers often focus on features and performance. However, All cars are equal because without the best after-sales service they will break down and cause problems for the owners of these negligent car brands.
Auto experts could wax poetic over the newest features and specs, but they stress with all urgency to consider after-sales service. Whether, it's ignored or heeded by most car owners of brand-new or pre-owned cars this is something to consider! Numerous showrooms show their new cars and talk about many reasons why to get their brand into customer's garages.
Cars are expected to last a certain number of years, and older cars should be capably serviced despite the age. Especially when premium cars from sub-compacts to large vehicles will need the best after-sales service, to make it worth the investment. Not all motorists can replace cars that easily unless pockets are deep.
Getting the best use out of any car; with relevant and capable service will be a deal breaker for most motorists.
I. Benefits of after-sales service to loyal customers
Happy customers have several benefits that give them an edge when it comes to the best after-sales service. It's not uncommon for disgruntled customers to bad-mouth some brands when it comes to bad after-sales support. In the Philippines; this is one of the most contentious factors that will make the best-selling car better than the best-equipped car
Much condolences to those who will suffer without good after-sales, which is very unfortunate. Here is what happy customers get, should it be the case!
Important repairs are done with OEM parts, that is highly recommended when high-end cars are concerned!
There is a record of the maintenance schedule.
Depending on the car brand; there might be rebates and discounts depending on the warranty!
All repairs are done by expert mechanics; who specialize in the car brand. Unlike others who guess the error and cause more problems.
The best after-sales service; may even come with free services, when certain circumstances are concerned!
With the best after-sales service; reselling when payment terms are done. It will be easier because everything is done right!
>>> See also: 7 tips to find reliable auto centers in the Philippines for car overhaul
II. Factors to rank a brand's after-sales service
When scoring customer's satisfaction with a brand's after-sales service, there are several crucial factors that should be taken into consideration: 
1. Preference for transparency when cars are in the service bays
Customers want to know what is worked on and can see the car while being serviced. Not having this privilege is not desired, especially if it will cost a bit or much more!
2. Customer's engagement
Customers can ask technicians and specialists on the service bay floors what is happening. Car owners need information; about what is done to their car, thus engagement is a must!
3. More control for younger buyers
Most younger car owners are info savvy and want to know every aspect; they are more involved. If older customers are easier to please, younger customers want more involvement in scheduling, repair, and all phases of the job! Younger customers need information and might want to refer to the world wide web.
III. Top 10 brand with the best after-sales service in the Philippines 
According to the data from the 2018 Philippines Customer Service Index (CSI), Honda still remained their first rank, earning 823 points for its great performance in service advisors, service facility and service initiation.
Some outstanding points of Honda customer service: 
Honda Owner site for information: Recall information, How-to videos, Warranty information...
24/7 Roadside Assistance 
Honda Care Plans
Supported channels: Email, Phone, Fax, Live chat, Mail, Twitter...
Next up is Nissan (822/1000 pts) that scores five power circles, in the ranking. Good quality cars that are hard to beat. Mitsubishi (816/1000 pts) with four power circles that rank just below Nissan Motors. Still in the Top 5 ranking car brands is Toyota Motors (814/1000 pts) with a decent three power circles. Just like Toyota, Isuzu ranks as an average car brand, with three power circles to its credit. Just right in the sweet spot of 812 pts. 
(Note: 5-power circles (best), 4- power circles (better than most), 3-power circles (average), 2-power circles (the rest). J.D. Power uses this ranking to show top to bottom players)
The infographic below shows the specific ranking position of top 10 car brand with the best after-sales service in the Philippines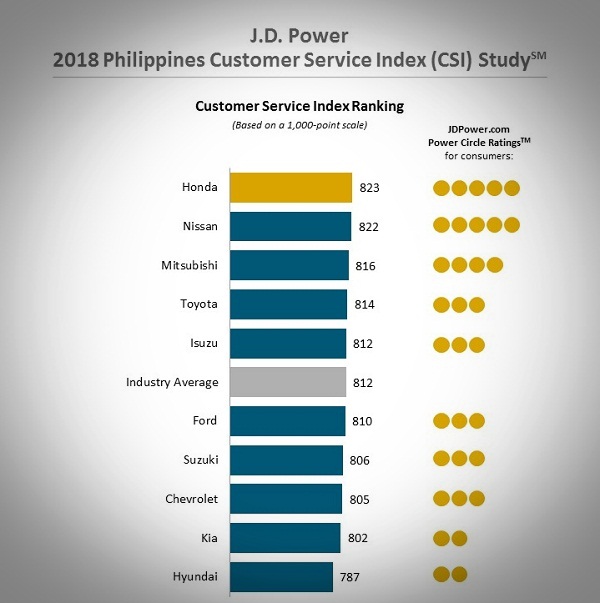 2018 Philippines Customer Service Index (Source: J.D.Power)
Keep in mind that point after-sale is nothing to joke about, and the best after-sales service does make a real difference! It's about choice and what options are opted for until then nothing can't be done but grin and bear it.


Norjan Ismail Abbas
Author
Recent posts