Gear up for Toyota's Car Maintenance Weekend.
Toyota Motor Philippines (TMP), the official business unit of Toyota in the country, will be offering a 40 percent discount on Toyota Genuine Motor Oil – Mineral Grade for those customers who will avail of Periodic Maintenance (PM) or Express Maintenance (EM) from May 27 to May 29, 2021.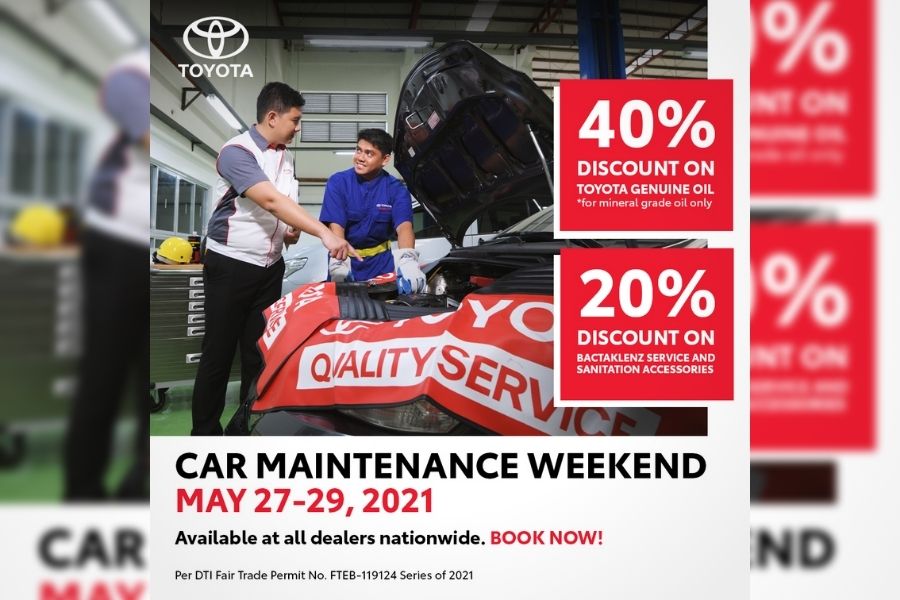 TMP's 'Car Maintenance Weekend' promo
Dubbed as the 'Car Maintenance Weekend,' the promo aims to keep Toyota vehicles in tip-top shape easier and more conveniently. Toyota vehicles without equivalent Mineral Grade Oil (Avanza K3VE & 3SZVE Engine, Supra, 86) will also get a 40 percent discount on their recommended oil.
Meanwhile, Toyota vehicles with free 1-20K Periodic Maintenance Service do not qualify for the discount motor oil prices. Customers may also upgrade to Toyota Genuine Semi-Blend (TGSB) and Fully Synthetic (TGFS) Oils with price difference compared to Mineral Oil.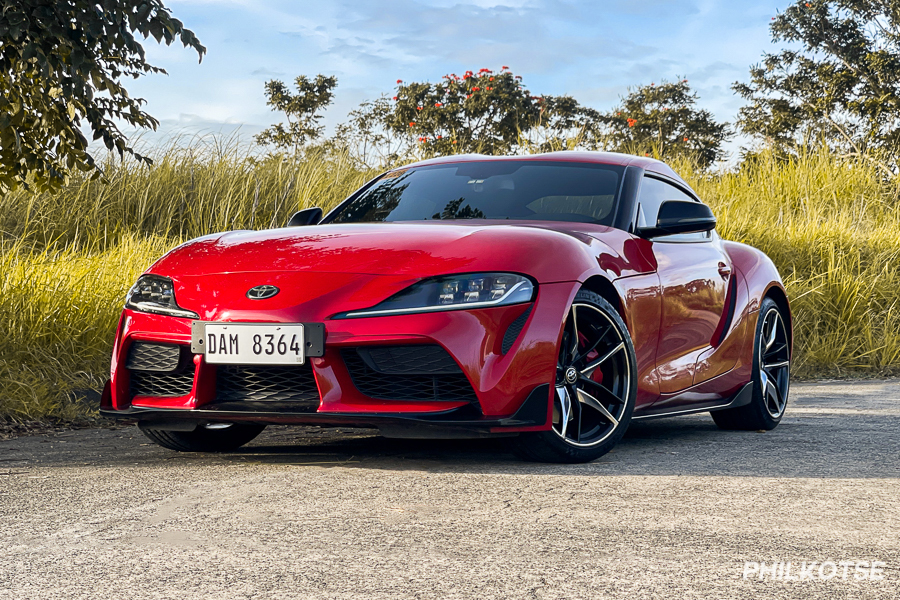 A great way to keep your Toyota vehicle in good condition
The Japanese car brand is also offering discounted prices on sanitation products which are ideal to avail especially now with the ongoing threats of the COVID-19 pandemic. These discounted sanitation products under the brand's 'Car Maintenance Weekend' promo are as follow:
20 percent discount on Toyota BactaKlenz Service
20 percent discount on UV Lamp and Air Purifier Bundle
10 percent less on UV Lamp and Air Purifier (if purchased separately)
Toyota BactaKlenz is an anti-bacterial treatment proven to eliminate 99.9 percent of bacteria, molds, and fungi. Other benefits of this Toyota Genuine Product include a pleasant scent, the reduction of bad odor, and its long-lasting effect for up to three months.
Of note, the 'Car Maintenance Weekend' promo is non-convertible to cash, parts, and other services and cannot be availed of together with TMP's existing promos. The discounted prices will be available at any Toyota Dealership nationwide.
In addition, Lexus Philippines is also offering a similar promo that provides a 40 percent discount on Lexus Genuine Fully-Synthetic engine oil. It will be available at Lexus Manila at Bonifacio Global City (BGC) from May 27 to May 29, 2021. 
Visit Philkotse.com for more of the latest in the automotive industry.
Know more about Toyota Supra 2021

After years of waiting, the all-new Supra by Japanese auto giant Toyota has finally arrived. Thanks to Toyota Motor Philippines, this highly anticipated sports car comes to the Philippine market. In terms of sports cars, the Supra has long been considered as the brand's ultimate. The current generation Supra has finally been revived with German DNA into its parts. It's no wonder the overlook of the Toyota GR Supra is very impressive. The aesthetics are also geared towards tuners, modders, and enthusiasts. Its dimensions and chassis are similar to that of the Z4. However, the brand provided twists in terms of styling, design, and everything else in between. The interior of the MkV Supra is absolutely a collaborative effort but with traces of the Toyota brand. The Supra available in the Philippines comes with a 3.0L twin-scroll turbocharged in-line 6-cylinder engine. The fifth-generation Toyota GR Supra has remarkable design elements, including LED headlights with six lenses, a 19-inch forged aluminum, as well as, dual exhaust pipes. It also comes with a list of standard features, such as a heads-up display, touchscreen infotainment setup, multi-information display gauge, and a sound system composed of 12 speakers. The current generation is the 5th generation of Toyota GR Supra. In the Philippines, the prices of the supra depend on the variant color. It is available in eight colors: Matte Storm Gray, Deep Blue Metallic, Ice Gray Metallic, Silver Metallic, Lighting Yellow, Black Metallic, White Metallic, and Prominence Red.

Rex Sanchez
Author
Recent posts