Toyota Motor Corporation chose to introduce the all-new Toyota Hiace in the Philippines early this year. Why? Probably the reason why we think this should be the light commercial van of the year.
Toyota Hiace 2019: A contender for the light commercial vehicle of 2019
Power: Overwhelming
Versatile to anything from a cargo hauler to limousine
Toyota did not skimp on safety features
Space so generous you would want it to be your ninong
Toyota Hiace 2019: Doing so much better than you think
Toyota Motor Corporation and Toyota Motor Philippines think so highly of the Philippine market for the all-new Toyota Hiace line-up that they've decided to hold the global release right here on our shores.
Why do you ask? Apart from its home country of Japan, the Philippines sells the most number of Toyota Hiace units. They are ubiquitous, from family haulers in gated communities with the swanky Super Grandia, to the Commuter variants used as business tools, school buses, and UV Express vans.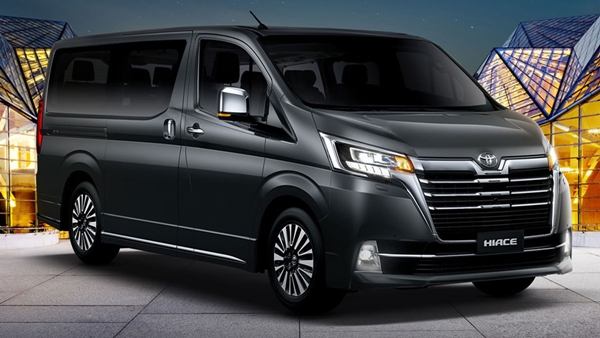 The Philippines sells the most number of Toyota Hiace units apart from Japan
>>> Click here to read Toyota commercial vehicle promo
After the death of the AUV, operators had little choice but to head on over to the Toyota Hiace. Toyota plans to capitalize on this popularity by offering the most diverse amount of model options available.
That is why they sell well. The amount of customization options and versatility of the Toyota Hiace makes this the car for the Filipino people.
Toyota Hiace 2019: Power overwhelming
The Toyota Hiace 2019 shares the same engine as the all-new Fortuner, Hilux, and Innova which means it has gobs of power on tap. With 174 hp @ 3600 RPM and 420 Nm of pull at 1400 – 2200 RPM.
This puts it toe to toe with our other contender the Hyundai H-350 for power and torque. If the aforementioned Toyota vehicles are any indication, it should make short work of the Toyota Hiace and all its passengers and cargo no matter what the use is.

Even with this many passengers, the engine should make quick work of it
>>> Another contender in this segment: 
Toyota Hiace 2019: The Swiss army Toyota
As in our Toyota Hiace reviews, you might already know that all-new Toyota Hiace gives us so much interior space when compared to the previous generation. I would lovingly call it a freezer box on wheels as that is exactly what it looks like from the outside.
Not that that's a bad thing, for the tropical Philippines where summer temperatures can reach north of 40 degrees Celsius, the sight of a mass transportation vehicle that resembles an icebox is a welcome venue to fight the heat.
>>> Latest update: 2021 Toyota Hiace: Expectations and what we know so far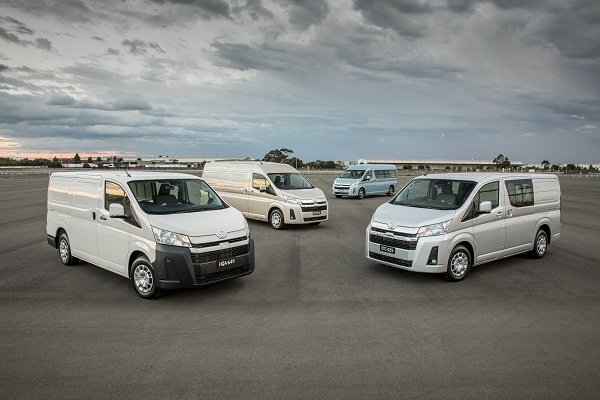 The Hiace is built on a versatile platform wherein the possibilities are almost endless
I can't call the design of the Toyota Hiace ugly, because let's be honest, how would you reinvent a box on wheels for a van? It sure looks good, though and can even rival that of its more expensive cousin the Toyota Alphard.
Speaking of which I mentioned the different ways you can configure the inside of the Toyota Hiace, from a cargo hauler to limousine, and I wasn't kidding. The Hiace is built on a versatile platform wherein the possibilities are almost endless.
It is difficult to find anything else that can rival the Toyota Hiace when it comes to power, reliability, space, and luxury. The reason why this model is held dear to the Filipino's hearts is that it can go anywhere, do anything and take your family with you while you're at it!
For more car of the year articles like this one, keep reading here on Philktose.com.

Know more about Toyota Hiace 2022

The Toyota Hiace 2022 is a light commercial vehicle that is a familiar sight on Philippine roads. Aside from being used as a spacious private transport for households with large families, it is also typically employed for business in delivering cargo and as a fleet transport. Toyota Hiace Prices in the Philippines range between PHP 1,724,000 and PHP 2,998,000 with seven variants, from a base 15-seater Commuter Deluxe variant to the top-spec 10-seater Super Grandia Elite trim. A single 2.8-liter turbodiesel engine is on offer, partnered with either a 6-speed manual or 6-speed automatic transmission.
A Hiace car features a body measuring 5,265mm long, 1,950mm wide, and 1,990mm high on most variants, with a wheelbase of 3,210mm. Dimensions differ on the range-topping Super Grandia Elite which sits 650mm longer and 290mm higher, and has a wheelbase of 3,860mm. Monthly installments start at Php 19,875 for the Commuter Deluxe, with a 60-month contract on a 50 percent downpayment. Among its rivals are the Nissan Urvan, Foton View Traveller, Hyundai Grand Starex, Hyundai H350, and Ford Transit.


Roy Robles
Author