The Hit Netflix Series Stranger Things smashed right into our nostalgia feels and even car nuts like us are not spared!
Netflix's runaway hit Stranger Things has just released and concluded it's the 3rd season and it was mind-blowing! The show seamlessly blends great story-telling and thrilling plot twists and characters with great feelings of nostalgia as the show's timeline is based in probably the best year of the 80s; 1985.
Ir was a great time for pop-culture, the movie Back to the Future has been released and we were introduced to the legendary Delorean DMC5 and it's time-traveling hijinks.
That got me to thinking, all throughout the series we've been spoiled with 80's nostalgia and us car fans can't help but notice all the cars that were being used throughout that era.
Today we'll be focusing on the cars featured on that show all though out the 3 seasons. Make sure that you read this quick and share this with your friends before the bad men take you in or a Demogorgon catches you!
1. Chevrolet K5 Blazer 1980
Here's a familiar sight! Who would have thought that the 80s would mirror today's car landscape of small SUVs and crossovers? But kids, this isn't your typical "soft-roader" this is the then ubiquitous Chevrolet K5 Blazer. It shared the same underpinnings as the Chevrolet Suburban and other Chevrolet Pick-up trucks at the time.
With the top trim 1980 model powered by a 6.6 liter V8 making a respectable 185hp and 407Nm of torque. You can rest assured that the owner, Hawkins Chief of Police Jim Hopper won't have a hard time getting to one side of town to the other. If there were a hero-car for the entire series this would most definitely be it.
>>> Read more: Top 10 movies you must watch if you are a car lover.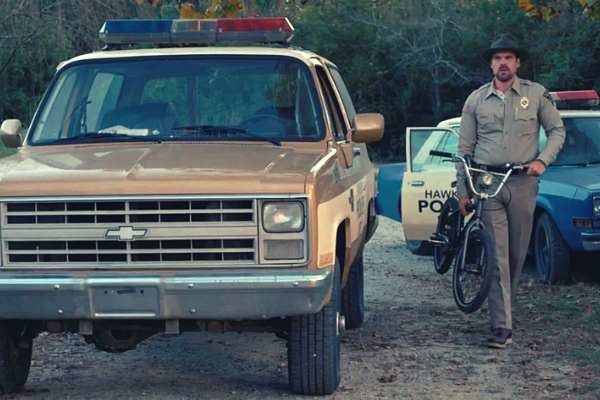 The Hero-car for almost the entire series
2. Ford Pinto 1976
You've probably heard of the infamous Ford Pinto in your marketing class or somewhere, if you haven't here is a brief background. The Pinto was Ford's foray into the subcompact car market.
The Arab oil embargo of the 70s have forced American car companies to adapt and downsize their vehicles, no more are the large muscle and pony cars from the 60s this era saw gas prices skyrocket beyond what a regular person can afford.
The Ford Pinto was propelled by a smaller 2.3-liter engine with 89hp and 160Nm of torque. It was cheap but not the least bit cheerful and had the propensity to blow up if rear-ended. In the 80s one of these cars would have cost a little more above to nothing, which is perfect for Joyce Byers and her low to middle-income families.

It had the propensity to blow up if rear-ended
>>> Find your own car at our Cars for sale in the Philippines section.
3. Ford LTD 1971 
The Ford LTD cars for sale used to be the highest model variant for Ford's full-size sedans. The car featured in the show, driven by Joyce's son, Jonathan seems to be about right, a beater, 15-year-old car that falls apart with the driver worried every time they drive it.
If any old-timer tells you that they don't make cars today like they used to, you might want to consider that a knock against themselves as the Ford LTD is proof of this.
Today if someone told you they have a 15-year-old car, that would still be a modern-looking and respectable specimen that can be compared to contemporaries. Obviously, it was a different time back then. Another classic name is Ford Capri, which is still available in the Philippines today.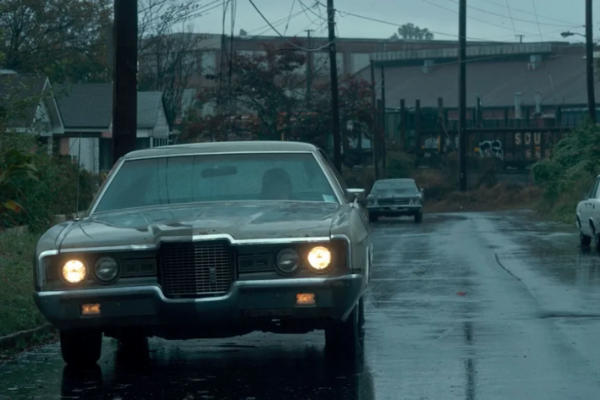 Ford LTD was a different time back then for old cars
4. BMW 733i 1982
As if wanting to distance itself from the crop of decrepit American cars, the rich kid character in Stranger Things, Steve Harrington, drives a new BMW 733i. The BMW 7 series has always been their top of the line model and considered a full-sized luxury sedan model.
This particular model was powered by a 3.2-liter straight-6 engine that makes a staggering 195hp and 280Nm of torque driving the rear wheels.
In the 80s, much more than today, having yourself a European imported vehicle especially a BMW reflects affluence and wealth. This totally makes sense to be Steve's ride, being a rich jerk-ass high school jock.
>>> Also check: Top 9 Must-See Movies Showcasing Special Cars.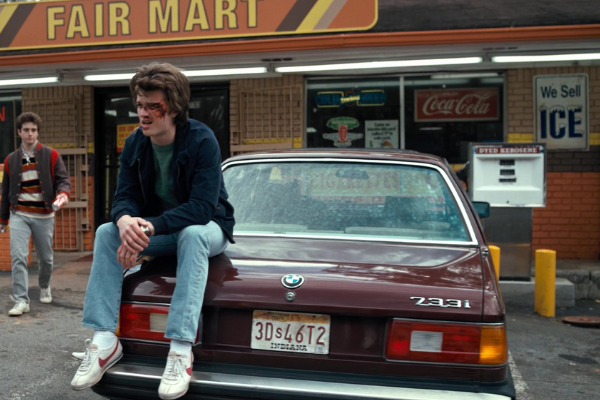 BMW 733i is top of the line model and considered a full-sized luxury sedan model
5. Volkswagen Rabbit Cabriolet 1988
Poor Barb. Season 1 of Stranger Things introduced us to the show's most unsung heroine. If you've come across the trending hashtag #justiceforbarb a few years ago and never knew what it's about, maybe you should start watching the show. To everyone else, you know what I am talking about.
Don't feel too bad though, it seems like there is an error in the matrix. As her car is a 1988 Volkswagen Rabbit Cabriolet, the soft-top convertible model of the model also known as the VW Golf MK II to the rest of the world. Maybe Barb is a Time-lord?
We're sure that this is an error though. As no other car in the era represents the middle-class and it's rising spending power than this 1.8 liter inline-4, 90hp, 145Nm of torque fun-box. Poor Barb, though.

1988 Volkswagen Rabbit Cabriolet represents the middle-class and it's rising spending power
>>> Worth reading: Best cars from the Marvel Cinematic Universe.
6. Ford Crown Victoria LTD 1981
And we return to the land of US Domestic cars. Johnny law and the bad men need their own cars too and nothing can bring cops and government workers apart from the now-iconic Ford Crown Victoria LTD.
The government spec is powered by the top of the line 5.8 liter V8 that can go from a standstill to 100kph at a whopping 11 seconds.
This model introduced the Panther Body platform which was Ford's modular chassis that became the foundation of many of their popular full-sized sedans. No 80's themed movie or TV show will ever be complete without one of these cars chasing the main heroes in a group and then stalling or crashing in the end in a fiery heap.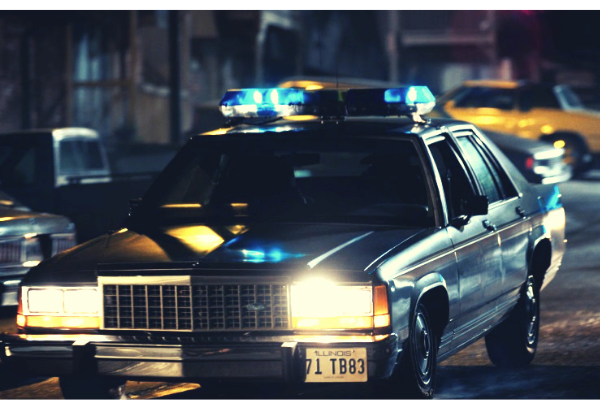 Ford Crown Victoria LTD can go from a standstill to 100kph at a whopping 11 seconds
7. Chevrolet Caprice 1980
Ford was not the sole supplier of Police cars to the US in the 80s. Chevrolet was able to grab a slice of the pie with their own, the Chevrolet Caprice. Powered by a 5.7 liter small-block V8 the Caprice has the horsepower rating set up to 170hp.
Respectable figures at the time considering the strict emissions laws at the time and the continued inability for American car companies to properly downsize their vehicles.
Still, much like the Ford Crown Victoria, you can find the Chevrolet Caprice in a group mostly giving chase to the main hero of the story, only to end up foiled by the protagonist.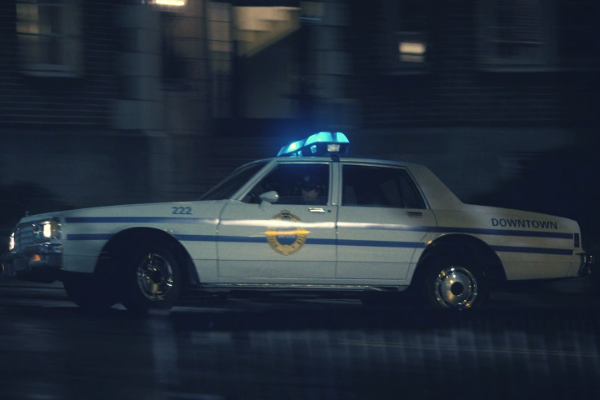 Chevrolet Caprice 1980 has the horsepower rating set up to 170hp
>>> You might want to read: 
8. Toyota Camry Liftback 1984
JDM cars finally make an appearance in the show during season 2 with Bob Newby's Toyota Camry Liftback. The Japanese are starting to show the Americans a thing or 2 about small cars with its transversely mounted engine to power the car's front wheels.
In that configuration, this enables Toyota to be more creative with the rear part of the car and add a considerable amount of space for such a small footprint.
The Liftback design of this 84 Camry adds a touch of flair and sportiness and is definitely more practical to put stuff in because of the large door a liftback can give.
Bob definitely seems like a sensible guy who likes to research about their vehicles before he buys them. I just wish Bob stayed in the car and waited for things to die down.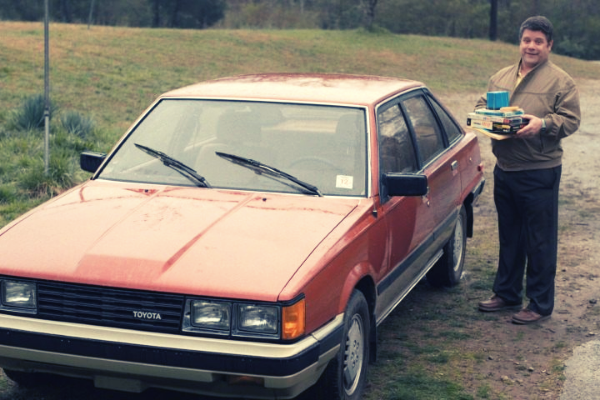 The Toyota Camry Liftback is definitely more practical
9. Chevrolet Camaro RS 1979
We now come to the very reason that gave me the idea to write this for you guys. There is one car in the series that really screamed the 80s and had a bad boy attitude to boot. Whenever its driven, heavy metal music is played in its probably 8-track radio by one of the series' most badass anti-heroes, Billy Hargrove.
If you were a kid in the 80s and wanted to show that you had bravado and swag, you go for this 5 liter V8, sure we might look at it and laugh at its the 125hp engine, but what it lacks in horses it sure makes up for it in swagger and presence. No other car in the series makes quite an appearance as the Chevrolet Camaro.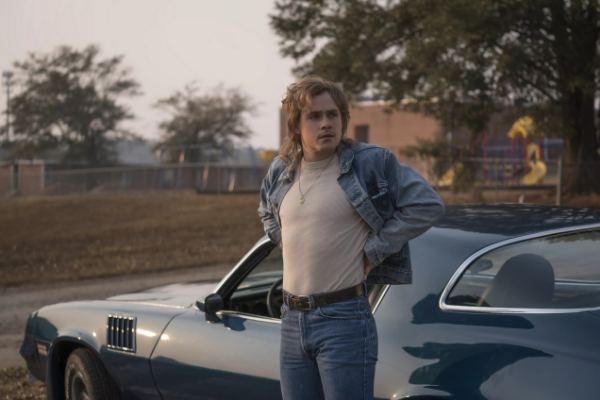 What 1979 Chevrolet Camaro lacks in horses it sure makes up for it in swagger
There you have it, folks! The top cars from the hit Netflix show Stranger Things. With the show in just it's the third season, I'm fairly certain that we'll be seeing more cars as the years go by, hopefully, the years move over into the 90s? Maybe we'll see someone drive a JDM Honda Civic in a few years!
Want to find your next iconic car? Also follow us at Philkotse.com to get your fix of news, reviews, and insights on the Philippines car industry.


Roy Robles
Author