So out of the great number of cars at the Goodwood Festival of Speed 2019, here are our top 7 standing out cars for this year!
Goodwood Festival of Speed 2019: Introduction
For those of you who are unaware, the Good Wood Festival of Speed is a hill climb event held annually in the Goodwood House grounds located in West Sussex in England.
Every year, newly released production models, prototypes and even historic vehicles participate in several motorsport activities like the hill climb which is the highlight of the Goodwood festival, a forest rally stage, a supercar run, and a very exclusive car show called the Cartier Style et Luxe where entry is only by invitation.
Founded way back in 1993 by Lord March, a British aristocrat and the owner of the Goodwood Estate, the Goodwood Festival of Speed was intended to bring back auto racing to a nearby race track called Goodwood Circuit but the guy wasn't able to procure a permit to hold racing events there.
So Lord March took it into his own hands and redesigned his large and very lush Goodwood property into a racetrack. In the present, several racetracks in fact.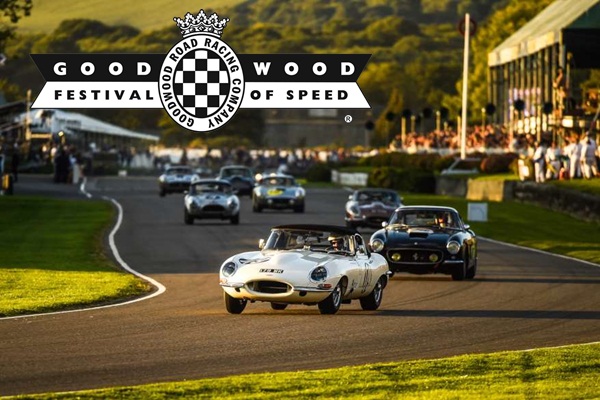 The Goodwood Festival of Speed has attracted more than 150K people each year
>>> Worth reading: Coolest cars at 2017 Goodwood Festival of Speed
In recent years, the said festival has drawn more than 150,000 people thus making the said event one of the largest un-official motor shows in Britain. And this year, the featured marque is Aston Martin.
To highlight the brand's 70th anniversary, they even erected a huge sculpture which features the very historic Aston Martin DBR1 Racecar.
For this article, we are to focus on cars. The ones that did incredible things during one of the motorsport activities, and some that stood out as pinnacles of the modern or even historical automotive industry.
So here is our list, which is not in any particular order, of vehicles that we think are some of the best in this year's Goodwood Festival of Speed
2019 Goodwood Festival of Speed: Top 7 Cars
1. Land Rover Defender 2020 Prototype: The predecessor of a legend
While the marque isn't new, the one in the Goodwood Festival this year was in fact a prototype clad in camouflage and a lot of fake exterior features presumably to hide the real production vehicle shape.
As mentioned in the previous article, the Land Rover Defender 2020 to hit PH shores next Q1, so it is particularly exciting for the car lovers.
With regards to the conception of the new Defender, it was actually borne out of the fact that the old Defender could not meet modern standards in safety and fuel efficiency.
Currently and during the past few months, some units of the Land Rover Defender Prototype has spotted in some parts of the world, most notably in Africa, as a part of their manufacturer's grueling set of tests of which the said 4x4 vehicle has reportedly done well.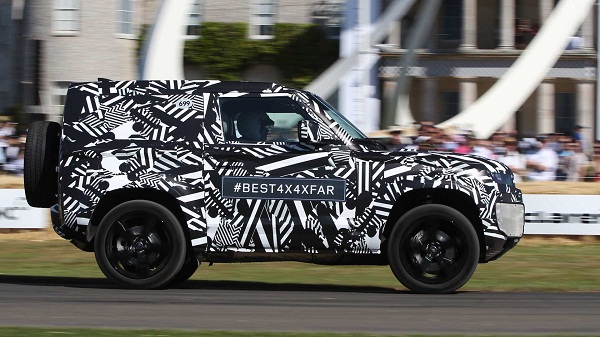 With its camouflage plus some hidden exterior features, the 2020 Land Rover Defender still drew quite a crowd 
2. Volkswagen ID.R: The record breaker
Another very exciting vehicle at the 2019 Goodwood Festival of Speed is the Volkswagen ID.R which this year has been braking all sorts of records like the Nurburgring EV record.
At the festival itself, the VW ID.R had also broken the record for the famous hillclimb event which was first set by a McLaren F1 car. The ID.R did the 41.18 second run only to beat its own record only a few hours later at 39.9. Its official time, which was recorded on the 7th was slower as the track was reportedly wet.
This is huge news indeed as it is another solid proof that electric cars can match and in the case of the ID.R, outmatch the currently dominant combustion powered vehicles in performance.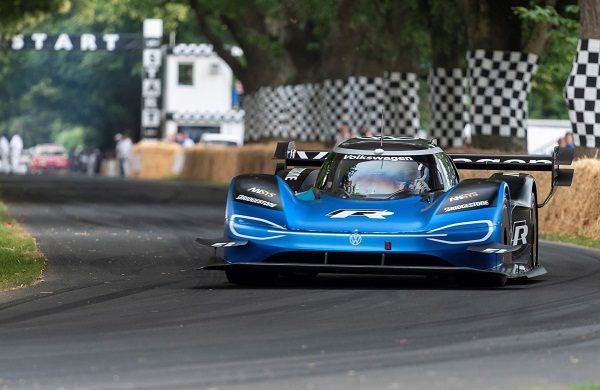 This beast of an electric vehicle broke an speed record previously held by an F1 car
3. De Tomaso P72: The long awaited return
If you haven't heard the name De Tomaso before, it is an Italian based sports car manufacturer which gained a lot of attention up to this day because of the De Tomaso Pantera which was released back in 1971 and it was simply a very radically designed vehicle.
Now at the 2019 Goodwood Festival of Speed, people, particularly enthusiasts were delighted to see the said manufacturer back on its feet with a new and very hot, retro modern model; the P72
While details on the P72's performance and specs are yet to be released, it would be our guess that it would make sense to say that the prototype seen at the Goodwood Festival this year had a V8. But that's just a guess mind you.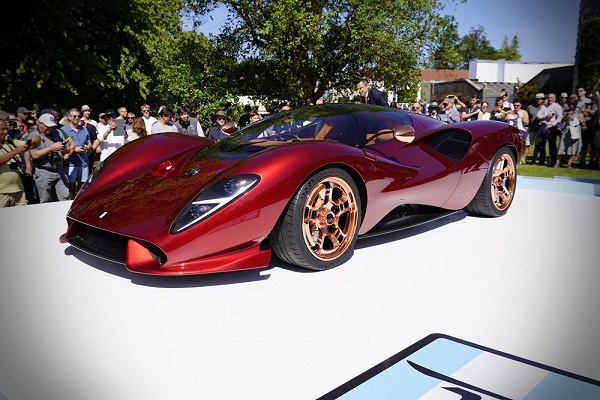 The P72 marks the return of a very well sought car manufacturer
4. Toyota GR Supra GT4 concept by GAZOO racing: The new Supra but race ready
With the recently released Toyota Supra short wheelbase, rear-wheel drive, low center of gravity and a balanced chassis, Toyota wanted to show the world how their new performance vehicle would fare as an all-out racing platform.
Enter the Toyota GR Supra GT4 racing concept built by Toyota Gazoo Racing. It has the same straight six as the production model but it boosted with a twin scroll turbo. They also gave it a huge wing, a competition spec suspension, roll bars, and a set of really good Brembo brakes.
Overall this is a very good move on the part of Toyota as it further explores the capabilities of their new Toyota Supra and it will inevitably gain more attention from enthusiasts. Currently though, Gazoo Racing is looking into actual interest from those who actually want to purchase a GR Supra GT4 racing concept vehicle and it will only be a matter of time before the race spec GR Supra GT4 will become available.
Even making individual parts of it available for purchase would be greatly appreciated by a lot of Toyota fans.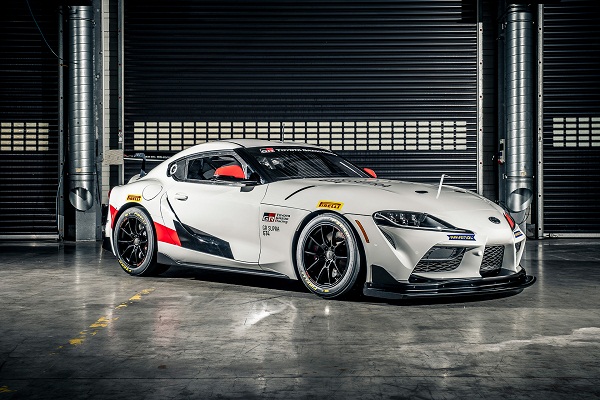 Gazoo gave the Supra race spec parts. Note the huge wing at the rear
>>> Also check out: Toyota Supra 2019 showcased its dynamism at Goodwood Festival of Speed
5. Fiat 300 HP Record/Fiat S.76: "The Beast of Turin"
While the modern vehicle selection from the 2019 Goodwood Festival of Speed was really good, there were some historical vehicles that stood out. In the case of the Fiat 300 HP Record however, it will undoubtedly catch everyone's attention wherever it goes.
Wrap your head around this; it comes with the Fiat S.76 engine which is a 28.5 liter inline-4 which produces 290 horsepower at a very low 1900 rpm, has 3 spark plugs for each cylinder, and rides on a set of bicycle wheels. And for 1910, the year it was produced, it ran a maximum of 213 km/h which is blisteringly fast for that time.
At Goodwood this year however, it didn't get up to speed during the hillclimb event and was even understeering a lot.  We wouldn't blame it on anyone however as driving a car that's mostly a World War 1 fighter plane on bicycle tires is reportedly really hard even on ideal conditions. And the road when it did its hillclimb run was damp.
108-year-old flamethrowing Fiat S76 'Beast of Turin' slides up FOS hill
>>> Read more: Fiat Chrysler to face diesel scrutiny.
6.Honda E: The future of day to day driving
At the Goodwood Festival of Speed, some cars are actually there as a showcase and not really break records or go really fast outright. Case in point is the Honda E which despite being driven by Alex Albon, a really good F1 driver, coasted at the hillclimb event. Mind you it did its run on a wet track.
The crowd loved the Honda E and commentators on the official Goodwood Road & Racing YouTube channel even say that it's currently one of the best looking and "cutest" EVs out there and is one that they would not mind getting for themselves.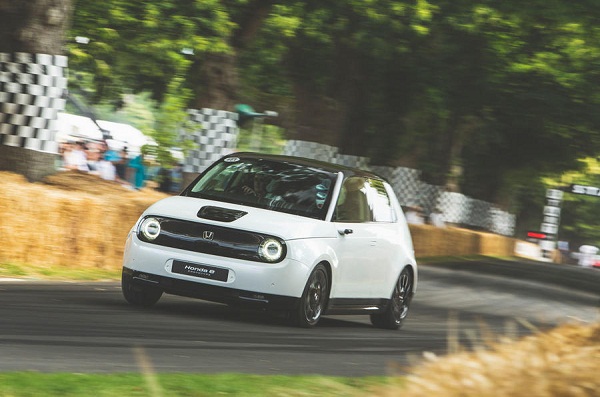 The Honda E didn't have a particularly fast Hillclimb run but it did attract a large crowd partly due to its "cute" looks
7. 2020 Ford Focus ST: A reasonably priced, yet reasonably fast hot-hatch
While the Goodwood Festival of Speed really is by all accounts dominated by supercars, hypercars, and prototypes, there are some noteworthy cars that are meant for a larger market segment and one of those is the Ford Focus ST.
While it is ordinary-looking apart for its numerous ST badges and large wheels, the Focus ST is a veritable hot-hatch as its 2.3-liter EcoBoost inline-4 can make 276 horsepower and 420 Nm of torque. This enables it to accelerate to 100km/h in only 5.7 seconds.
The Ford Focus ST for sale is a very exciting vehicle and for its price and performance, it would surely bring loads of fun to whoever's driving it. Ford, please bring the Focus ST here to the Philippines.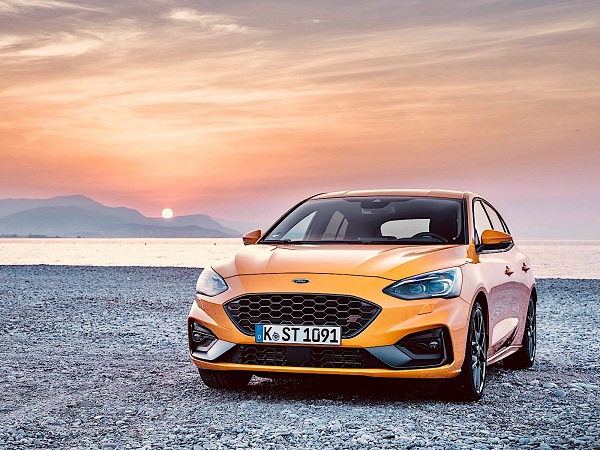 The 2020 Ford ST debuting at the Goodwood grounds in stunning yellow color
2019 Goodwood Festival of Speed: Conclusion
While a lot of the cars at the Goodwood Festival of Speed will not even reach the Philippines, the event serves as a good overall look at how far we have come in terms of automotive engineering and also it is the celebration of the passion for motorsport and cars in general.
As such, we always look forward to events like these in or out of the Philippines.
For the latest cars events, and updated automotive industry news, please keep reading here on Philkotse.com.


Cesar G.B. Miguel
Author
Recent posts