Here continues our series of best car movies to enjoy.
In the previous part, we had chance to dip into the Transformers. Today, Philkotse.com will continue our car movie series by two other "car"toons: M.A.S.K and Pole Position.
>>> If you have missed Part 1, click here to look back the Transformers.
2. M.A.S.K
Mobile Armored Strike Kommand, or M.A.S.K., was another media franchise, this time created by toy manufacturer Kenner. They came up with an animated series to help sell the toys in the lineup, focusing on the toyline's first two series released, with an emphasis on fighting crime and terrorism. It debuted in September 1984, running a total of 75 episodes. The show's tagline was "Illusion Is The Ultimate Weapon".
M.A.S.K. (Mobile Armored Strike Kommand) Intro
Within the context of the show, M.A.S.K. was the name of a special law enforcement task force comprised of members from various ethnic backgrounds, led by Matt Trakker. They employed super-powered masks with special abilities, and controlled transforming vehicles, constantly battling the criminal organization V.E.N.O.M. (Vicious Evil Network Of Mayhem) led by General Miles Mayhem and who are similarly equipped.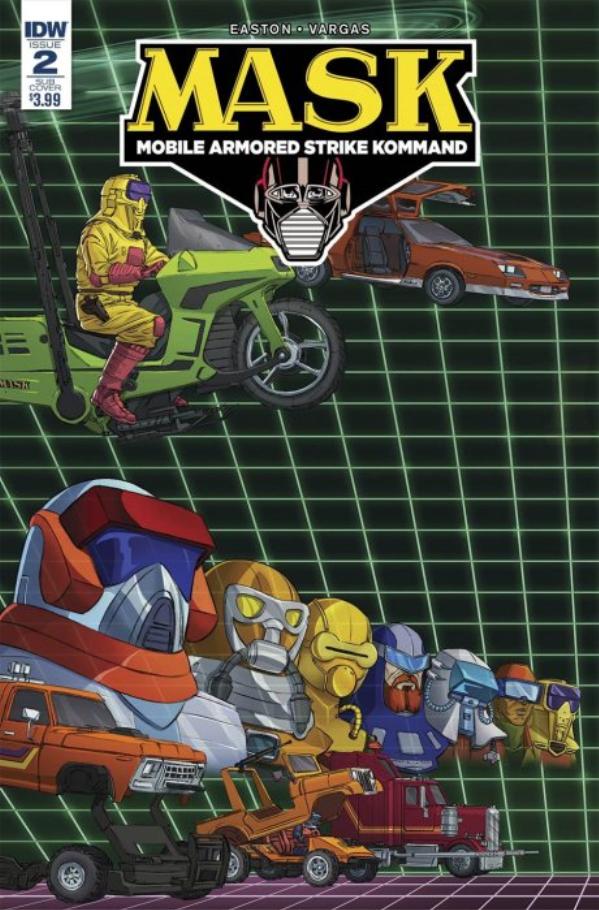 M.A.S.K. was the name of a special law enforcement task force led by Matt Trakker
Some of the vehicles featured looked plausible from an engineering standpoint, while others looked downright ridiculous as they went against standard laws of physics, requiring you to suspend your disbelief. Either way, they admittedly looked cool back in the day:
2.1. The M.A.S.K. Roster
Thunderhawk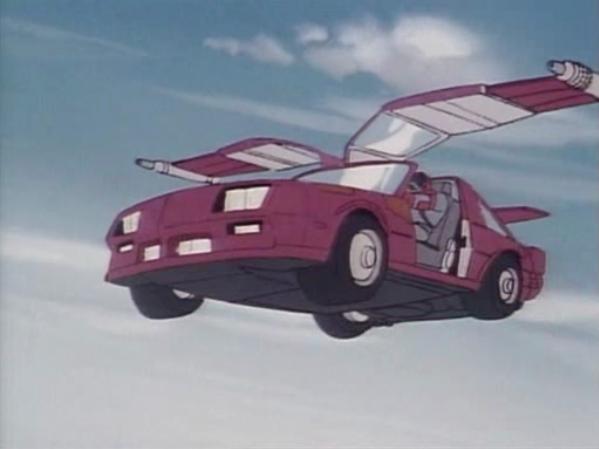 Thunderhawk
A red Chevrolet Camaro that transforms into a gull-winged fighter jet plane.
Rhino
A red Kenworth semi tractor that can transform into a mobile defense platform and command center. The rear of the truck also conceals an emergency road vehicle. Rhino is the vehicle depicted in the show's logo.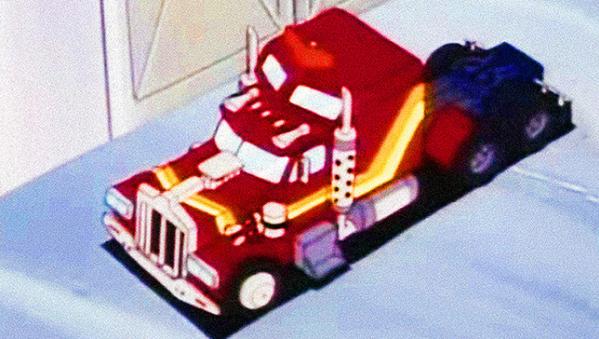 Rhino
Volcano
A blue monster truck van that converts into an attack station.
Firefly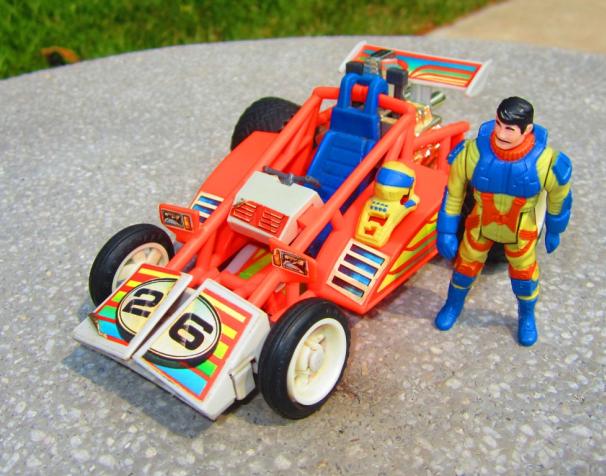 Firefly
An orange racing dune buggy capable of transforming into a one-man jet.
Firecracker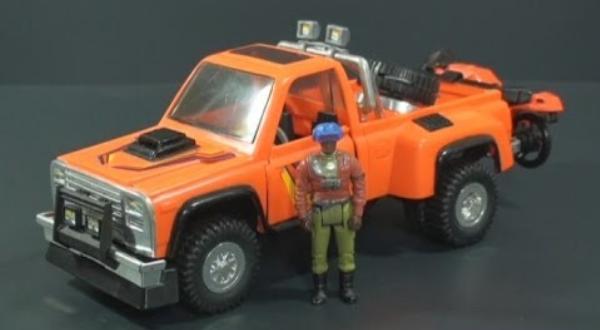 Firecracker
An orange pickup truck that transforms into a mobile weapons platform.
Gator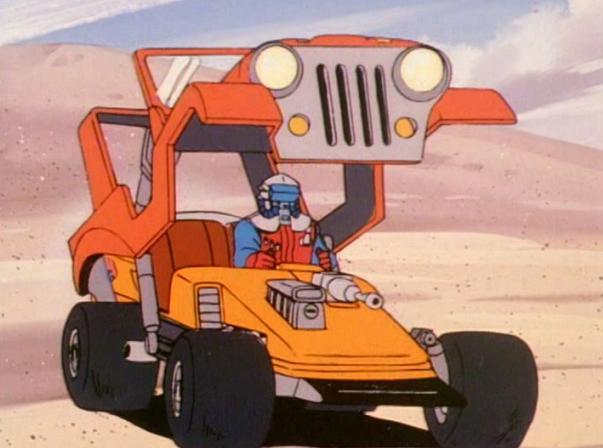 Gator
An orange Jeep CJ7 that conceals a boat inside the chassis.
Hurricane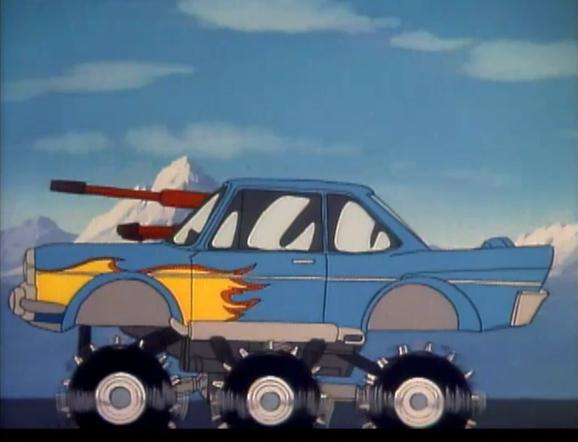 Hurricane
A 1957 Chevy that converts into a six-wheeled attack tank.
Raven 
A black Chevrolet Corvette that converts into a seaplane and submarine.
Condor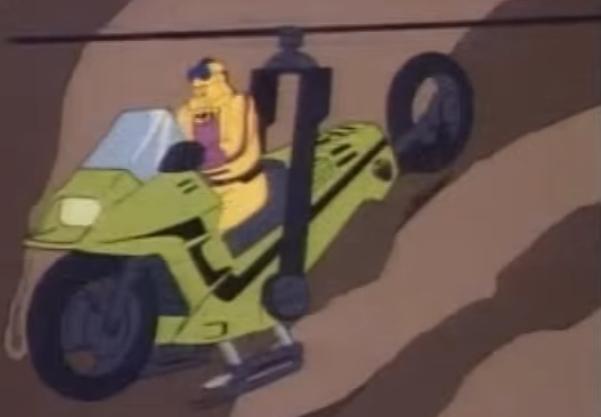 Condor
A green motorcycle that turns into a helicopter.
Slingshot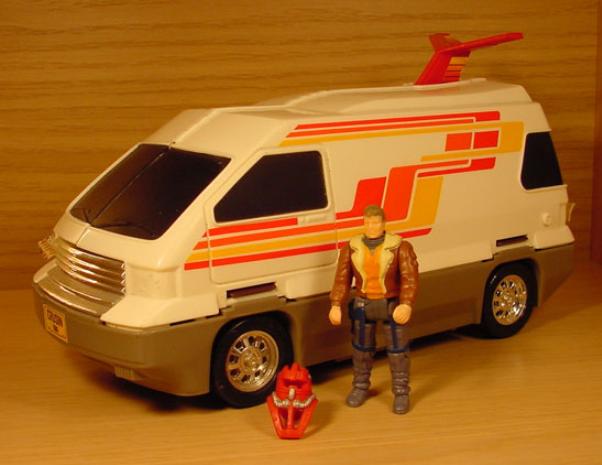 Slingshot
A white recreational van that conceals a jet fighter launch ramp
2.2. V.E.N.O.M Fleet
These would inevitably battle the vehicles used by V.E.N.O.M., mainly comprised of the following:
Switchblade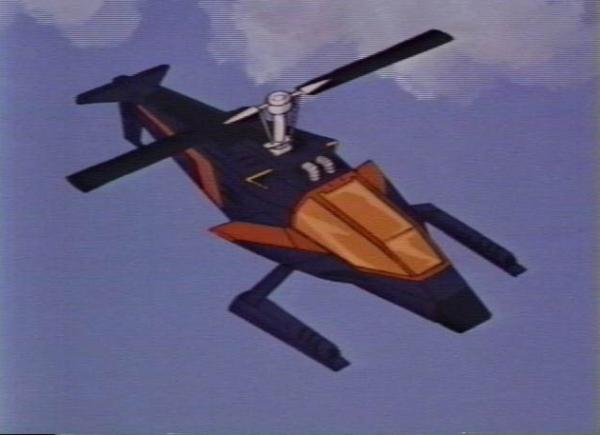 Switchblade
A helicopter that transforms into a jet plane.
Piranha
A motorcycle with a sidecar that can detach and act as a submarine.
Jackhammer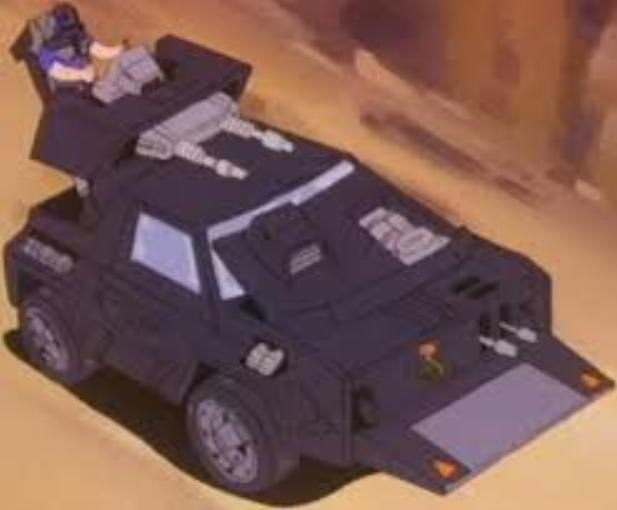 Jackhammer
A Ford Bronco that can turn into an assault vehicle with immense firepower.
Outlaw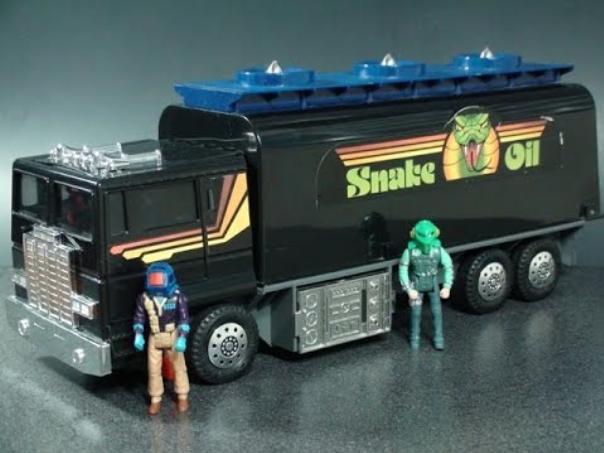 Outlaw
A tanker truck that converts into an assault platform and mobile command center.
Stinger
An orange Pontiac GTO that transforms into a tank.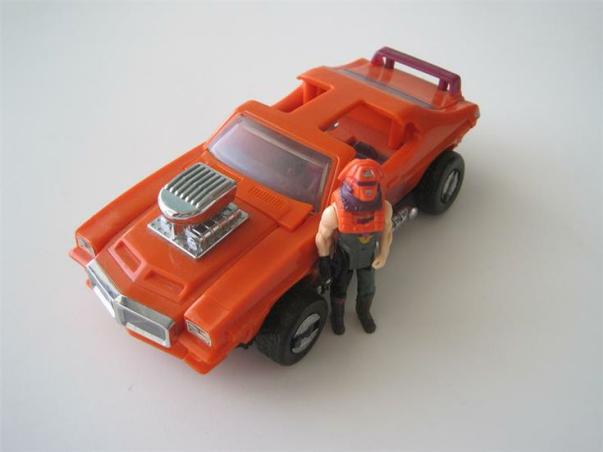 Stinger
Vampire
A red motorcycle that transforms into a jet.
Iguana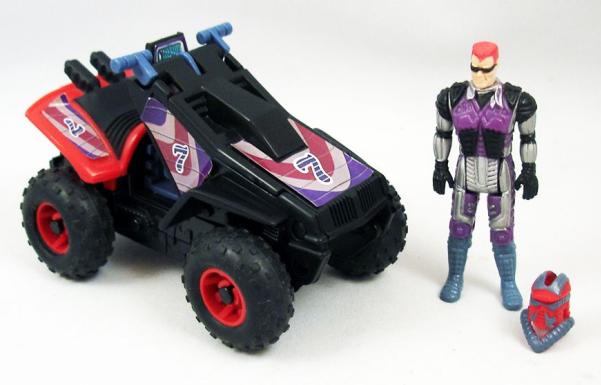 Iguana
An all-terrain vehicle that transforms into a mobile buzzsaw platform.
Buzzard
A Formula 1 race car that can split into a drone-piloted jet and two motorcycles.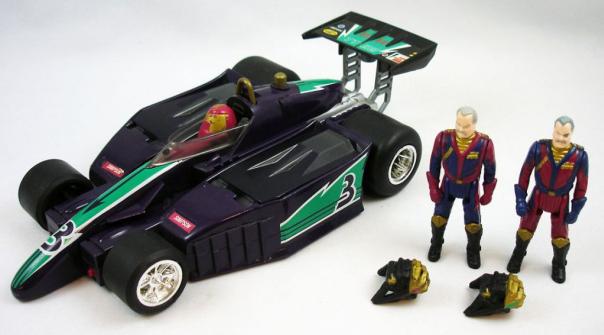 Buzzard
3. Pole Position
This was based on the popular 1982 Namco video game. However, the show had little in common with the actual game, apart from the title. Pole Position had a brief run, airing only 13 episodes when it was released in 1984, returning as reruns during the late 1980s and early 1990s.
Pole Position Intro & Closing Credits
The plot involves the Darretts, a family of stunt drivers that investigated and fought crime while staging a travelling performance known as the "Pole Position Stunt Show". This was sponsored by the US government, primarily to provide cover for the family's investigations as well as helping to maintain the stunt cars used in the show. After the family's parents died in a road accident, their two adult children Tess and Dan, as well as the youngest sister Daisy were left in the care of their uncle Zachary, the engineer who helped build the cars used in the stunt show. Zachary takes over the Pole Position operation, handing out leads for Dan and Tess to pursue in every episode.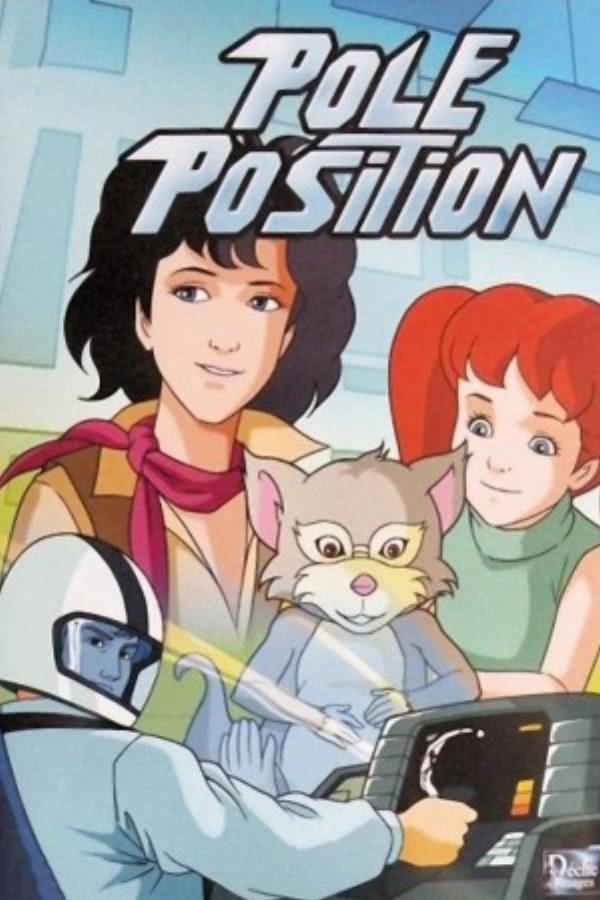 The plot involves the Darretts, a family of stunt drivers
During their stunt shows as well as their missions, Tess and Dan use cars that have been specially modified and can be used in a variety of operating environments.
Wheels
A red and black 1965 Ford Mustang convertible driven by Tess, the oldest of the Darrett siblings. The name actually refers to the car's artificial intelligence (AI) module, with a personality that demonstrates a cautious attitude, much like the logical and rational thinking of its driver.
Roadie
A futuristic-looking blue coupe helmed by Dan, the younger brother. Roadie is the name of the car's AI module, shown as a very smart and wisecracking character that tries to keep its brash driver from getting into trouble.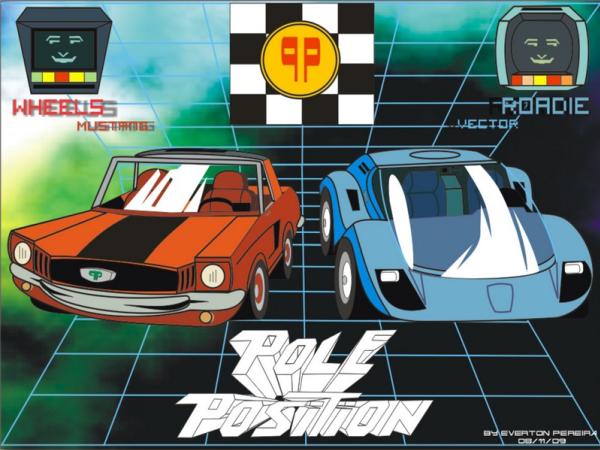 Wheels vs. Roadie
Both Roadie and Wheels appear as talking computer-drawn faces within a computer screen, and they can both be removed from their respective cars to be carried around using handles. When installed in the cars, however, they enable a variety of high-tech functions. Apart from the default car setting, Roadie and Wheels can activate hovercraft and hydrofoil modes on their respective vehicles, giving Dan and Tess much more flexibility in accomplishing a given mission. They are often accompanied by Daisy and her genetically-created pet Kuma. In one episode where Zachary was abducted, the Darrett siblings mount a rescue mission only to discover that their uncle was actually a paraplegic, yet was more than capable of leading the Pole Position operation.
End of Part 2. Our car movie serious will be continuing with Part 3, so stay tuned!