The all-new 2020 Mu-X Boondock is the latest iteration of the famous Mu-X mid-size SUV. It comes with a lot of improvements, both functional and aesthetic.
Following hot on the heels of the recently-launched 2019 D-Max Boondock, Isuzu Philippines Corporation follows it up with the all-new 2020 Isuzu Mu-X Boondock edition. Its release also coincides with the aforementioned SUV's 5th year in the Philippine market.
While the model itself has indeed come a long way since its 2014 release and a major update with the Mu-X LS-A variants, let's check out what this new Mu-X Boondock edition is offering.
1. Isuzu Mu-X Boondock 2020: So what's new?
First off, the new Mu-X Boondock comes with a set of 17-inch 265/70 Yokohama all-terrain tires. Towards the top, they added a really beefy crossbar that's able to take most after-market roof racks. There's also a pair of really tough-looking step boards emblazoned with the Boondock logo.
Other improvements that make this variant of the Mu-X more capable is a lift kit which adds around 247 mm to the vehicle's ride height. This means that the Isuzu Mu-X Boondock is more capable of traveling through sketchy terrain and it might even be able to ford deeper waters than the base model. The suspension is also a bit different on the Mu-X Boondock. It's been replaced with a performance shock absorber bars as well as a stabilizer bar for the rear.
>>> Related: Isuzu Mu-X's latest price list, specs, promos, and more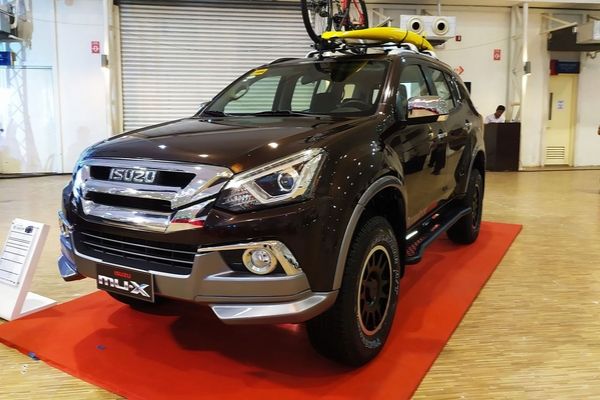 The performance shocks are not only a functional improvement, but it also improves the stance of the Mu-X
The only available color for the Mu-X Boondock is this earthy colored hue called Havana Brown which from the looks of it is quite appropriate with what the vehicle is meant to do.
As for its interior, the 2020 Mu-X Boondock, it's still that familiar arrangement with leather-clad seats as well as an eight-inch touchscreen infotainment system.
>>> Get the best deals of Isuzu Mu-X in the Philippines.
2. Isuzu Mu-X Boondock 2020: Powered by the 4JJ1-TCX
Under the hood, the 2020 Mu-X Boondock's engine is the same 3.0 liter inline-4 4jj1-TCX diesel engine that comes with the 2020 D-Max LS-A. That being said, it offers the same 175 horsepower and 380 Nm of torque. Just like the D-Max Boondock though, the Mu-X Boondock's sole drivetrain option is a 4x2.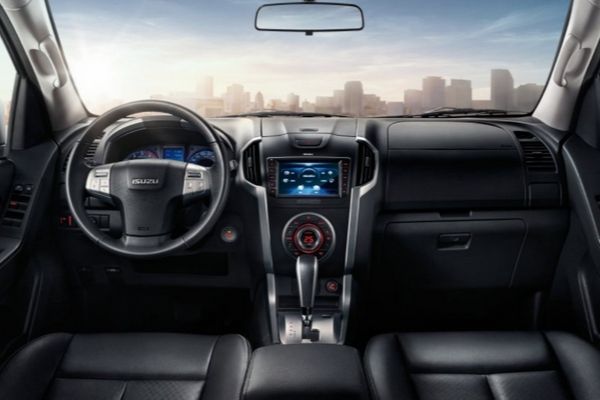 The interior of the 2020 Isuzu Mu-X Boondock more or less looks like this
3. Isuzu Mu-X Boondock 2020: How much is it?
Currently, the 2020 Isuzu Mu-X Boondock is priced at Php 1,845,000. While it is scheduled to be available at Isuzu Philippines dealerships by the end of this month, this variant will only see a 100 unit production run. As such, its a very special and limited edition indeed.

Know more about Isuzu mu-X 2022

The Isuzu mu-X Philippines 2022 is the Japanese marque's entry to the 7-seater midsize SUV, which is based on its pickup truck sibling, the Isuzu D-Max. It is offered in five variants with a price that ranges from Php 1,590,000 to Php 2,450,000. For the Philippines market, the Isuzu-made SUV has two available engine options. The smaller one is a 1.9-liter RZ4E Bluepower turbodiesel capable of making up to 148 horsepower and 350 Nm of torque. It can either come with a six-speed manual transmission, or a six-speed automatic transmission. Meanwhile, the larger engine option for the mu-X is a 3.0-liter inline-4 turbodiesel. At most, this mill can produce up to 187 horsepower and 450 Nm of torque. Only a six-speed automatic transmission is available with this engine.
Dimensions-wise, the mu-X is 4,850 mm long, 1,870 mm wide, and 1,825 mm high, with a wheelbase and ground clearance rated at 2,855 mm and 235 mm, respectively. Locally, this midsize SUV is competing against the likes of the Toyota Fortuner, Nissan Terra, and Mitsubishi Montero Sport.

Cesar G.B. Miguel
Author