Subaru, Suzuki, and Kia have joined other car brands in providing extensions for their customers
With a growing number of COVID-19 cases in the country, it is still uncertain whether operations will resume on April 14. Many car brands responded to this crisis by temporarily closing their dealerships, as well as extending the PMS and warranties of their customers.
Enhanced Community Quarantine: How does it affect your land travel?
Among these car brands that provide leniency with their warranty and PMS schedules are Subaru, Suzuki, and Kia. The three companies extend a helping hand to their customers despite handing out late announcements compared to the other car brands.
Subaru Philippines released an advisory that all scheduled PMS and warranties that will expire within the quarantine period shall be given a 30-day extension.
However, the Japanese automaker reminded its customers that the extension for warranties is still subject to validation under its Standard Warranty Guideline.
>>> Related: COVID-19 Update: These car brands implement PMS, warranty extensions
The official statement from Subaru Philippines
Meanwhile, Suzuki Philippines issued a special warranty extension of three months to those warranties that will expire during the quarantine period.
The Special Warranty Extension covers the motorcycle, automobile, and marine products of Suzuki. In addition, Suzuki also provided a special servicing extension of three months for those Suzuki units that are due for Preventive Maintenance Service during the enhanced community quarantine period.
>>> Related: Nissan Philippines gives 30-day PMS, warranties, loan payment extensions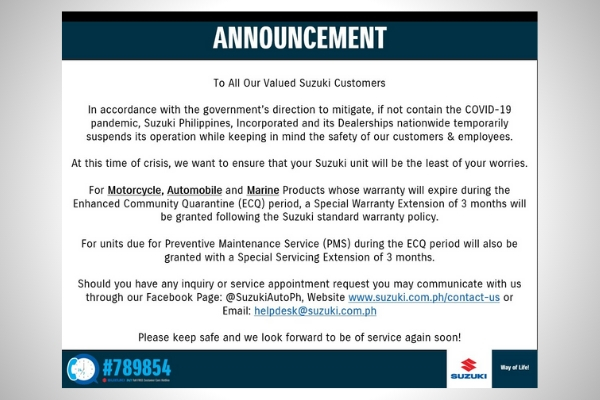 The official statement from Suzuki Philippines
Lastly, Kia Philippines gave a 30-day extension to the warranty coverage of all Kia vehicles with expiring warranty coverage after the quarantine period.
Kia reminded its customers to bring their warranty booklet for validation. Moreover, Kia only gave a 15-day extension for all Kia vehicles with expiring scheduled PMS.
>>> Related: Foton warranties, PMS schedule extended until June 30 due to COVID-19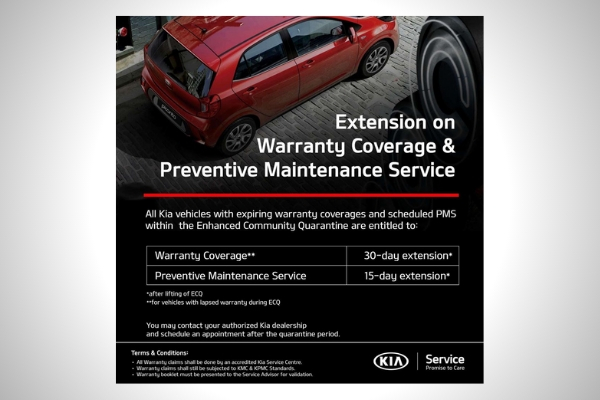 The official statement from Kia Philippines
If you have any questions, you can send your message to the following contacts listed below for better clarifications:
Subaru | Website: www.subaru.asia/ph, FB Page: @ILOVESUBARU
Suzuki | FB Page: @SuzukiAutoPh, Website: www.suzuki.com.ph/contact-us, Email: helpdesk@suzuki.com.ph
Kia | Email: kia.customercare@acauto.ph
Here at Philkotse.com, we value your interest in new car releases and the latest news in the auto industry. You can visit our website to find out more.
Know more about Kia

<p>Searching for a specific Kia car online? Visit Philkotse.com where every model is offered at a good price. Also, familiarize yourself with the latest news and car review through its user-friendly site, as well as the latest Kia price list in the Philippines to keep you informed of how much your dream Kia is currently.</p>

Rex Sanchez
Author