The Japanese automaker is extending its Nissan New Vehicle Warranty and scheduled Periodic Maintenance Service.
Nissan Philippines first offered a helping hand to its customers by temporarily closing all of its dealerships in the entire Luzon area until further notice. This is a way by Nissan to show that it values the safety of its customers, employees, its business partners, and its communities. The Japanese automaker encourages its customers to stay home and to stay safe.
Then, amid the COVID-19 quarantine, the company decided to extend the warranty coverage and scheduled Periodic Maintenance Service for all its qualified Nissan customers by 30 days if the coverage lapses within the quarantine period. However, Nissan clarified that the extension is still subject to warranty validation. 
Enhanced Community Quarantine: How does it affect your land travel?
>>> Related: LIST: Banks that extend car loan payment deadlines amid COVID-19
Nissan Finance released a public advisory on March 27, 2020, saying that it will be extending the loan payment deadline of its eligible Nissan Finance customers whose due dates fall within the period covered by the Enhanced Community Quarantine. However, Nissan Finance only endorsed Eastwest Bank in its post.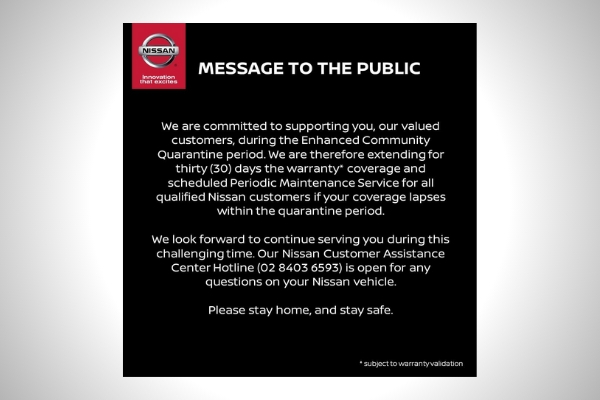 The official statement from Nissan Philippines
>>> Related: COVID-19 Update: These car brands implement PMS, warranty extensions
Nissan's warranty which is called Nissan New Vehicle Warranty covers the first three years or 100,000 km. With the 30-day extension in effect, Nissan customers can still relish the full 3\three years of warranty. The Japanese automaker clarified that in this warranty, the following conditions are not covered:
All tires and batteries are subject to a separate warranty, as set out in detail under the section titled "TIRE AND BATTERY WARRANTY."
Damage or failures resulting from unauthorized modifications or use of any non "Genuine Nissan" parts, accessories, or equipment.
Damage or failures resulting from the use of non-recommended, improper or dirty fuel, fluid, oil, or lubricant.
Misuse, such as driving over kerbs, overloading, racing, continuous drive after the loss of lubricants, oils, refrigerant, or water.
If you have any questions, you can contact the Nissan Customer Assistance Center Hotline at 02 8403-6593 for assistance. Nissan Philippines also encourages its customers to follow its digital platforms:
Facebook: facebook.com/NissanPhilippinesInc
Twitter: @NissanPHI
Official website: www.nissan.ph
Here at Philkoste.com, we value your interest in new car releases and the latest news in the auto industry. You can visit our website to find out more.
Know more about Nissan

Looking for a convenient way to browse Nissan automobiles online? Philkotse.com offers the widest selection of available Nissan cars in the Philippines today. You may also enjoy exciting promos and deals, as well as get the most updated Nissan price list in the Philippines today. Also, know the latest news, reviews, and information about your favorite Nissan vehicle.

Rex Sanchez
Author