For those who have concerns regarding their PMS and vehicle warranty with Isuzu.
Many car dealerships started to take action against the inconvenience the COVID-19 pandemic may have caused. The first action done was to temporarily close their respective dealerships to practice social distancing and avoid the further spreading of the virus.
Now, the latest actions made include the extension of vehicle warranties, preventive maintenance schedule, and loan payments.
Enhanced Community Quarantine: How does it affect your land travel?
Moreover, Isuzu Philippines released a public advisory saying that it will be giving a 30-day extension to all Isuzu vehicles with PMS schedules within the quarantine period and to all Isuzu vehicles with warranty coverage expiring during the quarantine period.
>>> Related: 
Car Brands Taking Action
Isuzu Philippines started to temporarily close its dealerships in Metro Manila and Luzon on March 17, 2020, until further notice. This is to prevent the spreading of the Coronavirus and to ensure the safety and well-being of its customers and employees. Isuzu Philippines reminded everyone to stay at home and keep safe.
Other car dealerships that provided a 30-day grace period for the PMS and vehicle warranty of their valued customers are Mazda, Toyota, Honda, Ford, Chevrolet, SsangYong, and many more.
Chevrolet might be a standout – as the American automaker extended the warranty of its valued customers that are set to expire within the ECQ timeframe. Chevrolet Philippines also allowed any Preventive Maintenance Schedule that is due this month to be rescheduled in April 2020.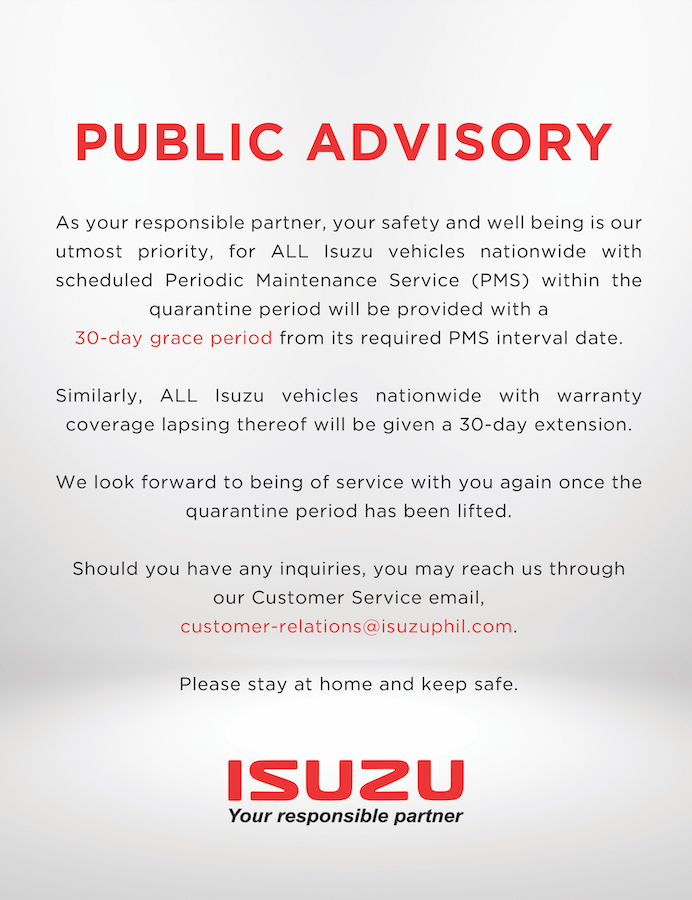 The official statement regarding Isuzu action during COVID
Ford Philippines also extended the vehicle warranty of its eligible customers, including those who availed its Premium Extended Warranty whose coverage will expire during the quarantine period to up to one month after the quarantine has been lifted.
If you have any questions, you can contact Isuzu's Customer Service at customer-relations@isuzuphils.com for better clarification.
Here at Philkotse.com, we value your interest in new car releases and the latest news In the auto industry. You can visit our website to find out more.

Rex Sanchez
Author