The American automaker continues to impress with their good customer service.
Many car dealerships prioritize the safety and well-being of their customers, especially during the COVID-19 pandemic. For that, Ford Philippines released a public advisory saying that all Ford dealerships in Luzon will temporarily be closed starting March 17, 2020, until further notice.
This is to comply with the enhanced community quarantine implemented by the Philippine government.
Enhanced Community Quarantine: How does it affect your land travel?
On March 20, 2020, the American automaker addressed its customer's concern regarding warranties. Ford Philippines stated that it will extend the vehicle warranties of its eligible customers by 30 days, including those who have Ford's Premium Extended Warranty.
Warranties are an agreement by a manufacturer and dealer to repair or replace faults in your car.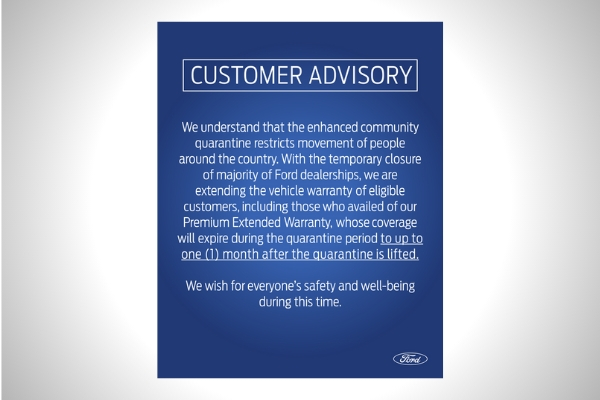 The official statement from Ford Philippines
Just yesterday, Ford Philippines reassured its customers by releasing a customer advisory saying that vehicles currently in Ford's workshops are safe and secure. Once the quarantine has been lifted, the customer's respective service advisor will reach out to them.
>>> Related: Expiring Chevrolet warranties extended by 2 months due to COVID-19
Other car companies taking action
Brands distributed Berjaya Motor Philippines, which are Mazda and SsangYong Philippines, also extended their customers' warranties. SsangYong's five-year warranty still stays intact and Mazda's YOJIN3 Mazda Total Care is extended by 30 days.
Both automakers also include the grace period of 30 days for the PMS schedule of their customer's vehicles.
Honda extended its customer's warranty by thirty days. However, Honda clarified that the extension is subject to validation under the Honda Standard Warranty Guide.
Toyota also extended the warranties of its customer's vehicle by thirty days – the extension also includes its customer's PMS. Moreover, Chevrolet declared all warranty coverage of its customers that are set to expire this month are all automatically extended to two more months.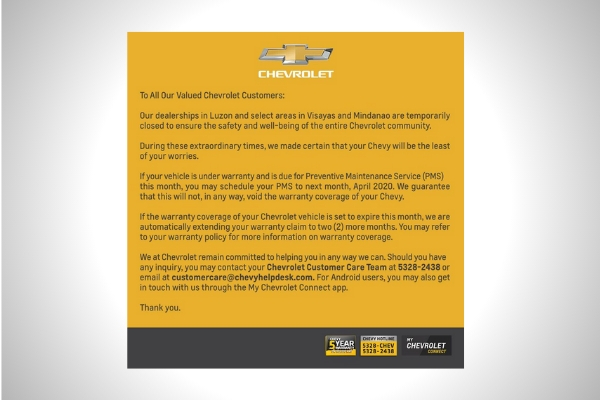 The official statement from Chevrolet Philippines
If you have any questions, you can contact Ford's Customer Relationship Center at +63-2-8866-9408 or 1-800-10-736-3673 or you can send them an email at emailus@ford.com for better and concise information.
Here at Philkotse.com, we value your interest in new cars and the latest news in the auto industry. You can visit our website to find out more.
Know more about Ford

Car enthusiasts in the Philippines can enjoy Ford cars, performance vehicles, SUVs, pickup trucks. Ford provides a wide range of car choices. Some of the best-selling cars offered by Ford Group Philippines are the Ford EcoSport, Ford Everest, Ford Expedition, Ford Explorer, Ford Mustang, Ford Ranger, Ford Ranger Raptor, Ford Transit, and Ford F-150. Check out Philkotse.com's latest Ford price list, as well as the available promos, and the latest news, reviews, updated specs, and other information.

Rex Sanchez
Author
Rex found his passion for cars at a young age. He loves anything with an engine – which includes cars and planes. Right now, he is pleased to impart that passion for cars to a professional level under Philkotse as staff writer.