This is good news from the country's leading car brand amidst Enhanced Community Quarantine.
After President Rodrigo Duterte placed the entire Luzon under Enhanced Community Quarantine, many companies temporarily shut down their operation – this is to prevent the further spreading of the novel coronavirus or COVID-19.
The practice of social distancing caused a plunge in car sales mainly due to the lack of interaction from a consumer and a salesperson.
Duterte places Luzon under enhanced community quarantine to fight COVID-19 | DZM
Many car companies already released their public advisories saying that their dealerships will temporarily be closed. This raised a lot of concerns, especially regarding monthly amortizations.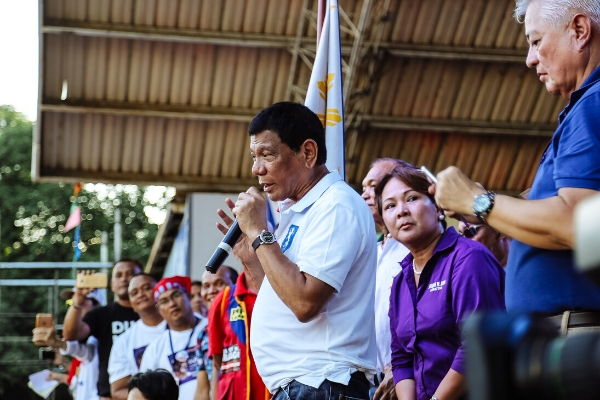 The Philippine government is taking every precaution to contain the virus
>>> Related: How is coronavirus breakout affecting online car sales?
Despite all these inconveniences, Toyota Motor Philippines released a payment advisory saying that the company will give a 30-day payment extension for qualified customers – this includes those payments through Auto-Debit.
This is good news, especially for those who need emergency funds during the COVID-19 pandemic. However, accounts will automatically be debited after April 18, 2020. You can choose to settle your monthly amortization if you wish to do so to prevent overlapping dues.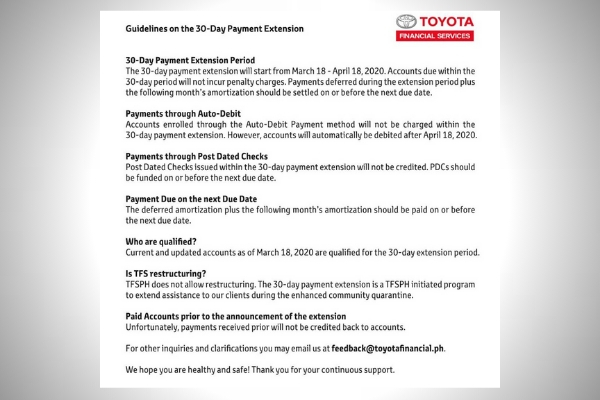 Guidelines on the 30-Day Payment Extension of Toyota Financial during COVID-19
>>> Related: DOTr guidelines for Metro Manila's community quarantine
Many netizens, however, did not appreciate this move by Toyota Philippines. They are claiming that this initiative is a payment delay and not a payment extension.
Many people are affected by their jobs due to the Enhanced Community Quarantine making this payment harder because the payment is doubled next due date. People are asking Toyota Financial Services during COVID-19 to extend their contract of payment rather than delaying it. 
Toyota Financial Services said that the deferred amortization plus the following month's amortization should be paid on or before the next due date. In contrast, PSBank moved the loan maturity of its customers by a month and BDO provided a 60-day payment extension.
Keep in mind, only current and updated accounts as of March 18, 2020, are qualified for the 30-day extension period. Toyota will send an SMS to eligible customers who are qualified for this payment extension.
If you have any questions, you can contact Toyota Philippines via email at feedback@toyotafinancial.ph or you can visit their website at www.toyotafinancial.ph.
Here at Philkotse.com, we value your interest in new car releases and lastest news in the auto industry. You can visit our website to find out more.
Know more about Toyota

Toyota leads the local automobile industry, distributed by Toyota Motor Philippines. It has a staggering total of 73 dealerships all over the country. It has 27 dealerships in Luzon, 15 in the Visayas, 11 in Mindanao, and 20 in Metro Manila, including Lexus Manila, Inc. for its service centers and sales distribution. TMP has the most extensive car lineup in the country, with its current range consisting of 20 vehicles in total. See the latest price list of Toyota vehicles in the Philippines here.

Rex Sanchez
Author