It's got a ground clearance of 120mm, and it has all-terrain tires.
Most of us are familiar with the Nissan GT-R. We've already talked about it several times, and it's already established as one of the best sports cars developed by a Japanese marque, and is probably one of the best track cars you can buy today.
However, Classic Youngtimers Consultancy, a Holland based car dealership, has some different ideas when it comes to the Nissan GT-R because it has turned one into something akin to the Safari-Spec Porsche 911 that we've featured before. That's right, this particular GT-R is a lifted, Baja type monster but it's definitely more brusque and more aggressive than the aforementioned Porsche.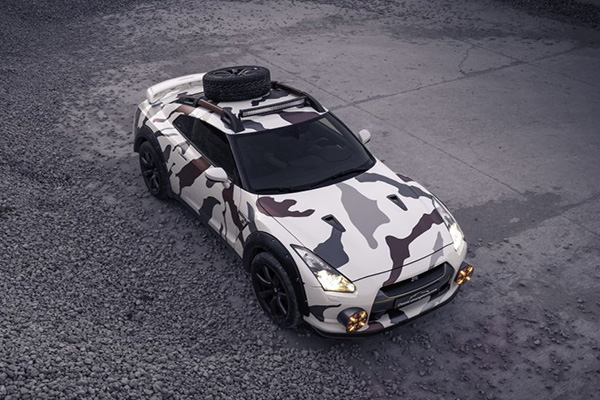 It's ironic because the camo actually makes this thing stand out more
Called the Godzilla 2.0, this beefy looking beast of a Nissan GT-R comes with 120mm of ground clearance, a bespoke off-road spec suspension system, blacked out fender flares and adjusted wheel wells for its set of Toyota Proxes ST III all-terrain tires, mudguards, a full-sized spare mounted on a roof rack, and a really striking camo wrap.
Curiously enough, the builders kept the stock GT-R wheels, which surprise surprise, can actually take a beating off road. Other things that Classic Youngtimers Consultancy kept stock is of course the ATTESA E-TS all-wheel drive system, which we're guessing can actually work really well on sand and gravel, with minor adjustments of course.
Nissan GTR Offroad "Godzilla 2.0" Video: Noël van Bilsen
With regards to the engine on the Godzilla 2.0 however, the VR38DETT 3.8 liter twin-turbo V6, specifically from a 2010 GT-R was tuned to make around 600 horsepower. That's an additional 35 horsepower over the stock output of the currently available non-Nismo GTR, and it also makes about the same as the GT-R Nismo.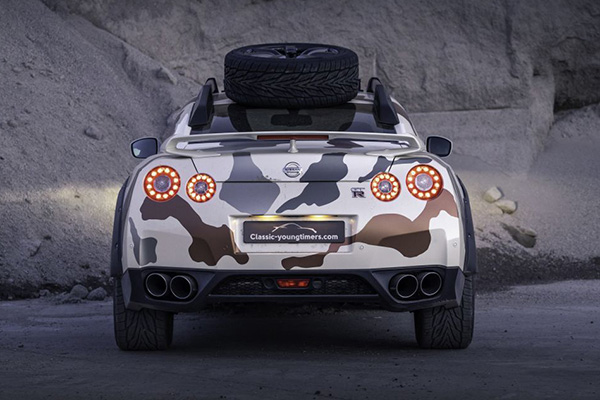 Note the custom roof rock carrying the full-sized spare
To build the Godzilla 2.0, the said company has tapped into its experience in building a customized Bentley Continental GT, as well as a custom Lamborghini Gallardo. Currently, they're also selling the Godzilla 2.0 at a cool $107,000, or Php 5,291,203. That's cheaper than a brand new GT-R here in the Philippines. Note though that only one Godzilla 2.0 was built, and importing it from Holland is no cheap matter.
>>> Related: Nissan GT-R 2020 Philippines Review: Evolved and ready to out-pace the competition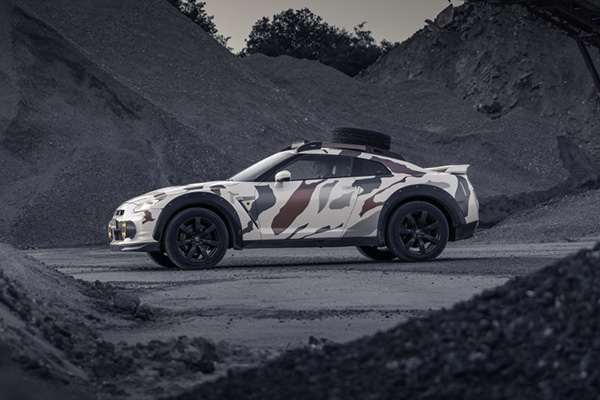 From this angle, you can clearly see added ground clearance
Does the Godzilla 2.0 rustle your jimmies as a purist, or do you actually like the idea of modifying a GT-R like this? 
Keep reading here on Philkotse.com for more awesome builds like this.
Know more about Nissan GT-R 2021

<p style="margin-left:18.0pt;">The Nissan GT-R high-performance sports car is currently the sixth model to carry the GT-R designation, having descended from the performance variant of the Skyline midsize sedan. Despite its roots, the GT-R was eventually spun off from the Skyline series beginning with the current R35 generation. The design has undergone two facelifts, one in 2011 and another in 2017. &nbsp;</p> <p style="margin-left:18.0pt;">Throughout its existence, the GT-R set a number of records in venues such as the N&uuml;rburgring in Germany, Goodwood Hill in England, Willow Springs in the U.S.A., and Tsukuba Circuit in Japan. It has been released in a number of special editions and commemorative versions, appearing in numerous video game titles. The GT-R is Nissan&rsquo;s highest-selling sports car, as well as posting one of the highest sales for any production sports car. &nbsp;&nbsp;</p>

Cesar G.B. Miguel
Author