Nissan has recently released the Nissan Patrol 2020 for the Middle East. We know that you're as excited as us so let's take a good hard look at the new model!
Every time we glance out on our local roads, we see SUV vehicles. As such, itis quite obvious to everyone that Filipinos love these vehicles. While mid-size SUVs indeed an ever-present sight on our roads, you can also observe full-size SUVs roaming around the Philippines like the Toyota Land Cruiser, the Ford Explorer, and of course, the Nissan Patrol.
The Nissan Patrol didn't actually start out as it is today. Instead, it's first-generation models, even the ones sold to the public shared more characteristics with that famous Willys Jeep that the Japanese Imperial Army captured way back when they occupied the Philippines in1941.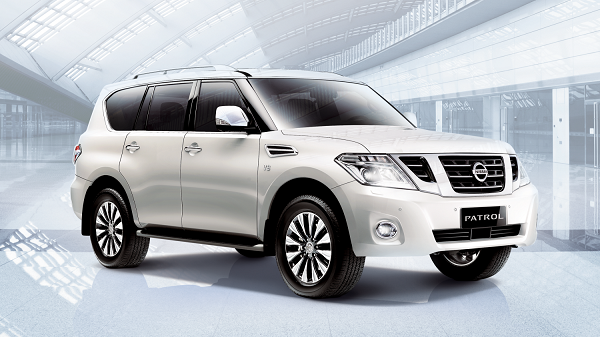 Here is the current Nissan Patrol Royale 2019 available in the country
Today, the currently available model here in the Philippines which is the Nissan Patrol Royale 2019 is a stylishly macho, off-road capable vehicle that can provide its passengers with tons of comfort and convenience.
The current example of the Nissan made SUV now even comes with the Nissan Intelligent Mobility suite for added safety. As such, it is indeed a far cry from its original, 1st generation 4W60 from the 50s.
Why are we talking about the Patrol's history? Well as of recently, it appears that Nissan is once again set on revolutionizing the Patrol with a massive update that was recently introduced in the Middle East.
This great news is quite relevant to our own auto market because it is highly likely that what we're getting might actually be the same new 2020 Patrol.
>>> Related: 2021 Nissan Patrol: Expectations and what we know so far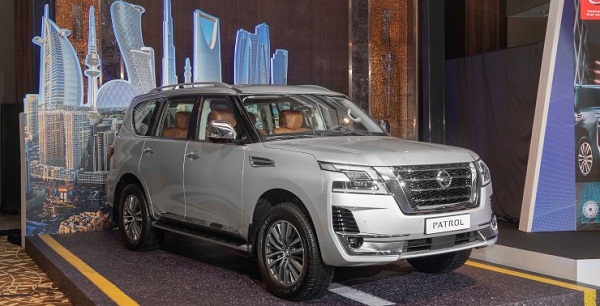 Nissan Patrol 2020 has recently made the official debut. Will it come to the Philippines soon?
1. Nissan Patrol 2020 Exterior: Imposing and futuristic
First off, how does it look?
Once you see it for the first time, you might say that the Nissan Patrol 2020 is quite the departure in terms of styling from the current model. If you look more closely, you will notice some signature Nissan design elements like a V-Motion grille which is very prominent on the new Patrol's front fascia.
Flanking the grille are a pair of very angular LED lights which we think are daytime running lights. The lights that the aforementioned LEDs are surrounding might also be the main headlights which are also LEDs.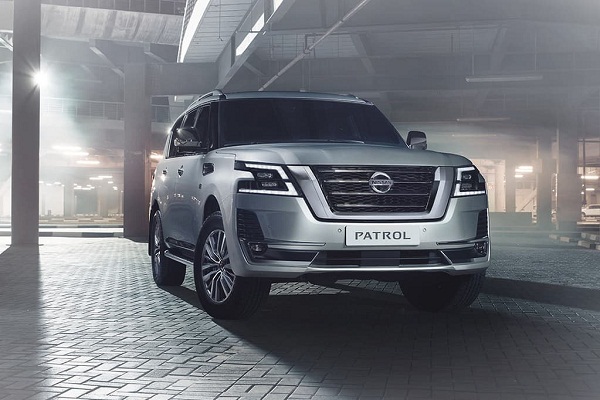 2020 Nissan Patrol sports some really hyper-futuristic design elements
Also, this heavily updated, new and shiny 2020 Nissan Patrol is the company's first vehicle to feature sequential turn signals.
At the rear, the changes aren't as obvious. But as you can see from the pictures we've provided, the rear end is now much shorter and the once bulbous shape of the rear bumper is now replaced by something much more angular and sharper looking.
>>> Related: Check out Nissan Patrol Super Safari 2017 for sale here.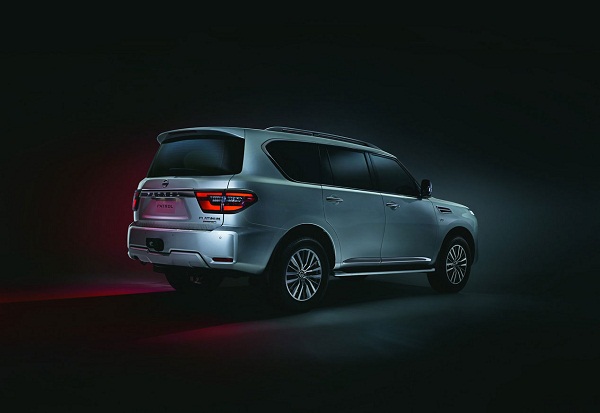 There are not so many changes for the rear of the Patrol 2020
As a whole, the new2020 Nissan Patrol's aesthetics are much more futuristic and the shape has been said by some automotive journos to be more "cohesive." And for us, this new 2020 Patrol simply oozes a ton of road presence just like the Hyundai Palisade 2020.
2. Nissan Patrol 2020 interior: Spacious, safe and definitely premium
When it comes to its interior, the new 2020 Nissan Patrol's is a certifiable feast for the eyes and for the touch. The seats are clad leather which is accented by this diamond quilt pattern, and the steering wheel and some parts of the dashboard are made much more premium than ever before with hand-stitched details.
As for other comfort features, the new Nissan Patrol 2020 also comes with cooling and heating for the front seats, not that the heating element will get much use here in the Philippines but the cooled seats are always a welcome feature. There's also the addition of powered lumbar support which is fully adjustable.
For on-board tech, the 2020 Nissan Patrol now comes with dual touchscreen units that come with Apple CarPlay, Android Auto and a whole host of other useful connectivity options.
Like the current 2019 Nissan Patrol Royale, the 2020 Nissan Patrol gets a whole host of active driver-assist features like forward-collision warning, automatic emergency braking, and pedestrian detection.
One feature that we'd like to see confirmed that the Philippine-spec 2020 Patrol is the inclusion of the brilliant Nissan Intelligent Mobility suite which is already present on the 2020 Nissan Terra.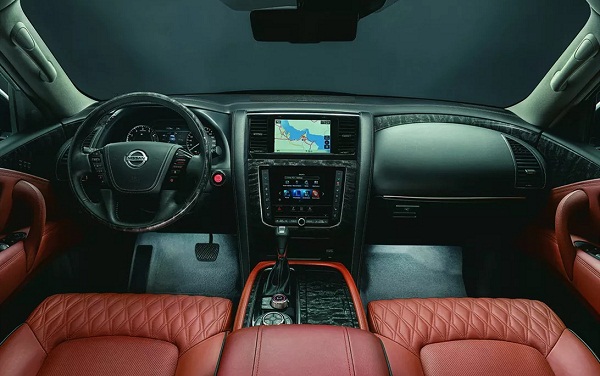 We wouldn't mind lounging inside the 2020 Nissan Patrol's interior. Comfy yeah?
3. Nissan Patrol 2020: Powertrain
As of the Nissan Patrol 2020 which was recently released, its engine is powered by a 5.6 liter V8 that makes around 400 horsepower and 560 Nm of torque. There's also a 4.0-liter V6 variant that's rated to make 275 horsepower and 394 Nm of torque.
For us here in the Philippines, it's highly likely that we're getting the V8 found on the current version. As for the smaller V6, we aren't counting on that too much.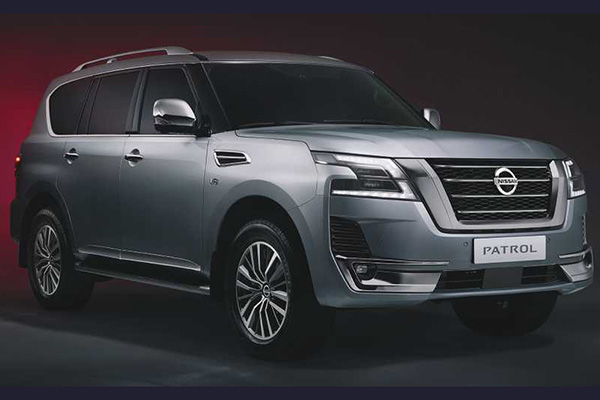 Not only is the 2020 Nissan Patrol modern looking, but it's very imposing as well.
>>> Refer to our Nissan Philippines price list to keep updated the latest change in pricing of all Nissan cars.
4. Nissan Patrol 2020: The new Patrol & full-size SUV market segment
Currently, at least in total units sold since their respective first-generation models which were both released in 1951, Nissan has sold around 1.9 million Patrol units. In comparison, Toyota has sold 10 million units.
While indeed, Toyota has Nissan beat in terms of the global full-size SUV market share, the Patrol actually has a sizable and quite loyal fanbase.
2020 Nissan Patrol – Luxury Off-Roader
Also, Toyota had discontinued their gasoline V8 Land Cruiser which of course places the Patrol in a prime position to dominate the full-size SUV market segment. Also, note that even the Patrol nowadays are outselling the Lexus LX three to one.
So when Nissan Philippines officially introduces this all-new 2020 Nissan Patrol, it might actually shake up things to a certain degree.
And lastly, there's this rumor that this particular 2020 Patrol might actually come to other countries as the Patrol Armada or as another variant and there's definitely also a chance of that happening for the Philippines. So with that, let's just hope that that rumor indeed will become a reality because of more variants more fun.
For more news with regards to the 2020 Nissan Patrol, please keep posted here on Philkotse.com

Know more about Nissan Patrol 2023

On December 2021, Nissan Philippines updated its flagship fullsize SUV by bringing in the all-new Nissan Patrol for the 2023 model year. For the local market, the sole variant for this model is the Patrol 5.6 V8 4x4 AT, which starts at Php 4.548M.
Under the hood of the new 2023 Nissan Patrol is a 5.6-Liter gasoline V8 engine capable of making up to 402 horsepower and 560Nm of torque. It then uses a seven-speed automatic gearbox, which sends power to all four wheels via a 4x4 drivetrain.
When it comes to size, the 2023 Patrol has a length of 5,270mm, a width of 1,995mm, and a height of 1,995mm. Its wheelbase length measures 3,075mm, and it has a ground clearance of 275mm.
In the local market, the Nissan Patrol 2023 competes against the Toyota Land Cruiser, Ford Expedition, Jeep Wrangler, and the Chevrolet Suburban.

Cesar G.B. Miguel
Author