Trucks fit for Manila's finest.
The Toyota Hilux pickup truck is one tough vehicle. It's so tough in-fact that a couple of police forces worldwide including the Philippine National Police have been using the Hilux extensively as a patrol vehicle and personnel carrier.
With that in mind, the Manila Police Department's Special Weapons Action Team (MPD-SWAT) received six brand new SWAT pickup trucks. The donation came from the Federation of Filipino-Chinese Chamber of Commerce and Industry Inc. (FFCCCII) and these might be the most badass police cars we've ever seen.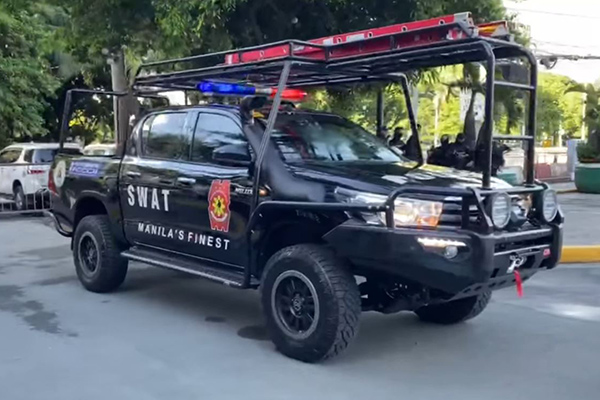 The urban landscape is tricky so these modified Hiluxes will come in handy
>>> Related: Dubai Cop Cars: Let's go green with envy with these police vehicles
Why are these six Hiluxes so badass? Well for starters, they were modified by Overland Kings to meet the surprisingly tough and sometimes unpredictable nature of the Philippine urban landscape. They gave it the usual "tough truck" kit like a snorkel, 12,000-pound capacity winch with remote, auxiliary lights, steel bumpers, rock sliders, and a set of 17-inch Black Rhinos wrapped in Nitto Exo Grappler All-Weather Tires.
Apart from that though, these Hiluxes were also given some tools that the MPD-SWAT might need in their operations. It has a high lift jack, a siren with a PA system, fire extinguishers, and an awesome looking exterior frame supporting a breaching ladder. If we look at these new MPD-SWAT Hiluxes as a whole, we're definitely convinced that these were designed to be flexible enough to meet the rigors of SWAT operations.
>>> Related: PH-spec Toyota Hilux facelift: Variants & Pricing unofficially revealed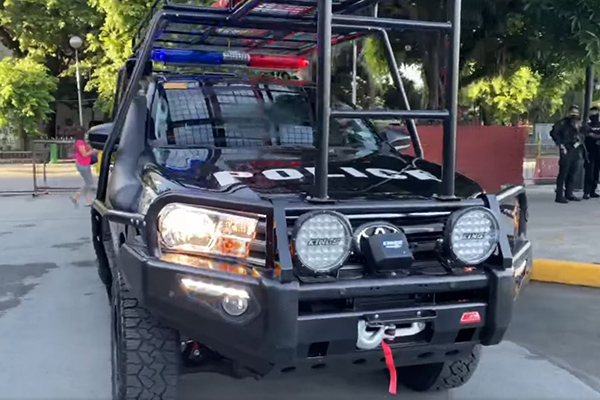 Ready for floods, sketchy roads, and quick response operations
The six Toyota Hilux units were handed over by Dr. Cecilio Pedro, the Vice President of FFCCCII, to Manila Mayor Francisco Domagoso during the flag-raising ceremony at the Kartilya ng Katipunan. This is the second set of vehicles the FFCCCII donated, it had already handed over 20 Toyota Vios patrol vehicles earlier this year.
For more automotive news, keep reading here on Philkotse.com.
Know more about Toyota Hilux 2021

<p>The Toyota Hilux is a pickup with a globally known nameplate for being one of the reliable workhorse vehicles. It was 1968 when Toyota&#39;s pickup truck started building a reputation for being rugged and dependable, and it continues until today with the facelifted model launched in 2020. This popular pickup continues to evolve and slowly move upmarket after gaining luxuries. The most significant revolutionary jump of the Hilux happened in 2004 when the seventh-generation of the model was introduced. It was the first 21st-century iteration of Toyota&#39;s pickup. It is also the first generation to ride on Toyota&rsquo;s new Innovative Multi-purpose Vehicle architecture. It provided improved safety, better ride comfort, modern D-4D diesel engines, more interior space, and a more modern aerodynamic body. The current 8th generation offers a more refined and stylish design than its predecessor, but the tradition of being a tough pickup continues. It gets a much-awaited refresh in 2020 inline. Aside from improved looks, the Philippine iteration also comes with more powerful engine options. The Toyota Hilux is available in 4x4 and 4x2 variants. In the Philippines, the pickup truck is offered with diesel engines. It is available with automatic or manual transmission depending on the variant.</p>

Cesar G.B. Miguel
Author