Particularly, the Isuzu MU-X 2018 facelift now features a brand new dashboard.
A sole image shown on autohome.com.cn, a Chinese automotive website has recently revealed some interior details of the Isuzu MU-X 2018 facelift. Looking at the teaser image, the updated MU-X comes with a horizontal theme and a brand new dashboard.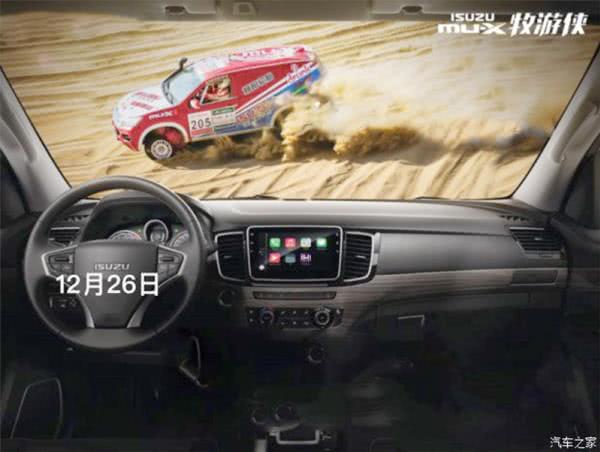 The Chinese-market MU-X will feature a fair amount of wood trim in the dashboard
The new dashboard located between the center air vents looks very much like a tablet and seems to be compatible with Apple CarPlay. The 3-spoke steering also gets redesigned while the round climate control knob of the ore-facelift version has been ditched for a more conventional design. The greater use of wood trim is another highlight of the new interior design.
Speaking of the appearance, we can't tell from the leaked image if there is any change yet. However, prior to this, the D-Max-based SUV already received a facelift this year with a new bigger set of 18-inch alloy wheels, Bi-LED headlights, LED daytime running lights, LED tail lights, a more outstanding roof spoiler plus reprofiled front and rear bumpers for a far sharper shapes.
2018 Isuzu MU-X LS-A 3.0 4x2 A/T review
The Isuzu MU-X in our country has recently been upgraded with new engine which meets the Euro 4 emissions standard on the occasion of the 20th anniversary of Isuzu Philippines in October. The new 175 hp/380Nm 3.0 litre turbodiesel engine, known as Blue Power Technology, is said to be far more powerful and environment friendly than the previous ones. Click here to read more about this recent update of the PH-spec MU-X.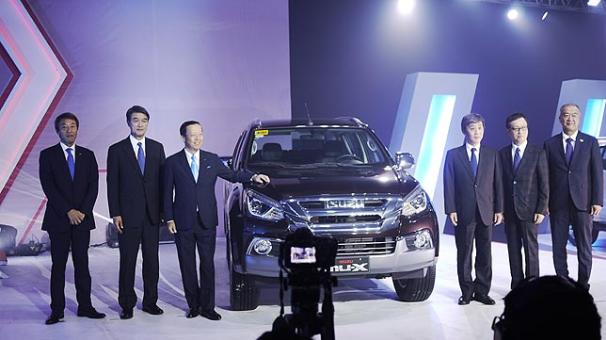 With the newly-introduced engine, the price of the updated MU-X in the Philippines is slightly increased
According to latest car news from Thailand, there is a high possibility that the current 3.0 litre engine which has been offered for a long time could be replaced by a new 2.4 litre RZ engine.
The Isuzu MU-X 2018 will officially debut in China on December 26, 2017. Let's wait and see!
Meanwhile, you can read our full-scale review for the all new Isuzu MU-X 2018 Philippines right here or take a look at the table below for its most updated price in the Philippines:
Isuzu MU-X 2018 Price in the Philippines

| | | |
| --- | --- | --- |
| Model | Tranmission | Price |
| Isuzu MU-X 3.0 LS-A 4x2 AT BluePower | Automatic | P1,598,000 |
| Isuzu MU-X 3.0 LS-A 4X2 AT (Pearl White) | Automatic | P1,608,000 |
| Isuzu MU-X 3.0 LS-A 4x4 AT BluePower | Automatic | P1,908,000 |
| Isuzu MU-X 3.0 LS-A AT 4x4 (Pearl White) | Automatic | P1,918,000 |
| Isuzu MU-X 2.5 LS 4X2 MT | Manual | ₱1,268,000 |
| Isuzu MU-X 2.5 LS 4X2 MT (Silky Pearl White) | Manual | ₱1,278,000 |
| Isuzu MU-X 2.5 LS-A 4x2 MT | Manual | ₱1,378,000 |
| Isuzu MU-X 2.5 LS-A 4x2 MT (Silky Pearl White) | Manual | ₱1,388,000 |
| Isuzu MU-X 3.0 LS-A 4x2 AT | Automatic | ₱1,508,000 |
| Isuzu MU-X 3.0 LS-A 4x2 AT (Silky Pearl White) | Automatic | ₱1,518,000 |
| Isuzu MU-X 3.0 LS-A 4x4 AT | Automatic | ₱1,788,000 |
| Isuzu MU-X 3.0 LS-A 4x4 AT (Silky Pearl White) | Automatic | ₱1,798,000 |
| Isuzu MU-X 2.5 LS-A 4x4 AT | Automatic | ₱1,828,000 |
| Isuzu MU-X 2.5 LS-A 4x4 AT (Silky Pearly White) | Automatic | ₱1,838,000 |
Know more about Isuzu mu-X 2021

<p>The Isuzu mu-X is a seven-seater midsize SUV with a front-engine, rear-wheel-drive or four-wheel-drive&nbsp;layout. It is based on the Isuzu D-Max, and like its pickup truck brother, it uses a body-on-frame chassis. For the Philippine market, the Isuzu-made SUV has two available engine options. The smaller one is a 1.9-liter RZ4E Bluepower turbodiesel capable of making up to 148 horsepower and 350 Nm of torque. It can come with a six-speed manual transmission, or a six-speed automatic transmission. The larger engine option for the mu-X is a 3.0-liter inline-4 turbodiesel. At most, this mill can produce up to 175 horsepower and 380 Nm of torque. Only a six-speed automatic transmission is available with this engine. The mu-X variants with this engine is either rear-wheel-drive or four-wheel-drive. For those unaware, this Isuzu model&#39;s name is an acronym which stands for&nbsp;Mysterious Utility eXtreme.&quot;</p> <p>&nbsp;</p>