It's a boxy, unassuming, and robust truck.
Way before the now plush and high-tech third-generation D-Max, Isuzu's models from back in the day was on the simpler side. Whilst spartan, these however were the kind of diesel-powered vehicles that one could depend on especially if you live in the Philippines.
They seldom broke down, they could be easily fixed, and they could handle the rough, most often unforgiving roads of the provinces.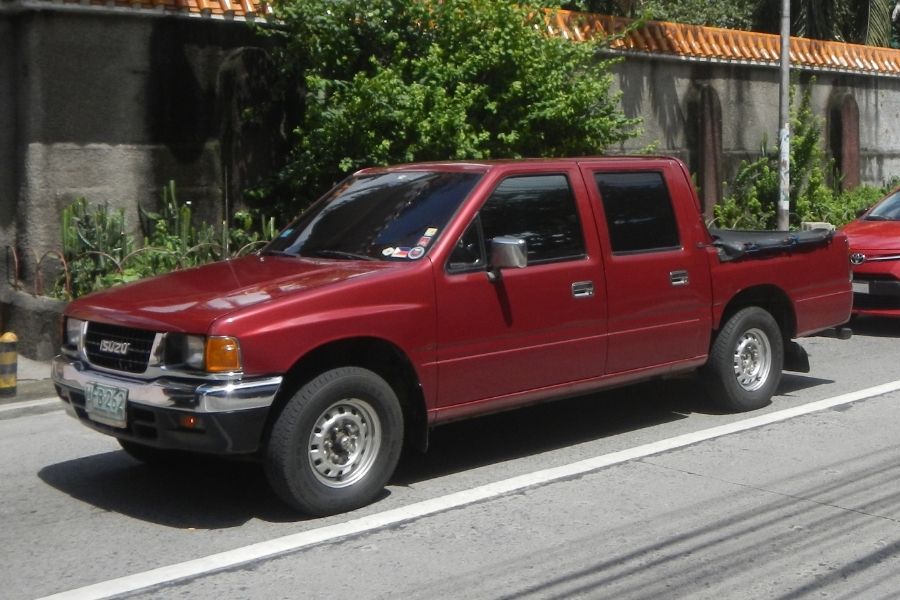 A Philippine-spec Isuzu Fuego parked on a quiet street on Quezon City [Photo: Judgefloro]
One such example of these tough Isuzu-made diesel models was the second-generation Isuzu TF, aka the Fuego. A boxy, unassuming pickup truck that was sold here in the Philippines from 1997 to 2005.
Now before talking about the Philippine-spec Fuego, it was actually one of the most widespread Isuzu models during its heyday. Through partnerships with numerous car brands, the Fuego/TF was sold in the United Kingdom as the TF, the Americas as the Chevrolet LUV or simply as the "Isuzu Pickup", and in Australia as the Vauxhall Brava.
It even reached Europe as the Opel Campo, and Israel as the Isuzu Ippo. And get this, it also reached Thailand under the name of Isuzu Dragon Power, Dragon Eyes, and Faster-Z, all of which are very epic names for a simple, no-nonsense pickup truck. 
Locally, the Isuzu Fuego was assembled by the Isuzu Philippines Corporation at Binan, Laguna. Other than that location, the said truck was also fabricated in the USA specifically in Indiana, Portugal, Tunisia, Thailand, and Japan.
In Chile, Mexico, and Colombia, it was put together by General Motors. For the Chinese market, Foton, Jinbei, and Qingling also made the aforementioned Isuzu Truck.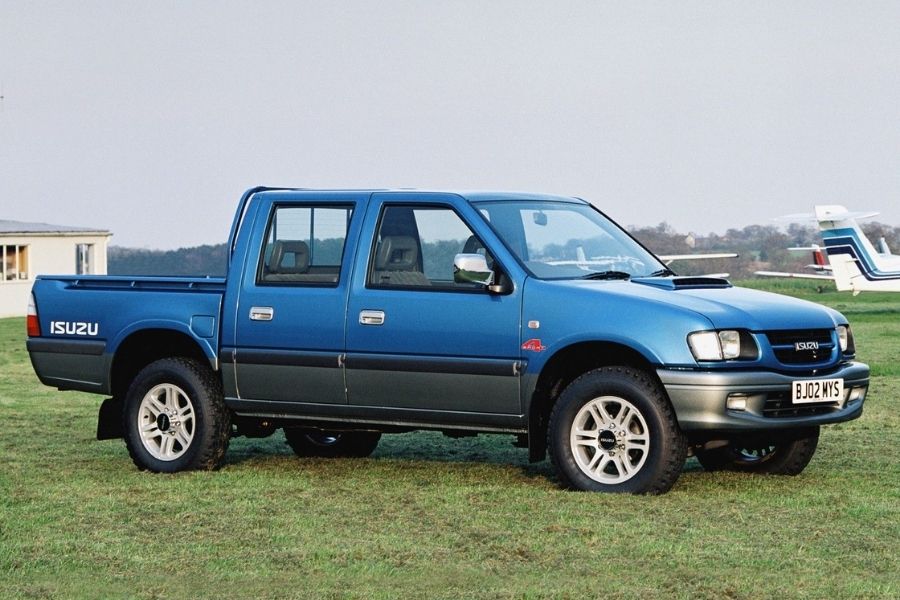 An Isuzu TF from the UK
>>> Related: Whatever happened to the Isuzu Trooper?
 Suffice to say, this Isuzu model was a popular global model. As a result, it also came with many different configurations and engine options depending on the market. 
The largest engine to ever grace the Fuego/TF was a V6 engine made by General Motors. There was even a factory-made camper model sold in Australia called the Isuzu Rodeo Camper. It's a small motorhome that came with a bed, a dining area, and a lounge area. 
Like most markets, the Philippine-spec Fuego was powered by an inline-4 diesel, namely the 2.8-liter 4JB1-T turbo, the 2.5-liter 4JA1-T Turbo, and the 2.5 4JA1-T without a turbo. When it was available locally, the Isuzu-made truck only came with a four-door body type. 
At most, the 2.8-liter mill can produce up to 100 horsepower and 230 Nm of torque. The non-turbo 2.5-liter meanwhile made a bit less at 78 horsepower and 170 Nm of torque. The top-spec Fuego Sport, LS and S trims came standard with 4x4, while the entry-level Fuego LS and S variants had 4x2.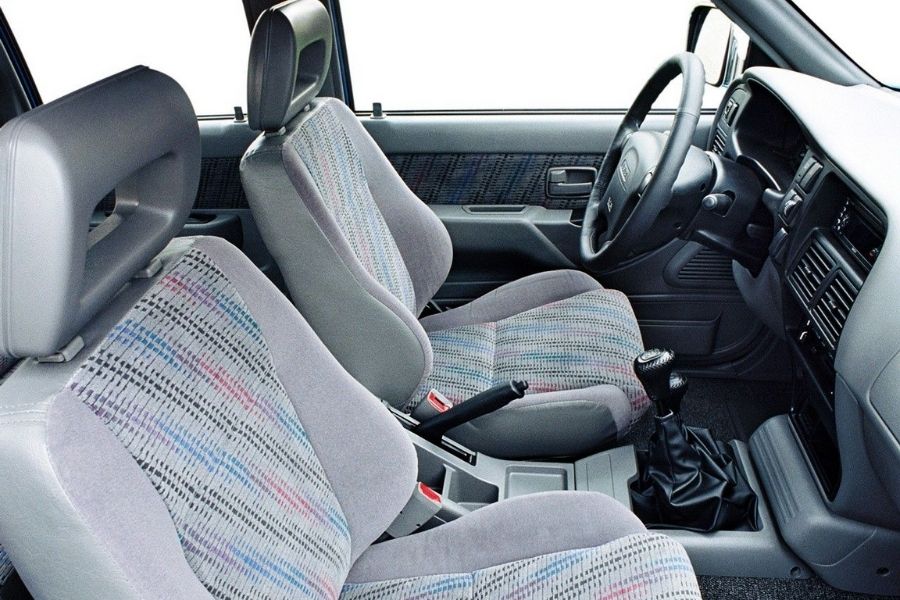 The Isuzu Faster/TF/Fuego's simple interior
>>> Related: Isuzu Gemini: When diesel sedans ruled the roads
Also available to the Philippine model is a five-speed manual or four-speed automatic transmission. For the Sport and LS variant however, the automatic gearbox was dropped in 2003. All trims rode on a body-on-frame chassis, and used a double-wishbone front suspension, and a set of leaf springs for the rear. Braking is handled solely by drum brakes.  
So yeah, the Fuego had a simple setup. It didn't even have disc brakes, and in-stock form, it rode low to the ground. Sure, the Sport variant had a bit more ground clearance, but it's nothing like the ride heights that are common on modern-day pickup truck models.
Then again, one could still see Fuegos running around on Philippine roads. Some notable examples are even used to this very day as utility vehicles by some government agencies as well as private entities all across the country. Moreover, some select local off-roaders have chosen to use a Fuego instead of more modern platforms due to its robustness.  
As established, the Fuego is a simple but capable truck. The top-spec Fuego Sport did come with some niceties like interior wood trim, 16-inch alloy wheels, a side step-board, leather-wrapped seats and steering wheel, power windows, as well as a six-piece speaker system. All variants also came with manual air-conditioning.
>>> Related: Isuzu Alterra: Bulletproof and surprisingly comfortable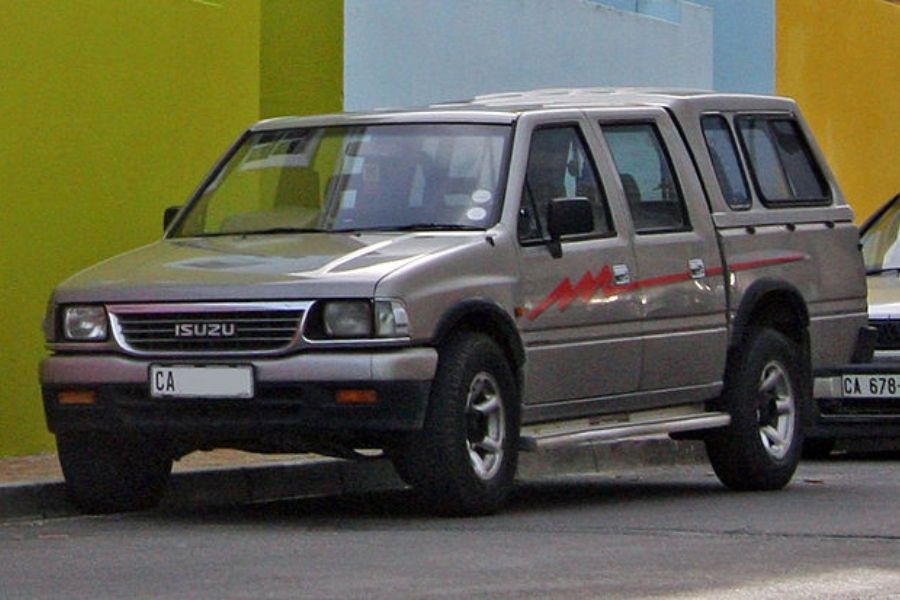 It kept its boxy design until its discontinuation in 2016. [Photo: Brian Snelson, UK]
It's a far cry from the luxuries that we're used to on modern pickup trucks, but at that time, the Fuego Sport was a pretty cushy, or least cushy-feeling ride. We say that due to the fact that it was a bit bouncy on rough terrain.
Sure, modern trucks still use leaf-spring rear suspensions, but remember that the Fuego's suspension setup isn't as fine-tuned as the third, or even second-generation Isuzu D-Max.  
So, do you miss the Fuego and would like to drive one? Or do you like the feel and plushness of a modern pickup truck better? For more nostalgic articles like this, keep reading here on Philkotse.com. 

Cesar G.B. Miguel
Author