Off-road capable, or low-slung and sleek. Your choice.
The third-generation 2021 Isuzu D-Max is already out in the Philippine market. It was launched in March, so without a doubt some folks are already receiving their units.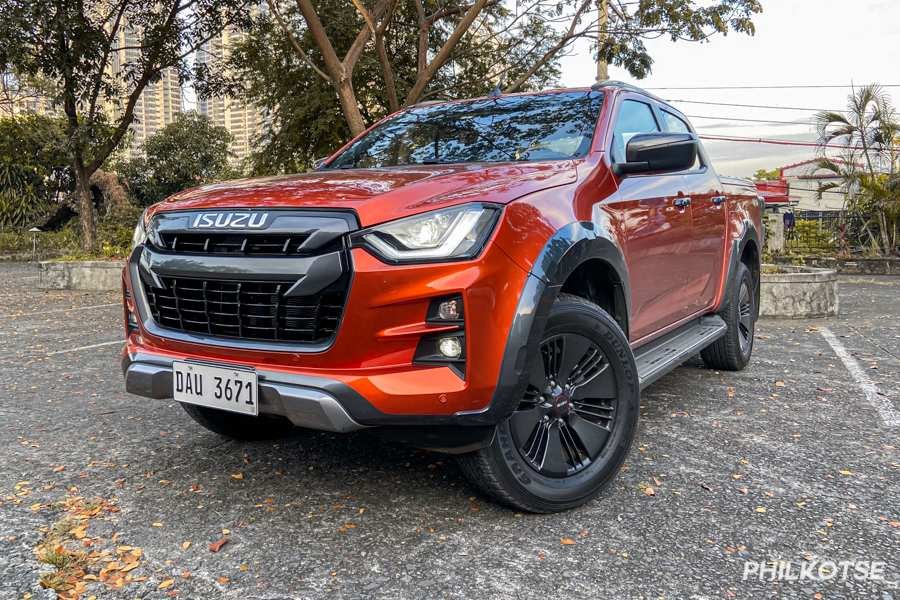 The 2021 Isuzu D-Max LS-E in stock form
While most of the D-Max owners will be keeping their pickup trucks in stock form, some are already thinking of spicing them up. But how does one go about dressing up their burly truck? To answer that, let's take some inspiration from two markets that have received the all-new D-Max earlier than the Philippines, Australia, and Thailand.
2021 Isuzu D-Max Full Review: Huge changes for the new-generation model
Ready for the outback
If you want to make your 2021 D-Max more capable off-road, one should take a look at how the Aussies are modifying their Isuzu-made trucks. This is of course made easier for the folks from down-under since famed Aussie-based off-road accessory company ARB has already released some juicy aftermarket bits for the D-Max.
For starters, the company currently has the new ARB Summit bull bar. It provides added protection for the front fascia and the engine bay, and it also offers mounting points for accessories like lights and winches. Plus, it provides the truck a bullish, toughened-up look that will turn heads.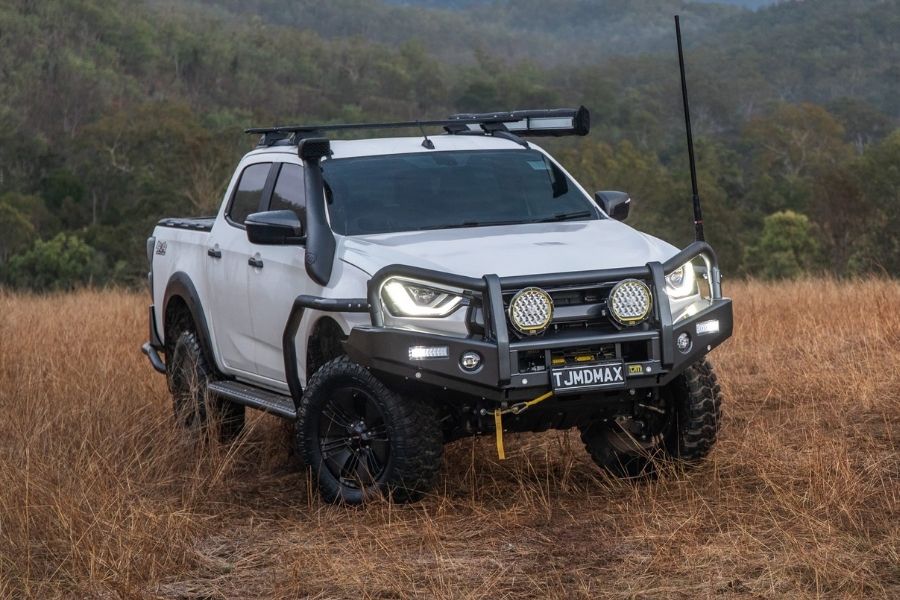 A third-gen D-Max fully-kitted out with ARB accessories
The Aussie company also released a new version of their canopies to fit the new Isuzu model. They are weatherproof, and will definitely help keep your stuff dry and safe. For those adventurous types, the ARB canopy can even function as a make-shift sleeping pod.
For the underside of the truck, one should also consider a skid plate. ARB has developed one for the new D-Max, and its three sections are entirely made out of 3mm steel. If you have the aforementioned Summit Bullbar, installing this part is as easy as bolting it on.
>>> Related: 2021 Isuzu D-Max Old vs New: Spot the differences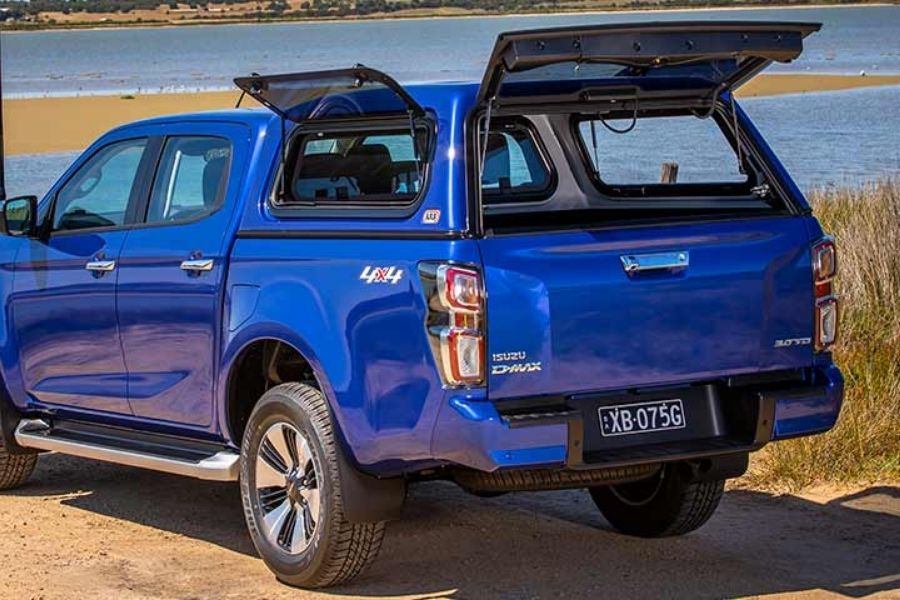 The 2021 D-Max equipped with an ARB Canopy
In terms of off-road suspension systems, both Old Man Emu and Ironman already produce kits for the all-new D-Max. For Iron Man, their setup for the D-Max includes front and rear shock absorbers, front coilsprings, front strut shock absorbers, rear shock absorbers, and a beefier set of rear leaf springs.
Old Man Emu's kit consists of front coilovers with matching shocks, as well as a set of rear leaf springs with matching shocks. Apart from providing the necessary flexibility for off-road use, this kit also increases the height of the 2021 D-Max by 40mm. 
Lowered, Thai-style
While the Aussies lean towards modifying the D-Max for off-roading, the Thais have other ideas for the 2021 D-Max. To put it simply, the most popular way of modifying the Isuzu-made truck in Thailand right now is lowering it, and giving it wider wheels wrapped with grippy tires.
As a nod to this trend, Isuzu even rolled out two lowered third-gen D-Max pickups at the 2020 Bangkok International Motorshow. Both of these had carbon fiber exterior pieces, larger brakes, and bucket seats.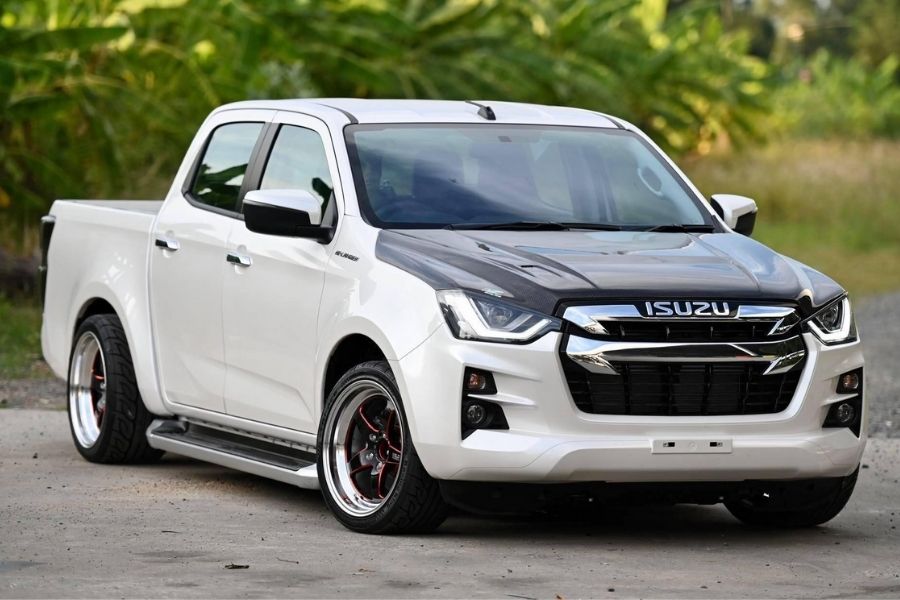 It looks downright awesome, right?
>>> Related: Isuzu D-Max: How much do you need to earn to buy one?
So how does one go about lowering the Isuzu D-Max? Well, the more popular solution in the land of smiles is aftermarket coil overs with height adjustment, lowering springs, or outright cutting the existing springs.
There's also the cheap alternative of acquiring the stock springs of the low-to-the-ground single-cab models and transplanting it on a dual-cab. But then again, single cab pickup trucks are also all the rage in Thailand right now so most who want a low-slung D-Max often start with a single cab model anyway.
Of note, the aforementioned single-cab D-Max variant is currently the entry-level model for the Philippine market. Its price sits at Php 857,000. The top-spec D-Max LS-E. on the other hand, can be had for Php 1,825,000.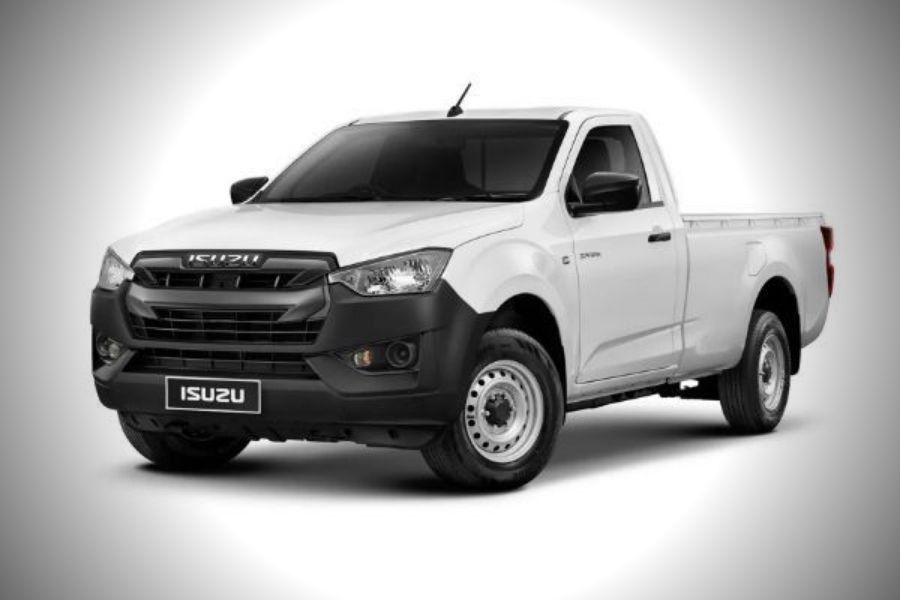 The entry-level 2021 Isuzu D-Max Singlecab
So, what do you think? Do you want to turn your 2021 D-Max into a capable off-roader? Or do you want to try to emulate the Thai-style lowered D-Max? 
For more automotive news, keep it here on Philkotse.com. 
Know more about Isuzu D-Max

Isuzu Philippines offers the Isuzu D-Max as its entry in the midsize pickup truck segment. This tough workhorse from the Japanese carmaker is designed to take on any road. Isuzu D-Max got the reliability of its predecessors and the Fuego. However, the current pickup truck is equipped with more modern features that perfectly fit the Filipino lifestyle. Additionally, Isuzu D-max also has a remarkable rear bed size that can carry a multitude of heavy and large items. The Isuzu pickup truck can also be optioned with a set of accessories such as camper shells, bed covers, and many more. Isuzu D-Max also comes in a commercial vehicle layout. It can also be configured as the cab and chassis variant. This configuration can be had with an enclosed van type rear end, passenger layout, bed, or other job-specific configuration. Isuzu Philippines offers the third-generation D-Max with a couple of engine and transmission options. The first option is a 1.9L turbo diesel that produces 148 horsepower and 350 Nm of torque. For car buyers who are looking for more power, they can opt for the bigger mill, which is the 3.0L engine that pumps out 187 horsepower and 450 Nm of torque. These two engines are equipped with the brand's BluePower technology for Euro 4 compliance and better fuel efficiency. Both engines can be paired with either six-speed automatic or six-speed manual transmission.

Cesar G.B. Miguel
Author