Let's find out why Isuzu stopped making the Trooper.
For those who lived through the 1990s and early 2000s, you'll know that the Isuzu Trooper was sold locally from 1996 to 2005. Heck, even up to today, we can sometimes spot a Trooper from time to time. So, what happened to the Trooper?
First-Generation Isuzu Trooper: The one we didn't get
Introduced back in 1981, the first-gen Isuzu Trooper, like most SUVs at that time, was a boxy and tough vehicle made for the rigors of utilitarian tasks. It had auto-locking hubs, a Kevlar timing belt, and a series of simple but capable diesel and gasoline engines. For the U.S. version, they got a 2.8-liter V6 sourced from GM. In other markets, there was also the 2.2-liter turbo diesel that used a Garrett turbocharger, 1.9-liter inline-4, and a 2.3-liter inline-4 introduced in 1986.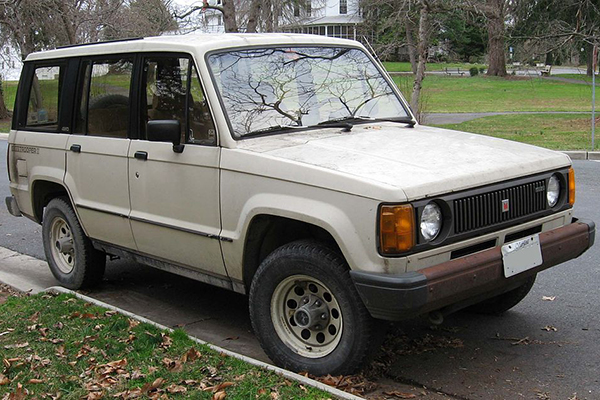 The very boxy but macho Isuzu Trooper 1st-gen
To sum it up, the Trooper was a tough as nails SUV that was commonly used in mountainous rural areas of the U.S., Indonesia, and especially in Australia and New Zealand. In the latter two countries where it was sold by Holden, it was branded as the Jackaroo.  That word is slang for a "young person working with cattle or sheep." This of course alludes to the utilitarian purpose and abilities of the first-gen Trooper.
>>> Related: ISUZU TROOPER 2010 FOR SALE
Second-Generation Isuzu Trooper
When the popularity of SUVs exploded in the early 1990s, Isuzu redesigned the Trooper to be more luxurious. It also shed the boxy design in favor of a softer, but still tough-looking exterior. This of course meant that it could fit in better as a city going vehicle. Nevertheless, the second-gen Trooper still came with features that made it a viable offroad vehicle.
The 2nd-generation Isuzu Trooper
For the Philippine-spec version that was assembled in Biñan, Laguna, a majority of the Trooper variants came with four-wheel-drive paired with several engine options. These included the 4JX1 3.0 inline-4 diesel engines, a 3.1-liter diesel engine, and a gasoline-powered 3.2-liter V6. The most powerful among these is of course the V6 gasoline mill, which could make up to 177 horsepower for the single overhead cam version. Later on, in 1998 Isuzu gave the V6 powered version double overhead cams bumping up its output to 205 horsepower. The aforementioned engine was also paired with a limited-slip differential making it one of the sportier SUVs when it was available.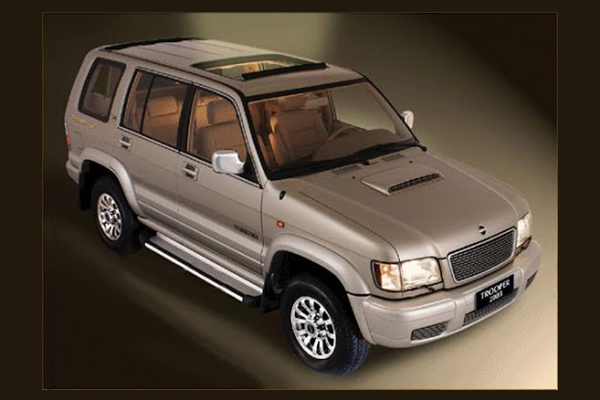 The Isuzu Trooper Skyroof variant
Going back to the diesel variants, the Trooper 3.0di as well as the Skyroof and 2005 editions came with the 4JX1 inline-4 diesel engine with common rail direct injection. It made 160 horsepower and 333 Nm of torque. While the 3.0di, 3.1di, and 3.2 V6 variants were available with four-wheel-drive paired either to a five-speed manual or four-speed automatic gearbox. The Skyroof and 2005 editions, on the other hand, only came with a 4-speed automatic and a rear-wheel drivetrain. Due to the latter, they were more suited to on-road applications.
The 3.0di however was still a capable off-roading vehicle until the year 2000 when Isuzu downgraded it to 2WD only.
>>> Related: Check out Isuzu Trooper 2014 for sale here. 
Moving over to the 2nd-gen Trooper's interior, the Trooper 3.0di, 2005 editions, and the Skyroof variants became a potent family chariot that came with a massive ten-seater capacity. On top of that, these three variants also came with leather-wrapped seats, dual manual air-conditioning power windows, a power-folding side mirror with a defogger.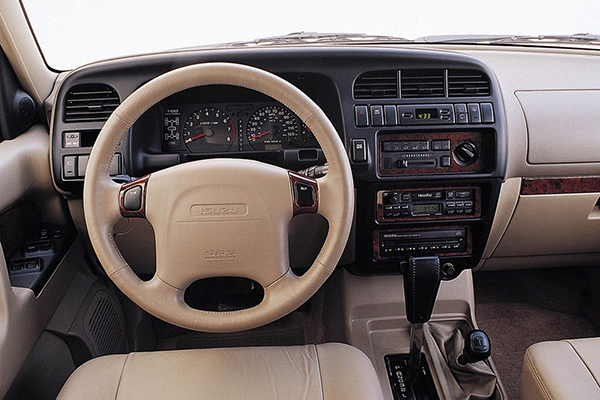 Inside an Isuzu Trooper AT 4x4 variant
Meanwhile, the other variants namely the less powerful 3.1di and the most powerful V6 variant only came with seven seats.
Isuzu Trooper Controversies
As to why Isuzu stopped developing the Trooper, many sources say that it was due to poor global sales. There are however a number of contributing factors that caused that.
First off was the widespread negative press it received when Consumer Reports labeled its 2nd-generation 1995-1997 U.S.-spec versions as "Not Acceptable." This was based on said organization's claim that the Trooper's alleged tendency to roll over. In its own testing runs, the National Highway Traffic Administration however, found no fault with the Trooper. Regardless, when Consumer Reports published their findings on the Trooper, it had damaged Isuzu's reputation greatly.
Isuzu countered this with an extensive public relations campaign, which cost the Japanese brand greatly. Eventually, the company filed for a defamation suit.  For what it's worth though, a majority of the jury concluded that the report made by Consumer Reports was false. The allegations made by Isuzu as a counter against the said magazine however, were dismissed.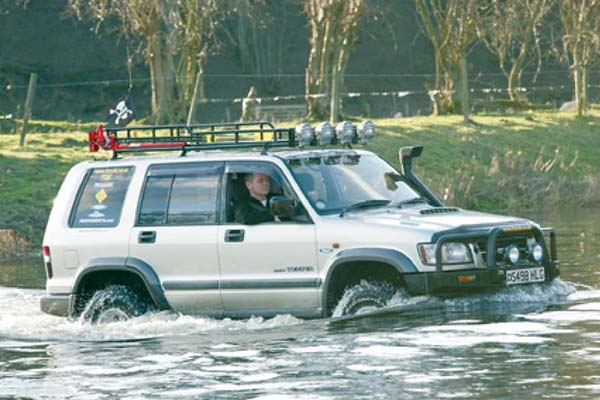 Don't let this controversy distract you from the fact that the Trooper is a decent off-road vehicle
The second controversy concerns the 3.0-liter diesel version's failing injectors. There was even a global recall for the said problem. In connection to the Philippine market, affected Trooper units were those with fuel injector serial numbers below 554263, according to Isuzu. That said, the only thing one can do to avoid this is to replace the said injector after reaching 60,000 km on the odometer. Suffice to say, this caused Isuzu a load of headaches during that period.
To sum it up, all that bad press might have affected the public's opinion of the Trooper. This, of course, might be the root cause of its poor global sales later on, and why Isuzu decided to drop the name entirely. So, if you search for Isuzu Trooper 2015 for sale now, you will find nothing except for the versions from over a decade ago. Also, if you went on numerous Philippine motoring forums, you'll find old posts from owners of the Trooper with the 3.0-liter diesel engine expressing their dismay with the said engine's injector issues.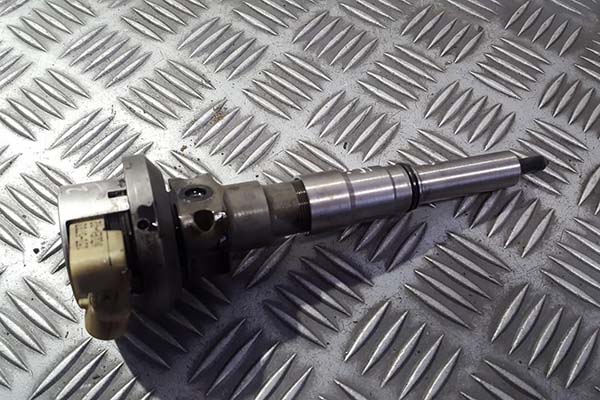 A fuel injector for the Isuzu Trooper
Eventually, the Trooper was replaced by the Isuzu Alterra, which was based on the first-generation Isuzu D-Max. And all of you may well know by now, the D-Max is a consistently reliable model. As such, the Alterra did swimmingly well when it was sold locally from 2009 to 2014.
After the Alterra, Isuzu then introduced the mu-X which in turn was based on the 2nd-generation Isuzu D-Max. Currently, it serves as Isuzu's midsize SUV model for a number of markets including the Philippines.
If you want to get your hands on the discontinued Isuzu SUV, do check out our car for sale section for the Trooper. If you want to check out more nostalgic articles like this, keep reading here on Philkotse.com.
Know more about Isuzu Trooper 2021

The Isuzu Trooper is one of the Japanese brand's most acclaimed nameplates. For over two decades, it was Isuzu's main off-road SUV. Crossing three generations since its birth in 1981, the Trooper has become a staple choice among premium vehicles in its segment. While it is enveloped in luxury and comfort, it remains true to its practicality in terms of space and engineering. What made the Trooper stand out among its competition is the innovative 4JX1-TC engine that merges both gasoline and diesel engine calibers. It blends the speed, silence, and environmentally friendly emissions of gasoline engines with the fuel efficiency, off-road performance, and outstanding torque of diesel power trains. Offered in the Philippines is the Isuzu Trooper 4x2 powered by a 3.0-liter 16-valve DOHC diesel engine that is mated to a four-speed automatic transmission.

Cesar G.B. Miguel
Author