Suzuki Philippines will no longer be importing current variants of the Vitara by February 2020. What happened? Read more right here!
Philkotse has learned that Suzuki Philippines (SPH) has issued a sales memo advising all of its dealers nationwide that the current GL+ and GLX variants of its hot-selling Vitara crossover SUV will no longer be imported into the country by February 2020.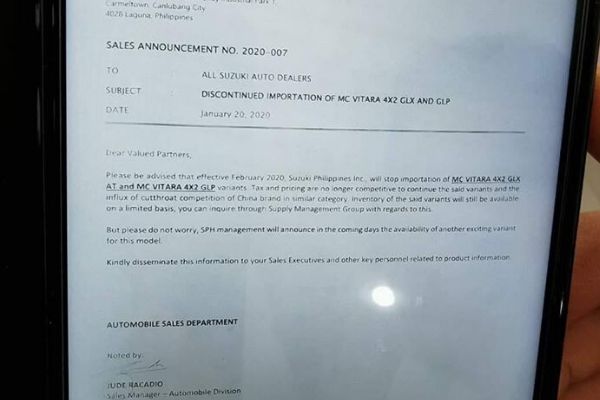 The memo states that SPH will stop importing Vitara GL+ and GLX variants by February 2020
The document reportedly cites an increasingly challenging market for the current trims as the reason for the discontinuation.
At the same time, it was quick to promise that the outgoing trims will be replaced by "another exciting variant" within the model range. Meanwhile, current stocks of both Vitara trims will reportedly be available on a limited basis.
Unfortunate as this piece of news might seem, Filipinos who desire a Vitara can consider a used Suzuki Vitara 2015 and some other mode years as they are still excelllent vehicles.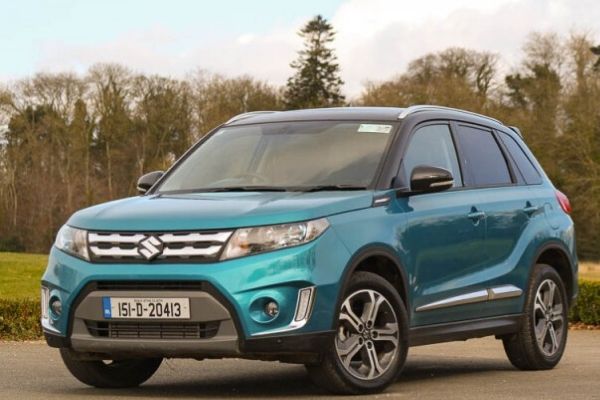 The document hints at another Vitara variant replacing the outgoing trims
This comes as a surprise, especially given Suzuki's reported a 21.17% sales increase in 2019. In an official statement, the company has confirmed that they will no longer be importing additional Vitara GL+ and GLX variants, and that remaining stocks will still be sold for the next two to three months.
They also reiterated that a new Vitara variant will be released soon, although no further details have been offered as of posting time.
>>> Grab the chance to have the best Suzuki Vitara right now!
In-depth Suzuki Vitara 2020 Philippines Review | Philkotse
The Jimny bids Europe goodbye...
Speaking of discontinuations, another Suzuki model has been confirmed to be leaving one of its key markets.
The Jimny is scheduled to exit Europe by 2021, and the carmaker has reportedly instructed its local dealer network to stop accepting new orders for the mini 4x4 effective immediately.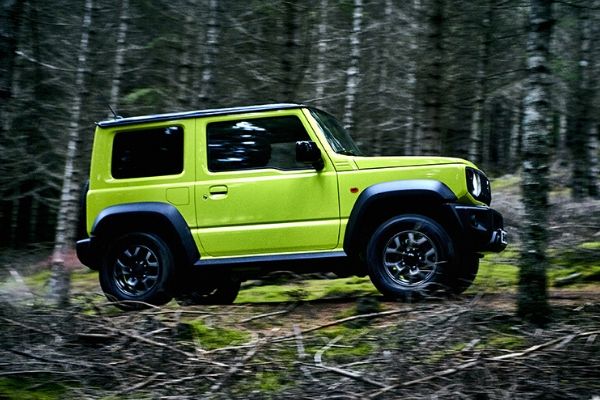 The Jimny, at least in its current iteration, will bow out of the European market for now
The reason for this is that the Jimny's emissions of at least 154g of CO2/km are simply too high to meet the EU maximum standard (95g of CO2/km) for all new cars by next year.
As hefty fines await carmakers who exceed this limit, the Jimny's European fans will have to miss out on Suzuki's beloved pocket 4x4 for now.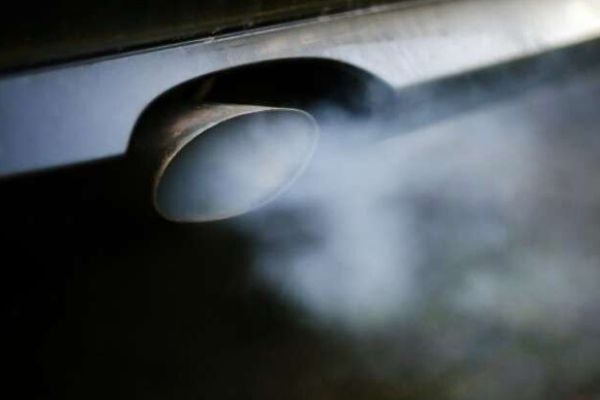 EU emissions standards for 2021 are currently too stringent for the Jimny
This can be interpreted as good news for aspiring owners in other markets (including the Philippines) since the pullout is expected to reduce the lengthy global backlog for the model (the only plant that assembles the Jimny is in Kosai, Japan).
The mighty mini offroad machine is expected to return to select European markets sometime in 2021 as an N1 commercial vehicle, which trades its rear seats for minor interior tweaks and an exemption from strict emission rules.
>>> It's your time to get a Suzuki Jimny at the best price.
...and says "Hello" to India
Even as the Jimny leaves Europe, Maruti Suzuki has announced that the latest-gen model will be making its debut at India's Auto Expo 2020 next month, alongside the reveal of their long-awaited FUTURO-e electric vehicle (EV) concept.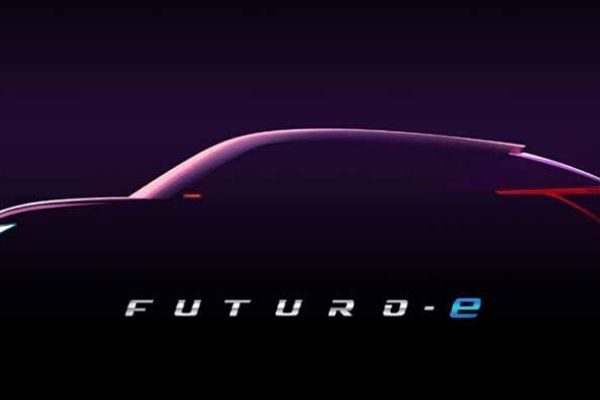 The FUTURO-e EV concept will be headlining Maruti Suzuki's presence at India's Auto Expo 2020
However, the company is still mum on the possibility of actually launching the Jimny for the Indian market, saying that it did not believe there was a demand for a 3-door SUV, and that producing low volumes for the 5-door version would not justify the development costs involved.
For more relevant motoring industry news both here and abroad, visit Philkotse.com.
Know more about Suzuki Vitara 2021

Introduced in 1984, the Suzuki Vitara is an in-demand compact Sports Utility Vehicle able to perform under any road conditions. Now on its fourth generation and enjoyed for over 30 years, this Hungary-built vehicle is still glorious as ever. The current release is noticeably smaller measuring 1,610mm high, 1,775mm wide, and 4,175mm long. Its size is its strength and advantage as it can effortlessly maneuver on the busy streets in the metro and can be parked at any challenging spaces. The new Suzuki Vitara is splashed with the latest innovations in and out. With this, you can expect convenience, luxury, and pleasurable driving experience. You may choose from three variants: the Suzuki Vitara GL AT, The Suzuki Vitara GL + AT, and the Suzuki Vitara GLX AT offered in a wide array of colors.

Joseph Paolo Estabillo
Author