It also includes discount prices on major parts.
Foton Motor Philippines, Inc. (FMPI), the official distributor of Foton vehicles in the country, is taking its aftersales services up a notch by rolling out four improved programs. This effort is motivated by FMPI's drive to provide the country with top-tier services for all Filipinos.
The first service is extending expired engine warranties for free for owners of Gratour Series and passenger vehicles including the Toano, TransVan, Traveller, and Thunder, with a purchase date from January 2018. Interested customers must have their vehicle serviced until December 18, 2021, to avail of this free program.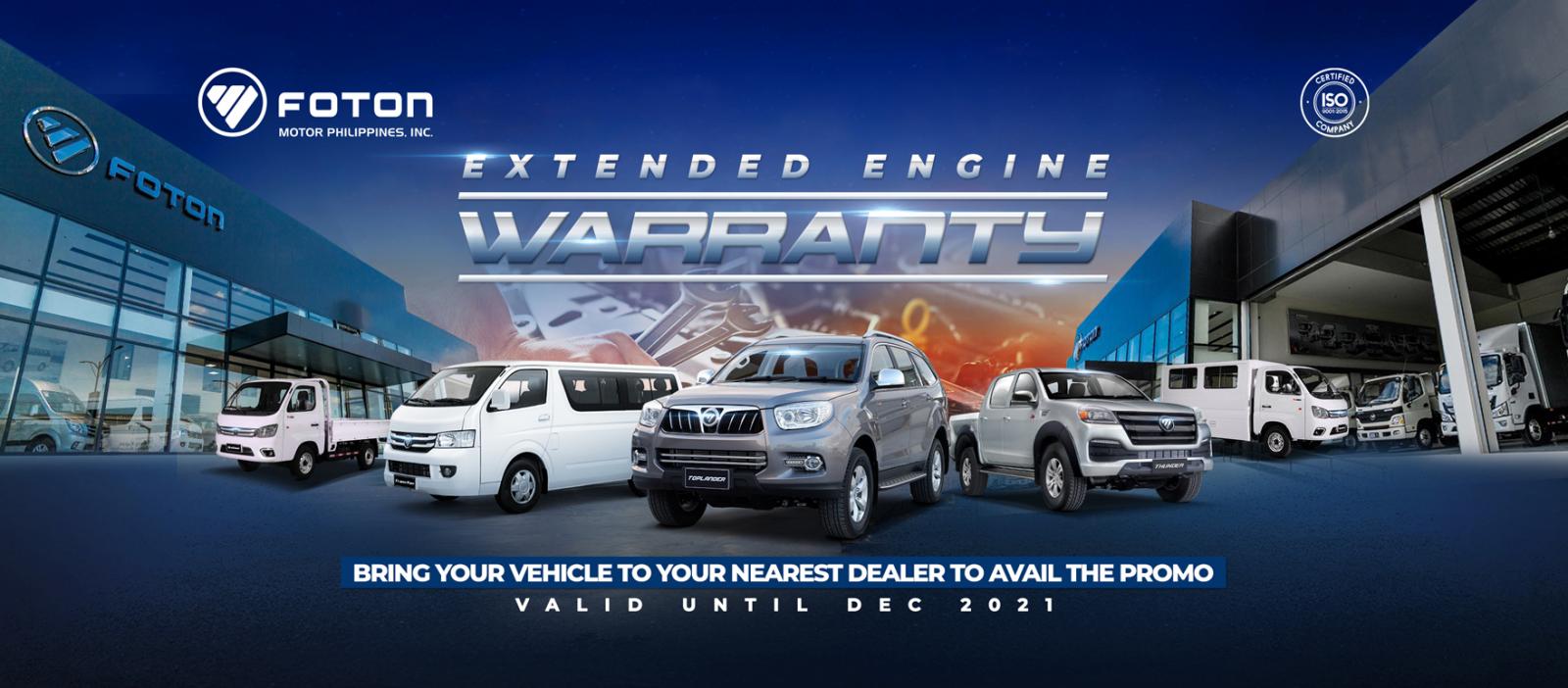 Foton owners get to enjoy extended engine warranties
For vehicles with PMS intervals of every six months or 10,000 km, a free additional six-month or 10,000 km extended engine warranty is granted upon completion of PMS. As for vehicles with PMS intervals of every three months or 5,000 km, FMPI is giving a three-month or 5,000 km extended engine warranty upon completion of PMS as well.
The second service is the EC mobile 24/7 on-site service. This provides repair and assistance for Foton customers anytime and anywhere which can even perform preventive maintenance service (PMS). It carries necessary equipment including a 3.5-kilowatt generator set, a 1.5 HP air compressor, and essential tools.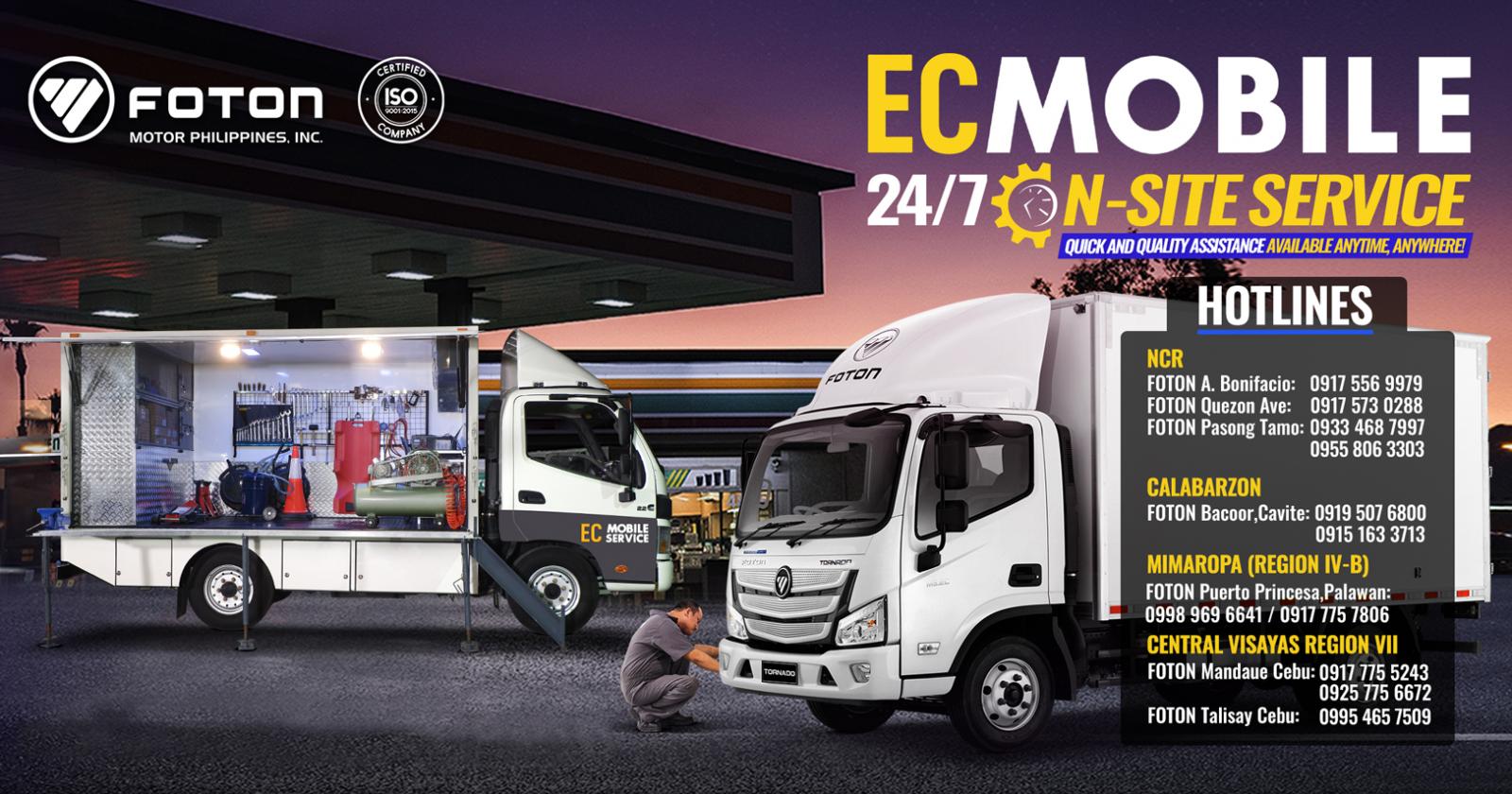 Providing services anytime and anywhere
>>> Related: Foton PH offers 6-month automotive skills training program
The EC mobile 24/7 on-site service truck includes services such as onboard electronic trouble diagnosing, aircon repairs, engine electrical repairs, mechanical repairs, under chassis repairs, and 24/7 on-site service for vehicle breakdowns.
The third service is the EC genuine parts discount promo effective this March. With this, Foton customers can enjoy discount prices on maintenance parts, under chassis and suspension, engine components, electrical and mechanical parts, clutch, brakes, aircon, and more.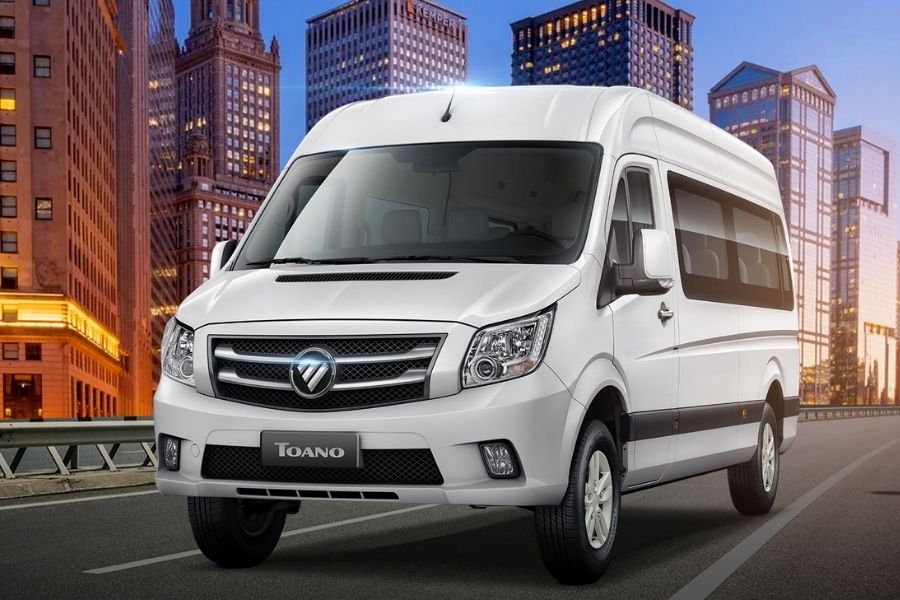 Foton Toano
Lastly, FMPI is offering service discount vouchers for all Foton owners amounting to Php 4,000 and above. The service discount voucher is valid up to one year from the issuance date which can be used for PMS, general job, and body and paint service. This can only be availed of until March 31, 2021.
"Since we started operations, we have committed to always bring the top levels of mobility, and we see its fulfillment through a stronger, intensified aftersales service," said Rommel Sytin, FMPI President.
Here at Philkotse.com, we value your interest in the automotive industry. Visit our website to find out more.
Know more about Foton Toplander 2021

The Toplander, known as Sauvana in the global market, is Foton Motor Philippines' entry into the highly competitive midsize SUV segment. It is the Chinese brand's first attempt in engineering a vehicle that falls into this category. Coming from a lucrative portfolio of large commercial vehicles, Foton applied the same power and strength to the Toplander as seen on the vehicle's exterior and under its hood. Its design follows the same general aesthetic as most nameplates in its segment, intimidating, huge, muscular with character lines, and accentuated with chrome. The Toplander is bigger in terms of height and width compared to its segment rivals. Inside, the cabin is decked in black plastic materials and the bare necessities in entertainment. However, it boasts of its spacious legroom and expansive cargo space. It comes in two variants which are the EL 4x2 AT and the EX 4x2. Both are powered by a Cummins 2.8L diesel engine. The SUV can tow up to 3 tons of weight which is higher than the standard for this segment.

Rex Sanchez
Author