This Chinese automaker marks a significant milestone.
It's easy to think of Foton as just another Chinese automaker among others from the mainland, contending for their own share of the Philippine market.
While it has its own range of passenger models for lifestyle use, where Foton makes its mark is in commercial vehicles for corporate and fleet purchases.     
Foton Motor Corporate Video
Despite the lockdowns and restrictions brought about by the COVID-19 pandemic, Foton has been quite visible in rolling out the various offerings in its lineup.
Just recently, the brand marked a major milestone with total global sales of 10 million vehicles that meet a range of transport and mobility requirements for customers.
At least 10 million Foton vehicles are now plying roads all over the world
In the Philippine market, Foton has become synonymous with robustness and power at an affordable price point.
A number of Foton models benefit from its joint venture partnership with American engine manufacturer Cummins, featuring 2.8-liter and 3.8-liter displacement engines for the carmaker's light-duty trucks.
Foton F-Jeepney
Among these is the F-Jeepney, Foton's modern take on the iconic king of the road. This line offers an air-conditioned cabin with ample seating from 11 to 29 passengers.
Convenience features include an automatic fare collection system, handrails, an LED TV screen, and onboard WiFi. A GPS tracker and CCTV cameras add safety for commuters, while a 3.8L Cummins diesel engine provides 154 hp and 500 Nm of torque.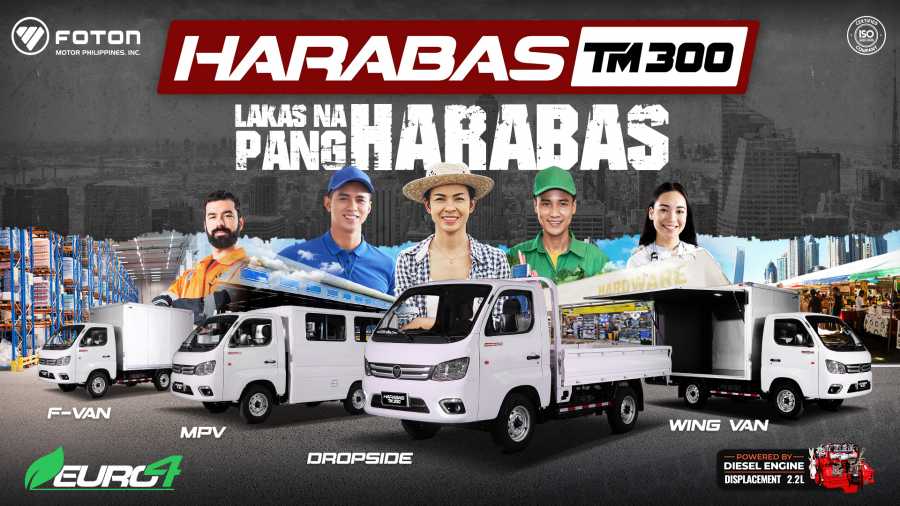 Foton Harabas TM 300
Another powerhouse model in the Foton lineup is the Harabas TM 300 that caters to the needs of the enterprising Filipino. The range comes in wing van, F-van, MPV, and dropside configurations.
A 2.2L turbocharged diesel engine delivers 87 hp and up to 220 Nm of torque, complementing the vehicle's 1.1-ton payload capacity.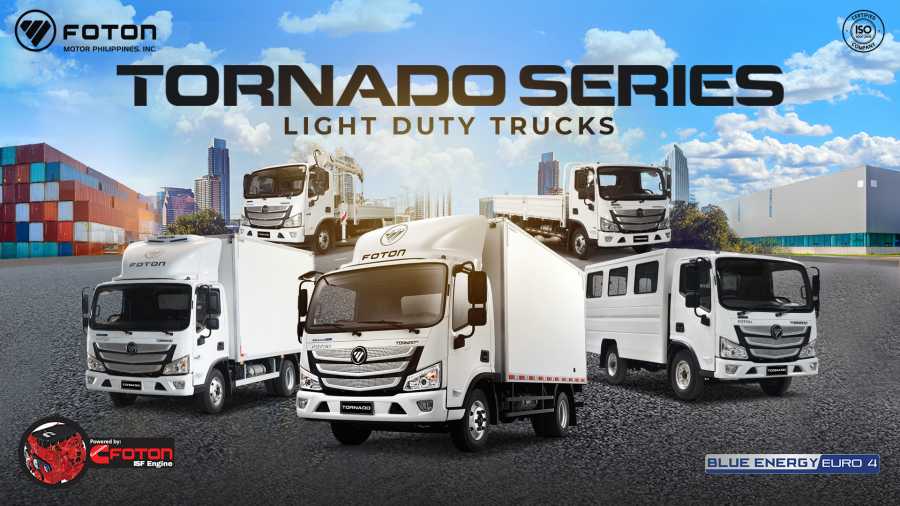 Foton Tornado
For more sizable jobs, there's the Foton Tornado selection of light-duty trucks, with power units ranging from 2.8L to 3.8L Cummins diesel engines with turbocharging and common-rail direct-injection technology.
The Tornado line ranks third among the top light-duty trucks in the country, comprising 44.22 percent of total sales in the category.
"Providing mobility solutions with our FOTON units for more than a decade, we're confident in offering our vehicles' world-class technology and wide breadth of capabilities that suit an even broader range of transportation needs for companies, businesses, government units, or families," said FOTON Motor Philippines, Inc. (FMPI) President Rommel Sytin. "We are proud to have become one of the trusted commercial vehicle partners in the country."   
We'll get you sold on our industry updates at Philkotse.com.
Know more about Foton Tornado 2021

Foton Motor Philippines rose to fame in the local automotive market for its successful line of commercial vehicles and large trucks. One of the most popular nameplates the Chinese brand offers is the Foton Tornado. It is a line-up of light-duty trucks purposefully for hauling cargo and passengers through its capacity to carry 2,000 to 2,500 kilograms of weight, depending on the variant. The Tornado comes in fifteen different configurations that further extend the list of uses for the nameplate. Models in the 2019 Tornado line-up are the Turbo Dropside, Double Cab, Turbo F-Van, Turbo MPV, 2.2C Dropside, 3.5C Dropside, 2.2C F-Van, 3.5C F-Van, 2.2C MPV, 4.5C Dropside, 4.5C F-Van Plain, 3.5C Power Tailgate 1.5, 2.2C Ref Van, 3.5 Self-Loader, and the 4.5C Telescopic Crane.

Joseph Paolo Estabillo
Author