The Black Edition Ranger will debut at Frankfurt this month.
Ford is rushing to prepare for the Frankfurt Motor Show. The automaker has introduced a brand-new special edition pick-up truck – an all-black Ford Ranger, which will be rolled out at the show later this month.
Blacked to the max, the latest pickup Ford Ranger is adorned with black front grill, sports bar, alloy wheels, door handles, among others. The body itself is covered by a special color called "Absolute Black". According to sources, the standard double cab for the Black Edition is limited to just 2,500 copies, no single cap versions will be manufactured.
>>> Ford Ranger is listed among top 5 least expensive pickup trucks you can buy today. Click to see full our list.
FORD RANGER BLACK EDITION
Stepping inside, the Black Edition Ford Rangers benefit from a Ford SYNC 3 touchscreen infotainment system. Dual-zone climate control is added, while front and rear parking sensors, leather upholstery, heated door mirrors, and power-folding are also included.
The Black Edition should come with two turbo-diesel options. The first option is the entry-level 2.2-liter four cylinder engine which delivers an output of 160 PS and 385 Nm of torque. The second option is the 3.2-liter 5-cylinder engine which puts out 200 PS and 470 Nm of torque. Both are paired with either a 6-speed automatic or manual transmission.
According to Hans Schep, General Manager of Commercial Vehicles at Ford of Europe, Ford Ranger is always a fashionable and muscular pickup truck from Ford. The Ranger is for truck purchasers who want to a low-cost, practical, rugged, maneuverable pickup. 
>>> Ford Ranger year-to-date sales closed the first half of 2017 with an increase of 16%. Read our article for more information.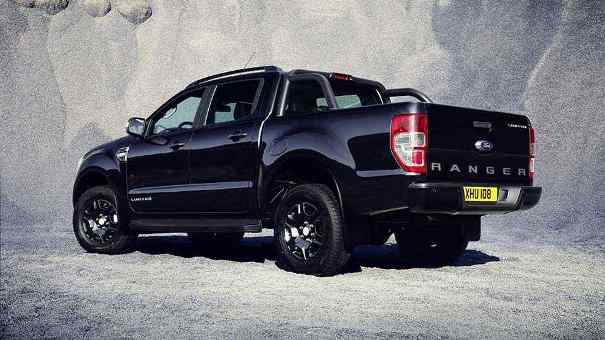 The body itself is covered by a special color called "Absolute Black"
>>> Click to keep updated with latest consumer reports in automotive industry
Know more about Ford Ranger 2023

The 2023 Ford Ranger is a 4x4 or 4x2 pickup truck. It is the latest version of the said model, and as of its launch in the Philippine market, it has a total of eight different variants.
These are the top-spec Wildtrak 4x4, Wildtrak 4x2, Sport 4x4, Sport 4x2, XLT 4x2, XLS 4x2 AT, XLS 4x2 MT, and the entry-level XL 4x4. As of 2023, prices for these trims ranges from php 1,213,000 to Php 1,910,000.
Under the hood of the new Ranger are two-different diesel mills. For the Wildtrak 4x4, it uses a 2.0-liter biturbo that can churn out 210 horsepower and 500 Nm of torque. It is also the sole trim that uses a 10-speed automatic tranny.
The rest of the all-new Ranger then gets a 2.0-liter turbodiesel that can produce up to 170 horsepower and 405 Nm of torque. Only the XLS 4x2 and the XL 4x4 may come with a six-speed manual. The other non-biturbo trims then use a six-speed automatic.
Size-wise, the all-new 2023 Ranger is 5,370mm long, 1,918mm wide, and 1,884mm in height. They also offer a wheelbase length of 3,270mm, and a ground clearance of 235mm.
Locally, the 2023 Ford Ranger faces the Toyota Hilux, Nissan Navara, Mitsubishi Strada, Isuzu D-Max, Mazda BT-50, etc.