Learn how the logistics industry will move forward after the COVID-19 pandemic
As you may well know, the majority of regions here in the Philippines has already transitioned from the enhanced community quarantine, to the less strict general community quarantine.
That being said, the logistics industry, which includes the packaging businesses, storage businesses, and of course transportation businesses are now operating whilst adhering to the numerous health and safety guidelines brought about by this "new normal" world we live in.
In order to keep the public involved and informed in the Philippine logistics industry, Autokid Truck Solutions PH together with Globe myBusiness, in coordination with the government, and other business sectors have conducted a webinar called "Moving Forward: Post-Covid Talks Toward a Stronger Logistics Industry," which was moderated by James Deakin.
Participating in the said webinar were Erin Masancay, the assistant vice president of Royal Cargo, Eric Darryl Lim from Autokid Truck Solutions, Orix Metro President Constancio Tan, supply chain expert Lourdes Guzman, and DOTr Road Transportation Consultant Alberto Suansing.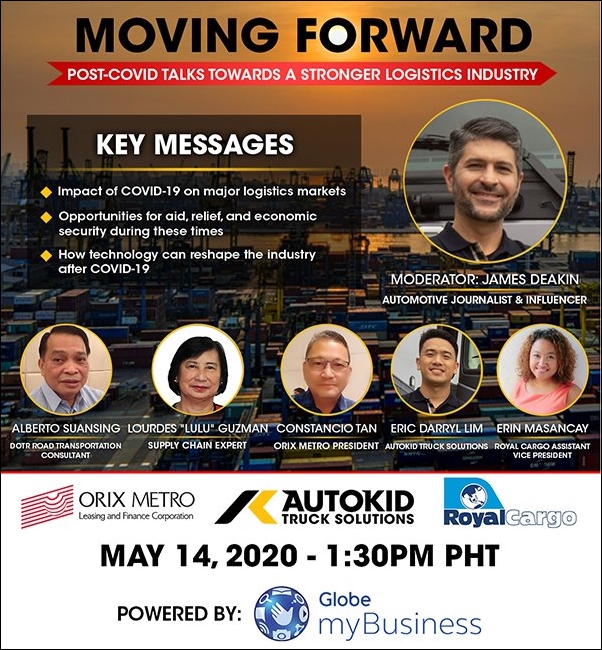 Moderated by James Deakin, the webinar focuses on how the logistics industry should move forward after the COVID-19 pandemic
This webinar was held on May 14, 2020, and it is in line with Autokid's mission to empower businesses by not only delivering effective, efficient, and economic trucking solutions, but as well as helping businesses develop and discover logistics solutions whilst doing their part to prevent the spread of COVID-19.
The world needs high tech-solutions
According to Supply Chain expert Lourdes Guzman, the situation for the logistics right now is "volatile, uncertain, complex, and ambiguous."
Erin Masancay of Royal Cargo, Inc. also shared her observations that there is a decline in global trade due to the pandemic. With that in mind, the logistics industry is greatly affected as shown by the 25 percent decrease in volume in this quarter alone. As such, it can be said that a recession might follow the COVID-19 pandemic.
To address this, Guzman hopes that this overall grim situation can be alleviated by the logistics businesses' ability to adapt in these uncertain times.
As such, the supply chain expert suggests that companies should think about moving onto prioritizing the local economy, as well as the embracing widespread use of high tech solutions like GPS tracking and tracing, automation, software systems for transportation management and warehouse management, and even drones and robotics.
>>> Related: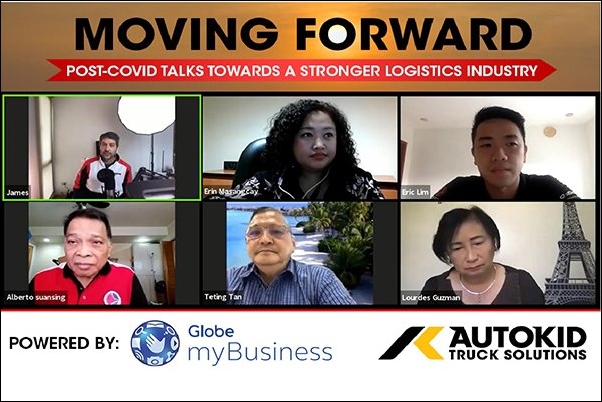 A screenshot of the Moving Forward webinar in session
In this regard, Autokid Truck Solutions' Eric Darryl Lim shared that their company is already on track to enhance their services by using these high-tech solutions.
Autokid already employs an enhanced customer experience by using a digital portal, providing digital payment options and online content to guide customers on social distancing during logistics transactions, as well as improved online tech support and training.
Apart from the more high-tech logistics industry, DOTr Road Transport Consultant Alberto Suansing also shared in the webinar that there will be significant changes to the transport system which will promote social distancing.
In relation to the logistics industry, the government also plans to provide its support by sourcing imported second hand trucks.
Orix Metro Leasing and Finance Corp. President Constancio Tan also shared that their company is currently working on extending the moratorium beyond the two-month grace period for clients who are affected by the COVID-19 pandemic.
Globe MyBusinesses, a staunch partner of small and medium enterprises in the Philippines, also expressed its commitment in providing digital solutions like cashless payments and other online tools like web conferencing tools, and online marketing tools for businesses in these trying times. 
>>> Related: Will car sales go up as a result of COVID-19 pandemic?
Final takeaway from the webinar
All in all, the key points of the webinar highlighted the need for businesses to future proof their enterprise, focus on sustainability, and to rely on high-tech solutions with regards to how they operate.
As such, Autokid Truck Solutions continues to provide truck parts, brand new and surplus trucks, as well as repair and after-sales services through high-tech digital solutions.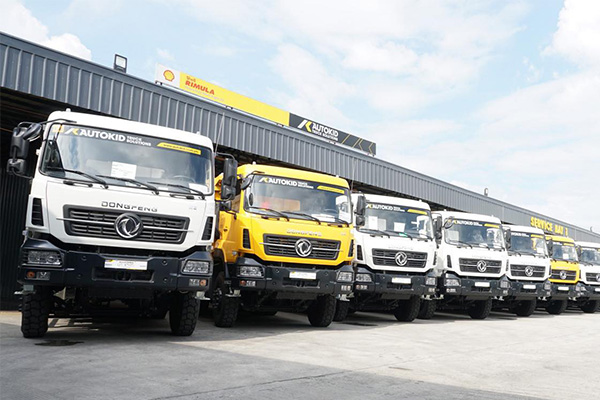 Need a truck for your business? Then Autokid Truck Solutions can surely help you
For more informative articles like this, keep reading here on Philkotse.com.

Cesar G.B. Miguel
Author