The facelifted Ford Ranger 2018 appears to receive some cosmetic updates.
Recently, some spy photos revealing the revamped Ford Ranger 2018 running on Thai roads without camouflage have been leaked on Headlight Magazine. The allegedly facelifted model appears to receive a number of refreshments on the outside for the 2018 model year.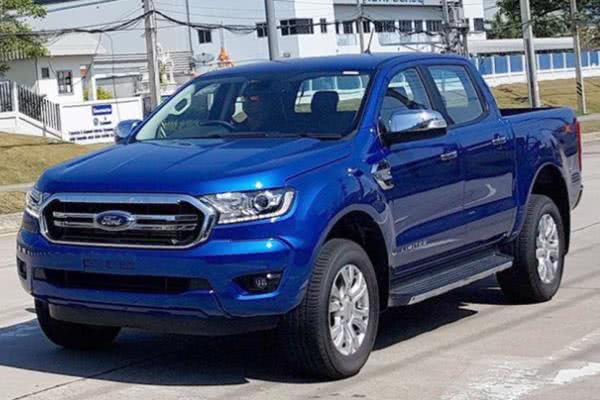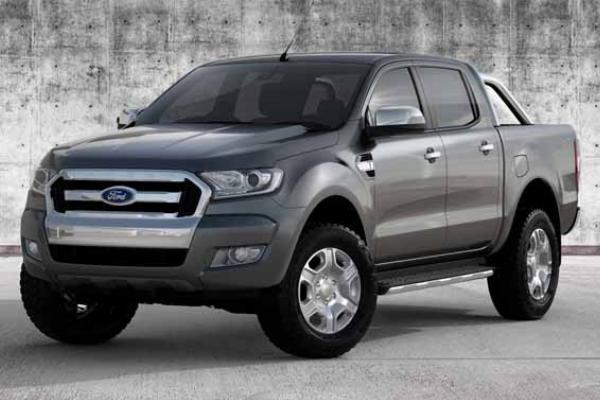 The front bumper of the facelift model (left) now comes adorned with defined lines on each corner
The changes up front are subtle yet noticeable. In detail, the spied Ford Ranger 2018 facelift no longer features the big chrome chunk on its front bumper which has now been smoothed out and added with defined lines on each corner. The makeover for the front fascia is finished with the addition of LED Daytime running lights, new fog lamp housings and redesigned two-bar grille.
Ford Ranger - A powerful off-road vehicle
According to the spy shots, it seems that the rest of the pickup stays unchanged. However, if looking more closely, we can spot the newly-added "Limited" badging found on the tailgate and the front doors. Currently, the Ranger fleet in the Philippines has 4 members, namely the Wildtrak, FX4, XLT and XLS, which means that this lineup is likely to be extended to 5 variants if the updated Ranger spotted in Thailand is also to go to our shores. According to car experts, the Limited model might find a slot somewhere in the middle of the range.
>>> Related post: 2019 Ford Ranger to come with three different engines
As for the refinements for interior, technology and engine, there has yet to be any official disclosure from the Blue Oval. The current-generation Ranger is powered by a 2.2-liter, four-cylinder and a 3.2-liter, five-cylinder engine options. Both are part of the Duratoq turbodiesel engine family.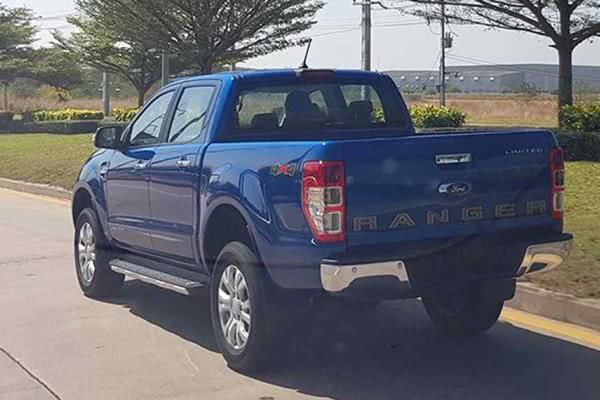 Looking more closely, we can spot the newly-added "Limited" badging found on the tailgate
It has been over two years since the last update of the stylish off-roader from Ford. In 2015, the American auto maker gave its tough pickup truck a handful of refreshments including revised front fascia, added active safety features, improved under the hood and the chassis as well.
It is clear to see that the updates brought to the new Ford Ranger 2018 model appear to be quite minor, especially when compared with what had been done with the 2015 facelift. However, as full information has yet to be announced at the moment, we still have the right to let our imagination run free and hope for a nicely-refreshed Ranger inside and out.
While waiting for further details for this off-roader, look through our in-depth Ford Ranger 2018 review in the Philippines.
Check out the updated Ranger 2018 price in the Philippines as follows:
Ford Ranger 2018 Price in the Philippines

| Model | Price |
| --- | --- |
| Ford Ranger 2.2 Cab and Chassis 4x2 MT | ₱720,000 |
| Ford Ranger 2.2 Single Cab 4x2 MT | ₱780,000 |
| Ford Ranger 2.2 Base 4x2 MT | ₱909,000 |
| Ford Ranger 2.2 XLS 4x2 MT | ₱1,059,000 |
| Ford Ranger 2.2 XLT 4x2 MT | ₱1,199,000 |
| Ford Ranger 2.2 XLS 4x4 MT | ₱1,219,000 |
| Ford Ranger 2.2 XLT 4x2 AT | ₱1,259,000 |
| Ford Ranger 2.2 FX4 4x2 MT | ₱1,299,000 |
| Ford Ranger 2.2 FX4 4x2 AT  | ₱1,359,000 |
| Ford Ranger 2.2 Wildtrak 4X2 MT | ₱1,429,000  |
| Ford Ranger 2.2 Wildtrak 4X2 AT | ₱1,489,000 |
| Ford Ranger 2.2 Wildtrak 4X4 MT | ₱1,539,000 |
| Ford Ranger 2.2 Wildtrak 4X4 AT | ₱1,599,000 |
| Ford Ranger 3.2 Wildtrak 4X4 MT | ₱1,709,000 |
| Ford Ranger 3.2 Wildtrak 4X4 AT  | ₱1,769,000 |
Know more about Ford Ranger 2021

<p>The Ford Ranger received numerous facets and practicality and is one of the long-running in the segment of pickup trucks. Still, it has changed a lot in recent years, and today, it is equipped with proper SUV features, truck muscularity, spacious cabin, car drivability, and the like.</p> <p>The sport-themed oriented urban truck was intended for the buyer&#39;s active lifestyle. Hence, the Blue Oval Company&#39;s midsize pickup truck is also utilized as a lifestyle &#39;weekend&#39; SUV aside from being just a pickup car. Its robust and multi-talented platform is common for both Ford Ranger and <a href="https://philkotse.com/ford-everest-price-philippines" title="Ford Everest Philkotse Car Guide">Everest</a>, the latter is considered one of the leading SUVs in its respective segment.</p> <p>Powering the Ford Ranger is either a 2.5-litre or&nbsp;3.0-litre Dura TORQ TCDi diesel engines that supply high values of power and torque as well as better mileage. It also features enough room and additional space at the back for either business or personal purposes.</p> <p>The double cabin pickup truck comes with on-road agility, together with its competent handling and reasonable off-roading capability with a 4x4 mechanism. Moreover, the midsize pickup truck&nbsp;features top-class safety features and competes with the types of <a href="https://philkotse.com/isuzu-d-max-price-philippines" title="Isuzu D-Max Philkotse Car Guide">Isuzu D-Max</a>, <a href="https://philkotse.com/toyota-hilux-price-philippines" title="Toyota Hilux Philkotse Car Guide">Toyota Hilux</a>, <a href="https://philkotse.com/chevrolet-colorado-price-philippines" title="Chevrolet Colorado Philkotse Car Guide">Chevrolet Colorado</a> and, <a href="https://philkotse.com/mitsubishi-strada-price-philippines" title="Mitsubishi Strada Philkotse Car Guide">Mitsubishi Strada</a>.</p>
Recent posts