The facelifted MPV comes with a price increase and a smaller lineup.
Although the 2021 Innova is just around the corner, Toyota Motor Philippines (TMP) keeps a tight lid on the details as far as the local-spec version is concerned. One thing that customers can expect is a change in pricing, as the MPV is said to breach the Php 1.1 million mark.
New Toyota Innova - Improved Styling
According to a report by Carguide.ph, the facelifted Innova will now be tentatively priced at Php 1,186,000 for the base J Diesel MT, representing a Php 40,000 increase over its previous equivalent. As for the rest of the range, pricing will likely be as follows, relative to those on the outgoing versions:
2.8 E Diesel MT – Php 1,285,000 (up by Php 35,000)
2.8 E Diesel AT – Php 1,355,000 (up by Php 35,000)
2.8 G Diesel MT – Php 1,522,000 (up by Php 55,000)
2.8 G Diesel AT – Php 1,595,000 (up by Php 58,000)
2.8 V Diesel AT – Php 1,739,000 (up by Php 45,000)
>>> Related: The Toyota Previa 2014 for sale is a good old MPV for limited bugets 
The upcoming lineup is now streamlined as the Touring Sport variants have been dropped, with no word on whether those will be reinstated in the future. Another thing to note is the absence of the 2.0L gasoline variants, which explains why the entry-level 2021 Innova is now Php 150,000 more expensive compared to the old one's starting price.
A revamped fascia is the most evident styling change on the 2021 Toyota Innova, with more chrome trim on the trapezoidal grille. The turn signal markers have been redesigned, while the fog lamps have been relocated further down the front bumper.
Interior amenities are largely the same, with the black and brown palette exchanged for monotone black, and most variants getting Apple CarPlay and Android Auto for the touchscreen head unit.
>>> Related: 2021 Toyota Innova: Expectations and what we know so far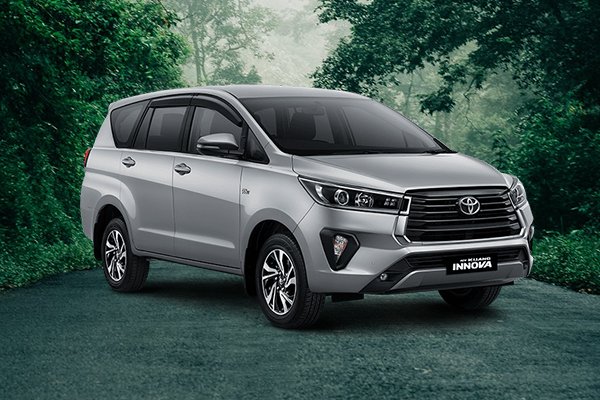 Looks like the 2021 Innova will bring an all-diesel lineup
Assuming no change in the powertrain, the upcoming Innova will still share its diesel engine with the Toyota Fortuner and Hilux. Variants with the 5-speed manual transmission get 167 hp and 343 Nm of torque, while those with the 6-speed automatic are uprated at 171 hp and 360 Nm.
For safety, vehicle stability control and hill start assist could make it across the range, while a rear camera will likely be an available option.
There are only a couple of days left until the 2021 Toyota Innova is revealed for the Philippine market on February 20, so we'll know the final specs and pricing by then.
Keep up with the latest developments on best-selling models at Philkotse.com.
Know more about Toyota Innova 2021

<p>The Toyota Innova is one of the best-sellers of Toyota Motor Philippines. It is a compact MPV that can accommodate seven occupants while other variants have a seating capacity of eight. The Toyota Innova became a logical choice in the MPV segment because of its seating capacity, diesel mill, and raised ride height. It is the main reason why the Toyota Innova is one of the annual top-sellers in the country. This is a testament to how appealing this compact MPV is to Filipino car buyers. The current generation Toyota Innova has a larger dimension than its predecessor. The overall exterior of the Toyota Innova is obviously an MPV, but the styling is inspired by the SUV and crossover models of the Japanese brand. Dominating the front end of the Innova is a large angular grille and large swept-back headlights. It gives the Toyota Innova a more aggressive appearance that reminds us of the U.S &ndash; market Highlander SUV. On the side, it features clean and notable shoulder lines. It has features similar to the RAV4, particularly the near-triangular D-pillars, angular horizontal taillights, and upswept rearmost side windows. The facelifted 2nd-gen Toyota Innova is offered with the 2.8L 1GD-FTV engine that produces 167 hp and 343 Nm of torque on manual transmission variants and an impressive 171 horsepower and 360 Newton-meter of torque on an automatic transmission. The Toyota Innova shares the same platform with the Fortuner and Hilux.</p>

Joseph Paolo Estabillo
Author