From the looks of it, the 2021 Maxus D60 is a promising vehicle.
2021 Maxus D60: What we know so far
Introduced at the 2019 Shanghai Auto Show, the Maxus D60 is a seven-seater crossover made by SAIC Motor and sold under its Maxus sub-brand. According to numerous reports, Maxus is planning to launch this model in the Philippines.
With the D60, the company is hoping to get a large chunk of the competitive seven-seater crossover or midsize SUV market. So what can we expect from a Philippine-spec 2021 Maxus D60?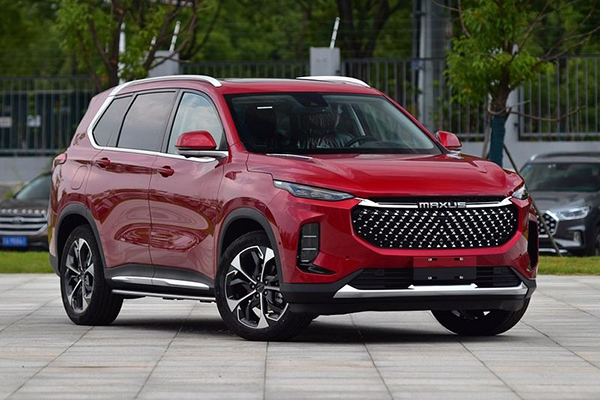 Check out that grille
2021 Maxus D60: Exterior
When compared to other models in its class, the Maxus D60 is definitely gigantic. It measures 4,720 mm long, 1,860 mm wide, and 1,736 high. It also has a wheelbase length of 2,760 mm. That means that the D60 is larger than the Honda CR-V, and Toyota RAV4. With that kind of size, we can expect the D60 to provide a lot of passenger and cargo space.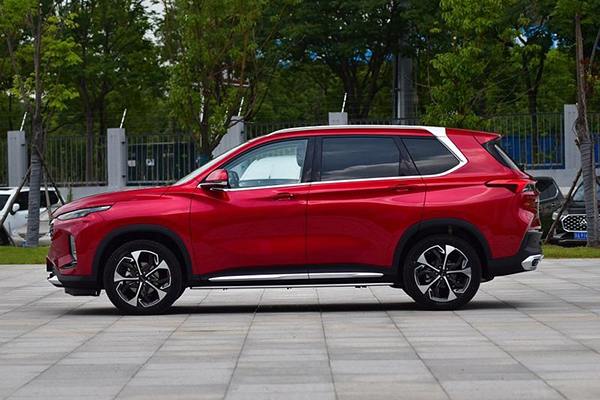 The low and mid variants of the Maxus D60 rides on 17-inch or 18-inch alloy wheels
In terms of exterior features, consider that the current Maxus lineup here in the Philippines is quite generous. As such, we can expect the Philippine-spec 2021 Maxus D60 to come with all the bells and whistles.
That means, we're expecting most of its variants to have automatic headlights, daytime running lights, LED taillights, side repeaters with electronic adjustment and folding, a power tailgate, as well as roof racks.
Note however that even the top-spec variant for the Chinese variant only has halogen headlamps, as such, Maxus PH would do well to upgrade those to LEDs.
>>> Related: 2021 Maxus D60 crossover scores five stars in crash safety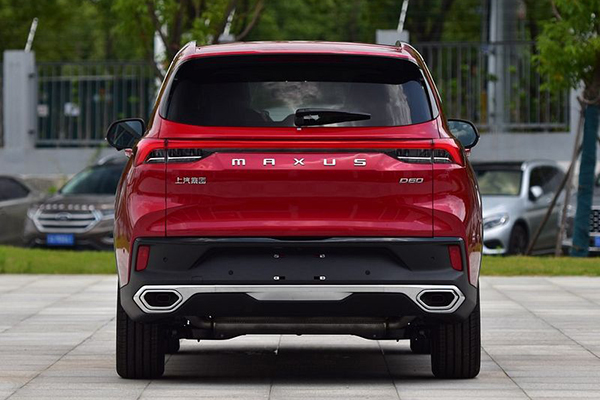 The rear end of the D60 continues the hefty but sporty theme
2021 Maxus D60: Interior
As with the exterior, we're also expecting the Philippine-spec Maxus D60 to be feature-rich just like the top-spec Chinese variants. So once it gets here, it'll be equipped with useful goodies like wireless charging, a 12-inch digital gauge cluster, a heads-up display, a huge 14-inch touchscreen, navigation, and Bluetooth. And get this, the Maxus D60 2021 also has voice-controlled automatic climate control.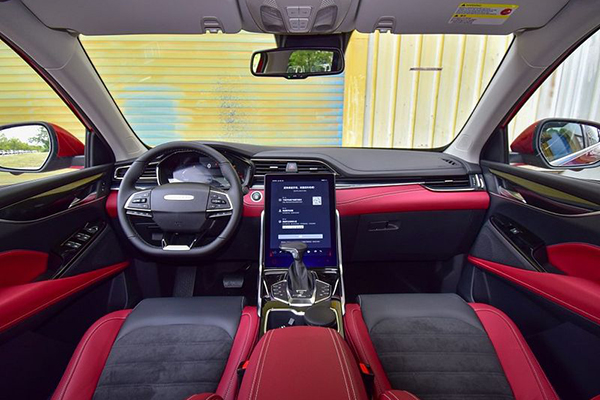 The red and black looks great, but some buyers might want a black-only interior
Apart from its imminent arrival, many reports are also saying that it's going to be the seven-seater variant that'll arrive on Philippine shores. That said, we won't be getting the five-seater versions. And talking about seats, the top-spec D60 also gets electronically adjustable front seats, armrests for the 2nd and 3rd rows.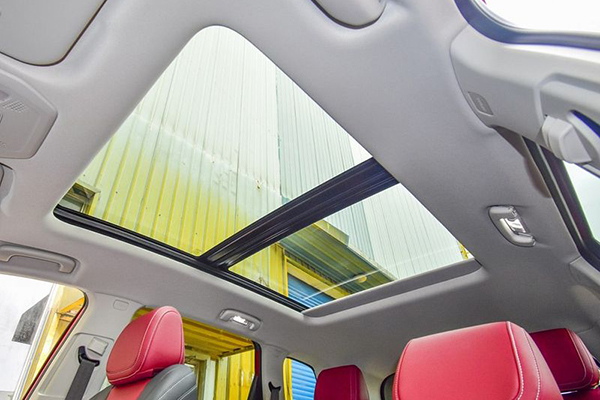 And oh, the D60 also comes with a sunroof
>>> Related: Maxus PH to launch 2021 D60 crossover, here's what you can expect
2021 Maxus D60: On-board tech and safety features
For safety, the 2021 Maxus D60 is on par with most top-spec models in its class. It comes with dual front airbags, front and rear side airbags, front and rear curtain airbags, ISOFIX, and antilock braking with electronic brake distribution.
On the more active side, this Chinese made crossover is also equipped with adaptive cruise control, an engine immobilizer, remote door locks, keyless entry, as well as parking assist.
What sets the D60 apart, however, is that it's also equipped with level 2 autonomous driving. A "level two" means that the car takes full control.
However, most autonomous cars will require the driver to intervene if need be. As such, we're guessing that the D60 also comes with a way for it to monitor the driver whenever the autonomous mode is active.
Moreover, the Maxus D60 managed to pass stringent crash safety standards imposed by the China New Car Assessment Program (C-NCAP), garnering a cumulative score of 88.9 percent. That's equivalent to a perfect five-star safety rating.
>>> Related: Comprehensive guide for Chinese car brands in the Philippines
2021 Maxus D60: Engine and Performance
As we've said above, the Philippines might be getting the seven-seater version. If that's the case, there's a chance that our version of the 2021 Maxus D60 will come with the 1.5-liter turbocharged 15E4E gasoline engine.
The said engine is then paired with a seven-speed dual-clutch transmission, which sends power to the front wheels. In that configuration, the Maxus D60 can make 169 horsepower and 250 Nm of torque.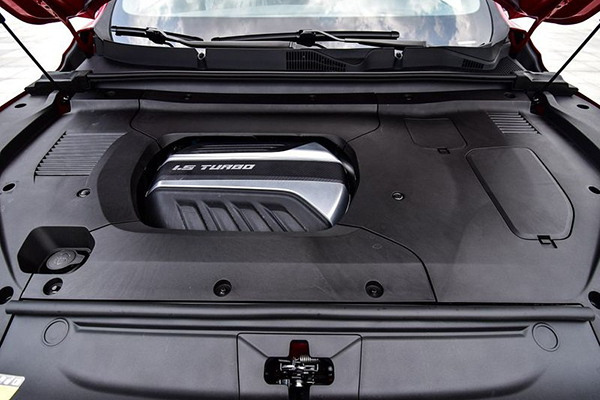 Like many modern vehicles, the D60's engine bay is all covered up
Like most crossovers and SUVs available in the Philippine market, the Maxus D60 will use a MacPherson strut for the front and a Multi-link type suspension for the rear. It will also use an electronic parking brake, and it will come with disc brakes all around.
2021 Maxus D60: Final Thoughts
If Maxus PH launched the D60 with the same specs as the Chinese-spec seven-seater, then it'll likely be priced around Php 1,200,000 above. For a car with its kind of specs, the D60 will undercut a lot of competing seven-seater models.
That's regardless of whether the competitor belongs to another car segment or not. Remember though that there's still the possibility that some features, like the autonomous driving tech, might not make it to the Philippine market.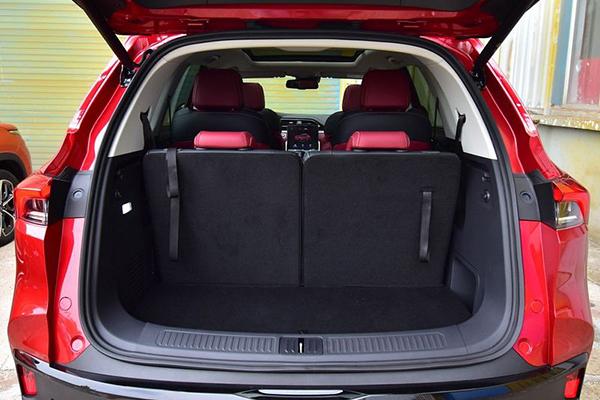 The D60's interior is without a doubt, quite cavernous
2021 Maxus D60: Expected Price
In its home market in China, the Maxus D60's price ranges from 93,800 to 167,800 Yuan. Converted to current exchange rates, that's Php 675,796 to Php 1,209,030. For a seven-seater model, that's very affordable. Once it gets here though, we can expect the price to increase a bit.
We're hoping, however, that some D60 variants remain in the Php 900,000 to Php 1,000,000 mark. That way, Maxus will be able to compete against many seven-seater models available locally. With that kind of price, it might even be able to face the popular and affordable seven-seater MPVs dominating the local scene right now.
Are you excited about the 2021 Maxus D60? Do you think that this model will do well like the other Chinese made crossovers that are currently available locally?
For more automotive news, car reviews, and car maintenance tips, keep reading here on Philkotse.com.
Know more about Maxus D60 2021

<p>Maxus Philippines is one of the car brands in the local market that has been continuously expanding its model lineup. After launching the G50 MPV, Maxus PH is setting its sights on entering the midsize SUV segment as it launched the D60.&nbsp;The Maxus D60 is offered in two variants, Elite and Pro. The Maxus D60 Pro variant comes with seats that can accommodate up to seven people.&nbsp;Under the hood, the Maxus D60 shares the same 1.5-liter turbo gasoline engine that delivers&nbsp;167 horsepower and 250 Nm of torque. Power is then managed by a seven-speed dual-clutch automatic gearbox.</p>

Cesar G.B. Miguel
Author