The top-spec Wigo TRD S comes with the latest smartphone mirroring apps. Hooray!
This is the last time that we're going to write about the 2020 Wigo...for now, at least.  
Toyota Motor Philippines (TMP) is setting its eyes to make a significant impact on the local small hatchback segment as it launched the 2020 Wigo. TMP's challenger in the competitive segment is going up against the likes of the Honda Brio, Mitsubishi Mirage, Suzuki Celerio, among others.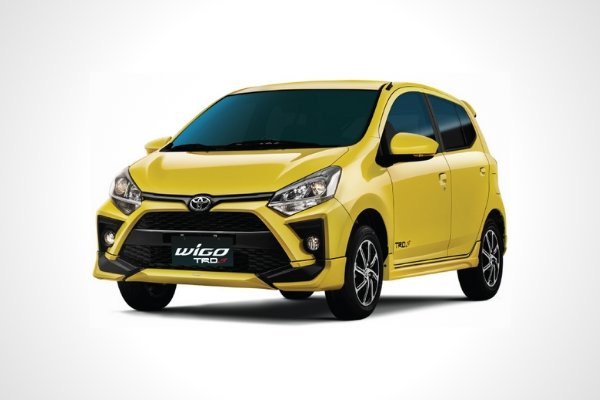 The 2020 Toyota Wigo TRD S variant.
According to TMP, the Toyota Wigo registered a 69 percent segment share last year, and TMP wants to maintain this strong performance as it targets to sell 1,400 units monthly for the 2020 Wigo.
With that mind, Toyota is pulling almost all the tricks possible for the new Wigo by integrating it with notable in-car features. Among those is a feature that techie buyers will rave about.
The touchscreen infotainment of the top-of-the-line 2020 Wigo features Apple CarPlay or Android Auto compatibility. Apple CarPlay and Android Auto are apps that seamlessly connect and mirror your iPhone or Android phone to the infotainment system.
So, okay, you might be wondering what's cool about that, right? Well, this means that the top-spec Wigo TRD S variant will make your driving experience more convenient, safer, and more techie.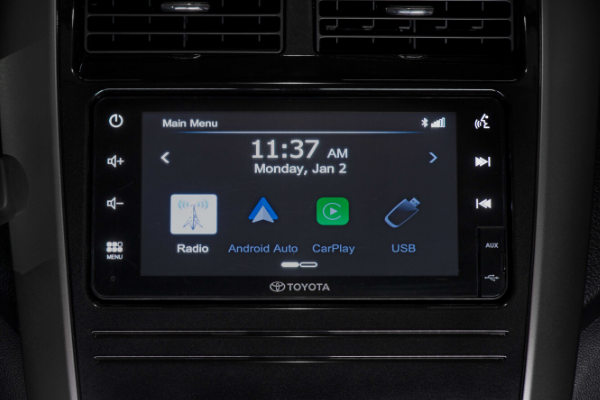 The 2020 Toyota Wigo TRD S variant is equipped with Apple CarPlay and Android Auto.
Apple CarPlay and Android Auto are apps that sync your phone to the Wigo's head unit. As such, it will mirror all the compatible apps into the head unit or touchscreen infotainment system of the new Toyota Wigo 2020.
You can use your favorite navigation app and it will be mirrored or shown into the head unit. It also gives you the ability to receive and make phone calls without taking one of your hands off the steering wheel.
You can accept and make calls simply through a voice command. You don't have to worry because Siri or Google Assistant got your back.
In addition, Apple CarPlay and Android Auto let you send and receive messages, as well as have your calendar synced. And oh, you can also access your music and control it with your voice. You can pause, play, go to the next track, among others.
In other words, Apple CarPlay and Android Auto act as your virtual assistant while at the same time entertain you while you drive. All of the features of the said apps contribute to giving you a convenient and safer driving experience.
Plus, it's also a cool feature, which makes the 2020 Wigo TRD S variant a vehicle perfect for tech-savvy individuals.
>>> Related: Toyota Wigo has the same ground clearance as Suzuki S-Presso. Wait, what?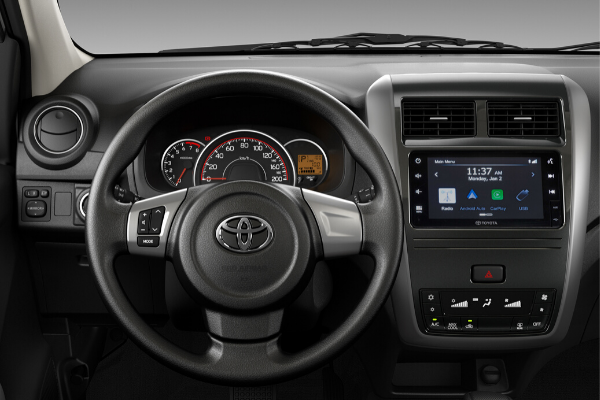 The updated dashboard of the 2020 Toyota Wigo (TRD S and G variants).
Aside from the Apple CarPlay and Android Auto, the 2020 Wigo TRD S and G variants also come with steering wheel audio controls, which gives you an easier way on how to adjust the speaker volume.
The said variants are also integrated with rear cameras, which will be handy when you're parking the new Wigo, especially in places like Makati Central Business district's tight side street parking.
The tech goodies are seen in the TRD S and G variants of the 2020 Wigo are the following, push start button, power retract side mirrors, and an LCD air-condition panel. Of note, the top-spec TRD S variant is also equipped with a dashboard camera. 
>>> Related: Most dressed-up 2020 Toyota Wigo costs extra P118,768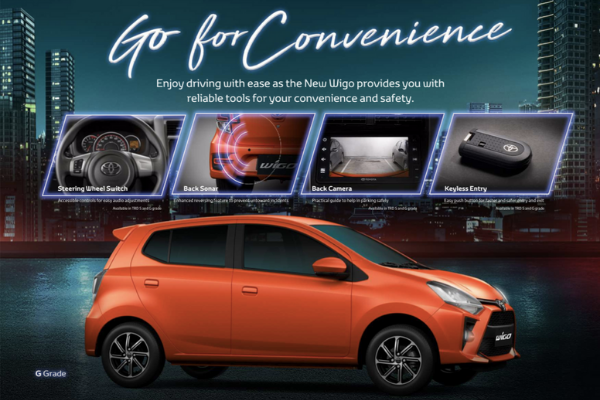 The 2020 Toyota Wigo is loaded with in-car tech features. 
Overall, the 2020 Wigo is loaded with in-car features that aim to make your driving experience safer and more convenient. The 2020 Toyota Wigo is available in the four variants.
The entry-level Wigo, the E M/T, is priced at Php 568,000, while the G M/T and G A/T variants are priced Php 623,000 and Php 658,000, respectively. The top variant, TRD S A/T, has a sticker price of Php 700,000.  
Visit Philkotse.com to get more updates about the automotive industry.
Know more about Toyota Wigo 2021

The Toyota Wigo is a small city car powered by an inline-3 gasoline engine. Power is sent to the front either by a four-speed automatic or a five-speed manual transmission. The Wigo is built by Daihatsu, which is one of Toyota's subsidiaries. In other countries, it is known as the Agya.

Martin Aguilar
Author