The 2020 Toyota Wigo is all set to go up against its segment rivals
The Toyota Wigo first made its debut in the Philippines last 2014, and was Toyota Motor Philippines' (TMP) challenger in the local small hatchback segment.
Since then, the Wigo has been one of the popular cars in general and particurlay hot-selling Toyota new cars in the Philippine market. In fact, TMP reported that the Wigo tallied a total of more than 18,000 units sold last year.
2020 Toyota Wigo: Now officially in the Philippines – First Look
Now, TMP has digitally launched the new 2020 Wigo that comes with a sportier design along with a starting price of Php 568,000. TMP's small hatchback is still powered by the same 1.0-liter gasoline engine.
From the looks of it, the facelifted Wigo is all set to go up against its segment rivals such as the Honda Brio, Mitsubishi Mirage, among others.
>>> Related: Honda Brio vs Toyota Wigo: Which affordable hatch would you prefer?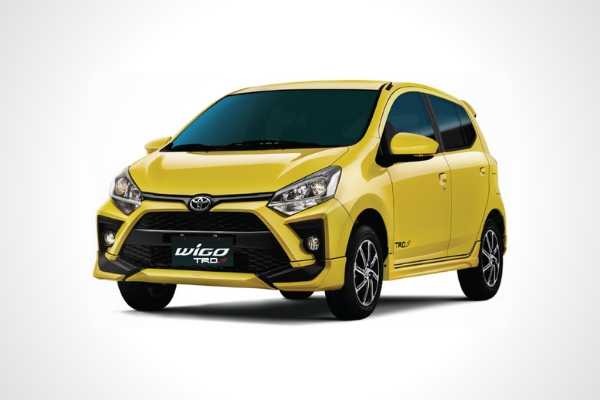 Say hello to the 2020 Toyota Wigo
At first glance, you can see that the 2020 Wigo is fitted with redesigned headlights as well as a more aggressive and sharper-looking front bumper.
You can't also help but notice the Wigo's new front grille, which looks larger as compared to the outgoing model. The front grille features a honeycomb pattern as compared to the horizontal design of the old model.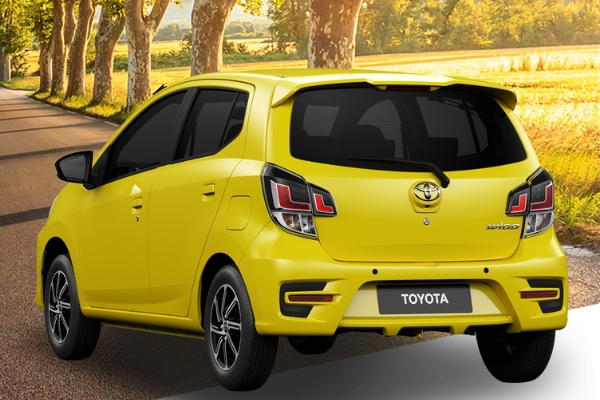 The 2020 Toyota Wigo comes with revamped taillights and new wheel design
The wheel design also comes with a new look, which we find more appealing as compared to the old one. In addition, the 2020 Wigo also gets revamped taillights. Overall, we think that the styling of the facelifted Wigo is better as compared to its predecessor.    
Inside, the Toyota Wigo features an interior layout that's similar with the outgoing model. It comes with a black interior theme along with silver accents. However, Toyota added red stitching patterns on the Wigo's seats, as well as a digital air-condition display, push start button, and a new rear camera for the TRD S and G variants. The TRD S varriant is also integrated with Apple CarPlay and Android Auto compatibility, voice command feature, and a dashcam.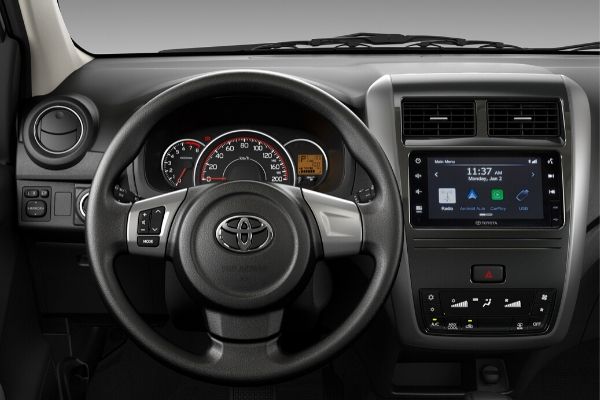 The updated dashboard of the 2020 Toyota Wigo
Under the hood, the 2020 Wigo is still powered by the same 1.0-liter gasoline engine that delivers 65 hp and 89 Nm of torque. The engine is connected to either a five-speed manual or a four-speed automatic.
However, we do wish that TMP has also offered the 2020 Wigo with a 1.2-liter gasoline engine that's available in other select markets. The said engine can generate 87 hp and 108 Nm of torque. 
>>> Related: Full list of Toyota Wigo at the best price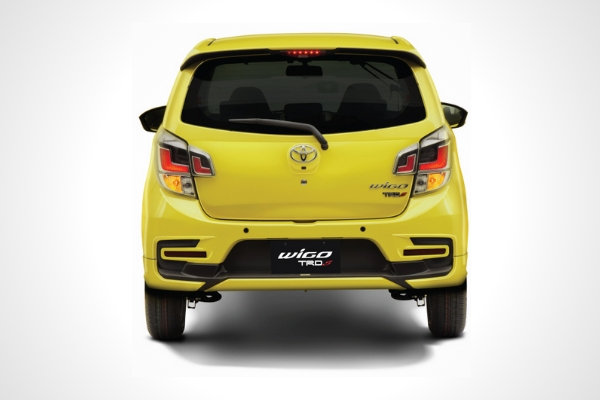 The rear of the 2020 Toyota Wigo gets a subtle design change
The latest Toyota Wigo Philippines is available in the four variants. The entry-level Wigo, the E M/T, is priced at Php 568,000, while the G M/T and G A/T variants are priced Php 623,000 and Php 658,000, respectively. The top variant, TRD S A/T, has a sticker price of Php 700,000.
For more news, don't forget to visit Philkotse.com.
Know more about Toyota Wigo

If you're looking for an entry-level hatchback from a quality car manufacturer, one of your best options will be the Toyota Wigo. This hatchback offering from Toyota Motor Philippines is perfect for those buying a car for the first time or for young professionals living in the city. The Toyota Wigo has a rear spoiler, sporty front fascia, and third brake light. All angles of this hatchback exude fun and excitement. In other Asian countries, Toyota Wigo is called Toyota Agya and Daihatsu Ayla. In the Philippines, this car claims its position as one of the best-selling vehicles consistently every year. The Toyota Wigo has undergone a facelift and now has additional features, including LED taillights and projector lamps, not to mention its fascia that radiates aggressiveness. Although Toyota Wigo is a small car, it provides ample legroom for passengers in the backseat. Steering wheel controls, iPod player with Navi display, and 4-speaker audio system are available in the G variants. Seat belt warning, ABS, and airbags are standard. The G variants, however, comes with extra safety techs such as alarm systems and vehicle immobilizer. Powering the Toyota Wigo is a 1.0-liter gasoline mill that produces 66 hp and 89 Nm of torque. It can be paired to either 4-speed automatic or 5-speed manual transmission. This hatchback is available in five colors: Red, Black, White, Gray Metallic, Silver Mica Metallic, and the new color option, Orange Metallic.

Martin Aguilar
Author
Martin is the Content Editor of Philkotse. Aside from his interest in cars, he loves to read crime-thriller novels, play basketball (note: video game only), eat tapsilog, and go for random road trip adventures.