Make good use of your truck's cargo bed.
Pickup trucks are among the most versatile vehicle types you can get in the automotive market. Part of this distinctive feature is its cargo bed at the back of the cabin that can be configured to almost anything based on your daily needs on the road.
Owners of this type of vehicle have come up with different and creative ways to fully make use of their truck's cargo bed. We guess it's more than just a place where you can put all your baggage or groceries. Some have turned the cargo bed into a literal bed, an on-the-go camping tent, and more.
Some of the truck bed organizer ideas will require you to spend a hefty amount of cash to attain, while some would require you simple materials. If you are handy, you can even do some custom beds at home using your home tools such as a saw and hammer.
With that being said, we have listed nine cool truck bed organizer ideas you can try on your pickup truck today. Some cargo bed ideas will require you to put in a lot of work to accomplish but it will surely be worth it in the end.
1. Pet-Friendly Bed
Bringing pets on the road can be challenging as they tend to move from seat to seat. Pets are also in a bad position in an event of an accident when they are inside the cabin of your pickup truck. As such, a pet-friendly bed would be ideal for you if you tag your pets frequently.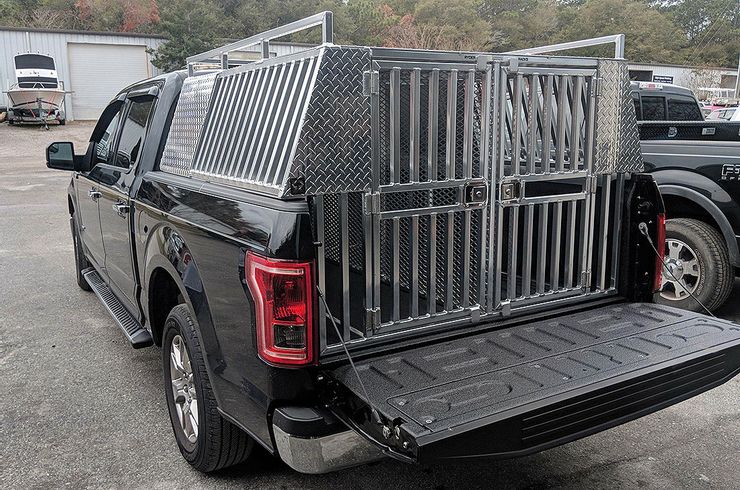 A mod your pets will appreciate [Photo: MetaNetworks]
A proper steel cage will help save your pets when accidents on the road happen. You can add a blanket on the cargo bed to provide your pets a more comfortable riding experience. If your truck's suspension is bad, then you might want to replace them with a newer one so road trips wouldn't be tough for your pets.
2. Ladder Rack Bed
Space is an important factor when choosing vehicles whether for personal or family use. As much as possible, we want to maximize space to fit as many loads as possible. With a ladder rack bed, you can make use of the second row of storage above your truck's cargo bed.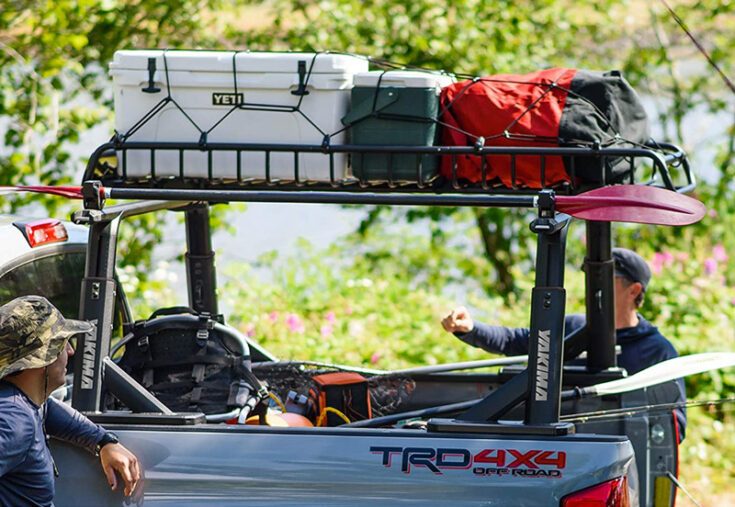 No need to compromise on space [Photo: Yakima]
This type of truck bed organizer is not ideal if you tend to load items that require high clearance such as a motorcycle. As such, a ladder rack bed is only ideal if you use your cargo bed to load items such as baggage, picnic boxes, and a portable cold storage box.
>>> Related: 10 amazing uses of old tires you can try at home
3. Roof Top Cargo
A rooftop cargo is not necessarily for the cargo bed, but you can still use it to organize your loads on the truck. Some pickup trucks already come with this feature as standard. However, if you still don't have this, then now might be the right time to integrate it so you can maximize the space of your truck.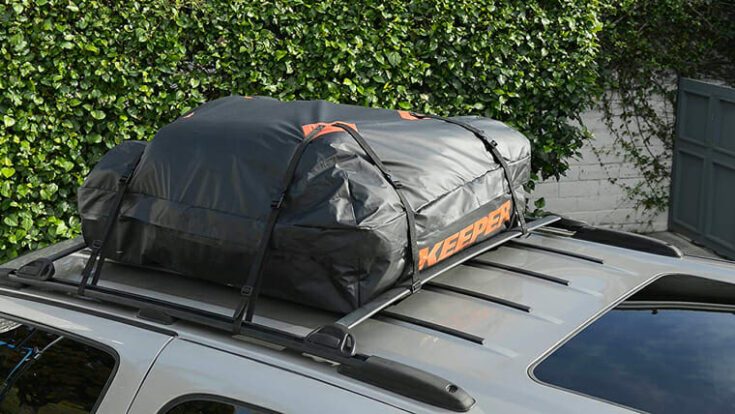 Maximize the space of your truck with rooftop cargo [Photo: Keeper]
Be sure to tune in on the weather report on your trip so you can decide which items will go on top or inside the cabin in case of rain. Waterproof bags are the ideal loads to put on rooftop cargo so clothes and other items will not get wet.
>>> Related: Buying tips: What to consider when choosing right truck bed covers
4. Hammock Bed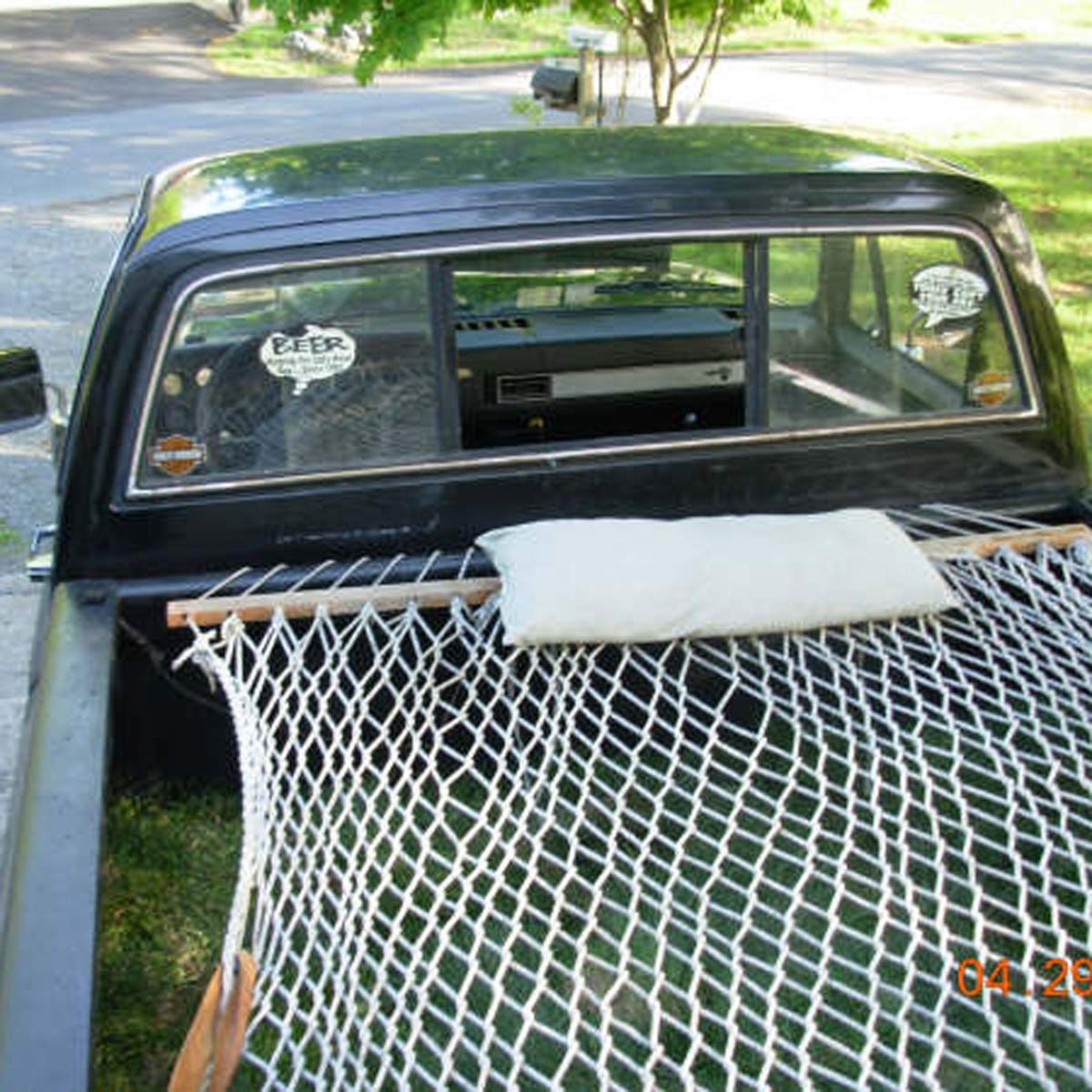 You now have a hammock on the go [Photo: Imgur]
Who told you that cargo beds are only for items? With a hammock truck bed, you can enjoy the gentle breeze especially if you are on a vacation in the province side. Take a good measurement of the size of your truck's cargo bed so you can choose the right hammock for your vehicle. You can also add flooring on your cargo bed such as some faux grass so it would feel as if you are not on a truck.
5. LED Bed
This is probably the easiest modification you can do on your truck's cargo bed. You only need to get LED strips that are long enough to run across the cargo bed. If you are unfamiliar with the wiring, you can always visit your local aftermarket shop so they can hook you up.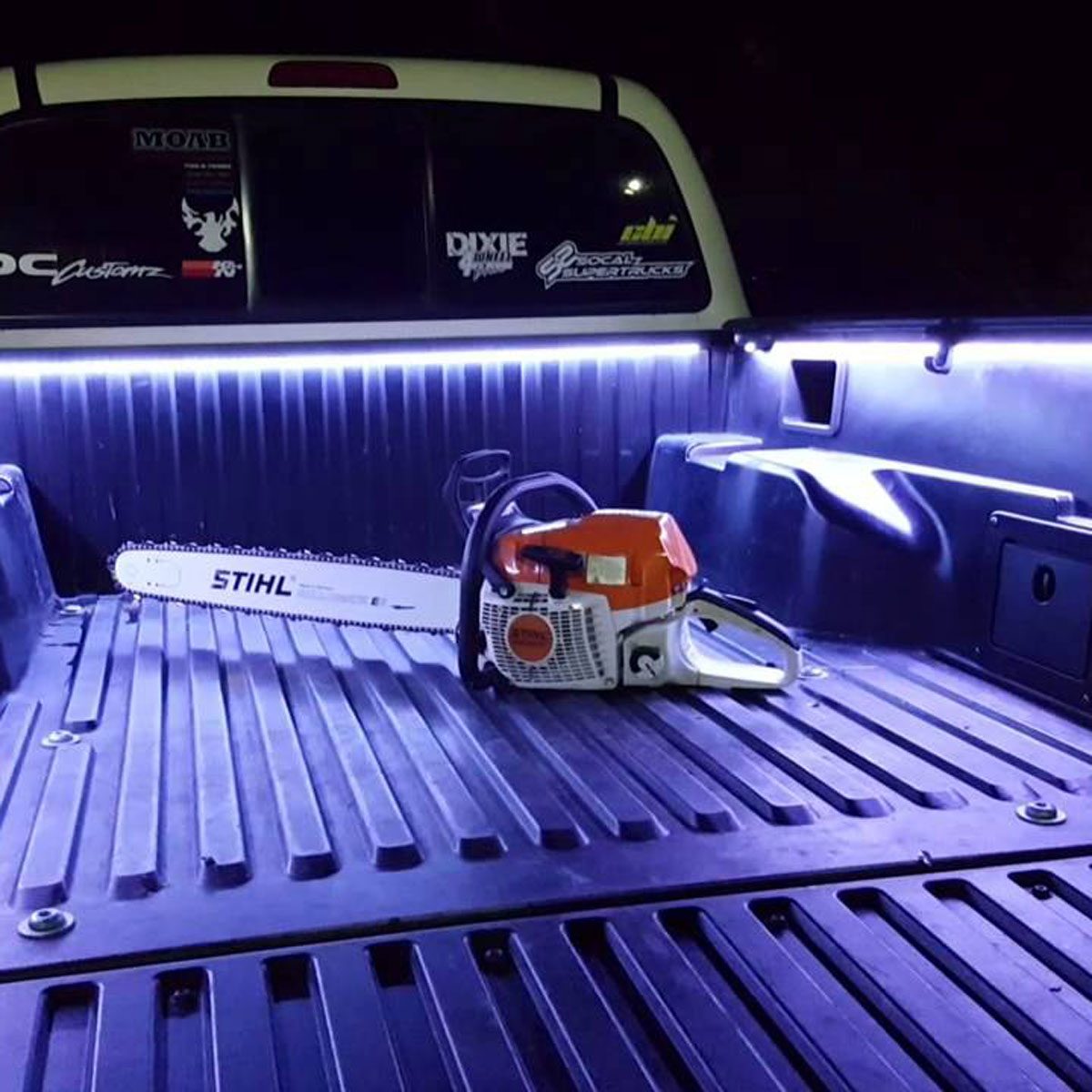 A simple mod you can do to your truck now [Photo: Way22Good1]
With an LED cargo bed, you can organize your stuff better thanks to the visibility this type of modification provides. Plus, camping even at night won't be a problem with an LED cargo bed. It will also uplift moods if you go for LED strips that change colors.
6. Grill Bed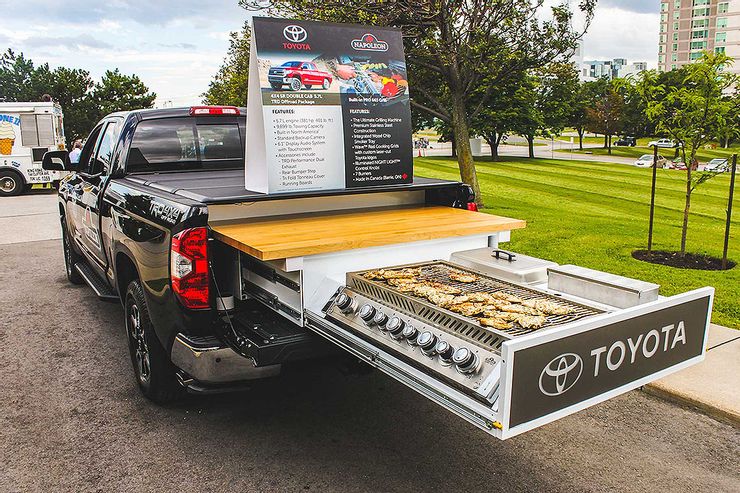 This shows the versatility of a pickup truck [Photo: Motoring Research]
A grill bed will help you bring your BBQ Sundays wherever and whenever. You can use this type of cargo bed in remote areas where restaurants and food stalls are unavailable. The great thing about a grill bed is that it can cook many foods at once thanks to its long length. Plus, it would feel exactly like home while you are on a road trip as you will enjoy almost home cooking.
7. Music Bed
A cargo bed with a big and loud sound system is a common modification for pickup truck owners. Since pickup trucks come with a bed instead of third-row seats, you can utilize the space for a big setup that you can use at your next car meetup.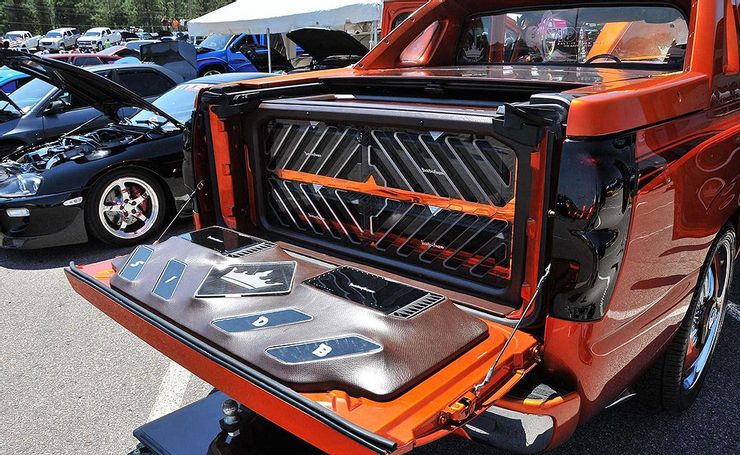 Might as well install a lighting system [Photo: TruckTrend]
However, be sure that got the budget for this truck bed organizer idea as it can be expensive. You will need an amplifier which costs around Php 4,000 for good quality, a handful of speakers, and a subwoofer for that low-end booming frequency.
>>> Related: How to choose the best camper shell for your truck
8. Swimming Pool Bed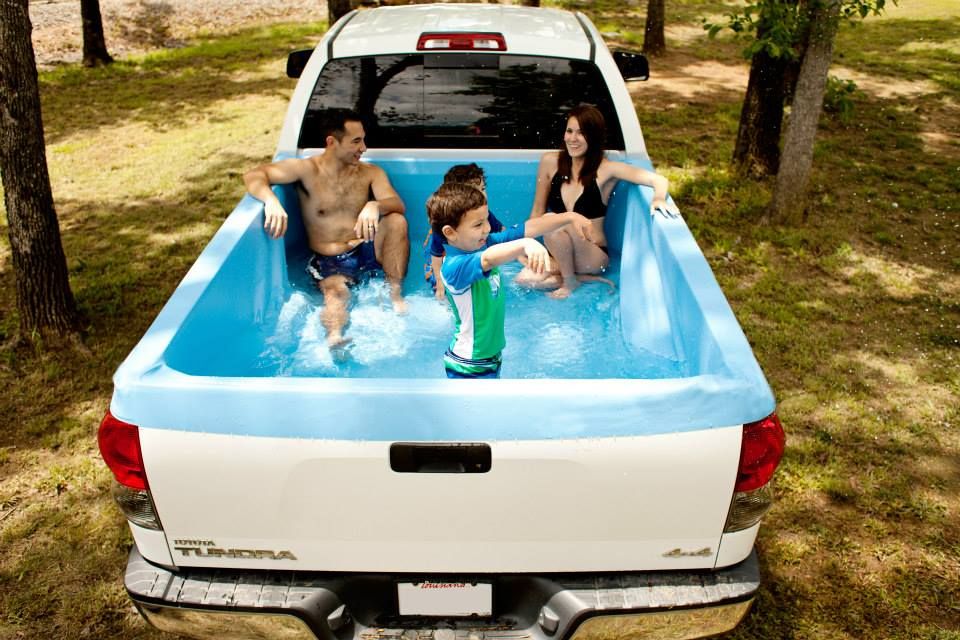 Bring fun everywhere you go [Photo: Country Living Magazine]
Cargo beds installed with a swimming pool are quite common to see especially on the internet, and it always turns out to be funny. You can make use of the space of your truck by adding a swimming pool which you and your kids will surely enjoy. Just make sure to never drive the truck while someone is taking a dip as it can cause injuries.
9. Camper Bed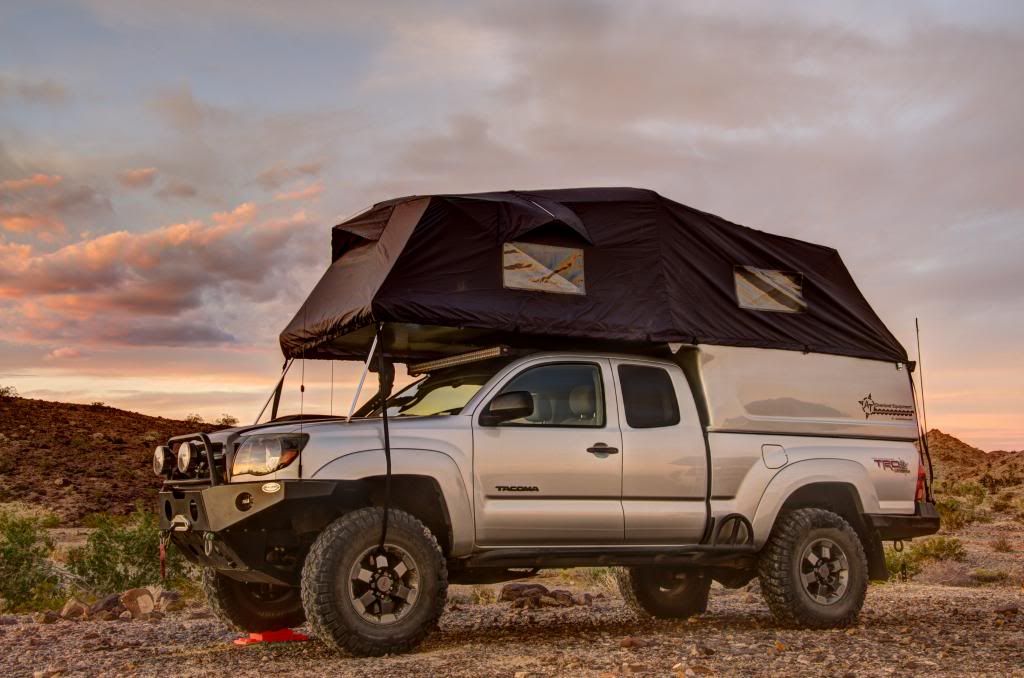 Your ride and your home [Photo: Pinterest]
For some people who decide to live on the road, this is the cargo bed organizer of their choice. It contains a bed to sleep on at night and can be retracted when they are on the move. With this type of setup, you should expect to pay a lot considering the parts you need such as a waterproof tent, mechanism for retracting and deploying, lights, and cushion.
Here at Philkotse.com, we value your interest in the automotive industry. Visit our website to find out more.


Rex Sanchez
Author