Let's have a glimpse of the four VW concept vehicles at the 2019 SEMA Show with the help of this post.
If you are into custom cars, the SEMA (Specialty Equipment Market Association) show is an annual event you've probably heard of at least once. It's one of the biggest gatherings of independent car builders and automotive manufacturers, and of course German carmaker Volkswagen isn't about to be left out of the fun! With that in mind, Philkotse.com presents four concept vehicles that VW has unveiled at the 2019 SEMA Show, and all of them look great for road adventures.
According to Volkswagen, the 2019 SEMA Show was a chance for them to show off how versatile and appealing their vehicles are, and that Volkswagen has a car for everyone. The concepts include three custom Atlas units for off-road use and one modified Jetta GLI for street escapades.
1. Volkswagen Atlas Basecamp Concept
First displayed during the 2019 New York Auto Show, the Atlas Basecamp looked stunning with its platinum gray/black color combination complemented by orange accents. Its trail-going look is further enhanced by its Traverse MX Concept wheels by fifteen52, mounted on all-terrain tires. The included coil-overs boost the Atlas Basecamp's height by approximately 1.5 inches.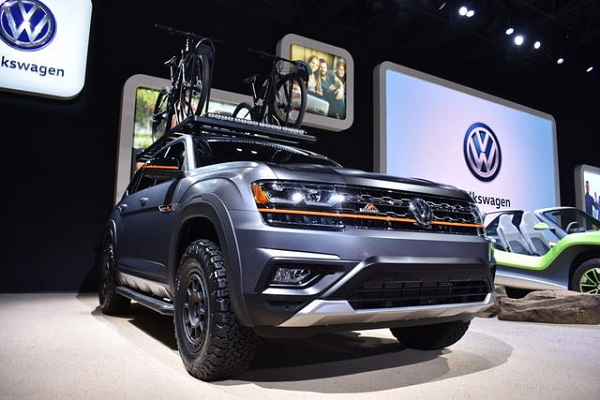 A look at the Volkswagen Atlas basecamp concept
Additionally, the unit comes equipped with LED light bars designed for off-road driving, plus a roof rack that can hold bikes securely. Under the hood, the Basecamp has a 3.6-liter VR6 engine supported by an 8-speed automatic transmission. The 4Motion AWD system channels power to all four wheels.
>>> Let's update what is Volkswagen planning for Lamborghini? IPO maybe?
2. Volkswagen Atlas Concept by Thule
The result of a partnership between VW and Thule, the Atlas Concept is a versatile vehicle that can serve as your companion in the city or a rugged partner on the trail.
As this Philkotse news article focuses on the off-road facet of VW's concept vehicles at the 2019 SEMA Show, we'll talk more about outdoor-ready features of the Atlas Concept. First off, it comes with 20-inch satin black Vossen wheels, with H&R Springs providing a suspension lift.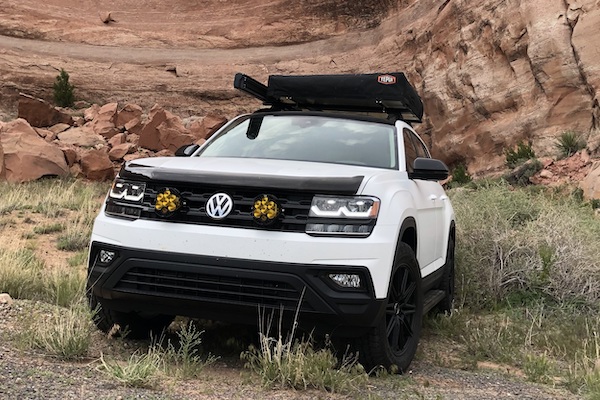 Volkswagen Atlas Concept by Thule
Second, the car has grille-mounted Baja LED, designed specifically for ATVs, off-road trucks, and UTVs. The custom unit also comes with an 8.5-foot HideAway awning, a Wingbar Evo roof rack by Thule, a T2 Pro XT trailer hitch rack for bikes, and a Tepui Autana 4 rooftop tent.
>>> Check out for the Volkswagen latest price in the Philippines.
3. Volkswagen Atlas Adventure Concept
Sporting a bold orange color, the Atlas Adventure Concept boasts a modern-day Overland theme, assembled by VW's Innovation and Engineering Center in California, USA. It has a fold-over rooftop tent made by Overland Equipment, a Thule awning, Baja lights, with a DJI Mavic drone and an exterior REVL video camera, allowing you to film your escapades.
Similar to the previous two Atlas Concepts, the Adventure Concept has also been lifted with the help of H&R coil-overs, with the stock rubbers upgraded to Yokohoma off-road radials. The fender flares have also been upgraded to accommodate the knobby tires.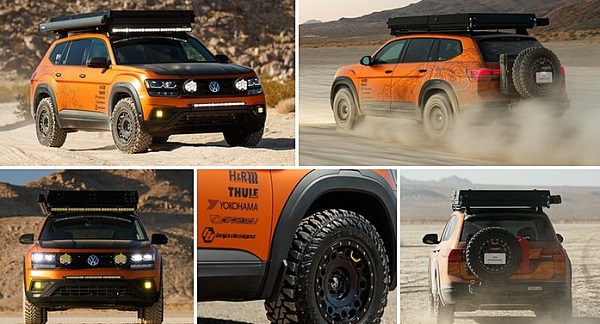 Different angles of the Volkswagen Atlas Adventure Concept
4. Volkswagen Jetta GLI by H&R Special Springs
Breaking away from the big rigs on display at the SEMA show, this custom Jetta GLI has been modified with the help of H&R Special Springs.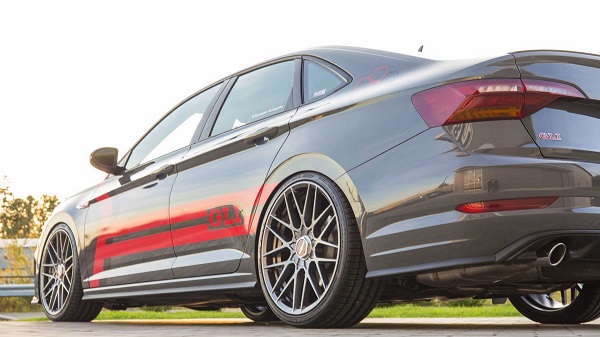 A glimpse of the Volkswagen Jetta GLI by H&R special springs
>>> Click here to have the best price of VW Jetta GLI.
H&R coil overs adjust the vehicle's ride height, and it also has sway bars for better stability and wheel spacers for a wider stance. The wheels have a coal-like finish which works well with the car's pure gray coating and exterior graphics.
Although primarily known for pavement performers, Volkswagen has proven through its concept vehicles that they can definitely roll with the best that the 2019 SEMA Show has to offer. They're partnered with leading auto parts suppliers in modifying their Atlas and Jetta GLI models, with the resulting concept creations offering a glimpse at what could be possible with a Volkswagen, a little imagination and lots of free time.
If this news made you fall in love with custom vehicles, watch out for next year's SEMA Show happening from November 3 to 6, 2020 at the LA Convention Center.


Charisse Kim
Author