While the Veloster is already an unusual but fun car, Hyundai USA has outdone itself by turning it into a beastly adventure vehicle for the 2019 SEMA Show, the Hyundai Veloster Grappler!
At this year's SEMA Show, Hyundai showcased a couple of vehicles, but the most eye-catching were the several Veloster-based concepts that ranged from the downright cool (such as the Hyundai Veloster N Performance concept and a rally-ready Kona) to the rather weird end of the spectrum, with the  Veloster "Grappler" Concept. Philkotse.com takes a closer look.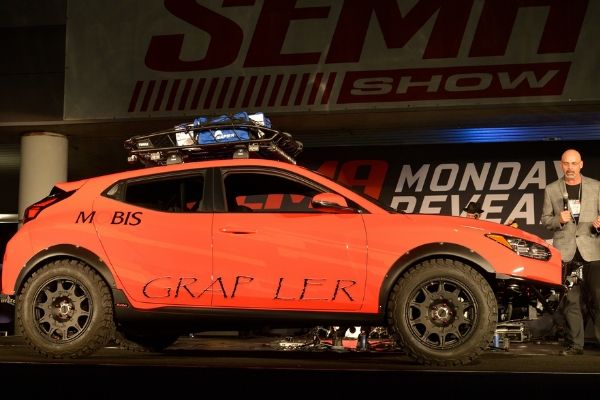 The Veloster Grappler Concept being introduced at the 2019 SEMA Show
1. Hyundai Veloster Grappler
The Hyundai Veloster is already a weird vehicle in itself, featuring an asymmetrical design where the driver's side door is a huge single piece while having a normal two-door configuration for the passenger side. In spite of this qurik,the Veloster is a performance hatchback that makes a respectable 201 horsepower, resulting in a definitely fun drive.
Hyundai takes it up a notch with the Veloster Grappler Concept, putting in a lifter suspension system for added ground clearance, numerous LED lamps mounted on the front brush guard, a carbon fiber hood, and a set of beefy all-terrain tires. Literally topping it all off is a Thule roof basket with even more LED lights, accompanied by a Goal Zero solar panel.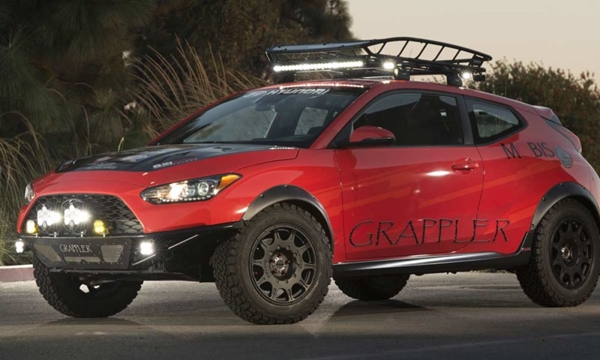 Talk about going ham with the lights
>>> Check out: Hyundai Veloster 2019 Philippines Review, Specsheet & Price.
Inside, the Grappler Concept features a roll cage, while occupants stay in place with the use of Recaro seats. A first aid kit, dome tent, and roadside assistance kit packed inside the vehicle leave no doubt that the Grappler is a Veloster transformed into an offroad beast.
It has a solar panel which is perfect for those wanting to go off the grid
>>> Complete guide to the current Hyundai Veloster in the Philippines
2. Hyundai Veloster Grappler: Under the hood
The engine itself is a stock US-spec 2.0-liter turbocharged inline-four that can makes 275 horsepower and 353 Nm of torque; the only upgrade that Hyundai of America gave it was the addition of a Borla cat-back exhaust.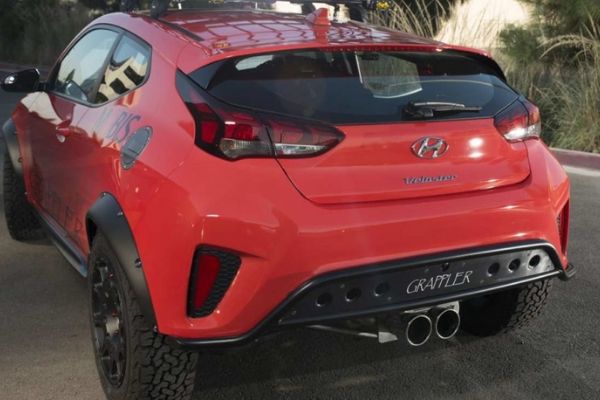 It looks really squat despite the increase in ride height, like a Baja truck
While the Grappler Concept has already been unveiled, Hyundai has yet to release a video of the car carving up sand dunes or raging through rough, unpaved trails.
>>> Latest updates on upcoming Hyundai cars can be found in our Complete guide to the Hyundai Philippines' local lineup​​​​
Know more about Hyundai Veloster 2021

The new Hyundai Veloster is a sleek and fierce-looking sports coupe that can go head to head with any car belonging to its league. Outside, it is built with contemporary and striking details that will make heads turn. Inside it is equipped with the latest safety and technology features that will make every ride memorable. The Veloster Turbo 1.6 TGDi from South Korean auto giant Hyundai is available at any Hyundai dealer nationwide. It is offered in Phantom Black, Chalk White, Lake Silver, Dark Knight, Gray, Ice Storm, and Shooting Star. To match its vibrant aura, you may opt for Ignite Flame, Cobalt Blue, Tangerine Comet, and Thunder Bolt.

Cesar G.B. Miguel
Author