Someone swapped a small-block LS V8 into a Lamborghini Huracan and then bought it to the 2019 SEMA Show.
If there's something that the SEMA show will never fall short of, its interesting projects and really amazing car builds. This year, an automotive YouTuber by the name of Chris Steinbacher (also known as B for Build), presented a rather unique build that we reckon has left a lot of people curious, amazed, and in some cases, unsettled.
LS-swapped Lamborghini at SEMA 2019!
Why? For some Lamborghini fans, this is nothing short of sacrilege. But to a good many other car guys (those into weird engine swaps), this represents the crown jewel of creativity and mad-cap genius. And admit it, it's just outright funny for some to see purists squirm.
So why in the hell is this a big deal? Well, Mr. Steinbacher restored a fire-damaged 2015 Lamborghini Huracan LP 610-4 and managed to fit in an LS V8. Let's check it out with Philkotse.com.
1. The Huracan with an LS: The details
On Steinbacher's B is for Build channel, he has a good number of videos documenting the Lamborghini Huracan's journey from a half-burned junker to a 1,500-horsepower monster.
First, the man got to work first on the body. Chopping off the unfixable, damaged parts like the front and rear ends, he fixed these up with new body panels. As the fire started in the Huracan's engine bay, the V10 was melted beyond repair. Yikes.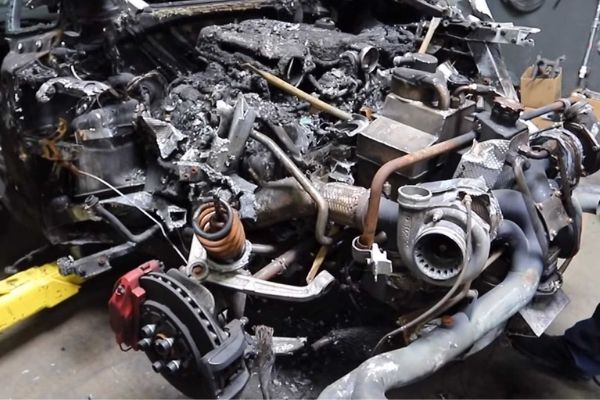 This is what the car looked like when Steinbacher bought it
The end result is a Lamborghini Huracan with a V8 LS Engine, sporting two Garret GTX3582R Gen II turbochargers. Also, they re-bored the LS engine to a whopping 7 liters of displacement.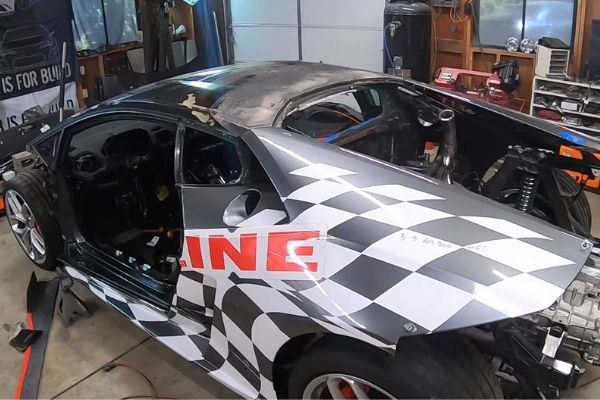 They got rid of the front and rear end, rebuilt part of the chassis, and installed new panels
Currently, the car only weighs only 2,700 pounds. For something that packs 1,500 horsepower, this gives an incredible power-to-weight ratio of two pounds per horsepower. More. Power. Baby.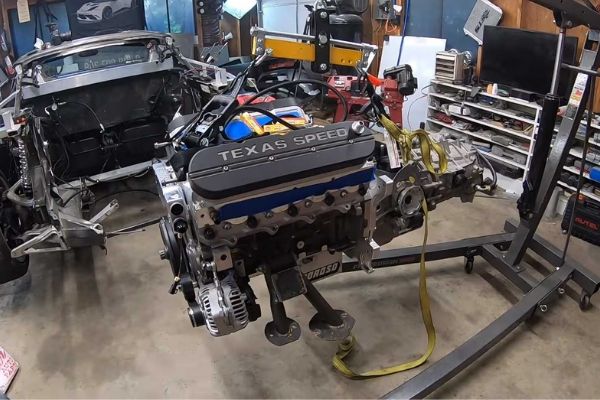 The small block LS V8 From Texas Speed before being trasnplanted onto the Huracan
You can take a look at our article comparing LT vs LS engine to understand more about the differences between the two. 
2. The Huracan with an LS: Why is it a big deal?
Instead of using another Lamborghini V10, Steinbacher opted for a modified small-block from Texas Speed. Before you protest this decision, the LS small block is quite common on a number of high-performance builds in the U.S.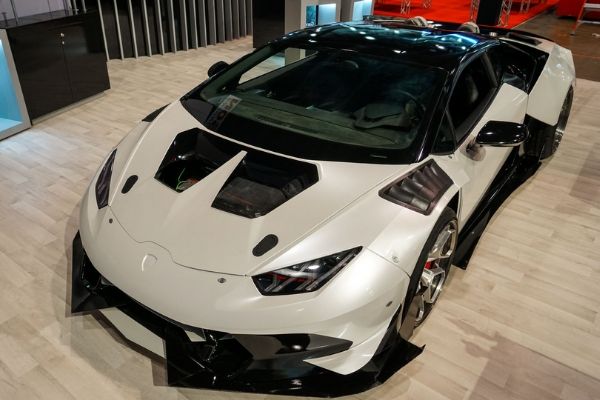 The end result is a slick-looking car well suited for drag-racing
Other car channels on YouTube show the LS series of engines being swapped into cars like the Mazda Miata NA and Japanese mini pick-up trucks for sale, this is the very first time someone managed to jam one inside a Huracan.
And knowing supercar purists, they're a very particular lot, who will likely object to what Steinbacher did to this Huracan. LS V8 fans on the other hand don't mind as much, so we'll wager that they'll appreciate the American muscle inside this Italian stallion.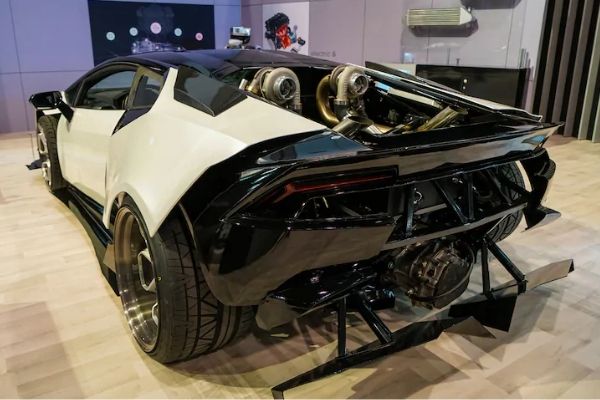 The rear end displays the two Garret turbochargers in all their glory. Delicious
If you're thinking about doing your own take on the FrankenLambo, we actually have a list of used Lamborghini models listed for sale.

Know more about Lamborghini Huracan 2022

The Lamborghini Huracan Philippines 2022 is a two-door, two-seater sports coupe. Locally, this sports car has a total of four variants. These include the Huracan Evo Spyder, the Huracan Evo Coupe RWD, the Huracan Evo Spyder RWD, and the Huracan Evo Coupe. For pricing details for these models, please contact Lamborghini Philippines.
Under the hood of the Huracan is a V10 engine. On the rear-wheel-drive variants, the said mill can make up to 602 horsepower and 590 Nm of torque. On the All-wheel-drive versions, it can produce 630 horsepower and 600 Nm of torque. The said model then uses a seven-speed dual-clutch automatic gearbox with paddle shifters.
Size-wise, the Huracan is 4,520mm long, 1933mm wide, and 1,180mm in height. The Evo version's height is much lower at 1,165mm.
Locally, the Lamborghini Huracan competes against the Porsche 911 Turbo, the Ferrari 488, Audi R8, among others.
Price available upon request
Explore

Cesar G.B. Miguel
Author