Lamborghini just debuted their most powerful supercar ever and guess what, it's a hybrid. And it's called Sian. Let's take a look at the first Lamborghini's hybrid.
In lieu of the current global impetus of making eco-friendlier means of transportation, even manufacturers who have been generally known for producing premium high-performance vehicles have begun to pitch in their hybrid and electric vehicles. Take for example the recently revealed Porsche Cayenne E-Hybrid, the Porsche Taycan EV, and Ferrari's SF90 Stradale Hybrid.
And yes, it's pretty prevalent especially in recent years that the realm of hybridization isn't just limited to run of the mill daily drivers. This is also reinforced by the fact that now, one of the most recognizable performance car manufacturers has joined in the hybrid supercar craze.
At the 2019 Frankfurt International Auto Show, Lamborghini has debuted the Sian. It is the Italian company's very first hybrid car and as it turns out, it's actually based on the famous Lamborghini Aventador.
Unlike the Aventador though, the Sian's production run will be limited to around 63 units which coincide with their 63rd year of making wonderful, face-meltingly good supercars.
1. Lamborghini Sian: Performance
Given the highly appropriate name "Sian" which means "flash of lightning" in Bolognese, the Lamborghini Sian apart from a naturally aspirated 6.5-liter V12 engine makes use of a 48-volt electric motor.
The motor in question, unlike most hybrid cars in the car market today, is a supercapacitor which on its own can make around 35 horsepower. As per Lamborghini's claims, the supercapacitor on the Sian is much more power than a similar-sized lithium-ion battery. When combined with the V12, the Sian can make a total of 819 horsepower.
With a whopping 819 hp rating, this makes the hybrid Sian the most powerful Lamborghini ever made. How did they do it?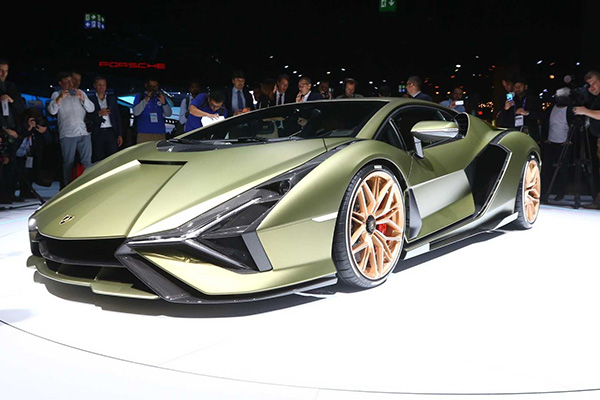 And you'll need all that downforce when driving the 819 horsepower Sian
Well apart from adding the supercapacitor, Lamborghini also did a bit of work on the existing V12. The company gave it a new set of intake valves made out of titanium, a recalibrated ECU, and they also gave the Sian a new exhaust system.
Aside from the engine, the Italian company also did a lot of improvements to the Sian's chassis. They fitted in an active rear wing which deploys once the car reaches a certain speed as well as passive aero in the form of a fixed front splitter and a set of side skirt vanes.
These passive aero parts not only makes the Sian stand out more even when side-by-side with other Lamborghini models, but these also provide more downforce.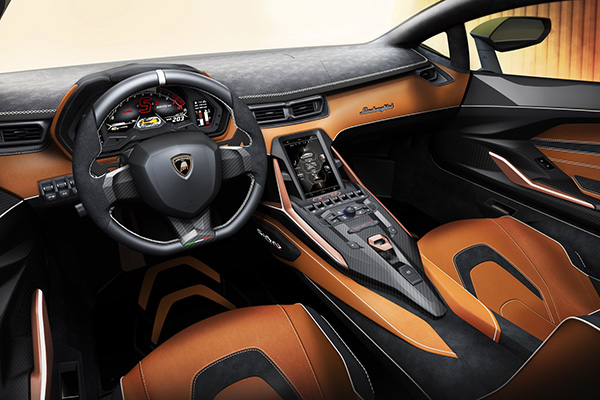 And yeah, the interior of the Lamborghini Sian is impressive as well
So what can the Lamborghini Sian do? Well as far as 0-100 kph times goes, Lamborghini claims that the Sian do that under 2.8 seconds. And while the top speed hasn't been officially revealed, they also claim that it can reach more than 349 kph.
2. Lamborghini Sian: The design
Inspired heavily by the now legendary Lamborghini Countach, the Sian features y-shaped headlights, y-shaped air inlets, a finely crafted glass engine cover, diagonal bonnet lines, and it has six taillights, all in the shape of hexagons. So just from a first glance alone, you can immediately see how different it is from the Aventador.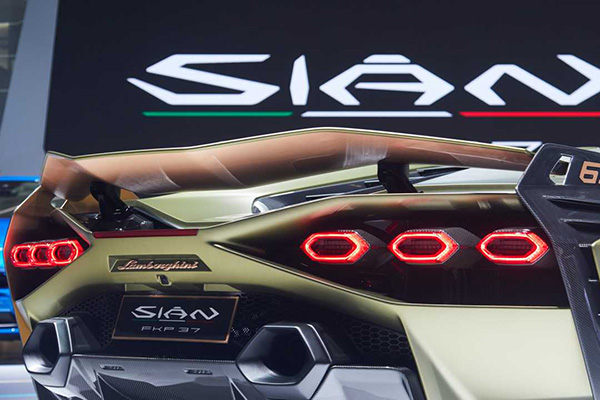 The rear end of the Lamborghini Sian alone is a marvel of automotive design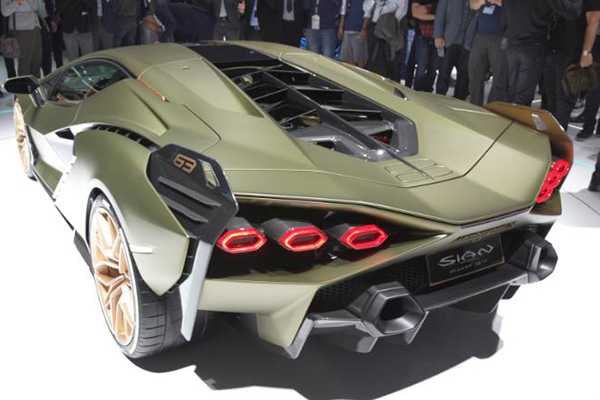 Here's a slightly elevated view of the rear. And check out that glass panel covering the engine
3. Lamborghini Sian: Will it save the V12 engine?
As you might have noticed nowadays, fewer and fewer car manufacturers are using v12 engines and there are a number of reasons why. When asked at the Frankfurt IAA, Lamborghini's Chief Technology officer says that it is important for their company to use V12 engines.
It is, after all, one of the main draws of their brand. So rest assured, we'll be seeing more V12 models, hybrid or otherwise for more years to come.
While Lamborghini vehicles are available here in the Philippines, it is of no doubt that the Sian will take its time to get here and considering its hyper limited production run, if at all.
For the latest updates for all things automotive, please keep reading here on Philkotse.com.


Cesar G.B. Miguel
Author
Recent posts