You have plenty of options with the country's best-selling subcompact sedan.
The Vios is Toyota's best-selling model in the Philippines to date, contributing significantly to the company's almost 40 percent share of the local automotive market. It's also one of only two subcompact sedans proudly assembled in the country, showcasing Filipino craftsmanship and generating jobs through a dedicated supply chain.  
2020 Toyota Vios Facelift: Leveling up – First Look
As a passenger car, the Vios has come to represent an ideal combination of features, performance, and value, which explains its popularity with both private owners and transport fleet operators alike. The one-make racing series Vios Cup has also showcased the model's sporty side since 2014.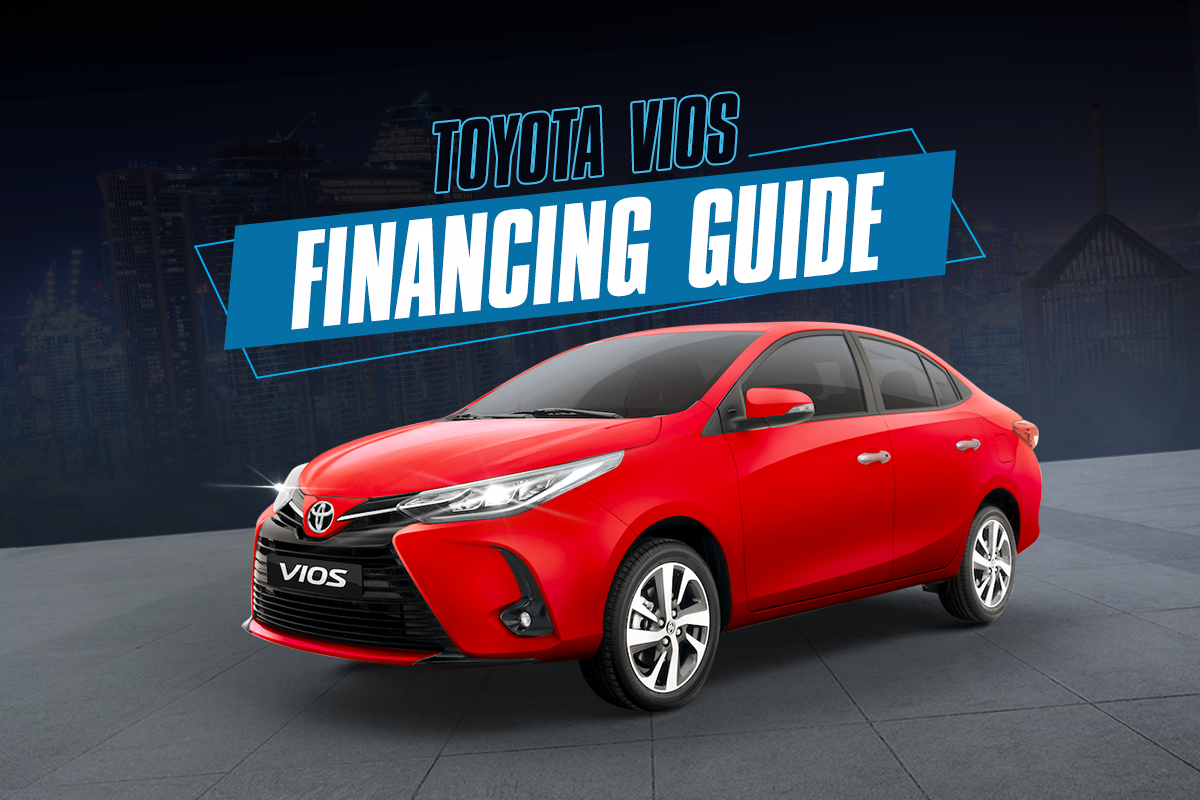 Toyota Vios Financing Guide
That said, you would agree that the Toyota Vios is an attractive proposition, whether you're driving solo or looking for a family car. But just how much would you need to set aside to own one?
Toyota Vios 1.3 Base MT
Let's start with the entry-level Vios 1.3 Base trim, sporting 14-inch steel rims, a 1.3L gasoline engine, and 5-speed manual transmission. The listed cash price is Php 671,000.
If you plan on taking the financing route, a 20 percent down payment or Php 134,000 starts you off on monthly payments of Php 48,227 for the next 12 months, Php 18,117 for 36 months, or Php 11,989 for a 60-month loan.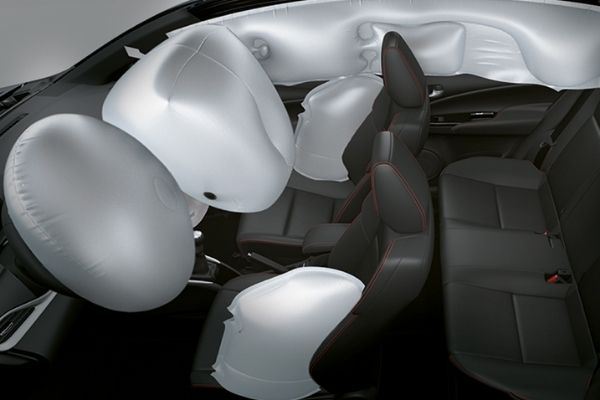 Up to seven airbags are available across the Vios range
>>> Related: Toyota Vios Maintenance: How much does it cost to own one?
Toyota Vios 1.3 XLE MT
Moving up to a mid-range variant, say the 1.3 XLE, gets you 15-inch alloy wheels, fog lamps, and a 7-inch touchscreen head unit along with the Toyota Vehicle Security System (TVSS) and keyless entry.
The manual transmission variant priced at Php 791,000 is offered at Php 18,687 a month for 36 months on a 30 percent down payment or Php 237,300. A longer-term of 60 months translates to monthly payments of Php 12,366.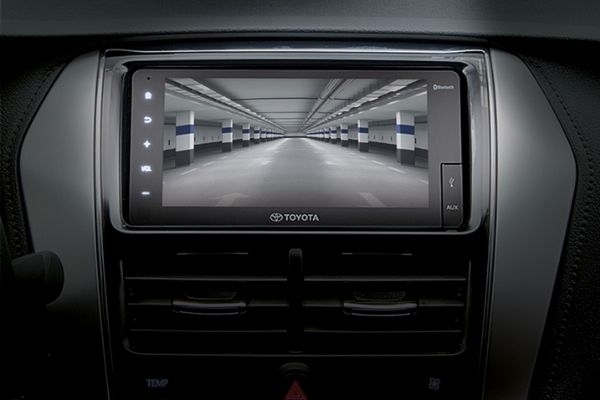 A 7-inch touchscreen head unit is standard beginning with the XLE
>>> Related: Toyota Vios accessories Philippines: Why personalize and what to buy?
Toyota Vios 1.5 G CVT
The 1.5 G boasts 16-inch two-tone alloys, LED headlamps, a leather steering wheel, and automatic climate control. It also has a more powerful 1.5L gasoline engine mated to either a 5-speed manual or a continuously variable transmission.The latter carries a price tag of Php 1,071,000, divided into a monthly amortization of Php 24,948 for 36 months with a down payment of 30 percent or Php 321,300. If you want to pay over a period of 60 months, the cost is Php 16,509 every month on the same down payment.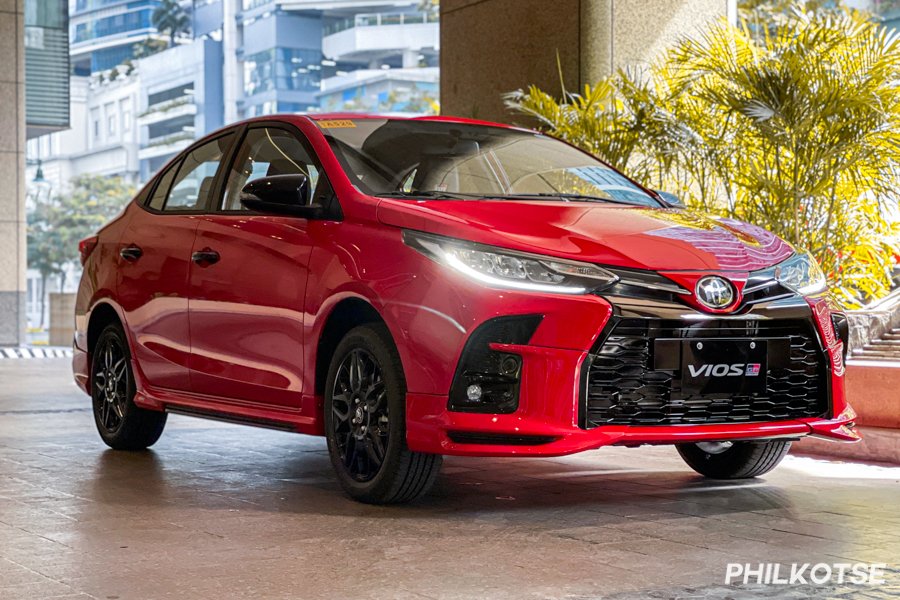 The top-spec 1.5 GR-S variant is the most loaded in the lineup
Toyota Vios 1.5 GR-S CVT
As the flagship of the Vios range, the GR-S is said to be inspired by the Vios Challenge Cup in its home market of Malaysia. The Philippine-spec version comes decked out in Gazoo Racing Sport body kit comprising front, side, and rear skirts accompanying a more aggressive-looking grille. The trunk is topped off by a black spoiler, and the GR-S rides on 16-inch black alloy wheels.

Evident in the cabin is the GR-S branding, from the headrests to the engine start button. The instrument panel has even been revised to accommodate it via an opening animation on the display. The GR-S retains the same 1.5L engine found on the G, but pairs this with a 10-speed CVT that features Sport Mode via steering-mounted paddle shifters.
Selling for Php 1,020,000, the GR-S can be yours for 48 monthly installments of Php 22,959, on a downpayment of 20 percent or Php 204,000. Double the deposit at 40 percent or Php 408,000 returns a monthly amortization of Php 14,753, if you opt for a 60-month term.
>>> Related: 2020 Toyota Vios Old vs New: Spot the differences
These are all estimates of course, without taking into consideration other factors such as color (the pearl white option carrying an additional premium) and location (regional dealerships usually tack on shipping and delivery charges).
Whichever variant you decide to go for, keep in mind that you'll still need some spare cash for maintenance, fuel, insurance, and registration at the end of the first three years of ownership. Your nearest Toyota dealer will be able to give you a more accurate computation based on your current finances.
Find more tips that add up to a great car ownership experience at Philkotse.com.

Know more about Toyota Vios 2023

Competing in the subcompact sedan segment, the Toyota Vios 2023 is the top sales contributor for the Japanese automaker. The price for the Toyota Vios in the Philippines ranges from PHP 706,000 to PHP 1,055,000. A total of 10 Toyota Vios cars are offered, with the top-of-the-line Vios GR-S variant coming with a Toyota Vios Philippine price tag of PHP 1,020,000. Two engine options are available in the range, which can be connected to either a 5-speed manual or continuously variable transmission (CVT). Dimensions-wise, the subcompact sedan spans 4,425 mm in length, 1,730 mm in width, and 1,475 mm in height. The main rivals of the Toyota vehicle include the Honda City, Mitsubishi Mirage G4, and Nissan Almera.
The Toyota Vios is not only the best-selling model in the Japanese automaker's lineup, but the entire Philippine market. It serves as a reliable and dependable subcompact sedan for those who are looking for a daily driver. Also, the Vios is proudly Philippine-assembled which supports Filipino automotive workers. Now, the vehicle is competing in its respective class head high using the refreshed body released by Toyota Motor Philippines (TMP) in the country last 2020.

Joseph Paolo Estabillo
Author