Read this if you are planning to bring home a Nissan Terra.
The Nissan Terra was first launched in the Philippines on 28 May 2018, which makes the Terra a relatively new entry to the local market.
The big muscular body and high-powered engine of the Nissan Terra, along with the bevy of tech features it offers, makes it a serious competitor against its competition in the SUV category.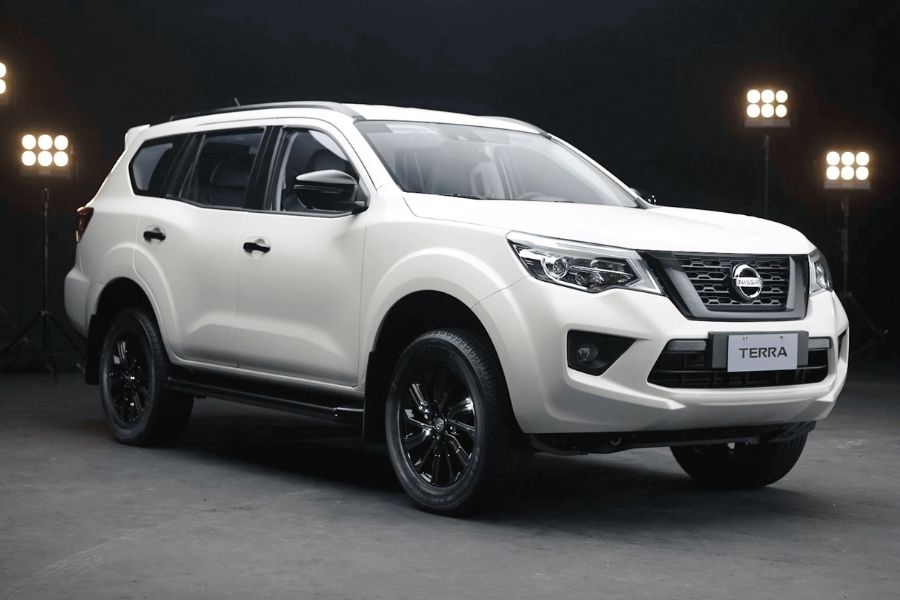 The updated Terra VL 4x4 AT
Despite being new to the local midsize SUV segment, it the Terra already ranks as one of the top SUVs in the Philippines. For the 2021 model year of the Terra, it has five variants (VL AT 4x4, VL AT 4x2, VE AT 4x2, EL AT 4x2, EL MT 4x2) to choose from. These consist of one 4x2 manual transmission variant, three 4x2 automatic transmission variant, and one 4x4 automatic transmission variant.
So stick around as we tackle each variant detail by detail so can you decide which Nissan Terra variant best suits you.
>>> Related: 2021 Nissan Terra Old vs. New: Spot the differences
Nissan Terra Variants: Exterior
We guess you have to pay more for glam on daylight as one of the key differences between the variants in terms of the exterior is the Daytime Running Lights or the DRL.
For VE AT 4x2, VL AT 4x2, and VL AT 4x4, the variants are installed with an LED DRL while the other two variants, EL MT 4x2 and EL AT 4x2, are not installed with this feature. Do note however, that all variants of the Terra come standard with LED headlamps. Furthermore, the ones on the VL variants are automatic, and are equipped with a follow-me home function. Additional exterior features that's standard across all Terra trims includes a rear wiper, roof rails, LED taillights, and front fog lamps.
Of note, the top-spec Terra VL 4x4 AT has been given several aesthetic upgrades for 2021. This variant now comes with a blacked-out v-motion grille. Its alloy 18-inch wheels are also black in color.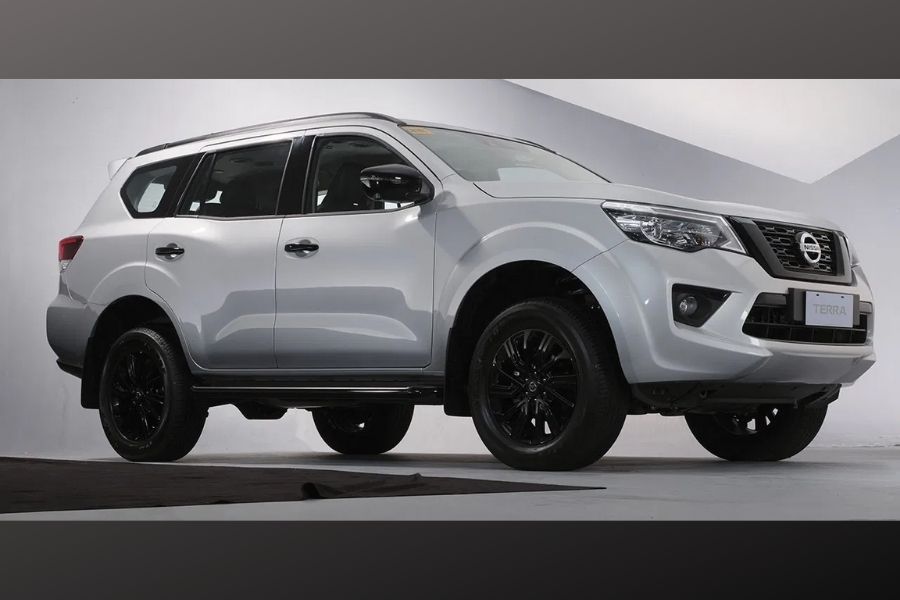 If you don't like chrome, then the VL 4x4 AT is for you
All the rest of variants come with chrome grip door handles, except for the blacked-out VL. However, only the three higher variants (VE AT4x2, VL AT 4x2, and VL AT 4x4) come with Intelligent Key Switch for the doors.
If you haven't heard by now what is this switch, it basically allows you to lock and unlock the door just by pressing the Request Switch on the door – as long as the key fob is with you.
The available color options for the Nissan Terra are Earth Brown, Lunar Metallic Gray, Flare Metallic Gold, Fiery Red, Galaxy Black, Brilliant Silver, and Aspen Pearl White. Nissan stated that there be will an additional Php 15,000 if you choose to have the Aspen Pearl White color option.
>>> Related: NISSAN VANETTE 2017 FOR SALE
Nissan Terra Variants: Interior
It is just right in this segment to start talking about which material is used in Terra's interior. You can bring home leather interior trims and seats if you decide to get the VL variants. For the rest of the variants, the fabric will be their interior finish.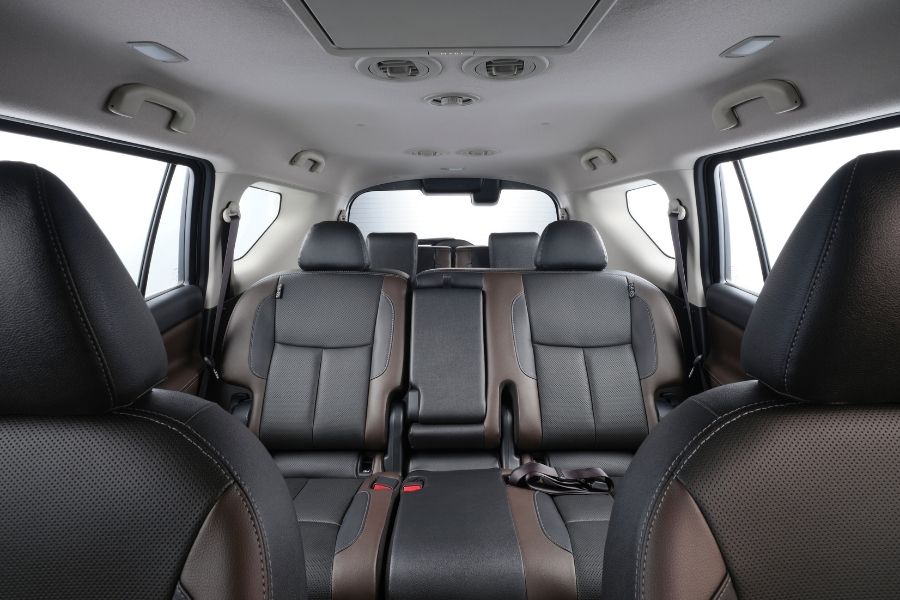 The Nissan Terra's interior (pictured Terra VL 4x4 AT variant)
A 6.75-inch touchscreen display audio with Phonelink, Bluetooth, USB, iPod, Aux, and Tuner connectivity is installed on the two entry-level variants (EL AT 4x2 and ML MT 4x2).
If you want your Terra to have an 8-inch touchscreen with additional Apple CarPlay and Android Auto, then the VL AT 4x4, VL AT 4x2, and VE AT 4x2 are your options. Fortunately, all variants come with six speakers installed all across the interior including two tweeters.
For comfort, the Terra VL provides an automatic air-conditioning system, while the rest gets a manual air-conditioning system. All however, do come with rear vents. The VL also gets an eight-way electronically adjustable driver's seat.
>>> Related: 2021 Nissan Terra facelift debuts as X-Terra: Sharp looks, revised interior
Nissan Terra Variants: Engine & Performance
A 2.5L Inline 4-cylinder YD25 DDTi diesel engine comes across all the five variants. Nissan Terra's engine can generate 190 hp at 3,600 rpm and a whopping 450 Nm of torque at 2,000 rpm.
All variants are installed with a Common Rail Direct Injection fuel system and can be filled up with 80 liters of diesel fuel.
Here is where the variants obviously differ, only the VL AT 4x4 offers a Part-Time 4WD (2H/4H/4L) Transfer Select Switch. Moreover, all variants are installed with 7-speed AT with Manual Mode except for the EL MT 4x2 variant that has a 6-speed manual transmission.
Nissan Terra Variants: Safety
In terms of safety, the 6 airbags (driver and passenger, side and curtain shield) are made available on all variants – including Anti-lock Braking System, EBD and brake assist, LED-Type High Mount Stop Lamp, 4-eye rear parking sensors with switch, and immobilizer with VSS alarm.
However, safety is a price to pay for some variants. Hill Start Assist (Hill Descent Control is only available for VL AT 4x4), Intelligent Around View Monitor, Blind Spot Warning, Intelligent Rear View Mirror, Lane Departure Warning, and Tire Pressure Monitoring System are installed only on VL AT 4x4 and VL AT 4x2 variants. Lastly, the Nissan Terra comes with rear cameras except on EL AT 4x2 and EL MT 4x2 variants.
ASEAN NCAP - Nissan Terra
Nissan Terra Variants: Pricing
| Variant | Price |
| --- | --- |
| Nissan Terra 2.5L EL 4x2 6MT | Php 1,539,000 |
| Nissan Terra 2.5L EL 4x2 7AT | Php 1,655,000 |
| Nissan Terra 2.5L VE 4x2 7AT | Php 1,752,000 |
| Nissan Terra 2.5L VL 4x2 7AT | Php 1,949,000 |
| Nissan Terra 2.5L VL 4x4 7AT | Php 2,176,000 |
>>> View full Nissan Terra price list with the estimated monthly payment
Which Nissan Terra to buy: Conclusion
The Nissan Terra is indeed a promising SUV despite coming late to the market. It shows what it can bring to the table with all the given specifications above. Judging by the looks alone, it can even belong to the distinguished SUV collections of Coco Martin.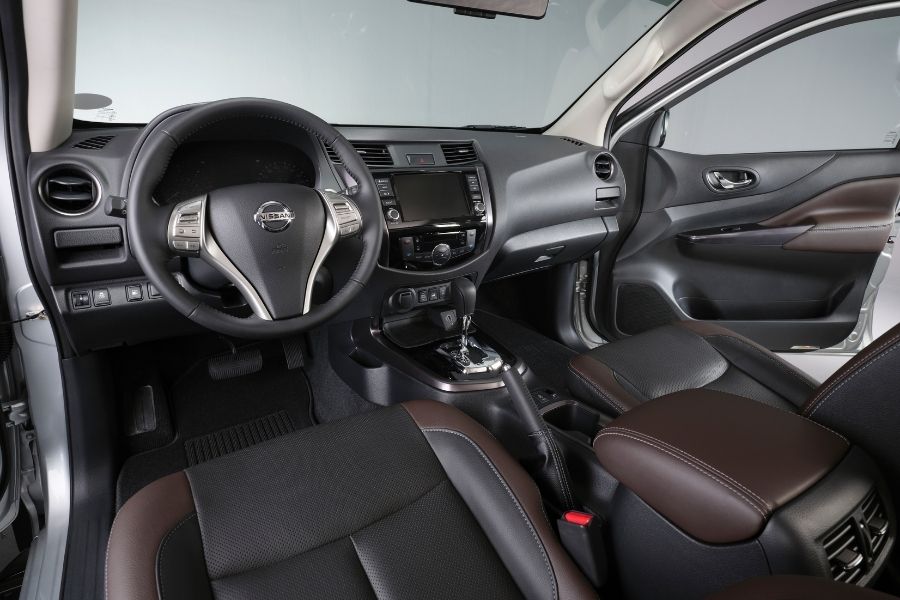 The 2021 Nissan Terra VL 4x4 AT's cockpit
The high-end variant can really be expensive as its price comparing to the entry-level shows a huge margin of difference.
However, if you are up for a Php 2,211,000 price tag, and want to go out to the boonies in style and comfort, then the 2.5L VL 4x4 7AT is the Terra that best suits you.
So which variant is the best option at its given price? We would have to go with the 2.5L VL 4x2 7AT variant priced at Php 1,984,000.
All Nissan Terra variants can generate 450Nm of torque, which means a 4x4 drivetrain is more of a thrill and experience rather than a necessity. Moreover, the VL 4x2 variant comes with the complete safety features Nissan has to offer on the Terra model.
Here at Philkotse.com, we value your interest in the automotive industry. You can visit our website to find out more.
Know more about Nissan Terra 2021

<p>The all-new Nissan Terra is a midsize Sports Utility Vehicle that promises you one thing: It can take you anywhere. Flaunting a sculpted physique and packed with exciting innovations, this versatile vehicle is meant to compete with other 7-seater midsize SUVs such as <a href="https://philkotse.com/toyota-fortuner-price-philippines" title="Toyota Fortuner Philkotse Car Guide">Toyota Fortuner</a>, <a href="https://philkotse.com/ford-everest-price-philippines" title="Ford Everest Philkotse Car Guide">Ford Everest</a>, <a href="https://philkotse.com/isuzu-mu-x-price-philippines" title="Isuzu mu-X Philkotse Car Guide">Isuzu mu-X</a>, and <a href="https://philkotse.com/mitsubishi-montero-sport-price-philippines" title="Mitsubishi Montero Sport Philkotse Car Guide">Mitsubishi Montero Sport</a>.</p> <p>There are five variants available in the Philippines today namely,&nbsp;the base 2.5 EL MT 4x2,&nbsp;EL AT 4x2, 2.5 VE AT 4x2,&nbsp;2.5 VL AT 4x2, and top-of-the-line 2.5 VL AT 4x4. It is offered with various body options including&nbsp;Aspen Pearl White, Galaxy Black, Brilliant Silver, Earth Brown, Fiery Red, Flare Metallic Gold, and Lunar Metallic Gray.</p>

Rex Sanchez
Author