Philkotse.com gives you an idea of what to be excited about the Nissan Terra 2020 Philippines with its impressive features, plus superb power and handling.
In this review...
Introduction

Exterior

Interior

4. Nissan Terra 2020 Philippines: Engine & Performance

5. Nissan Terra 2020 Philippines: Handling

6. Nissan Terra 2020 Philippines: Safety Review

7. Nissan Terra 2020 Philippines: Specs

8. Nissan Terra 2020 Philippines: Variants & Price list

9. Nissan Terra 2020 Philippines Review: Conclusion
1. Nissan Terra 2020 Philippines Review: Introduction
Nissan Philippines came to the mid-size SUV party here a little late, and although some say "too late," the Terra certainly makes its case a legitimate contender when ranged against established rivals.
The Nissan Terra is actually based on an existing platform, the D23 Navara pickup's, which has itself been faring well in the market.
Also, being a mid-size SUV, Nissan has positioned the Terra in between the X-Trail compact crossover and the larger Patrol. It has been positioned to compete against the likes of the Mitsubishi Montero Sport, the Isuzu mu-X, the Ford Everest, and the market-leading Toyota Fortuner.
It's also meant to replace the third-gen Nissan Pathfinder which didn't exactly get much traction here in the country and was not officially released. In the case of China, where the automotive market has quite a variance from the Philippine and even the global car market, the Terra replaces the Nissan Paladin.
Nissan Terra 2020 has caught the attention of a lot of people who prefer SUVs. For this 2020 Nissan Terra Philippines review, Philkotse.com will discuss what the new Terra offers and why it has been very popular.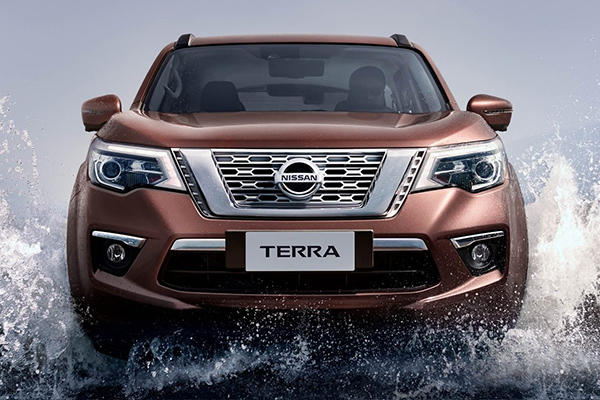 The Nissan Terra 2020 starts at P1.5 million
2. Nissan Terra 2020 Philippines: Exterior Review
As it is a new model, Nissan Terra 2020 is quite a breath of fresh air. It perfectly captures the Nissan SUV aesthetic that you usually see from other larger and much more expensive models like the Nissan Patrol and even that rustic and "always ready to go" feel that you get from past Nissan offroad-capable models.
It looks big and, when viewed from the front, is quite formidable. It even looks larger than the Navara that it's based on. Speaking of its similarities with the Navara, the 2020 Nissan Terra exterior more or less has a similar front fascia and slightly echoes the aforementioned Nissan truck's design.
But the grille which is chromed and V-shaped is actually more similar to the Nissan Patrols. The Terra also has daytime running LEDs, and the vent between the fog lights is much larger than the one found on the Navara.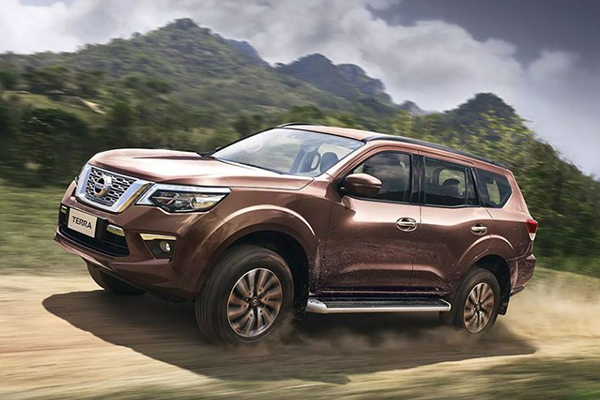 The profile of the 2020 Nissan Terra makes for a very recognizable vehicle with a lot of road presence
To the sides of the SUV, one will appreciate the premium feel of the chrome door handles, the very appropriate-looking 18-inch wheels which the upper trim of the vehicle gets. On its rear, Terra's really wide door opens to reveal a chrome boot lid.
Overall, the Nissan Terra exterior appears huge and whenever you see one on the road, it will definitely catch your eye due to a significant road presence. The Nissan Terra is 4885mm long, 1865mm wide, 1835mm high, and has a wheelbase of 2850mm and a ground clearance of 225mm.
So apart from looking large, Philkotse.com thinks that Nissan Terra in actuality has larger dimensions compared to the Toyota Fortuner, the Mitsubishi Montero Sport, and the Isuzu mu-X with a variance for all measurements of around 5 to 10 millimeters.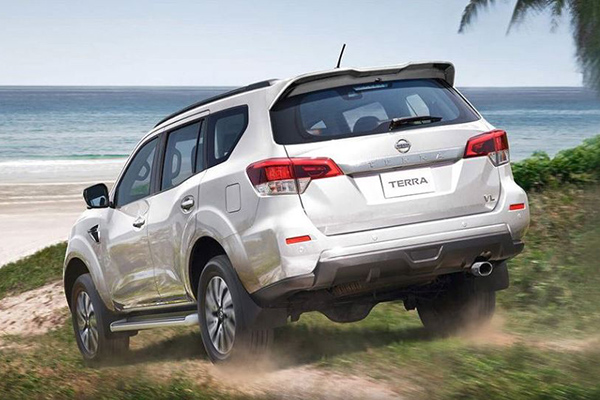 Despite that size though, the Nissan Terra can be quick and agile even on rough terrain
>>> More car comparos of the same segment for your reference:
YOU MAY WANT TO READ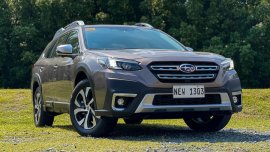 Model Price Philippines
₱ 2,480,000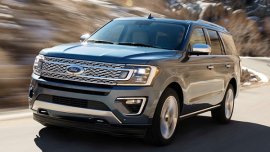 Model Price Philippines
₱ 4,479,000 - ₱ 4,612,000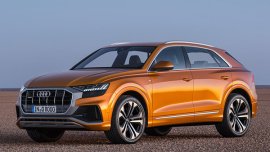 Model Price Philippines
Price available upon request
3. Nissan Terra 2020 Philippines: Interior Review
One will immediately notice the similarities it has with the pickup truck it is based on. You get a similar center console with a virtually identical layout, and the dashboard (and steering wheel) also looks the same.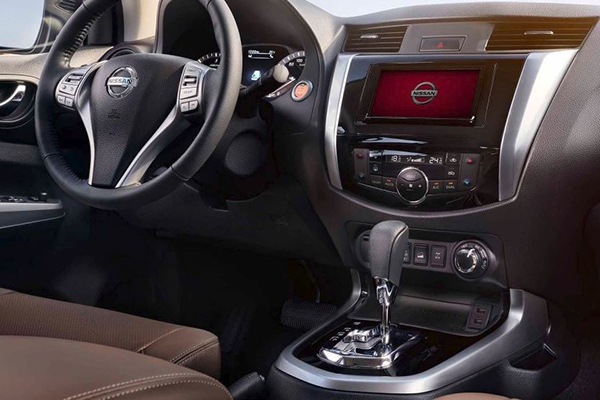 While identical to the Navara, the Terra does get some more in terms of interior creature comforts
While the Android infotainment system and the center console layout are easy to understand and are ergonomically designed, the overall feel you might get upon taking a good hard look in the Nissan Terra interior is that Nissan had decided to play it safe.
While some of you might want something that just works, some other folks will notice the lack of playful design elements like faux wood, faux carbon fiber, or even badging. So yes, very utilitarian, very functional, yet somewhat bland.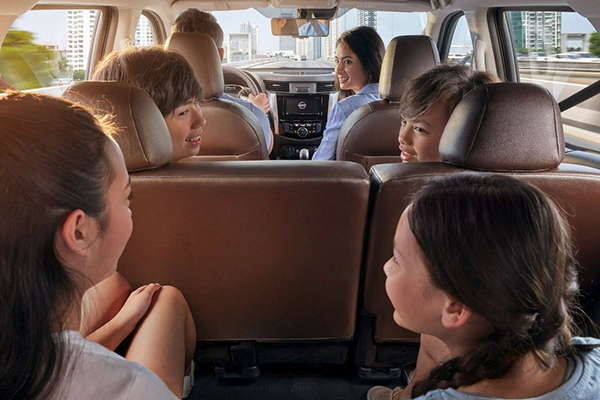 Nissan Terra interior provides a very comfortable and very safe space for the entire family
All in all though, as we've said, it works perfectly. The front seats and second-row seats get a lot of headroom and legroom while the third row might be more suited for smaller folks or children.
So if you're the type of person who likes simplicity and just plain old utility, you will certainly like 2020 Nissan Terra interior.
In terms of tech though, the Terra is as capable as any SUV currently available in the market right now and more. The seven-inch infotainment display has Android Auto and Apple CarPlay, and you even get switches near the center cup holders to automatically fold the second-row seats. As for other features and interesting tech in various Nissan cars though, we'll talk about them later in the safety section.
4. Nissan Terra 2020 Philippines: Engine & Performance
Nissan Terra 2020 currently gets only one engine option in the Philippines - a 2.5-liter inline-four called the YD25DDTi-T, and yes, the T stands for turbo (specifically, a variable turbocharger or what Nissan calls the VGS). Power is sent to the rear wheels with either a six-speed manual or a seven-speed automatic.
This also means that throughout its five variants, the Terra is a diesel powerhouse that can put out an impressive 187hpand 450Nm of torque. This puts the Terra as one of the most powerful mid-size SUVs currently available in the market right now.
While there is only one engine, there are two available drivetrains for the Nissan Terra 2020, there's a 4x2 variant and a 4x4 variant. With the latter, you can activate it with a simple push of a button, and Terra even has an offroad meter which you can select from the instrument display which keeps you informed of the longitudinal and lateral inclination of the vehicle.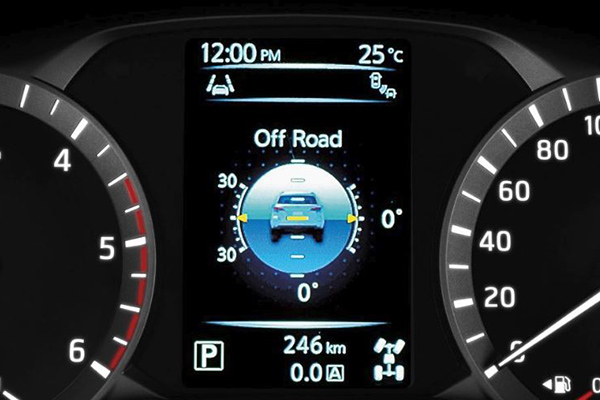 The offroad meter is pretty useful if you're tackling very uneven, unpaved roads rife with obstacles
As for fuel economy, the Nissan Terra 2020 engine can do an average of 7 km/l in the city and around 14 km/l on the highway. Not bad considering the vehicle's size, weight and the power it puts out.
Nissan Terra - Ready to fight Toyota Fortuner
5. Nissan Terra 2020 Philippines: Handling
We'll go out on a limb here and say outright that the PH-spec Nissan Terra handles really well whether it be on light off-roading duty or on paved roads. And just like the Navara, the suspension is just right: not too stiff and not too soft. The double-wishbone and multi-link with coil springs combination are tuned just right to handle our less-than-stellar inner-city roads as well as the sand, gravel, and mud.
In addition, noise from the engine doesn't really get in the cabin and during braking and acceleration, the Terra is pretty stable and does not dip its nose or rear end. This is a rather unfortunate characteristic we have observed from other vehicles of similar size and length which thankfully does NOT happen in the Nissan Terra.
Like any other vehicle of this size, however, the Terra does have some body roll and the steering can be on the heavier side. But for off-roading though, that same heavy steering can provide good road feel.
>>> Helpful information for Nissan car buyers:
6. Nissan Terra 2020 Philippines: Safety Review
The Nissan Terra 2020 is well-equipped with both active and passive safety gear. The top-of-the-line variant gets six airbags, EBD and ABS, tire-pressure monitoring and stability control while the base variant also gets those, save for the rear camera.
The piece de resistance, however, is the Terra's really innovative active driver-assist features which Nissan calls collectively as "Nissan Intelligent Mobility." One highlight of the said system is the viewing monitor which offers a near-360-degree view of your immediate surroundings.
This is particularly helpful in the currently on sale Nissan Terra especially when parking -- due to its size. The said feature can also be used to actively seek out potential obstacles during off-roading instead of sticking your head out of the window once in a while. Pretty useful.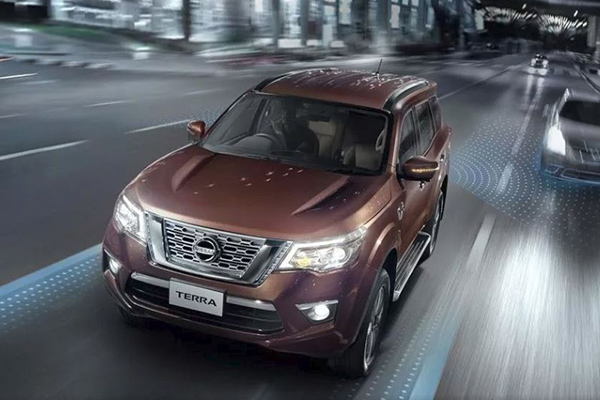 Here's a demonstration as to how one of those blind spot sensors work
Aside from that, there's a digital rearview mirror that can function alternatively as a rear-camera display which is helpful if passengers or cargo is blocking the driver's view of the rear window and of course you can easily toggle all of your camera views with a simple touch on the display.
All in all, these safety features are impressive and most certainly push the 2020 Terra to be one of the most ideal family vehicles in the market today. Also as a side note, due to the numerous safety features as well as the size and power the vehicle has, some have noted that the Nissan Terra can actually do fine as a VIP or VIP escort vehicle.
7. Nissan Terra 2020 Philippines: Specs
Overall

Name

Nissan Terra

Body Type

Mid-size SUV

Dimensions

Length

4885 mm

Width

1865 mm

Height

1835 mm

Wheelbase

2850 mm

Ground Clearance

225 mm

Number of Seats

7

Engine & Performance

Machine Type

2.5 liter YD25DDTi-T inline-4 Diesel

Engine Size

2.5 liters

Number of Cylinders

4

Number of Valves

16

Fuel Capacity

NA

Transmission Category

7-speed automatic or 6-speed manual

Max Output

187 horsepower

Max Torque

450 Nm of Torque

Safety features

Driver Airbag

Passenger Airbag

Side Airbag-Front

Child Safety Locks

Side Airbag-Rear

ABS

Electronic Brakeforce Distribution

Brake Assist

Parking sensors

Parking cameras

Crash Sensors

Blind Spot Indicators

Lane Departure Warning

Other features

Front Suspension

Double Wishbone

Rear Suspension

Multi-link with Coil spring

Front Brake

Disc

Rear Brakes

Disc

Tire Size

R18 (VL) and R17 (EL)
>>> Visit our cars for sale section to extend your options to more affordable car deals
8. Nissan Terra 2020 Philippines: Variants & Price list
Here are the variants and prices of the Nissan Terra 2020 available right now in the Philippines.
| | |
| --- | --- |
| Variant Name | Price |
| Nissan Terra 2.5 4x2 EL MT | P1.5 million |
| Nissan Terra 2.5 4x2 EL AT | P1.62 million |
| Nissan Terra 2.5 4x2 VE AT | P1.72 million |
| Nissan Terra 2.5 4x2 VL AT | P1.91 million |
| Nissan Terra 2.5 4x4 VL AT | P2.11 million |
>>> Related: Which 2020 Nissan Terra variant should you buy?
9. Nissan Terra 2020 Philippines Review: Conclusion
So all in all, we can definitely say that despite being late to the SUV game, Nissan Terra 2020 actually has the substance to compete against its other more established rivals notwithstanding a relatively frill-free interior.
Like we said, not only does it have enough safety equipment to make it a really viable family vehicle, but also due to its size and very powerful output and off-road capability, the Terra can also make it ideal for a multitude of other roles like boat and cargo towing, as a fleet vehicle for companies whose employees need to access remote areas, and even as a VIP transport or VIP escort vehicle.


Cesar G.B. Miguel
Author