The how and what of modernized PUVs.
Since its foundation all those years ago, the Philippine government has worked hard in improving public transport. As such, it has seen drastic changes as a whole over the years.
Compared to fifty years ago, we're much more mobile than ever before, and traveling within cities has become a trivial day to day activity. At the turn of the new decade however, the relevant government transportation departments are once again seeking to make a big change by modernizing all public utility vehicles (PUVs).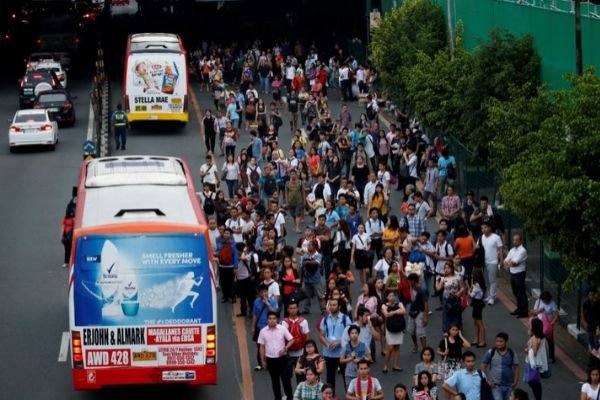 There are a lot of issues needed to be addressed with our public transportation
Many news websites have talked about the public utility vehicle modernization program (PUVMP) before. It is after all a closely followed topic. Its implementation definitely has a significant impact on Filipinos especially to those frequently using PUJs to get around and for those operating the PUVs themselves.
However, some of you might have more specific questions about this program like how it works, its benefits, and what a modernized jeepney looks like?
In order to have a deeper understanding of the Public Utility Vehicle Modernization Program, here's a short overview or a tracker if you will.
I. Public Utility Vehicle Modernization Program Guidelines
According to a memorandum circular issued by the Land Transportation Franchising and Regulatory Board (LTFRB) back in 2018, here are the guidelines for the initial implementation of the PUV modernization program;
LTFRB offices are to identify routes, including fixed routes, special routes to special areas like industrial zones and university zones. These fixed routes shall be designed in such a way that they won't overlap with existing routes by more than 25% of the latter's length. This will ensure optimal travel times, and possibly even less impact on traffic.
The survey of identified routes.
Coordination with the local government units (LGU) with regards to passenger demand and their respective Comprehensive Land Use Plans.
Recommending the identified routes for endorsement to the Department of Transportation.
Providing franchise inventory to the Department of Transportation (DOTr).
Once the route is authorized by the DOTr, the concerned LTFRB office will then issue a new certificate of public convenience (CPC) now under the PUV modernization program. The list of requirements for the new CPC includes;
Proof of consolidation
Route description and length
Number of units
Vehicle specifications as prescribed under the Omnibus Franchise Guidelines of the Public Utility Vehicle Modernization Program
Garage and terminal specifications
Documents showing the capability to support GNSS receiver, free Wi-Fi access, an automatic fare collection system, a speed limited, a dash-cam, and a CCVT
Fleet management plan
Financing scheme or package if applicable
Proof of compliance with safety requirements
Proposed fare
More on Routes from the DOTr Department Order no 2017-011
As per the Omnibus Franchise Guidelines (OFG) of the PUVMP, a modernized PUJ should follow these guidelines with regards to routes:
| | |
| --- | --- |
| Route Coverage | Maximum Route Length |
| Highly urbanized cities, independent component cities, and component cities | 15 km |
| Inter-regional, inter-provincial, provincial, and municipal. | 35 km |
Modernized UV Express services will follow a route with a longer maximum route length. Note also that for PUJ loop services, the loop length will also follow the aforementioned restrictions.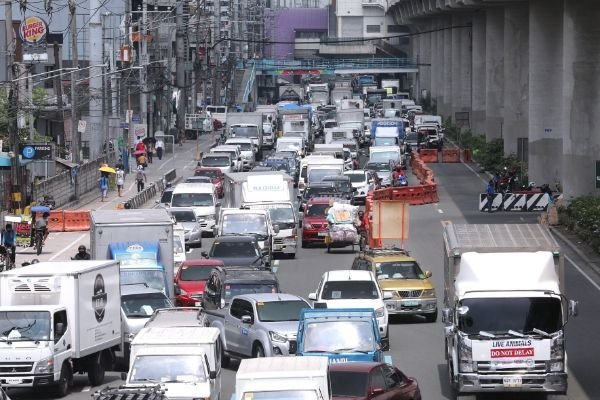 One aim of the PUVMP is to reduce our reliance on private vehicles
As per the Local Government Code of 1991, the LGU or any equivalent organization will provide the following to the LTFRB with regards to public utility vehicle routing:
List and map of existing public transport routes
List and map of proposed routes
Estimated passenger demand for each proposed route
An inventory of available transport facilities
On Passenger safety from the DOTr Department Order no 2017-011
Public utility vehicle operators must ensure the safety of passengers, drivers, employees, etc. As such, a safety officer should be employed to inspect each PUV unit before dispatch. Furthermore, it is also stated that the LTFRB is tasked to evaluate an operator's maintenance ledger per PUV unit.
II. So what are PUV modernization program benefits?
As per the Omnibus Franchise Guidelines of the PUVMP, here are the basic policies that will anchor the PUVMP into an effective means of public transport.
1. Reliability – Public transportation including modernized jeepneys, should be predictable. In other words, one should be able to quantify its travel time, the time you need to wait, and also its overall operating schedule. Operators should also consider the needs of night students, night-shift workers, etc.
2. Safety – Vehicles under the PUVMP should follow the national and international standards for vehicle safety.  All PUVs should be equipped with fire extinguishers, a speed limiter, a CCTV for deterrence purposes, a global navigation satellite system and a global positioning system, and the non-tinted windshields and windows. Safety should also be provided for regular stops.
3. Accessibility – Public transport should be available to every community, and to everyone including senior citizens and people with disabilities. As such, modernized PUV stations will be equipped with ramps, good walkways, etc.
4. Environmental soundness – Modernized public transport units using combustion engines should meet EURO IV emission standards or better.
5. Comfort – Modernized PUVs should be comfortable with quality seats allowing for rest. At the same time, people who wish to be productive should be able to do so with access to Wi-Fi.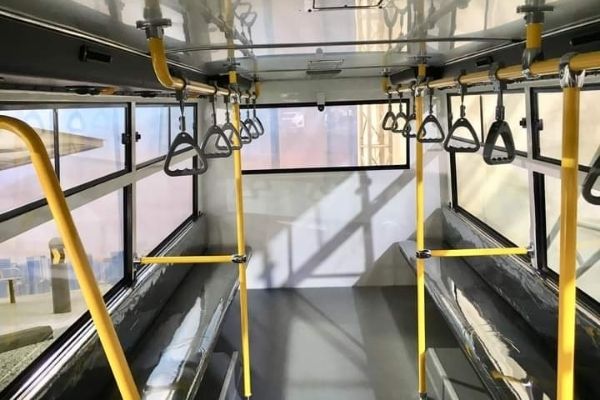 It's simple looking, but modernized jeepneys are much more spacious than traditional jeepneys.
What are the characteristics of a modernized jeepney?
As per the PUVMP's Omnibus Franchise Guidelines, the following is what a modernized jeepney should be like, with some notes on a PUV terminal as well.
1. Body Make – A modernized jeepney should have a body length of less than seven meters. Its door should allow for alighting and boarding from the curbside with no doors at the rear.
2. Other features – As mentioned before, a modernized jeepney should be equipped with a router for free Wi-Fi, a CCTV that's able to record continuously for 72 hours, an automatic fare collection system, a dashboard camera with 24-hour recording capability,  and a speed limited.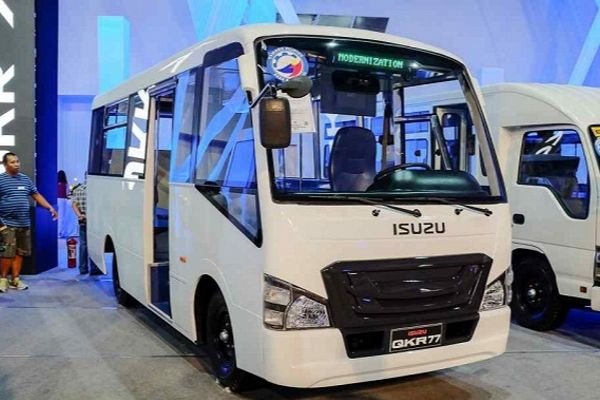 An example of a vehicle designed to meet the requirements of a modernized jeepney.
The engine of a modernized jeepney should also be compliant with the emission standards that were set by the Department of Environment and Natural Resources (DENR), specifically Euro IV standards. And lastly, modernized jeepney operators should be able to provide a garage, with an additional 30 percent of the total space the PUV occupies.
3. Age limit – The LTFRB shall issue another memo with regards to the age limit for each kind of modernized PUV. This will be based on the year of the oldest major component of a unit and not on the year of registration.
With regards to refurbished or rebuilt units, an approval system will be implemented. It will involve several tests including the LTO-Motor Vehicle Inspection System (MVIS).
4. Terminals – Operators petitioning for a franchise to operate on fixed routes are required to provide proof that they operate on an "off-street terminal." For loop-based routes however, this might not be required.
For fixed routes, the off-street terminal should be located on both ends of a route. Each off-street terminal should come with its own loading and unloading bays, as well as enough space to park and store PUV units.
Did this article help you get more acquainted with what the PUVMP is aiming for? Do you think that it'll improve the state of our public transportation?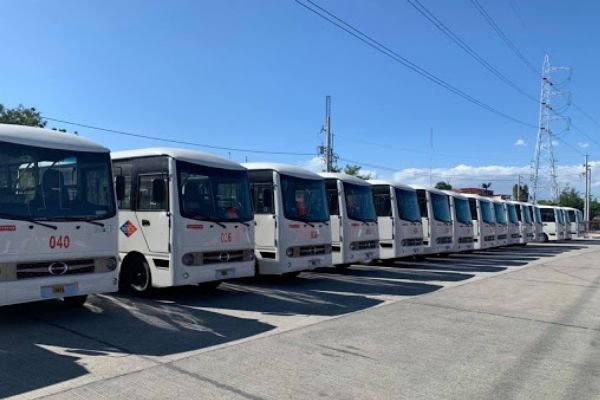 PUVMP terminals are better organized than your run of the mill traditional jeepney terminal.
FAQs about modernized jeepneys and the PUVMP
Question: When will we see more modernized jeepneys?
Answer: Modernized jeepneys as well as modernized mini-buses are already operating in several routes in the Philippines. As per DOTr timeline though, the agency will focus on spreading the PUVMP in a more national capacity from 2019 to 2020.
Question: Do modernized jeepneys have safeguards against COVID-19?
Answer: Yes. The LTFRB has directed operators to keep us safe against COVID-19. These include foot baths, temperature checks, carrying only half the PUJ's capacity, requiring face-shields and face masks, etc.
Question: What is the cost of acquiring a modernized jeepney?
Answer: One of the most affordable vehicles that can function under the PUVMP is the Toyota Hilux Class 1 modern PUV. It is priced at Php 998,000.
Question: Are there electric-powered modernized jeepneys?
Answer: Yes, there are currently three e-jeepney models available in the Philippines that can function under the PUVMP.
Question: Are modernized jeepneys required to have air-conditioning?
Answer: It does not explicitly say that in the omnibus franchise guidelines. An AC system however can help in providing a "comfortable" and "relaxing" ride for a passenger and that is something that a modernized PUV is required to provide.
For more articles like this, keep reading here on Philkotse.com.


Cesar G.B. Miguel
Author