Here are the stations of LRT 1 to help you on your commute. Check it out!
Are you new to the Philippines? You might not have an idea on how to go to places here in the Philippines. There are a lot of options you can go for in terms of commuting, but one of the easiest and fastest ways to go from one place to another is through a Light Rail Transit.
LRT 1 is one of the most primary public transportations used in the Philippines.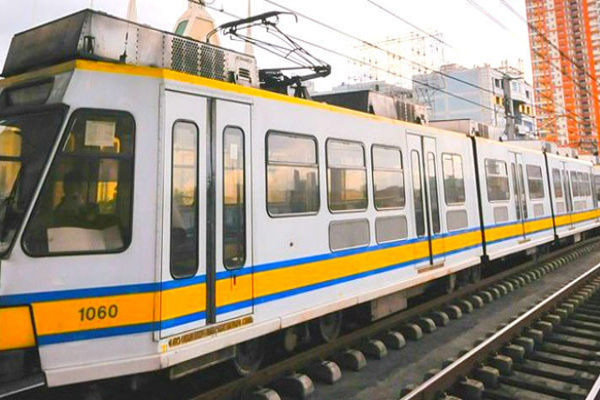 The LRT 1 has been transferring passengers across EDSA since its opening in 1984
I. LRT 1 Schedule
LRT operating hours are as follows:
LRT 1 Stations schedule
 
LRT 1 Stations
opening time
LRT 1 Stations
closing time
Weekdays
5:00 AM
10:00 PM
Saturdays, Sundays and Holidays
5:00 AM
9:30 PM
LRT line 1 consists of 20 stations. The line has been very convenient linking several of the largest cities In the Philippines namely, Pasay, Caloocan, Quezon City, and Manila.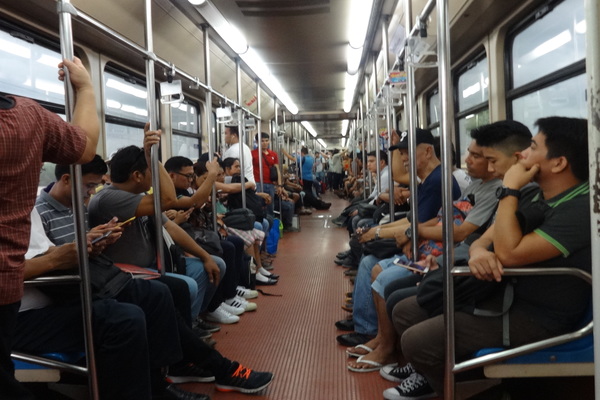 Weekdays are not ideal days to commute thru the LRT 1 as it is crowded, but on weekends and holidays, the train seems peaceful
II. LRT Line 1 Stations list in order
1. Baclaran
Baclaran in LRT 1's first station located in Pasay. The station is situated at the heart of Baclaran Market making it very accessible to the public which then makes it one of the busiest stations. Nearby landmarks to Baclaran are Baclaran Flea Market, City of Dreams and Solaire.
2. EDSA
This station is named after a well known Filipino historian Epifanio Delos Santos. EDSA has been well known of having the worst traffic in the Philippines. Situated in EDSA are several bus terminals such as Victory Liner and Philtranco, heading to North and South Luzon. It is also a transfer point for commuters riding from the MRT Line. EDSA Station's nearest landmarks are SM MOA, Saver's Square and Heritage Hotel.
3. Libertad
Also known as Arnaiz Station, Libertad station is situated in Pasay. For those who are going to Cuneta Astrodome or US Embassy can easily reach their destination through this station. Landmarks nearby are Department of Foreign Affairs, Victory Mall Pasay and Japan Embassy.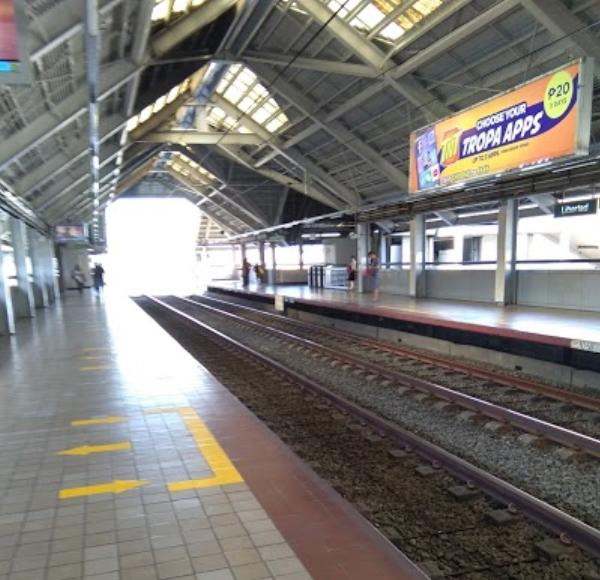 Also known as Arnaiz Station, Libertad station is situated in Pasay
4. Gil Puyat
For commuters who are bound to Makati, Gil Puyat is the station for you. Strategically located in Buendia and Taft Avenue. Gil Puyat is also accessible if you're going to Laguna and Mall of Asia. Nearby landmarks  are World Trade Center, Star City, and Cartimar Shopping Center.
5. Vito Cruz
This station is well known to the Students of Lasalle and Benilde since the station is situated in front of their universities.  Landmarks nearby are Bangko Central ng Pilipinas, Cultural Center of the Philippines and Harrison Plaza.
6. Quirino
This station caters most in the Malate Area. Nearby landmarks are Manila Zoo, Malate Church, Ospital ng Maynila, and Manila Yacht Club.
7. Pedro Gil
Formerly known as Herran Station, it is close to schools and business establishments. Some schools that are nearby this station are University of the Philippines Manila, Saint Paul University, Philippine Christian University, and Philippine Women's University.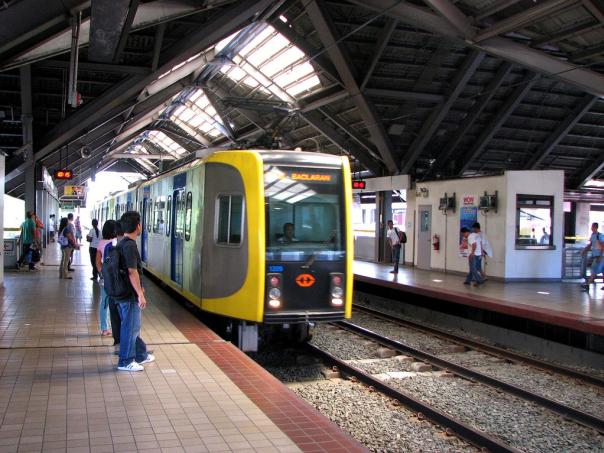 Formerly known as Herran Station, Pedro Gil Station is close to schools and business establishments
8. United Nations
This station is strategically located near government offices and national landmarks. It's near Luneta Park, National Library, National Museum, National Bureau of Investigation, Department of Justice, Supreme Court of the Philippines and Department of Tourism.
9. Central Terminal
This station is also known as Arroceros. This station is close to Manila City Hall and University Belt of Manila. If you also want to try the Pasig River Ferry, this is the station to get off.
10. Carriedo
This station is popularly known to the devotees of the Black Nazarene of Quiapo and to those commuters who enjoy eating at Escolta. The station is located at Sta Cruz Manila which is very close to Quiapo Church, Liwasang Bonifacio and Escolta.
11. Doroteo Jose
This station is named after a local hero, Doroteo Jose. It is close to the provincial bus line going to Pangasinan, Tarlac, Benguet, and Pampanga.
12. Bambang
This station is well known for having the cheapest items used by medical students. It is also near hospitals such as Jose Reyes Memorial Medical Center and San Lazaro Hospital.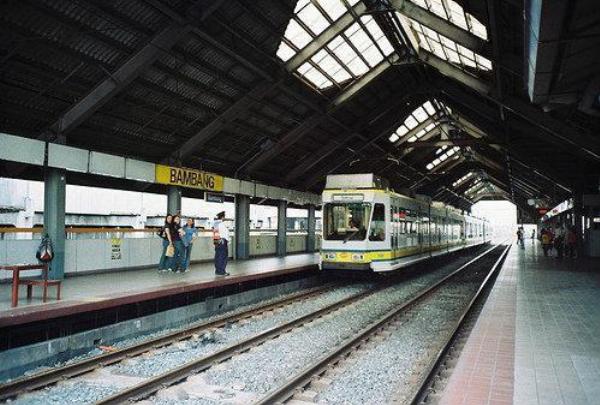 This station is well known for having the cheapest items used by medical students
13. Tayuman
Tayuman is close to Dangwa, the famous wholesale flower market in Manila. It is also near the Department of Health, Dangwa Flower Market and Espirito Santo Church.
14. Blumentritt
This station is named after a close associate of our National Hero Jose Rizal, Ferdinand Blumentritt. It caters to most of Sampaloc Manila commuters. There's also a PNR station nearby.
15. Abad Santos
The station is both close to Caloocan and Tondo. The station is very accessible as well because of the presence of Jeepneys and tricycle just below the terminal.
16. R. Papa
R. Papa is also near Tondo. It is as well the last station in the city of Manila. Nearby landmarks are La Loma Cemetery and La Loma Church. 
17. 5th Avenue
This is the first station located in Caloocan city. It is right beside C-3 Road.
18. Monumento
Monumento is located in the south part of Caloocan. Monumento caters to commuters going to Quezon City. It is nearby Araneta Square Mall, Monumento Circle, and Victory Central Mall.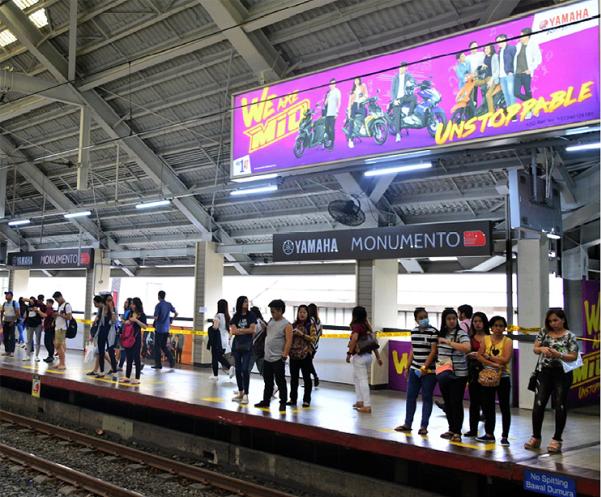 Monumento caters to commuters going to Quezon City
19. Balintawak
This station was one of the latest additions to the LRT 1 Line. The station was launched last March 2010 that caters to commuters heading to Northern Luzon, Quezon City, and Caloocan City. 
20. Roosevelt
Roosevelt is the last station of LRT -1. The station opened last October 2010 as part of Line 1's North Extension Project of the Government. Nearby Landmarks are Munoz Market, S&R Congressional, and Iglesia ni Cristo Bago Bantay.
There's also a provision for a 21st Station which is still under construction. It will be named North Avenue. It is scheduled to operate in the last quarter of 2019. It's a station that links LRT 1 to MRT 3 and will also connect to MRT 7.
III. LRT 1 Stations Map
Below is the MRT and LRT 1 stations route map in the Philippines. The Green Line is for LRT Line 1, the blue line is for Line 2, and the yellow one is for MRT Line 3.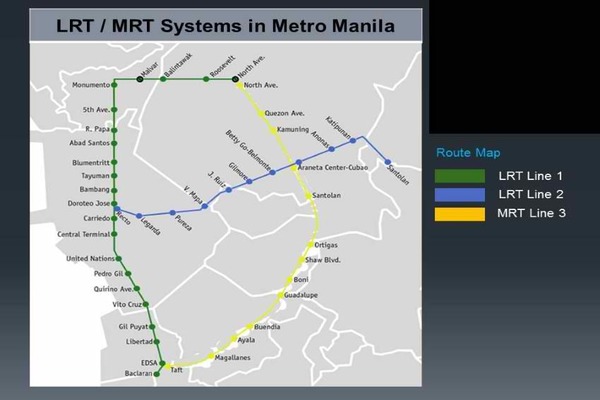 Even if it seems long, Filipinos still think that these LRT stations are not enough and they look forward to the new stations to be running by 2022
IV. LRT 1 Stations Fare  Matrix
Here's your guide as well for the fare matrix of LRT Line 1.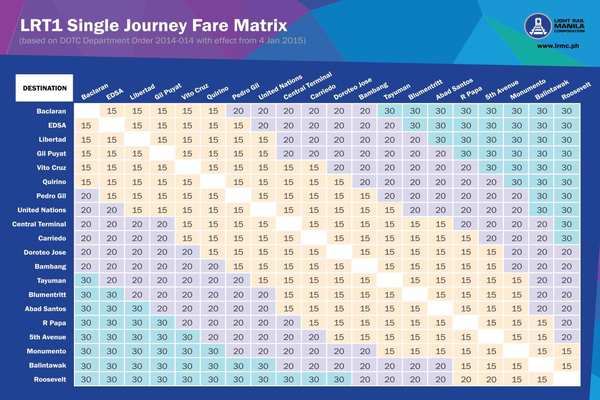 For Single Journey Fare Matrix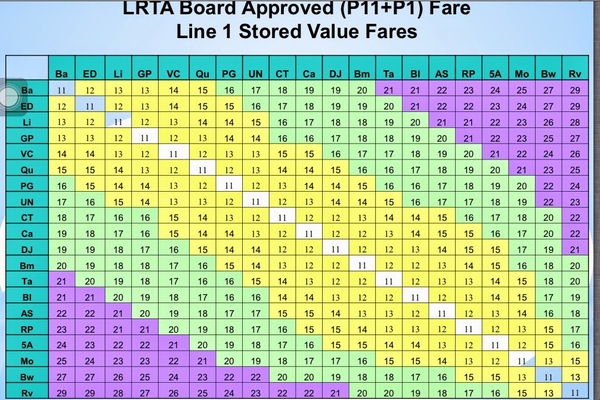 For Stored Value (Beep Card) Fare Matrix
It will not be a problem to expats to commute around the major cities in Metro Manila with this complete guide to LRT Line 1 brought to you by Philkotse.com!

Hanna Sanchez
Author