At the 2019 MIAS, Suzuki showcases the all-new Suzuki Jimny 2019 and its sporty, tough appeal attracts the crowd.
At the 2019 Manila International Auto Show, there were many so many cars and so many products to look at and to learn more about. Each major car manufacturer had each of their lineup of cars polished to perfection to be available for the general public to peruse, to inspect, and to scrutinize.
For each of those manufacturers, each had brought along and displayed their crown jewel usually, a single model which definitely became a crowd pleaser. For Suzuki, they had the new Jimny.
As the Philkotse.com team approached the Suzuki pavilion, that's when we saw that angular, yellow-green shape surrounded by crowds of people eager to learn about the vehicle. What came apparently from our observation was that most of the people waiting their turn to get near the new Suzuki Jimny were young girls and boys.
That for the Suzuki Jimny is a good sign, in such a short time (the entirety of the 2019 MIAS and since the Jimny was announced), the plucky, hip looking vehicle has indeed found its niche.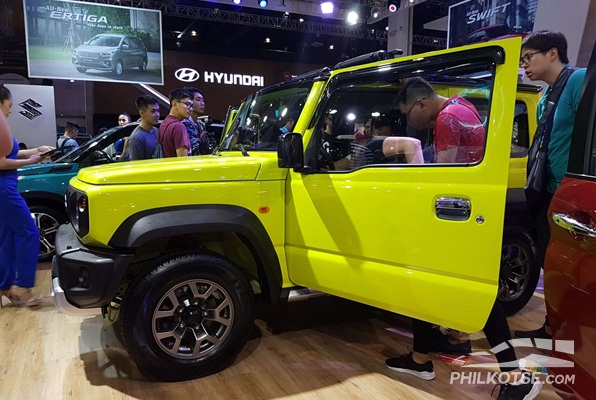 The Suzuki Jimny's side profile highlighting its beefy doors
When it comes to overall looks and design, the new Suzuki Jimny indeed shapes up to be a vehicle that is equally playful, fun and eye-catching while also equally designed to handle rough terrain or the oftentimes rough attentions of the typical, youthful new car owner.
>>> See also: Manila International Auto Show 2019: Nissan goes large
At front of the vehicle, you can find functional yet stylish design cues mainly at the front bumper and the grille which are both angular and made out of a tough material. This indeed will make the Jimny a capable vehicle in terms for avoiding scratches and bumps from rough off-road use or from the driver who's just learning how to park.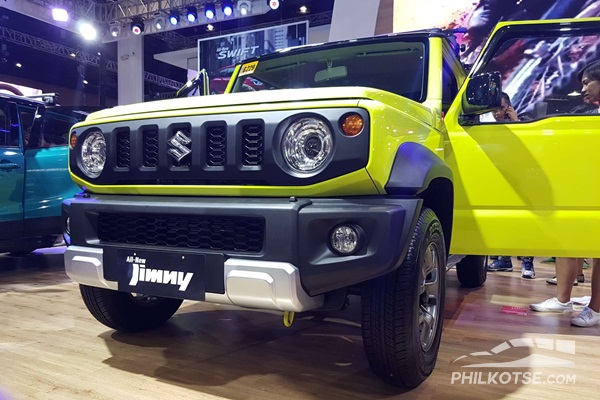 A closer look at the all-new Suzuki Jimny's tough front bumper
Towards the sides of the vehicle, the theme of toughness continues with the new Suzuki Jimny's durable looking fender flares and solid doors. Moving on towards the rear, the Jimny displayed at the 2019 MIAS also demonstrates its functionality as the display car came equipped with a bike rack along with a bike.
Apart from the rack, the Jimny also has its spare tire mounted at the tough looking, no non-sense rear door similar to older models.
>>> Check our in-depth review of Suzuki Jimny 2019 for better understanding of this new Jimny. 
Upon viewing the Jimny's interior, we overheard someone saying; "it's good enough for a road trip" and indeed we share the unknown young guy's opinion. The front driver and passenger area have decent enough space but for a wider, and possibly older driver might have difficulties.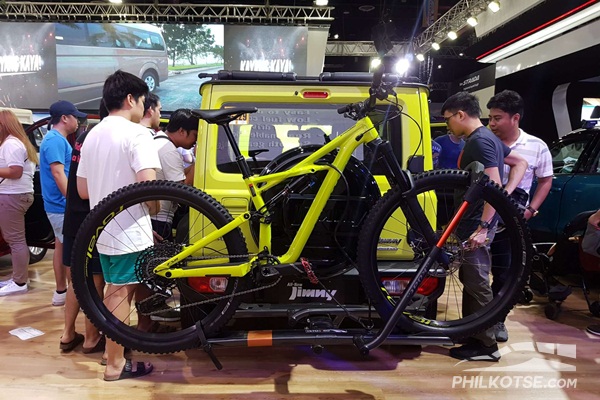 The young and young at heart are attracted to the energetic looking Suzuki Jimny
At the back legroom might be an issue for taller folk but headroom seems to do ok. As for the Dashboard, the 2019 Suzuki Jimny is a well-equipped vehicle that comes with a 9-inch touchscreen multimedia unit that can also display relevant information like roll and pitch during off-road situations.
To top it all off, the dashboard is covered by a humble but very functional stain-resistant finish which will definitely protect it from the more rough and rowdy passengers.
The all-new 2019 Suzuki Jimny is powered by a 1.5-liter gasoline engine which can produce a decent 101 horsepower and 130 nm of torque and will come with either a manual transmission or a 4 speed automatic with 4x4.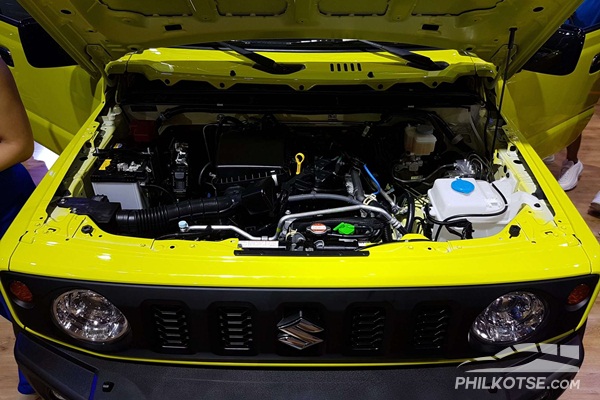 Suzuki Jimny 2019 engine
Check out the latest Suzuki Jimny Philippines price list from the table below:
| | |
| --- | --- |
| VARIANT | PRICE |
| All-New Jimny GL (Monotone) 5MT | ₱975,000 |
| All-New Jimny GL (Monotone) 4AT |    ₱1,035,000 |
| All-New Jimny GLX (Monotone) 4AT |    ₱1,085,000 |
| All-New Jimny GLX (2 Tone) 4AT |    ₱1,095,000 |
Know more about Suzuki Jimny 2021

The Jimny is one of Japanese small-car specialist Suzuki Motor Corporation's most sought-after models. The mini SUV proved so popular that customers placed pre-orders even before its launch in 2018. The Jimny brought out different emotions from its Filipino fans, ranging from nostalgia to obsession as this fourth-generation model brings rugged good looks and superb off-road performance in a small package. Completely redesigned from the ground up, the Jimny still lingers in the hearts of Filipino car buyers.

Cesar G.B. Miguel
Author