At MIAS 2019, Hyundai reveals its new flagship SUV: Hyundai Palisade 2019: a strikingly styled premium SUV with loads of seating and cargo capacity.
When the Philkotse.com team first came into the 2019 Manila International Auto Show's manufacturer's area, what immediately greeted us was Hyundai's pavilion. It had loads of lined up cars that was immediately recognizable.
Two were covered up, one was smaller (a story for another time) while the other was a hulking shape that suggested only one thing; an SUV. When it was unveiled, what we saw was a beautiful, almost futuristic looking vehicle which to us immediately screamed of luxury, comfort, camping trips, and long road trips. It's the Hyundai Palisade 2019
Taking Hyundai's flagship SUV role, the Palisade is meant to eventually replace the Santa Fe XL outside of Hyundai's home country. And like its predecessor, the hulk of a vehicle will have seven seats lined up neatly to well-spaced rows. It also has about 500 liters of cargo space hence the impression of comfy long trips.
Headspace and knee space inside the new Palisade is also excellent as even our tallest and widest team member (the writer of this article) didn't actually have any issues with any seat or portion of the vehicle.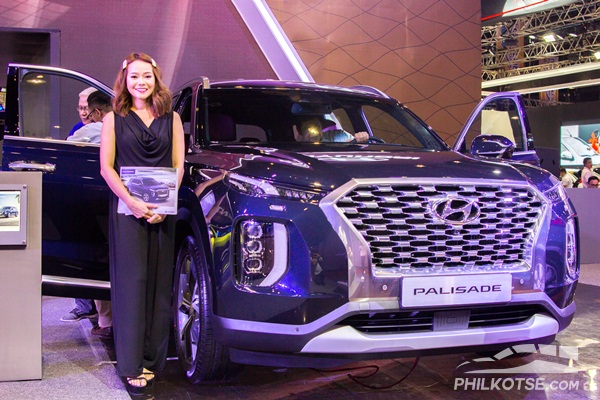 The 2019 Hyundai Palisade is a huge SUV and is now the company's flagship model
1. Hyundai Palisade 2019: Exterior 
Outside, the Palisade can be intimidating to look at, at first. It seems to be larger than it is due to the design of the grille, the length of the hood, and of course; the Palisade's massive doors. That isn't the case as the Palisade is actually sized at about 4980mm long, 1975 mm wide, 1750 mm high and has a wheelbase of 2900 mm. Those figures are not much different from what the Ford Explorer has, the Palisade would be a competitor.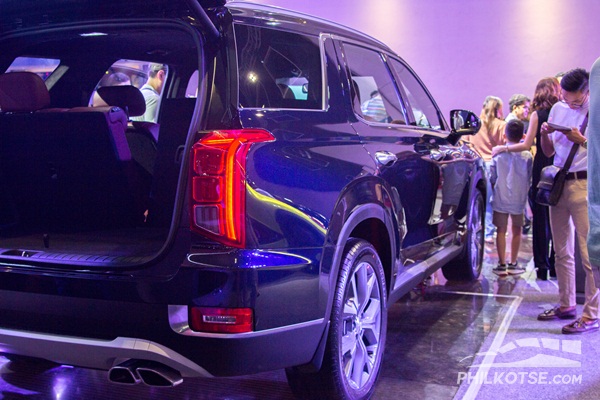 Hyundai Palisade is sized at about 4980mm long, 1975 mm wide, 1750 mm high
Now the grille, except being very large, is of the signature Hyundai design. It is Y-shaped and it enjoys the attention to detail any premium vehicle has because once you touch it, it's solid. Moving on towards the Palisade's LED headlights, one cannot help but notice that their shape are almost slit thin giving the vehicle a sleek look.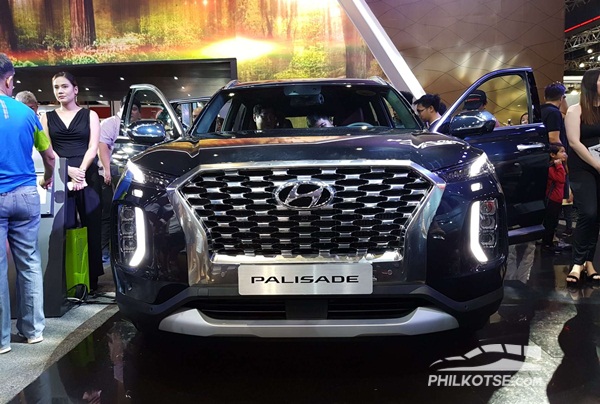 The Hyundai Palisade feels large and looks luxurious. 
The fog lights below are three individual lights stacked up on each other and encased in a square shaped container which is seemingly integrated with the headlights into a single shape.
>>> Read more: Hyundai Palisade 2020: A Big Baller greets the market
2. Hyundai Palisade 2019: Interior
After sitting comfortably inside the 2019 Hyundai Palisade, our eyes were drawn towards the dashboard's neatly spaced instrument controls and knobs. What dominates the dash however is the ten-inch touchscreen for the vehicle's infotainment system which of course has Apple Carplay and Android Auto, an AUX port, numerous USB charging ports at the second and third rows, a CD player, and a wireless charging system.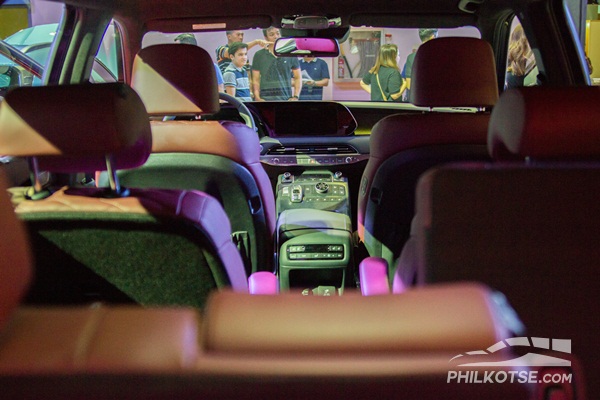 2019 Hyundai Palisade inside cabin
Upon moving downwards, we then found a beefy but unobtrusive center console which contains controls for your transmission, driving modes, and of course the air conditioning. The AC is also distributed evenly for the entire length of the vehicle, as such people at the last row can still enjoy it.
>>> For further read: MIAS 2019: Hyundai rocks on with Kona Electric, Palisade 2019 & more
3. Hyundai Palisade 2019: Engine
Under its hood, the 2019 Hyundai Palisade is powered by a 2.2 liter R-Line CRDi inline-four turbodiesel engine which can produce about 197 horsepower and 441 nm of torque. These are decent enough figures for the Palisade's size and weight but we also hope that the Philippines can also get the 3.8 Lambda II V6 engine in the future.
The 2019 Hyundai Palisade is priced at Php 3.23 million and as such places it as a premium vehicle. Overall, Hyundai's new flagship SUV is a force to be reckoned with and will definitely have a considerable presence on Philippine roads.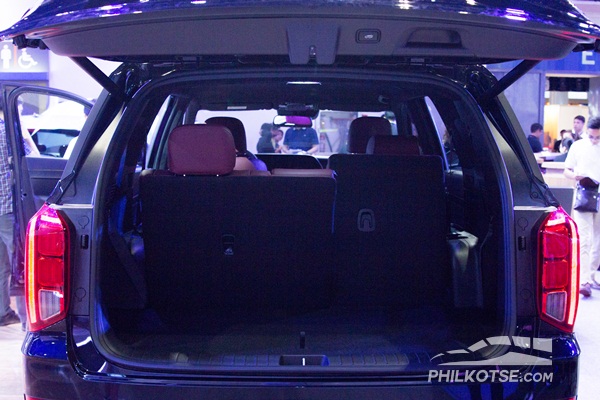 A view of the Hyundai Palisade's open rear door revealing a very large trunk
 >>> Click to catch up with the latest car news at MIAS 2019 

Know more about Hyundai Palisade 2023

The refreshed 2023 Hyundai Palisade is a midsize, three-row crossover. It's coming to the Philippine market, and it is joining the new local Hyundai lineup.
Size-wise, the new Palisade is 4,995mm long, 1,975mm wide, and 1,760mm in height. It also has a wheelbase length of 2,900mm.
Under the hood of the updated Palisade, at least for the US market, is a 3.8-liter V6 that can produce up to 291 horsepower and 355 Nm of torque. The local market will likely receive the 2.2-liter turbo that was used on the previous version. At most, this mill can make up to 197 horsepower and 441 Nm of torque.
The Palisade uses an eight-speed automatic gearbox sending power to all four wheels.
Locally, the 2023 Hyundai Palisade will compete against the Ford Explorer, Mazda CX-9, Korea Sorento, among others.

Cesar G.B. Miguel
Author