At the 2019 Manila International Auto Show, Nissan showcased mainly their SUVs, the Navarra N-Warrior, the Juke Nismo RS & more
The 2019 Manila International Auto Show as far as car shows go has shaped up to be a successful and even festive event which was attended by many people of different backgrounds; car enthusiasts, business people, guys looking for their next family car, automotive related trades and services and of course car manufacturers. One such manufacturer is Nissan, one of the largest car manufacturer here in the Philippines.
With their large pavilion space, Nissan displayed mostly their equally sizable vehicles like the 2019 Navarra, the Nissan Patrol, and the new 2019 Nissan Terra SUV.  The highlight of the vehicles in Nissan's model lineup in MIAS  comes from two vehicles, one large like the previous listed and a smaller, much compact one.
As for the smaller one we've mentioned, it's the very familiar, popular and yet still quirky looking Nissan Juke. Not just any Juke however because this one bears the name that echoes in the hearts and thoughts of many car enthusiasts for a long time now; NISMO. But for others out there, what's a NISMO you ask?
1. Nissan Juke NISMO RS
 Well, the word NISMO is a contraction and combination of the words "Nissan" and then "motorsport" and as such is Nissan's in-house performance and tuning division. Throughout the history of Nissan, Nismo has developed numerous racecars and limited versions of roads cars like the 2019 GT-R Nismo, 2019 370z Nismo and the Leaf Nismo.
As for the Juke Nismo RS itself, it isn't like the very powerful, GT-R engined Juke R concept which was shown to the world back in 2016. What we get from the Juke Nismo instead is the same engine and powertrain from the 2019 Nissan Juke but tweaked a little bit for more performance.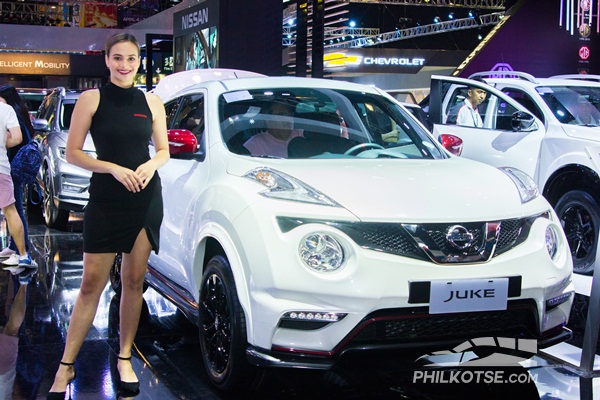 Nissan Juke Nismo introduced at MIAS 2019
>>> For further reference: MIAS 2019: The Chevrolet Camaro Turbo 3LT RS has a new engine
The suspension and handling have been tuned for a sportier feel. Apart from the automatic transmission, some guys inquired whether we'll get a Juke Nismo with a manual transmission like the one they have in Australia.
Outside, the Juke Nismo RS has more apparent changes like the 18-inch allow wheels and more angular and aggressive Nismo bumpers for both the front and the rear. Other notable differences on the exterior include the red accenting typical of Nismo vehicles.
Inside, the Nismo Juke RS gets bucket seats which can definitely hold you in place. Also, the seats and the dashboard now sport red detailing and numerous Nismo badges everywhere.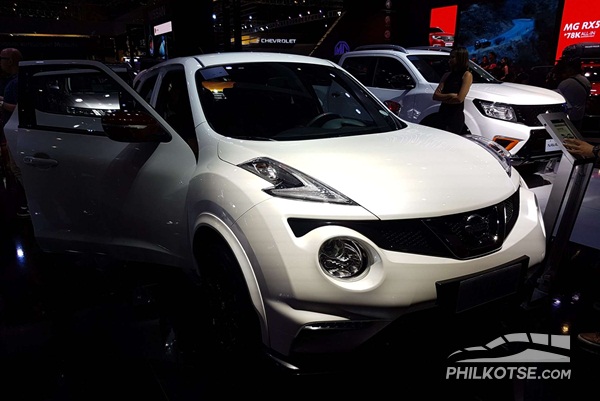 The Nissan Juke Nismo RS soon available here in the Philippines
Now when the Nissan Juke first came out here in the Philippines, people were either impressed or interested or just plain weirded out by its looks. A few years later, the Nissan Juke has become quite a presence on our roads and thus it is evident that the quirky crossover has indeed won our hearts over time.
Now that a Nismo version has been showcased at the 2019 MIAS, it's probably safe to say that Nissan will definitely make the car available sometime soon.
As of the 2019 MIAS details like pricing and other variants for the Nissan Juke are still yet to be announced by the manufacturer and as such stay updated here at Philkotse.com for the Nissan Juke Nismo.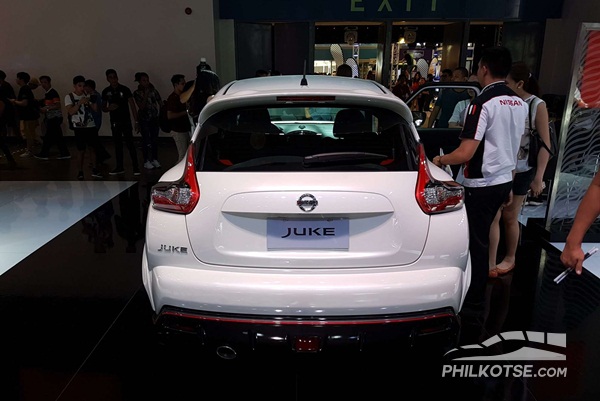 A rear view of the Nissan Juke Nismo RS
2. Nissan Navarra N-Warrior
Another crowd-drawing display from Nissan at the 2019 MIAS is the Nissan Navarra equipped with the N-Warrior appearance package. This package which some readers will surely recognize changes Navarra to a more rugged looking but definitely stylish vehicle.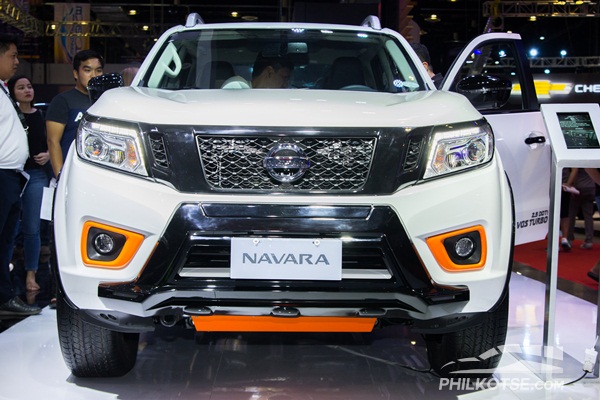 The 2019 Nissan Navarra N-Warrior
What comes with the package is a glossy front bumper, orange highlights on the step-boards and the pieces surrounding the tail-lights and fog lights, a sports roll bar, 18-inch wheels, and of course numerous n-warrior badges.
The N-Warrior also comes with an orange colored skid-plate which definitely says that Nissan recognizes the off-roaders out there and what they need and want from their trucks.
Inside, the N-Warrior Navarra comes equipped with comfortable leather seats and orange accents all around the dash, the center console and on the interior door panels.
For the engine, the N-Warrior Navarra gets the same 2.5-liter CRDi engine that produces 163 hp and 403 nm of torque for the 2x4 version and 190 hp and 450 nm of torque for the 4x4 version.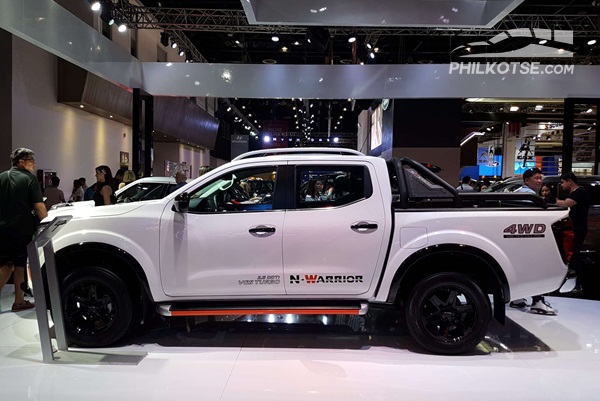 The Nissan Navarra N-Warrior's side profile. The orange accents of the step board is an eye-catcher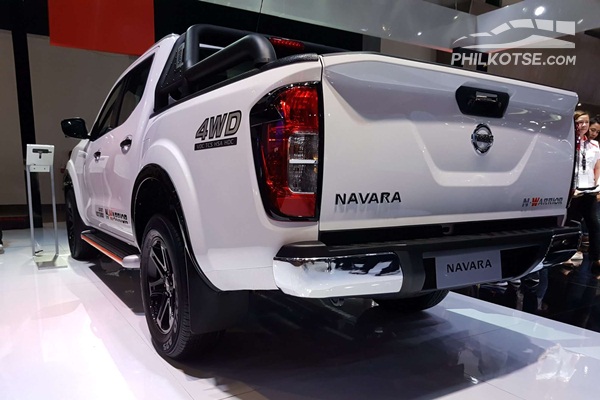 A view of the Navarra N-Warrior's rear end
Pricing for the Navara N-Warrior are as follows:
Nissan Navara N-Warrior price list

| | |
| --- | --- |
| Model | Price |
| Nissan Navara N-Warrior Edition 4x2 EL 6MT | P1,249,000 |
| Nissan Navara N-Warrior Edition 4x2 EL 7AT | P1,309,000 |
| Nissan Navara N-Warrior Edition 4x4 VL 6MT | P1,569,000 |
| Nissan Navara N-Warrior Edition 4x4 VL 7AT |   P1,629,000   |
>>> View full Nissan Navara price list installment Philippines
3. Other Nissan attractions
Other vehicles that caught people's attention Displayed in Nissan's Pavillion is the all-new 2019 Nissan Terra and two of its versions; a manual, base model and the VL trim. All versions of the Nissan Terra are powered by a powerful 2.5-liter diesel engine which can make about 190 ps and 450 nm of torque.    
Aside from the displayed cars, Nissan also has other interesting stuff inside their pavilion. For starters, a large enclosed display featuring Nissan's Intelligent Mobility simulator cube dominates their area. This serves to show the various cutting edge technologies in relation to driver safety and driver assist technologies.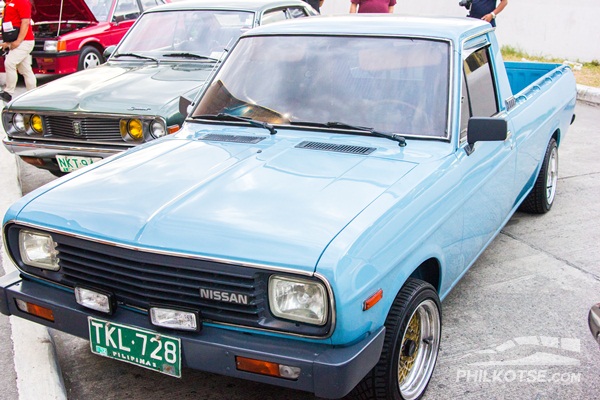 Nissan classic cars showcased at MIAS 2019
If one can remember, one such Nissan tech is showcased in the Nissan Leaf's autonomous driving systems. Other technologies include the ProPilot which is some kind of dynamic cruise control which automatically follows the car on your front while maintaining a set distance all the while keeping your vehicle safe inside your lane.
Another is the ProPilot Park which can take control of your steering, braking, shifting and acceleration in order to assist the driver in moving into a parking spot.
Another highlight from the Nissan Pavilion was that Nissan also handed out discounts for the first 100 purchasers of their vehicles. This was done by sticking your hand in a box to pull out coupons that can start from Php 10,000 up to a massive Php 100,000.
These fixed amount discounts can be applied to all the models within the Nissan brand and will take effect on the model's suggested retail price.
Know more about Nissan Navara

The Nissan Navara is one of the most reliable midsize pickup trucks that is used in Europe, South Africa, Australia, New Zealand, and Asia. It is known for its modern and muscled physique packed with innovative features. Whether you use it daily going to work or to transport a good number of goods in rural or urban areas, this versatile workhorse can truly perform. The new Nissan Navara is offered in 14 variants all fully equipped to assist your specific needs. It comes in Alpine White, Brilliant Silver, Galaxy Black, Savanna Orange, and Riptide Blue.

Cesar G.B. Miguel
Author
Cesar is a graduate of AB English with previous experience working as a freelance writer for varied internet publications in-between his former stints in the Pharmaceutical Industry, and later as a First Aid Provider and Training Staff at the Iligan City Disaster Risk Reduction and Management Office.
Since childhood, Cesar has been keenly interested in cars. He has learned the ins and outs of these marvelous vehicles and is a competent amateur mechanic who is keen on sharing his knowledge.
Cesar is perceptive of car culture in general – not only in the Philippines but in global regard, as well. His knowledge ranges from the prevalent stories and trends among car enthusiasts around the world, to closely following the latest local and international developments in the automotive industry.