It's also the first Lamborghini sports car made for off-road driving.   
Lamborghini has revealed the 2023 Hurácan Sterrato at Art Basel in Miami Beach as its farewell to pure combustion propulsion, confirming that the model will be the last non-hybrid offering in its lineup. 
 
Huracán Sterrato: beyond the concrete
But it's not all about closing a colorful era for the Italian luxury sports car manufacturer, as the Hurácan Sterrato also brings a first in Lamborghini's history. Namely, it introduces the idea of an all-terrain super sports car, complete with a mid-mounted V10 power unit and all-wheel drivetrain. 
"True to our values as a visionary, bold, and unconventional brand, with the Sterrato we are breaking ground in driving sensations," announced Lamborghini Chairman & CEO Stephan Winkelmann. 
"Presenting the car at Art Basel in Miami reflects how, just like an avant-garde work of art, the Sterrato represents a radical and original interpretation of the super sports car concept but, in terms of performance, the Sterrato belongs in the world's most dynamic and exciting driving environments," he adds.       
Exterior
Prominent on the 2023 Lamborghini Hurácan Sterrato is the typical wedge silhouette that has been a Raging Bull trademark, molded into dimensions of 4,525mm long, 2,236mm wide, and 1,248mm high on a 2,620mm wheelbase.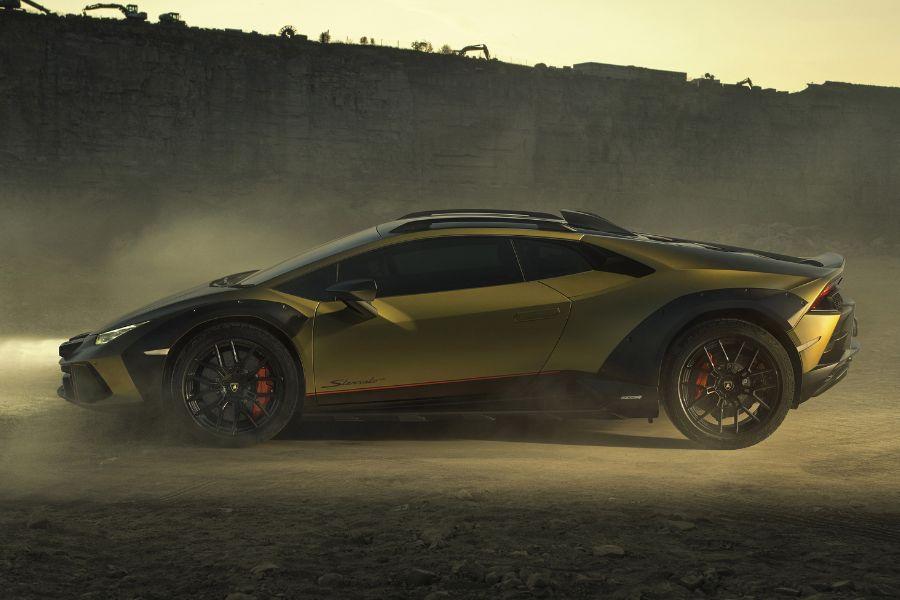 The familiar wedge shape takes on an all-terrain form
Even while being based on the Hurácan Evo, the Steratto adopts a ground clearance that's 44mm higher to enable increased suspension travel, joined by the front and rear tracks have been augmented by 30mm and 34mm, respectively. A carbon fiber and aluminum hybrid chassis supports the body shell that features LED headlamps with W-shaped daytime running lights and horizontal LED foglamps integrated on the fascia. 
Prominent body cladding is present on all four fenders that are inhabited by 19-inch Cerere silver cast aluminum alloys wrapped in Bridgestone Dueler radials featuring run-flat technology. Aerodynamics have been taken into account where the Sterrato's sculpted profile is concerned, with a roof airscoop between the top rails funneling clean air into the engine even in sandy or dusty environments.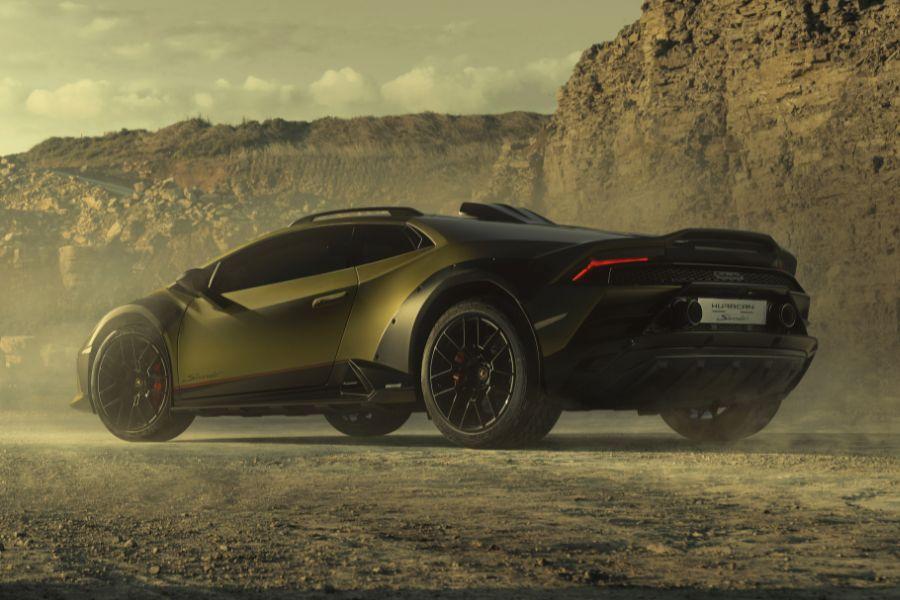 A roof-mounted airscoop funnels air to the engine 
The angular motif extends into the rear apron, with streamlined LED tail lamps on the corners hovering over the high rear bumper that has twin exhaust tips jutting out. A massive rear diffuser accompanies the underbody equipment fitted for protection, which includes aluminum underbody protection and reinforced sills.       
Interior 
Unlike its more well-known Urus sibling that also boasts off-road chops, the Hurácan Sterrato's cabin has room for strictly two occupants. This is consistent with Lamborghini's 'feel like a pilot' philosophy for the Hurácan line, putting the emphasis on the driver.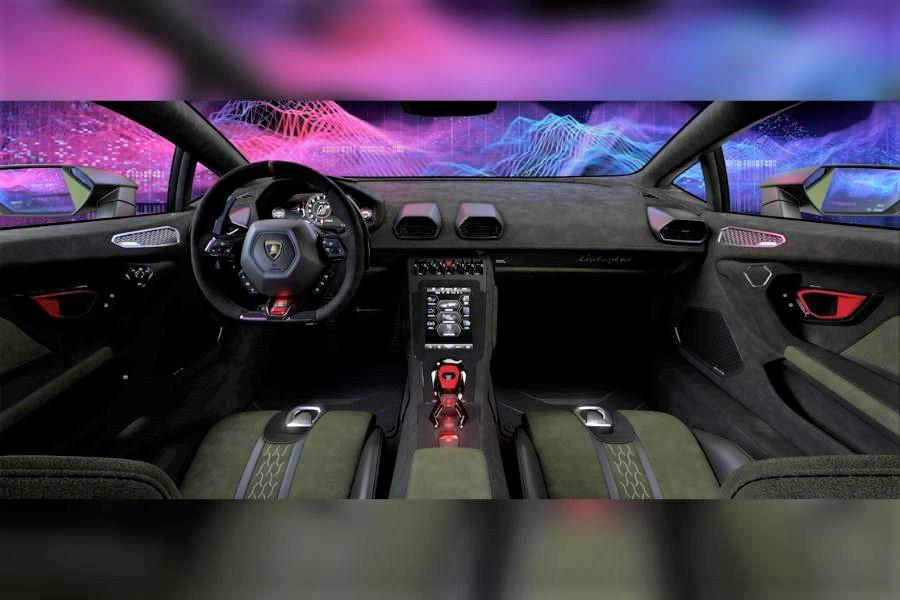 Customers have a choice of leather or Alcantara material for the interior 
Both seats are draped in exclusive Alcantara Verde Sterrato upholstery on a carbon fiber shell, the same material used on the air-conditioning vents on the Alcantara dashboard. Four-point safety harnesses and aluminum floor mats enhance the adventure-inspired ambience.   
Tech & Safety
Beyond the hefty flat-bottom steering wheel with 12 o'clock position marker lies the instrument cluster, carrying a digital inclinometer with pitch and roll indicator, a compass, geographic coordinate indicator, and steering angle indicator for the first time. 
Onboard services include Lamborghini Connect and Amazon Alexa, enabling users to control interior temperature, communications, and entertainment with just voice commands. The Lamborghini UNICA app even allows remote control of the vehicle with speed monitoring and direct sending of destination details to the navigation system.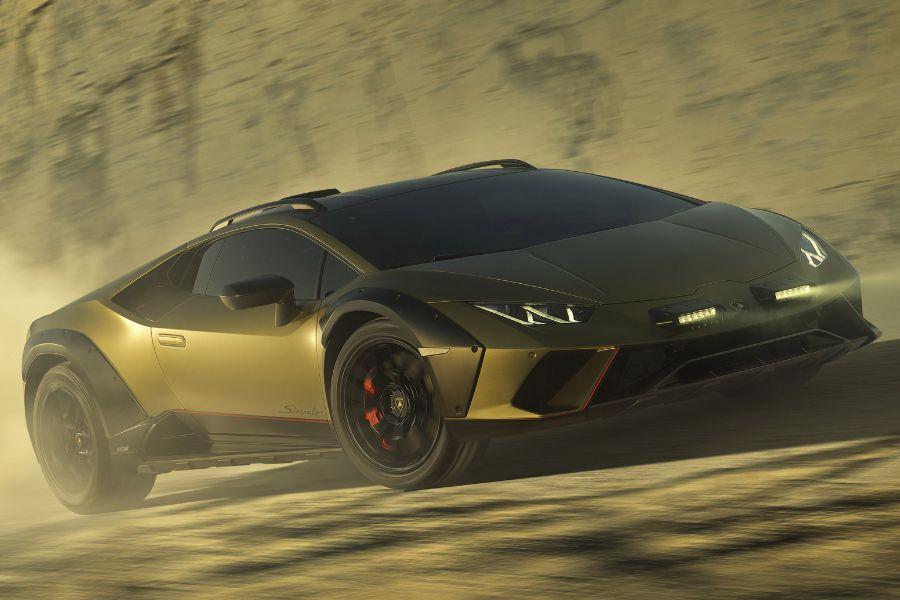 Onboard tech allows customers to remotely control their vehicles through the UNICA app
Apple Watch users can synchronize their heart rate information with the onboard telemetry system to measure driving performance, while the Lamborghini Drive Recorder allows drivers to document their best moments behind the wheel.
Driver, passenger, and side airbags are standard, with knee airbags offered in selected markets. The Sterrato comes with front and rear specific crumple zones, along with a reinforcement bar in the door structure. Electronic stability control integrates anti-lock brakes and Performance Traction Control System (P-TCS).    
Engine & Drivetrain
Mounted just ahead of the rear axle is a Euro 6-compliant 5.2-liter V10 engine rated at 602 horsepower and 560 Nm of torque. The electronically controlled all-wheel drive mechanism with rear mechanical self-locking differential receives the power through a 7-speed dual-clutch transmission. Zero to 100 km/h is achieved in 3.4 seconds, with a top speed of 260 km/h.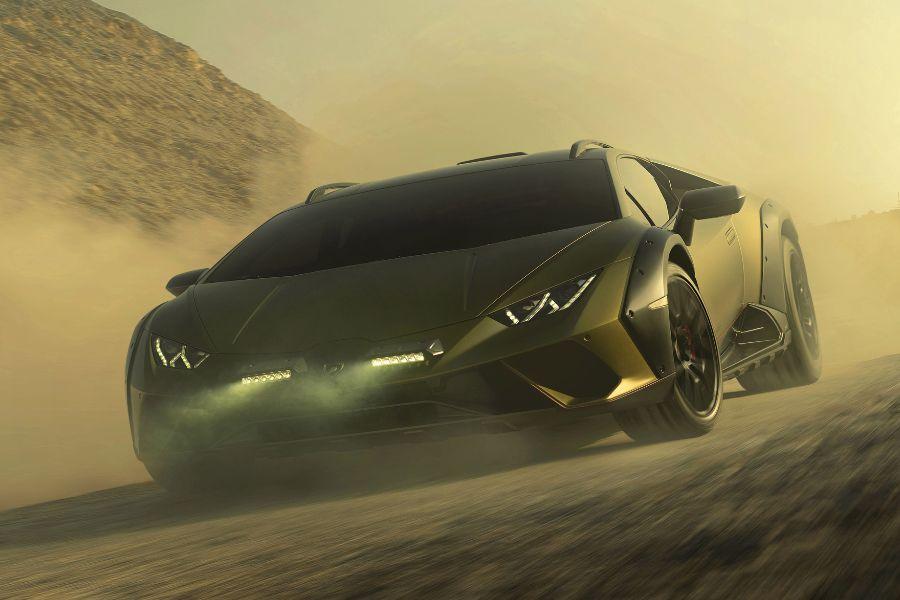 A 5.2-liter V10 powers this all-terrain Hurácan 
The Hurácan Sterrato comes with updated LDVI (Lamborghini Integrated Vehicle Dynamics) featuring specific Strada anfd Sport calibrations, while bringing a Rally mode for the first time in the Hurácan line.
Magnetorheological dampers work with dual wishbone independent front and rear suspension, with maneuvers deftly handled by the electromechanical all-wheel steering system. Stopping power comes in the form of aluminum fixed monoblock calipers with six front and four rear pistons, biting into ventilated cross-drilled carbon-ceramic rotors. 
Pricing
The Lamborghini Hurácan Sterrato will be manufactured at Lamborghini's Sant'Agata Bolognese facility in Italy starting February 2023. It comes with a starting price of 263,000 euro (Php 15.46 million) and will be limited to just 1,499 units worldwide.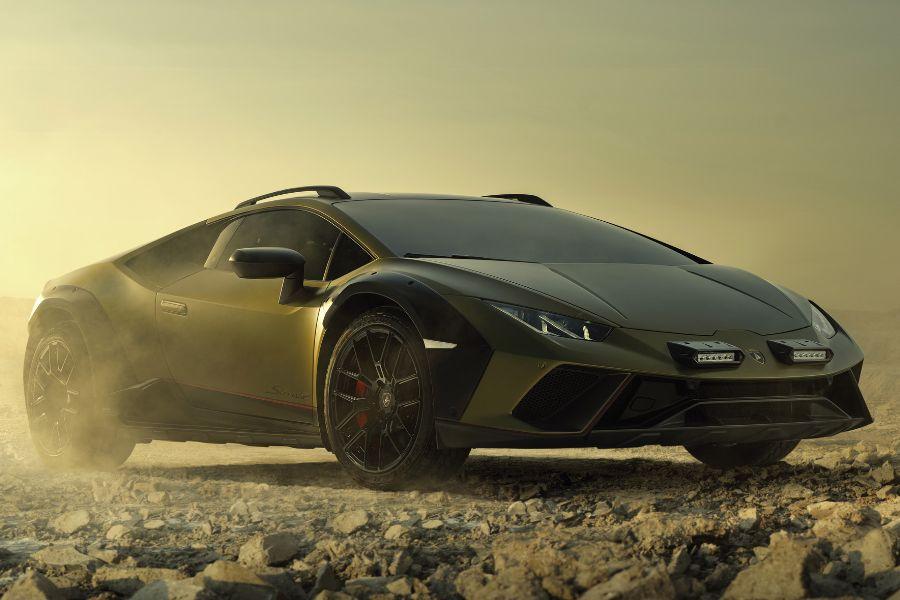 The Lamborghini Hurácan Sterrato will be limited to just 1,499 examples  
Get wind of more new vehicle launches at Philkotse.com. 

Know more about Lamborghini Huracan 2023

The Lamborghini Huracan Philippines 2022 is a two-door, two-seater sports coupe. Locally, this sports car has a total of four variants. These include the Huracan Evo Spyder, the Huracan Evo Coupe RWD, the Huracan Evo Spyder RWD, and the Huracan Evo Coupe. For pricing details for these models, please contact Lamborghini Philippines.
Under the hood of the Huracan is a V10 engine. On the rear-wheel-drive variants, the said mill can make up to 602 horsepower and 590 Nm of torque. On the All-wheel-drive versions, it can produce 630 horsepower and 600 Nm of torque. The said model then uses a seven-speed dual-clutch automatic gearbox with paddle shifters.
Size-wise, the Huracan is 4,520mm long, 1933mm wide, and 1,180mm in height. The Evo version's height is much lower at 1,165mm.
Locally, the Lamborghini Huracan competes against the Porsche 911 Turbo, the Ferrari 488, Audi R8, among others.
Price available upon request
Explore

Joseph Paolo Estabillo
Author