The Spyder Evo variant completes the whole Lamborghini supercar experience
The new Lamborghini Huracan Evo rear-wheel drive Spyder has been revealed by the Italian supercar manufacturer on its official website using Augmented Reality. It features lightweight engineering, a rear-wheel drive, and a specially tuned Performance Traction Control System (P-TCS).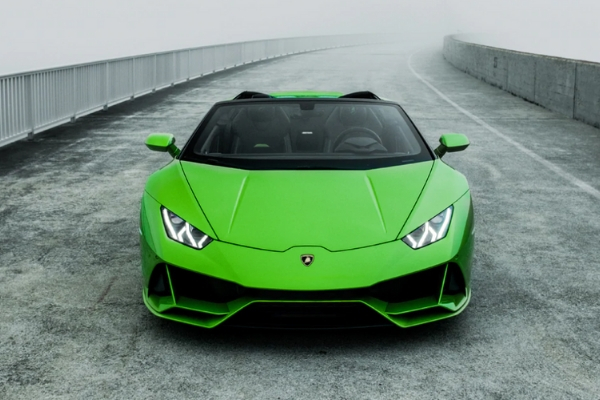 Front view of the Huracan Evo Spyder
In short – the new rear-wheel-drive Lamborghini Huracan Evo Spyder means a lot of roofless fun.
The Performance Traction Control System includes Strada, Sport, and Corsa. Strada provides the best stability for any given road condition. While in Sport Mode, it allows the rear wheels to slide and skate during acceleration – making drifting easier.
Lastly, the Corsa mode which optimizes the Huracan's traction to achieve high-speed runs.
>>> Related: Lamborghini Huracan Performante: A crazier version of the Huracan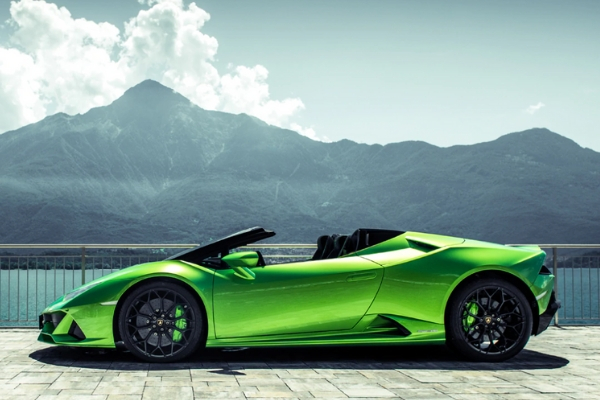 Side view of the Huracan Evo Spyder
In terms of power, the Huracan Evo Spyder uses a 5.2-liter naturally aspirated V10 that produces 610 hp and 560 Nm of torque.
The Lamborghini Huracan can reach a top speed of 324 km/h and can go from 0 to 100 kph in 3.5 seconds – that's 0.4 seconds slower than its all-wheel-drive sibling that makes 631 hp. It is coupled to a seven-speed dual-clutch automatic transmission.
The Spyder's soft-top roof retracts within just 17 seconds even while driving up to a speed of 50 km/h – the retraction will not operate at speeds higher than that to prevent the roof from coming off on highways. It has a 1,509 kg dry weight and has a front/rear weight distribution of 40/60.
Lastly, the Huracan Spyder's rear window raises and lowers independently of the roof itself so its driver can have to option to either hear the might roar of its V10 engine or keep it toned down a bit.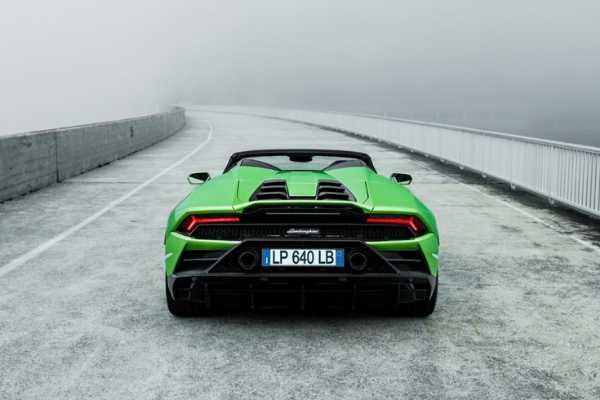 Rearview of the Huracan Evo Spyder
Stefano Domenicali, CEO of Automobili Lamborghini, is confident with the new Evo Spyder as he said that the initiative for the Spyder variant is made for the pleasure of driving the supercar in a drop-top fashion.
Here at Philkotse.com, we value your interest in the automotive industry. You can visit our website to find out more.
Know more about Lamborghini Huracan 2021

The Lamborghini Huracan is an ultra-luxury sports car available as a two-door coupe and a two-door convertible. It features a refined, finely-sculpted, and futuristic body with sleek lines designed to assist its supreme aerodynamic capability. Inside, it is furnished with contemporary driving and passenger amenities to provide the ultimate riding experience. In the Philippines, the Lamborghini Huracan is available in the following variants: Lamborghini Huracan Evo, the Lamborghini Huracan Evo Spyder, the Lamborghini Huracan RWD, and the Lamborghini Huracan RWD Spyder. To match incomparable road presence, it is offered in more than 20 colors.
Price available upon request
Explore

Rex Sanchez
Author