This release is limited to 333 examples worldwide. 
Audi released the first V10-powered R8 GT sports car in 2011, and it would be more than a decade before the second iteration finally arrived. The 2023 R8 GT goes down in history as the most powerful production rear-wheel-drive Audi ever, and the last of its kind.
An experience for all senses | Audi R8 GT 
This represents a swan song of sorts for both the nameplate and the potent V10 power unit, which is why the German automaker is understandably going all-out. We take a look at what the new R8 GT brings to the farewell party. 
Exterior
The new R8 GT continues to sport the familiar aesthetics of the second-generation line, sharing its bones with the Lamborghini Huracan. However, Audi saw it fit to differentiate the latest grand tourer from its siblings with exclusive add-on parts. 


It carries the familiar aesthetics with some obvious enhancements
There are black emblems all around, accompanied by a carbon aero kit rendered in a high gloss finish. The latter includes a front splitter, front flics, side skirt covers, diffuser, and a rear wing mounted on a gooseneck suspension. All components have undergone wind tunnel testing to ensure optimum aerodynamics. 
But being able to cut through the wind doesn't mean anything if the car is heavy. To that end, Audi kept the new R8 V10's weight at 1,570 kilograms, beginning with the 20-inch forged alloy wheels wrapped in Michelin Sport Cup 2 radials. More weight reduction measures include a light yet powerful ceramic braking system and a carbon fiber reinforced plastic (CFRP) front anti-roll bar.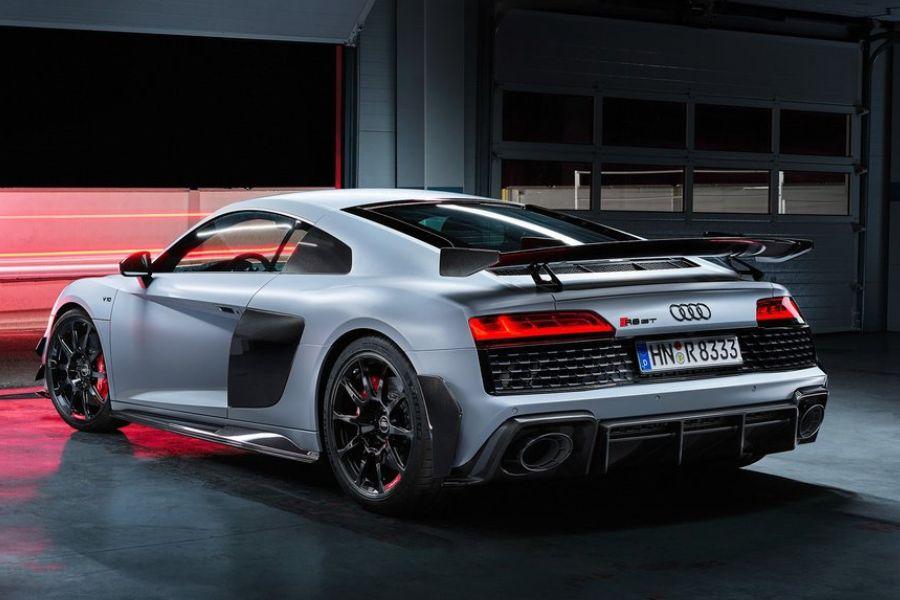 That rear diffuser is quite a sight
Much like its predecessor, the new R8 GT is offered in a matte Suzuka Gray finish. Other color options include Tangorot Metallic and Daytona Gray Metallic. 
Interior
Accommodations are still strictly for two, while serving as a nod to the original R8 GT's cabin with the black and red color palette. For instance, this is only the second appearance of the distinctive red seatbelts.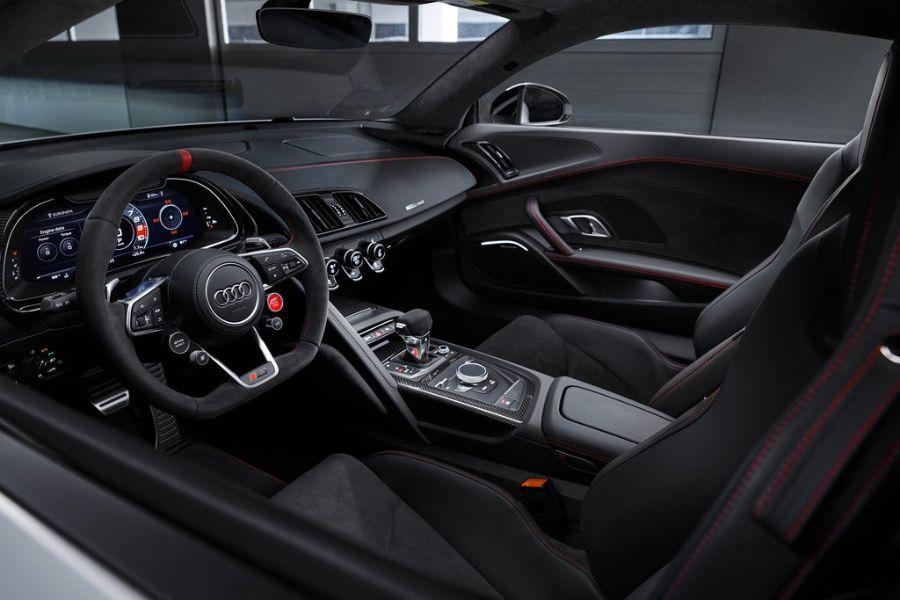 Driver and passenger are surrounded by a race-inspired interior
Bucket seats proclaim the limited-edition model's name in red contrast stitching, a look that's reflected on the floor mats as well. The carbon fiber trim on the shift console features the unit's sequential numbering just below the gearshift lever, a reminder to customers of their membership in a rather exclusive club.         
Tech & Safety
A large digital instrument cluster rests behind the flat-bottomed sport steering wheel, with pertinent data such as fuel level, vehicle speed, and power and torque figures surrounding a large, simulated tachometer.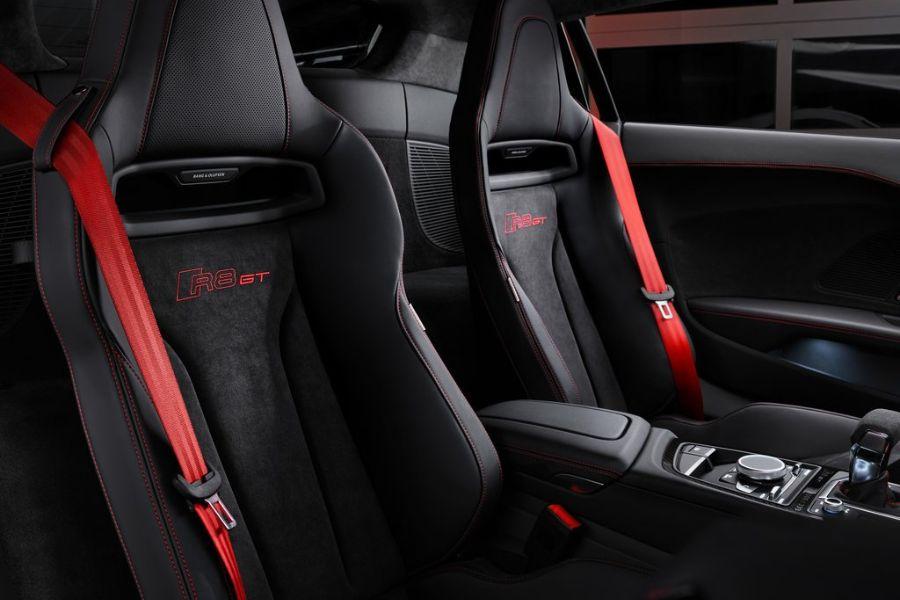 Red seatbelts have been carried over from the first R8 GT
New on the R8 GT (and the R8 line in general) is a Torque Rear mode that allows drivers to control the level of rear axle slip as part of the Electronic Stability Control (ESC) feature. Seven different levels can be engaged using a satellite knob on the steering wheel, providing the opportunity to get as much oversteer as the user can handle on track days.   
Engine & Drivetrain
For the last time, the naturally aspirated 5.2-liter V10 will sit midships on the latest R8 GT, tweaked to have an output of 602 horsepower and 565 Nm of torque. Routing power to the rear wheels is a new 7-speed dual-clutch gearbox featuring a revised gear ratio for faster shifts.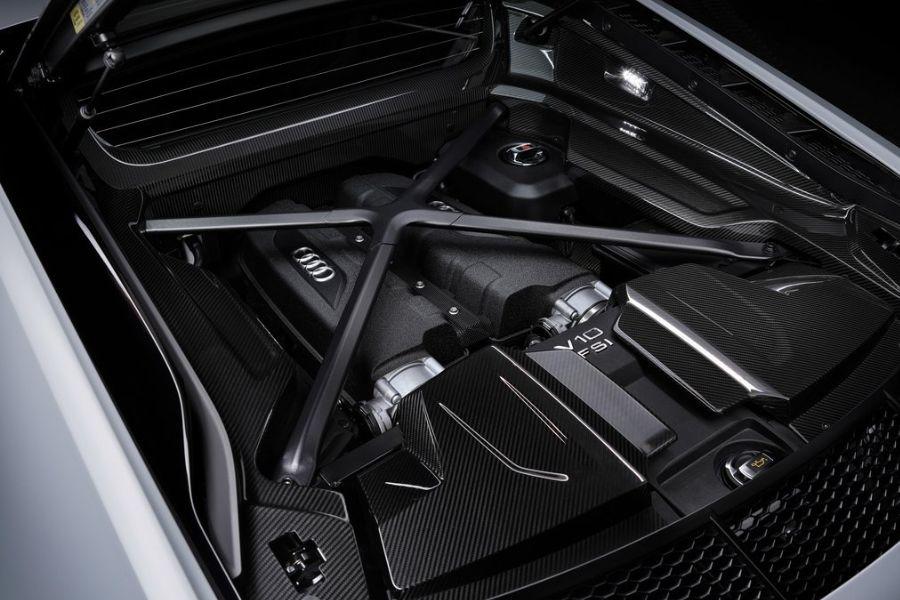 This is the final appearance of the 5.2-liter naturally aspirated V10
The resulting acceleration is set to impress, with the car blasting from zero to 100 kilometers per hour in just 3.4 seconds. An additional 6.7 seconds is all it takes to hit 200 kilometers per hour, and the new R8 GT possesses a top speed of 320 kilometers per hour.
Pricing 
Audi has pegged the 2023 R8 Coupe V10 GT RWD at 225,000 euros (more than Php 13.1 million). Only 333 units globally will be made, with 87 reserved for its home market of Germany. The model will be seen in Audi showrooms by 2023.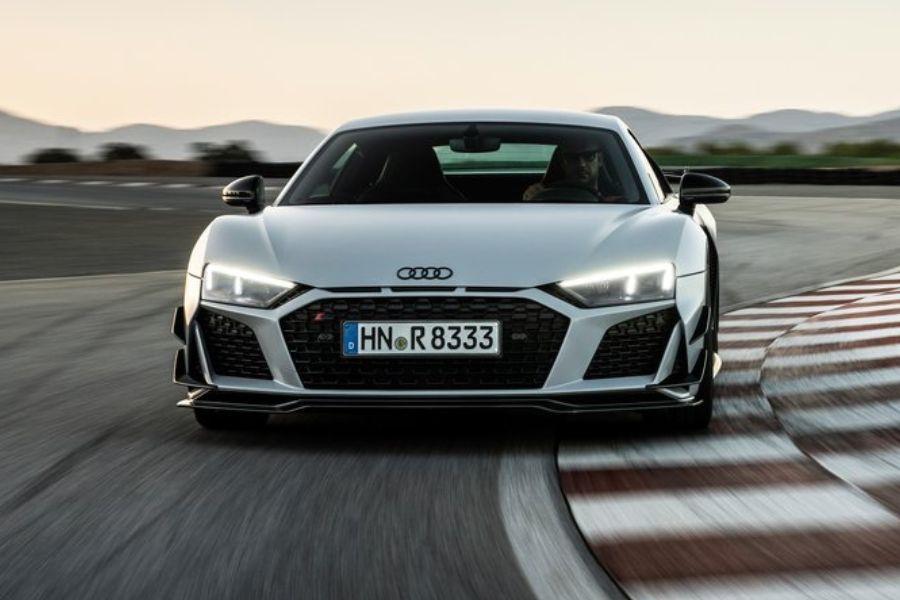 Much like the first R8 GT, the new version will only have 333 examples    
Get wind of more automotive releases at Philkotse.com.

Know more about Audi R8 2022

The Audi R8 is a premium two-seater, mid-engine sports car of the Audi Brand, fitted with the German company's signature Quattro all-wheel-drive system. It features a well-detailed exterior engineered with precise details to assist its unmatched aerodynamic capabilities. Inside, it is built with the latest safety, convenience, and comfort features meant to make your every ride memorable. The Audi R8 V10 plus Coupe and the Audi R8 V10 Coupe are locally available for those looking for a handsome vehicle with a proven speed to boast. It comes in Daytona Grey, Macaw Blue, Camouflage Green, Ibis White, Suzuka Gray, Dynamite Red, Floret Silver, Mythos Black, Vegas Yellow, and Tango Red.
Price available upon request
Explore

Joseph Paolo Estabillo
Author