This is one of the most powerful and high-tech versions of the Golf.
Since 2019, Volkswagen has stopped selling the VW Golf locally. From then to the present, the Philippine market has been getting VW models like the Santana, the Lamando, etc.
For other markets, however, Volkswagen proves that it still knows how to incite one's thirst for performance with the reveal of the 2022 Golf R.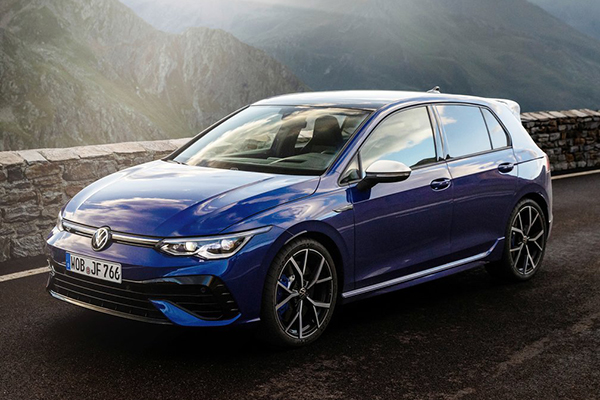 The 2022 Volkswagen Golf R
So what's special about this particular Golf? For starters, its 2.0-liter four-banger can make up to 315 horsepower and 420 Nm of torque. Power is sent to all four wheels via an optional seven-speed direct-shift automatic gearbox.
Those who are wanting to row through gear can also get this Golf with a six-speed manual. And surprisingly enough, the aforementioned tranny is going to be available in North America.
To further aid the Golf R in putting down all that power on the road, VW also gave the Golf R a locking front differential, and an R-specific suspension tune.
>>> Related: AC Motors launches online dealership to address mobility needs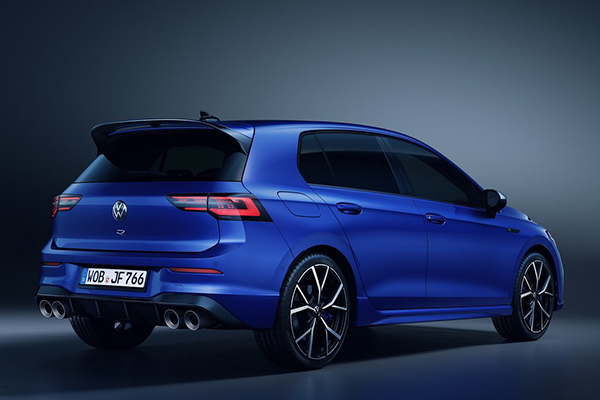 Note the quad-exhaust setup
With that kind of power and specs, the 2022 Volkswagen Golf R is capable of reaching 100 km/h in just 4.7 seconds. It also has a top speed of 250 km/h. It's blisteringly fast, but what really hits home for this new Golf R is its torque-vectoring all-wheel-drive. Through this system, this hot hatch has access to a few special drive modes.
This includes the new "Drift Mode," which as the name implies, will enable the car to go sideways whenever the driver wants to. And of course, one will also have access to the more regular drive modes like "Sport Mode" and "Comfort Mode."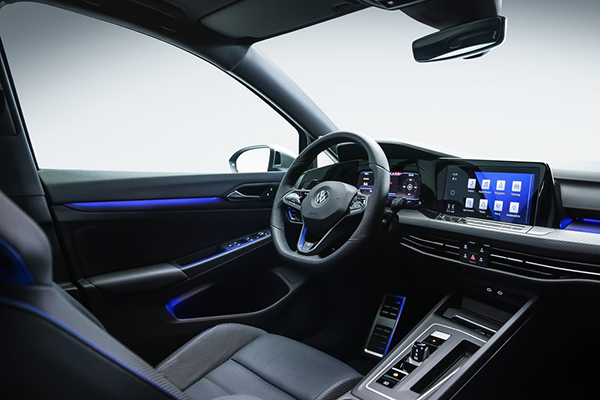 The interior of the DSG variant
>>> Related: VW Beetle fenders reused as go-kart holds Minion-level of cuteness
In terms of looks, the new VW Golf R's overall shape doesn't deviate that much from the regular eight-gen Volkswagen Golf. It's still very much an Mk8 Golf, but it does come with a few features specific to its trim.
This includes gloss black pieces spread all around the car, a Golf R-specific of 19-inch alloy wheels, a different air-intake grille, and a different front bumper.
Inside, the 2022 Volkswagen Golf R is pretty cushy. Its dash is dominated with a 10-inch touchscreen, and it also gets Volkswagen's Digital Cockpit that comes with a virtual instrument cluster. The Nappa leather-clad seats and most parts of the interior also come with blue trim as well as the "R" logo.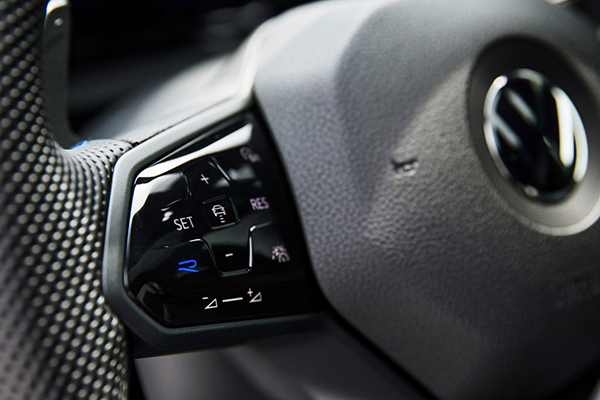 The glowing "R" button toggles the Race drive mode
There are no details yet with regards to the 2022 VW Golf R's pricing, but we do know already that it will get a U.S. release. Do you want VW Philippines to bring in the VW Golf R too? Sure, it's a tall order, but we're certain that a good number of VW fans out there are definitely drooling over this high-tech and powerful hot hatch.
For more automotive news, keep reading here on Philkotse.com.
Know more about Volkswagen Golf

Through seven generations of production, the Volkswagen Golf has sold over 30 million units around the world. With its practicality, comfort, and functionality merged with the power and performance the German brand is known for, it is no wonder that the luxury wagon has become a huge success. Thus, another generation in the form of the GTS was born. The Golf GTS represents Volkswagen Philippines' amplified efforts to cement European automotive leadership in the country by offering an all-around motoring lifestyle experience. In the Philippines, the Golf GTS is the only diesel model in its segment, making it a practical choice for city driving. Its new, dynamic and more premium-looking design inside and out made it easily appreciated by station wagon aficionados. The Golf GTS comes in three variants which are the Business Edition+, Business Edition, and the Highline. All of which are powered by a 2.0-liter TDI diesel engine.

Cesar G.B. Miguel
Author
Cesar is a graduate of AB English with previous experience working as a freelance writer for varied internet publications in-between his former stints in the Pharmaceutical Industry, and later as a First Aid Provider and Training Staff at the Iligan City Disaster Risk Reduction and Management Office.
Since childhood, Cesar has been keenly interested in cars. He has learned the ins and outs of these marvelous vehicles and is a competent amateur mechanic who is keen on sharing his knowledge.
Cesar is perceptive of car culture in general – not only in the Philippines but in global regard, as well. His knowledge ranges from the prevalent stories and trends among car enthusiasts around the world, to closely following the latest local and international developments in the automotive industry.
Recent posts