VW Beetle fenders reused as go-kart holds Minion-level of cuteness
Say hello to Bugkart Wasowski.
Mexican based Aldekas Studio is known to design various and unique Volkswagen Beetles as its artwork. The latest entry of the studio is a go-kart called Bugkart Wasowski that's made from a VW Beetle's fender.
Looking at the unique go-kart, it may remind you of the Disney character Mike Wazowski from Monster Inc. Well, that is because the go-kart is indeed inspired by the said character. The single front headlamp on the fender resembles Mike Wazowski's one-eyed monster characteristic.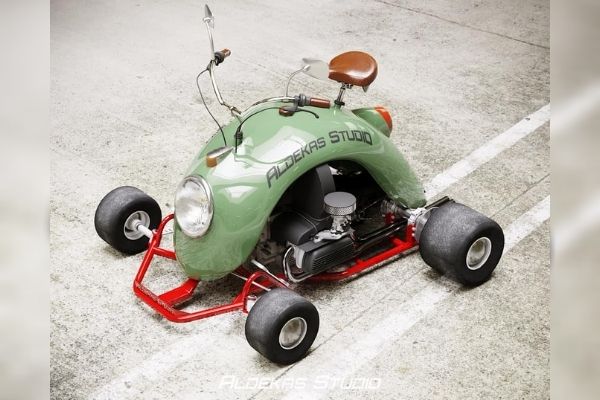 Meet Bugkart Wasowski.
Adding to its appealing visuals is the exterior finished in olive green paint, as well as the frame painted in bright red. The seats and handles are finished in leather to make the go-kart a little fancy. Needless to say, Bugkart Wasowski is a weird artwork but in a good way.
As much as we want to get our hands on the go-kart, it is only a real-life rendered image. Bugkart Wasowski pays homage to the classic VW Beetle Type 1. The designers purposely created Bugkart Wasowski to look as vintage and retro as possible.
>>> Related: Volkswagen Beetle Type 1: The little bug that could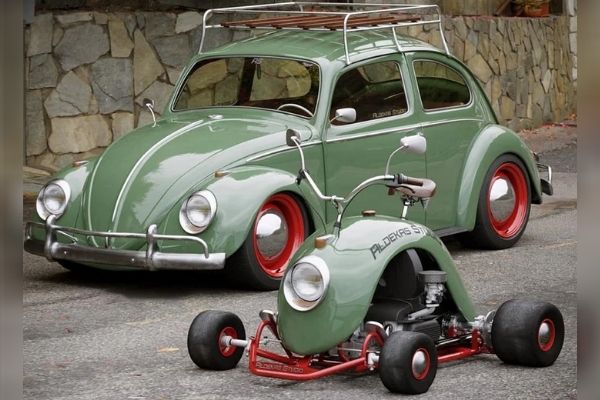 Bugkart Wasowski next to a classic VW Beetle.
In case you're wondering, Alkedas Studio did not release any powertrain details. The studio hasn't released anything other than the go-kart's rendered image.
Bugkart Wasowski could be a good and cute alternative for the e-bikes we have here in the Philippines. It could be used for short-distance rides, for a quick stop in the grocery, or even in parks with the family.
>>> Related: Say goodbye to the iconic Volkswagen Beetle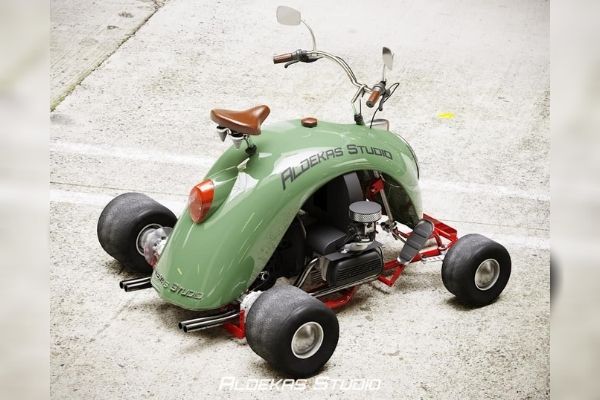 Imagine rolling in this with your friends.
As said earlier, Bugkart Wasowski is only a real-life rendered image. This means that it is not on sale and it seems like it will stay that way. However, if many will request Alkedas Studio to make Mike Wazowski come to life, maybe the go-kart will become a reality. Who knows?
Here at Philkotse.com, we value your interest in the automotive industry. Visit our website to find out more.
Author

Rex found his passion for cars at a young age. He loves anything with an engine – which includes cars and planes. Right now, he is pleased to impart that passion for cars to a professional level under Philkotse.