Hyundai is headed in the right direction.
The 2021 Hyundai Tucson debuts with a striking exterior design along with tech goodies that make this Korean compact crossover SUV a serious contender. It indeed demands your full attention as you just can't help but stare at the all-new design of the Hyundai Tucson. Now on its fourth generation, this compact crossover has grown into a well-made machine. As such, here are eight unique 2021 Tucson features we've never seen before on a Hyundai vehicle.
2021 Hyundai Tucson First Look: This is a production vehicle?
Front Grille Design
The overall exterior design of the 2021 Tucson doesn't come with any similarities compared to its previous generation. That should be the case since this fourth-generation Tucson is integrated with Hyundai's new design identity dubbed as "Sensuous Sportiness."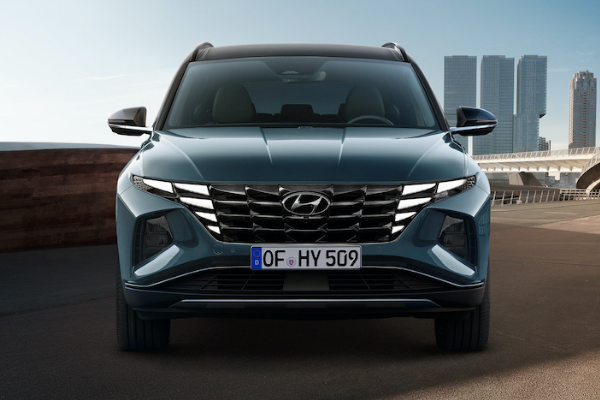 Staring contest, anyone?
With that in mind, the Tucson's front grille is fitted with what Hyundai calls Parametric Hidden Lights. This means that the LED daytime running lights (DRL) are seamlessly integrated into the grille. When the DRLs are off, what you see is the grille covered in dark, geometric patterns. You couldn't even tell that the grille comes with DRLs.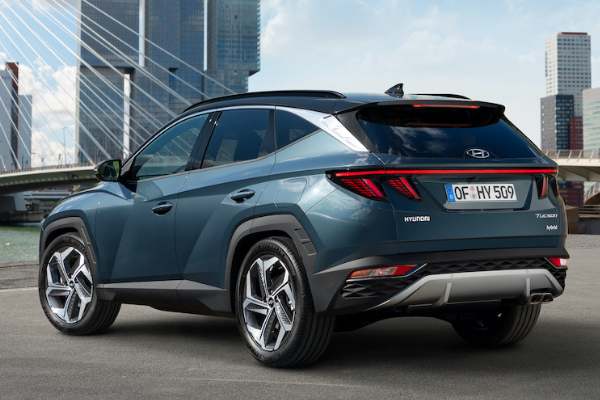 The rear wiper is hidden
Rear Wiper and Hyundai Badge
Yes, the Hyundai Tucson comes with a rear wiper however it's not visible to the naked eye. Not that it's microscopic, the rear wiper is minted hidden under the Tuscon's spoiler. The reason for this is that the Hyundai badge or emblem is placed into the bottom of the rear glass or windshield.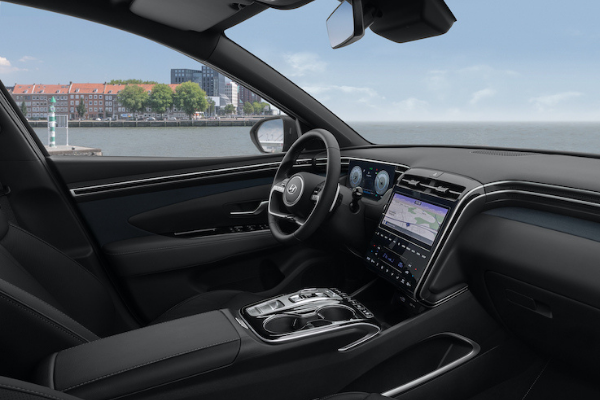 The 2021 Hyundai Tucson comes with two large screen
In-Car Screen
The 2021 Tucson is probably one of the most high-tech Hyundai vehicles. Well, the new Tucson is fitted with two 10.25-inch screens, which make it the first Hyundai to have a full touchscreen console. One of the screens is the infotainment touchscreen placed in the middle of the dashboard.
Hyundai's designers bid goodbye to physical knobs and buttons as essential vehicle controls can now be controlled through the infotainment touchscreen. On the other hand, the new Tuscon also comes with a 10.25-inch instrument cluster, which paved the way for the removal of the conventional gauge cluster. Moreover, the instrument cluster is positioned lower, enabling a flat and clean dashboard.
Multi-Air Mode Technology
For the first time in a Hyundai vehicle, the all-new Tucson comes with the brand's Multi-Air Mode technology. This tech is said to give a more optimized air conditioning unit to create a more pleasant in-car environment. When this mode is activated, Hyundai says the dispersion of wind reduces direct air contact and softens the air. In other words, the said tech allows the Tuscon to have a more natural feel of airflow.
Rear Sleeping Mode
This feature will come in handy when you go out for a road trip. Rear Sleeping Mode allows the driver and the front passenger to listen to their music without being transmitted to the rear speakers. With this, the overall in-car audio volume is minimized so that passengers who are sleeping will not be disturbed.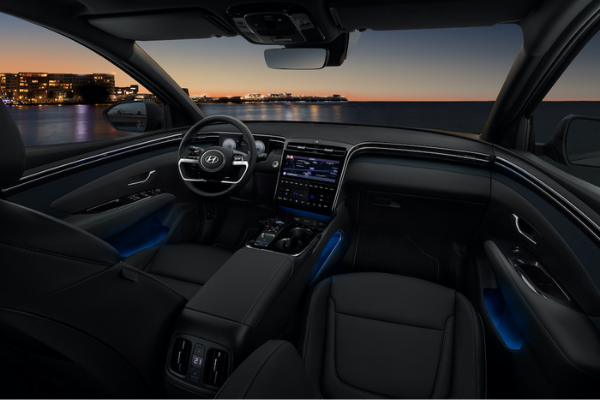 2021 Hyundai Tucson world debut comes with 64 ambient lighting options
Ambient LEDs
Hyundai has stepped up its game as it is now offering the Tuscon with ambient mood lighting, which is positioned in the two side pockets of the center fascia, in the wireless charging pad, and door map pocket. It offers 64 configurable colors and 10 levels of brightness to suit every mood.
Center Side Airbag
The all-new Tuscon is equipped with seven airbags to ensure occupant safety. One new feature that Hyundai introduced in Tucson is the first-row center side airbag. The center side airbag prevents front-row passengers from colliding with one another in the case of a collision, minimizing the risk of serious injuries.
Aside from airbags, the 2021 Hyundai Tucson features a boatload of driver assistance safety features such as Forward Collision-Avoidance Assist, Lane Following Assist, Driver Attention Warning, Surround View Monitor, among others.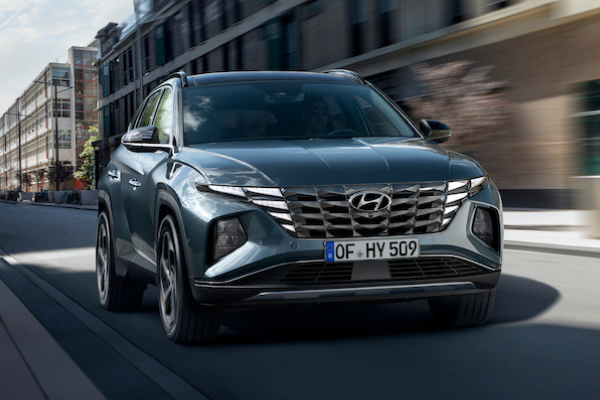 The 2021 Hyundai Tucson comes with several power unit options
>>> Related: One week only: Buy a Hyundai Tucson under P1-million
Hybrid Powertrain
The fourth-generation Tucson is available with several power unit options that include gasoline, diesel, and hybrid. Hyundai shared that the all-new Tucson offers the widest range of electrified powertrains in the compact SUV segment.
The 1.6-liter gasoline engine delivers 148 hp and is mated to a six-speed manual transmission. Meanwhile, the 1.6-liter CRDi Smartstream diesel engine will be available with 113 hp and a six-speed manual transmission.
Both engines can be integrated with a 48V hybrid engine that features a 44.2 kW electric motor and a 1.49 kWh lithium-ion polymer battery. It can put out 227 hp and 350 Nm of torque and it is connected to a six-speed automatic transmission. The said hybrid engine can come with either a four- or two-wheel-drive drivetrain.
The all-new Tucson can also come with the following 48-volt mild-hybrid options:
1.6-litre T-GDI Smartstream with 148 hp and two-wheel drive
1.6-litre T-GDI Smartstream with 178 hp with optional four-wheel drive
1.6-litre CRDi Smartstream with 134 hp with optional four-wheel drive
So, what do you think about the 2021 Hyundai Tucson? It sure looks stunning and it shows us that Hyundai's new design identity is headed in the right direction.
Visit Philkotse.com for more automotive news.

Know more about Hyundai Tucson 2022
The 2023 Hyundai Tucson is a five-seater compact crossover. Locally, this model has two variants. There's the GLS+ 2.0 CRDi, and the 2.0 GLS AT. The CRDi model is diesel, while the other one is gasoline. They then have a price of Php 1,840,000 and Php 1,570,000 respectively.
Under the hood, the GLS+ CRDi variant uses a 2.0-liter turbodiesel engine that can make up to 183 horsepower and 416 Nm of torque. The GLS meanwhile gets a 2.0-liter gasoline mill that can churn out 153 horsepower and 192 Nm of torque.
For transmissions, the diesel variant uses an eight-speed automatic tranny. The gasoline version meanwhile uses a six-speed automatic tranny. Both variants are front-wheel-drive.
Size-wise, the new Tucson is 4,630mm long, 1,865mm wide, and 1,665mm in height. They also come with a wheelbase length of 2,755mm, and a ground clearance of 181mm.
Locally, the Hyundai Tucson competes against the likes of the Toyota RAV4, Mazda CX-5, Chery Tiggo 5 Pro, Subaru Forester, Peugeot 3008, among others.


Martin Aguilar
Author